Future's "Temptation" is a Perfect Song
Atlanta's own depressed dope boy serves melancholic melodies on his latest album.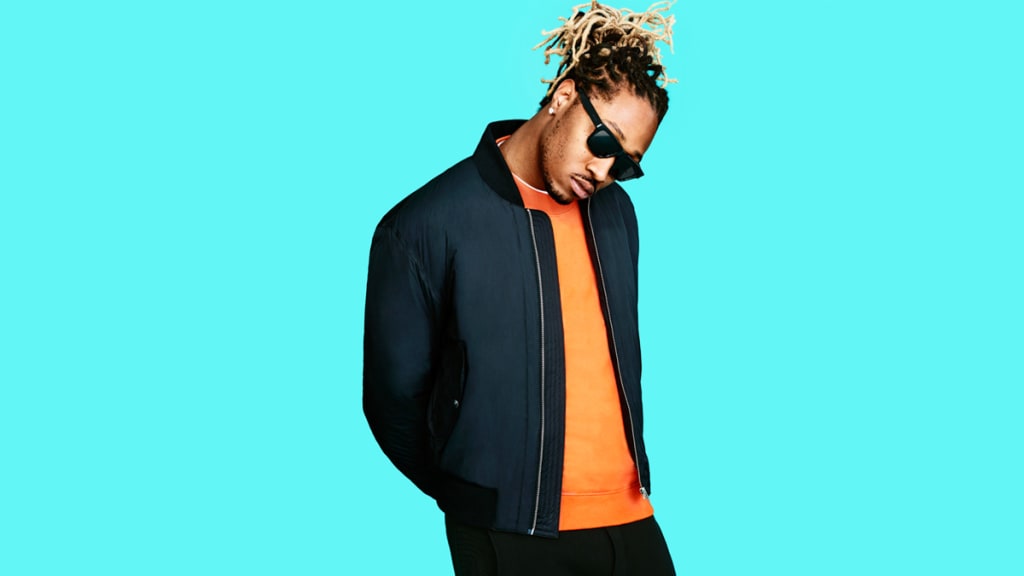 Future released a new album a couple weeks ago. It's a really good album. So good, in fact, that I can't stop listening to it. I listen to it in the morning, and at night. I listen to it when I'm sad (which is often), I listen to it when I'm happy (which is less often), and I listen to it when I'm feeling absolutely nothing at all.
The album is called The WIZRD. Technically, it's called Future Hndrxx Presents: The WIZRD, but I refuse to call it that. Putting "___ Presents" in the title of your album is inherently dumb. You're the artist, we know you're presenting it, you don't have to tell us. However, this minor title flaw is but a mere blip in The WIZRD's perfection. The production is hazy and distorted, Future's vocal performances are captivating and dramatic in all the best ways, and the lyrics are brilliantly understated.
The WZRD came out a few weeks ago now, so I've had some time to sit with it. In doing so, I've started to suss out which songs are my favourite and which songs are my not-so-favourite. I have many favourite songs from this album ("Never Stop," "Jumpin' on a Jet," "F&N," "Call the Coroner"), but only one of them stands out as a perfect song. That song is "Temptation."
"Temptation" is the fourth song on the album, and it's beautiful. There's really no other way to describe it. It's uplifting and melancholy all at the same time. The beat, produced by Memphis' own Tay Keith, is almost ballad-like in its construction. The dreamy pianos and synth pads play a nice contrast to the booming 808s. Future floats over the track like a forlorn ghost, spitting some of his most brutally honest lyrics since 2014's "Codeine Crazy." He returns to a similar subject matter as the aforementioned 2014 cut, only this time he's going deeper. On "Codeine Crazy," we saw Future come to terms with addiction and accept as part of his struggle, but he doesn't really delve into why he's an addict or what led him to that lifestyle. On "Temptation," Future is taking us into his past and breaking down the trauma he experienced that led him to numb himself with drugs.
In the first verse, he talks about how his past experiences have made it hard for him to have healthy relationships, rapping: "She think it's got somethin' to do with my momma, Well I can't love her, like she need me." Having a shaky relationship with a parent is something we all can relate to. That's why Future is a songwriter of the people. He goes through the same shit we go through, and presents it in ways that we can digest easily. Later in the song, during the bridge, he says: "It's so hard, it's so hard, them perkys keep me sane, All my dawgs, all my dawgs, found 'em locked up in the cage." This line is probably the most overt Future's been thus far in articulating his emotional struggles. Dealing with his trauma is difficult, and drugs are the only place he can find solace. He also alludes to his environment exacerbating his problems, as all his friends went through similar trauma and deal with it in similar ways.
One of my favourite moments in this song comes directly after this. For the rest of the bridge, Future goes on to sing: "We get paid, we so paid, move them bricks, then move on, switch them bags, switch them bags, then move on, then move on." The reason I find this lyric so potent is because it's Future perfectly illustrating the hedonism that often permeates through low-income communities. He and his crew make their living by pumping drugs into the neighbourhood, and then they simply move on. They don't even think about it. They've become so calloused to the world due to the environment they grew up in that they adopt a mentality of "kill or be killed."
Future has a long history of rapping about mental health, and he really doesn't get enough credit for it. He's mostly thought of in the same vein as his peers like Migos and Young Thug. And while he does share similarities with those artists, Future has a lot more to offer, lyrically, than his contemporaries. He's honest, heartfelt, and nihilistic all at the same time. He gives us both sides of the coin. The party and the after party. The high and the come down. His commitment to displaying both sides of the lifestyle that many rappers live allows us to look deeper into his art, finding meaning that is both intentional and left to interpretation.
So, while "Temptation" isn't Future's first lyrical foray into the world of mental illness, it is almost certainly his best. I suspect it'll be considered a sleeper hit in the years to come. A track that went somewhat unnoticed despite the quality.
About the Creator
Kyle Mantha is a writer from Ottawa, Ontario, Canada. You can find him on Twitter (@popejeans) making fun of your favourite rapper.
Reader insights
Be the first to share your insights about this piece.
Add your insights