Fun, Dreams and an Adventure of a Lifetime: Recalling Coldplay's A Head Full of Dreams Tour
A chronicle of my three favorite Coldplay concert experiences.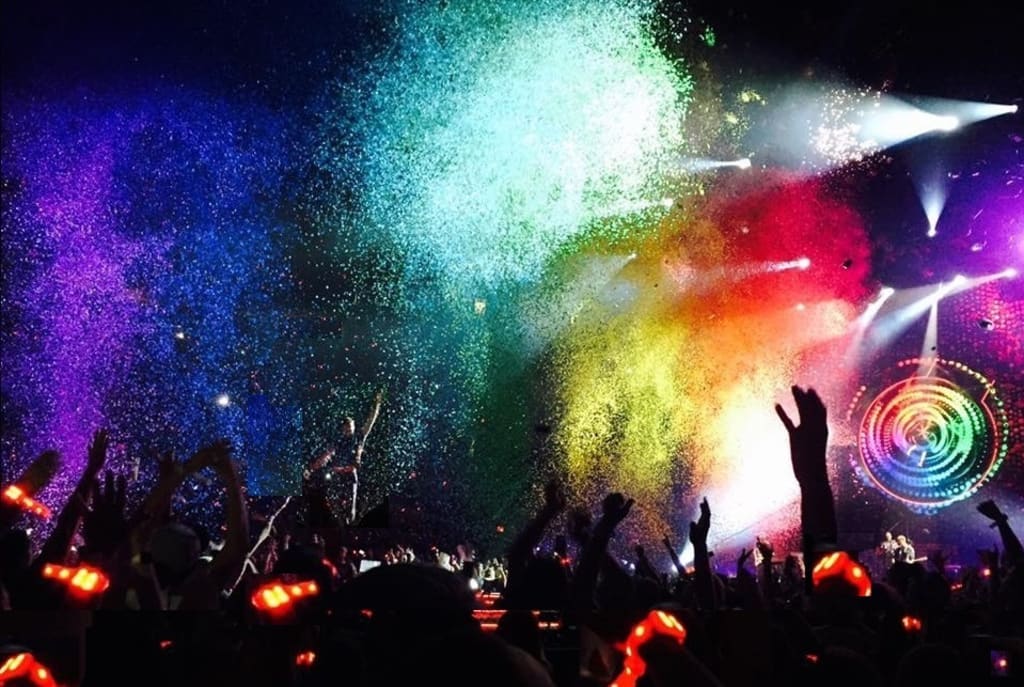 (© 2017 Popmartzoo) 
"This was our first chapter. From now on we'll only be full of surprises," was recently posted on Coldplay's Facebook page upon completion of the A Head Full of Dreams Tour in Buenos Aires. The sentiment reinforced the mysterious cloud of uncertainty which hangs over Coldplay's future as a band. Chris Martin has alleged on more than one occasion the band's seventh album, A Head Full of Dreams marks "the completion of something." He's also proclaimed he doesn't envision another proper Coldplay full-length in the future. While it doesn't sound like the band members themselves know for sure what lies ahead for the best-selling rock band of this century, it seems all but guaranteed it'll be some time before we find out what will come next.
Coldplay's latest tour, which ran from March 2016 through October 2017, included 114 shows and became the third-highest grossing concert tour of all time, and ticket sales grossed a total of $523,033,675. Now that the profound A Head Full of Dreams Tour has ended its trek around the globe, I can't help recalling the magical adventure of the three shows I was lucky enough to attend.
It all started back when I viewed the Coldplay Live 2012 concert film in my local theater five years ago, upon which I had made an unbreakable vow to myself to catch Coldplay's next tour. I literally got goosebumps as I watched the debut of the multi-colored LED Xylobands ignite the darkness among thousands of wrists during the documentary, which chronicled the massive Mylo Xyloto Tour of 2011 and 2012. From that moment on, I knew I had to do whatever it would take to be part of the unadulterated euphoria I witnessed throngs of fellow Coldplay fans sharing as I merely looked upon them from the rectangular silver screen.
Once official word was announced that Coldplay was preparing to launch 2016's A Head Full of Dreams Tour, my entire summer was instantly engrossed within a fever-pitched frenzy of anticipation at the thought of seeing Coldplay live again. Although I had caught the band's impressive act previously during the Twisted Logic and Viva La Vida tours in 2006 and 2009, they had yet to incorporate the Xylobands, which subsequently made me feel as if I'd missed partaking in the full-on Coldplay concert experience. Therefore, I purchased my tickets posthaste.
Finally, after months of waiting, the day of the show arrived. I packed up my car early in the morning and drove to see my favorite band, coincidentally for the second time, in Louisville, Kentucky (I had previously seen Coldplay at Freedom Hall in Louisville during the Twisted Logic Tour back in 2006). During my drive, my mind constantly raced back and forth between the excitement and anticipation, but I also found myself wondering if I'd mentally created impossible expectations for the show. After all, I hadn't been this zealous to see a concert in several years.
I ultimately made my way to downtown Louisville and was pleasantly surprised to find I could actually see the concert venue from my hotel window. I explored some of the city as I impatiently counted down the hours until the show. I'd allotted enough time to arrive at the KFC Yum! Center just as the doors opened. I eagerly made my way to the merchandise counter and methodically selected my souvenirs. If this was to be my last chance to see Coldplay perform live, I damn well wanted something to commemorate the occasion.
Alas, it was show time. After not so tolerantly waiting through not one, but two, unremarkable opening acts, I felt my chest begin to pound as I nervously adjusted my precious Xyloband, still waiting for it to come alive. Just when I thought I couldn't wait another minute, the concert hall precipitously filled with Maria Callas' operatic voice as "O Mio Babbino Caro" echoed within the walls. Then, as the lights went out, the screens lit up with greetings from attendees of the previous show in Chicago, as they sent their regards and introduced "the greatest band in the world…Coldplay!" Suddenly, a collective roar erupted and music began to pour out from the amp stacks. Thousands of Xylobands concurrently ignited the darkness, creating a sparkling sea of red and white pulses. Will Champion, Guy Berryman, and Jonny Buckland took their places on stage as an exuberant Chris Martin leapt onto a multi-colored runway encompassing half the venue's floor section. The foursome opened with the effervescent title track from the band's seventh album. It was a high-energy opening that climaxed with multiple canons firing a cornucopia of rainbow colored confetti upon the cheering crowd.
The show progressed into an arena-sized sing-along, culminating into a musical love fest enhanced with balloons, lasers, pyrotechnics, and multiple confetti showers which accentuated, but never overshadowed the hypnotic music. Songs were featured from all of the band's albums including "Trouble," "Fix You," "The Scientist" and "Magic." Also a few surprises along the way such as a cover of Bowie's "Heroes" and Johnny Cash's hit "Ring of Fire." During the band's hit "Paradise," the setting was transformed into a technicolored diamond field, evoking the group's kaleidoscopic album artwork, which quite frankly took my breath away.
On my right, there sat a mother with her daughter who looked as if they'd never attended a concert before, as they waved and hooted every time Chris Martin looked in our direction, who couldn't possibly have seen us through the flickering haze of blinding lights. But at least they were in the moment instead of watching it through the screens of their cell phones. To my left, two twenty-something males regaled all who'd listen with the tales of their journeys, which thus far entailed seeing Coldplay in Indianapolis, two consecutive rain-soaked nights in Chicago, with Louisville marking their fourth show of Coldplay's AHFOD Tour within the span of a week. I couldn't begin to fathom how they'd managed to budget the time and money necessary to follow their favorite band, not with the exorbitant cost of tickets nowadays. I calculated they'd easily dropped a grand on tickets alone by the time they'd rambled their way to Kentucky.
Meanwhile, Martin chatted up the audience as he talked of not being able to resist playing a venue called the "Yum-Yum Center" and mentioned having a somewhat sentimental attachment to Louisville, which led many to speculate about his previous relationship with actress Jennifer Lawrence (as Louisville is Lawrence's birthplace).
The evening's two-hour extravaganza continued with a non-stop, hit-packed set list, a plethora of glowing lights, and thousands of voices singing in unison, resulting in a jubilant, other worldly feeling of sensory overload. Before the show concluded, I'd already decided I wanted – no - I needed to experience it all over again. Cosmic forces must've aligned to my will, as I somehow managed to score floor seats to the following week's show in Pittsburgh. I still don't know why or how, but low and behold, there were two (and only two) seats available in the second row of the floor section awaiting me at Pittsburgh's CONSOL Energy Center. But was I really willing to drive 10 hours for a concert I'd just seen? You bet your Coldplay-loving ass! The thought of re-living that show from a close-up perspective, allowing me to become immersed in the action, was all it took to motivate me to do whatever necessary to be a part of my unparalleled concert escapade once again.
I've seen a lot of shows over the years, but the most memorable ones have always been whenever the audience was wholeheartedly engrossed and connected to the performance, knowing every word of each song and ultimately resulted in one big communal experience with the artist, myself, and thousands of like-minded fans intersected together for one moment of shared space and time. This was one such show, making all others pale by comparison.
When I originally recounted this somewhat cathartic purging, it was just over three weeks since I crossed five states to attend Coldplay's stop in Pittsburgh. Within that span, not a day passed without unflinching ruminations of those two mind-bending concerts. Whenever I closed my eyes I saw the shimmering Xylobands, Chris Martin running and jumping into an exploding rainbow storm of confetti, as well as the surreal screen images and backdrops. I could almost hear the spellbinding musical interludes, and remembered the iridescent gold hue during "Yellow." I imagined the various colors of bouncing balloons throughout "Adventure of a Lifetime," and the countless yards of flying streamers unleashed at the conclusion of "Up&Up." Every day I revisited key moments I managed to capture in photos and video clips. Within my mind's eye, I still dreamt about the thousands of LED lights twinkling along to "A Sky Full of Stars."
Upon reflection, I now understood why those two dedicated and well-travelled fans next to me in Louisville had attended four shows. The second show I attended in Pittsburgh turned out to be a grueling 23-hour car drive, but I don't regret a single minute of the seemingly endless journey. Instead, I find myself wondering what it would feel like to experience Coldplay's music-filled spectral-colored wingding in a gigantic stadium. I can only imagine being amidst a crowd of 90 or 150,000 fellow Coldplay admirers swaying, singing, clapping and lighting up the sky with their flashing Xylobands. If possible, I'd attend each remaining date of what has become Coldplay's grandest tour.
After my two unforgettable experiences in 2016, I was luckily and unexpectedly presented with an opportunity to travel an additional 600 miles to attend another date of Coldplay's tour in Cleveland. This time, my best friend from high school was in tow, as he'd never before seen Coldplay live. I must admit I was not only curious if the show would have the same impact on me a year later, but I also wondered if it would impress my best friend in the same manner it had affected me previously. I'm happy to report the answers to both questions are yes and YES!
One year and three shows later, from when I originally wrote this piece, I still consider Coldplay's A Head Full of Dreams Tour to be the closest I've come to experiencing heaven on Earth. In fact, when my end of days finds me resting upon my deathbed, surely, I'll be smiling while recalling this show and remembering the times I was drenched in variegated confetti clouds, while synchronously imagining how my ascension into heaven will feel.
About the Creator
I'm a music journalist, blogger and crate digger. I began writing about music during college and again as a freelancer. Links to my published pieces can be found on my music blog at: popmartzoo.com and/or follow me on Twitter:@popmartzoo
Reader insights
Be the first to share your insights about this piece.
Add your insights