From USA Gymnast to Broadways Female Peter Pan: The Story of Cathy Rigby
Before she was portraying female Peter Pan role, she was a USA Gymnast competing in 1968 Summer Olympics.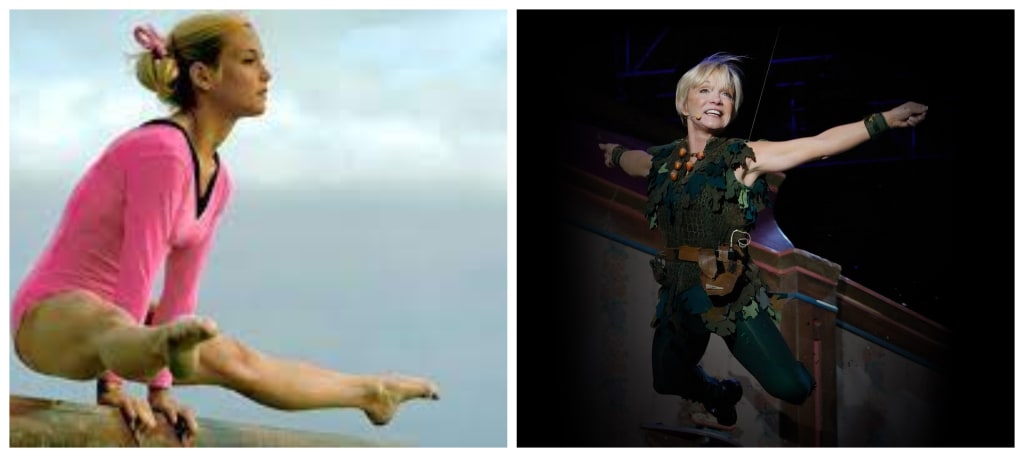 Cathy Rigby
Before she was portraying the female Peter Pan role on Broadway, she was a USA Gymnast competing in the 1968 Summer Olympics. Cathy Rigby was the highest-scoring American gymnast making her a favorite gymnast with American television audiences and helping to popularize gymnastics in America. She was the U.S. national champion in 1970 and 1972, and became the first American woman to win a medal at the World Artistic Gymnastics Championships: the silver medal on the balance beam at the 1970 World Artistic Gymnastics Championship until 1974 she landed the role on Broadway as Peter Pan that earned her a Tony nomination.
The Story of Cathy Rigby
Cathleen Roxanne Rigby was born on December 12, 1952, in Long Beach, California to her parents: Paul and Anita Rigby, both her parents are aerospace specialists. Rigby was born prematurely, weighing four pounds, and with two collapsed lungs. Her early years were fraught with bouts of pneumonia and bronchitis. But Rigby was a fighter and a competitor from birth. At age nine, she started gymnastics in 1961 when her father signed her up for a trampoline class. Rigby competed in Mexico City in 1968 ompeting in the four divisions of gymnastics: floor exercise, balance beam, vaulting, and uneven bars. Rigby finished sixteenth, the best-ever placement of an American in a sport more commonly dominated by Eastern European women.
Rigby took home honors in various contests, most notably in 1970 when Rigby became the first American of either gender to win a gold medal at the World Championships held in Yugoslavia. As her profile increased, Rigby increasingly became known as the woman to beat in the 1972 Olympic games in Munich, Germany. At nineteen, Rigby was again an Olympian, even though she could not curtail her binging and purging. Olympic glory, however, was not in her future. When the scores were tallied, gold medalist Korbut had stolen the spotlight as gymnastics' newest gamine. In the mid-1970s, Rigby shattered an old taboo by appearing in a series of TV commercials for Stayfree maxi pads created by VMLY&R copywriter Peter Cornish, thereby becoming the first celebrity to endorse a feminine hygiene product. She then worked for 18 years as a commentator for ABC Sports and appeared in made-for-television movies. In 1976, she guest-starred as a Russian gymnast on the TV series The Six Million Dollar Man.
After the 1972 Olympics Rigby started a gymnastics camp and married NFL player Tommy Mason, although they would divorce in 1981.
Struggles with Eating Disorder
Throughout her gymnast career, Rigby suffered from an eating disorder. At sixteen, Rigby gained ten pounds weighing 105. At her lowest point, Rigby weighed only 79 pounds and was hospitalized twice with coronary episodes.
"I no longer had a goal and all I was doing was eating and throwing up. Everybody thought I had the most successful life: I had a career working with ABC Sports, I was doing TV movies … and commercials, and the money was coming in."

People Magazine 1984
Rigby had overcome her disorder and became a spokesperson for eating disorders making appearances at organizations telling her story and how she overcame it.
SHE BECAME PETER PAN
After Rigby retired from her gymnastics career, she starts to focus on her dreams of becoming a theatre actor. Before she was on Peter Pan, in 1981, Rigby starred as Dorothy in a production of The Wonderful Wizard of Oz, Annie Get Your Gun and Meet Me in St. Louis.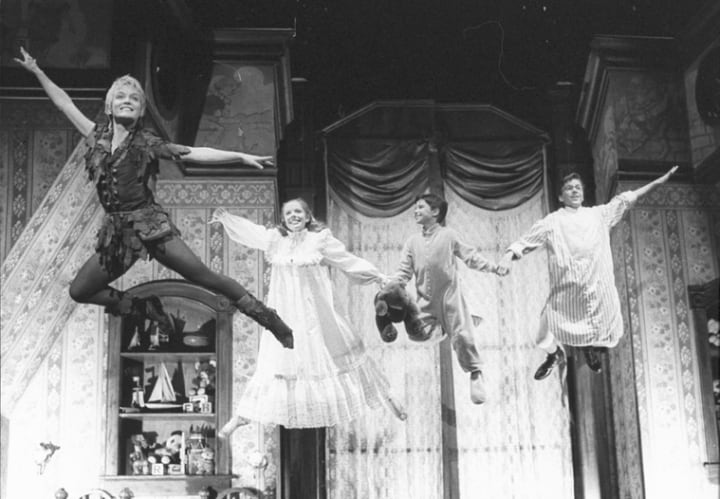 In 1991, Cathy was nominated for the Tony Award for Best Leading Actress in a Musical when she starred in the 35th Anniversary production of Peter Pan on Broadway. Throughout her role, Rigby enjoyed playing the role as Pan and she continued on playing the role of Peter Pan on Broadway. In 2002–2003, she played the lead in the touring production of the musical Seussical, and in 2004–2005, she again toured as Peter Pan, billing it as her farewell. Yet she returned to the role in 2008 at the Benedum Center in Pittsburgh, and in 2009 at the Mansion Theater in Branson, Missouri. Until August 2015, Rigby reprised her role as Peter Pan in a limited 15-day run at the Pacific National Exhibition in Vancouver. Rigby and her second current husband Tom McCoy now started their production company McCoy Rigby Entertainment, which produces a touring Peter Pan show, starring Rigby. She made her film debuts in American Girl's An American Girl: McKenna Shoots for The Stars, as McKenna's gymnastics coach.
Fly High Cathy Rigby
Source
Wikipedia
Encyclopedia
olympics.com
About the Creator
Hello, My name is Gladys W. Muturi. I am an Actress, Writer, Filmmaker, Producer, and Mother of 1.
Instagram: @gladys_muturi95
Twitter: @gladys_muturi
Facebook: facebook.com/gladystheactress
YouTube channels in the works
Reader insights
Be the first to share your insights about this piece.
Add your insights