'From a Page' of Yes History
A Moment of Awakening!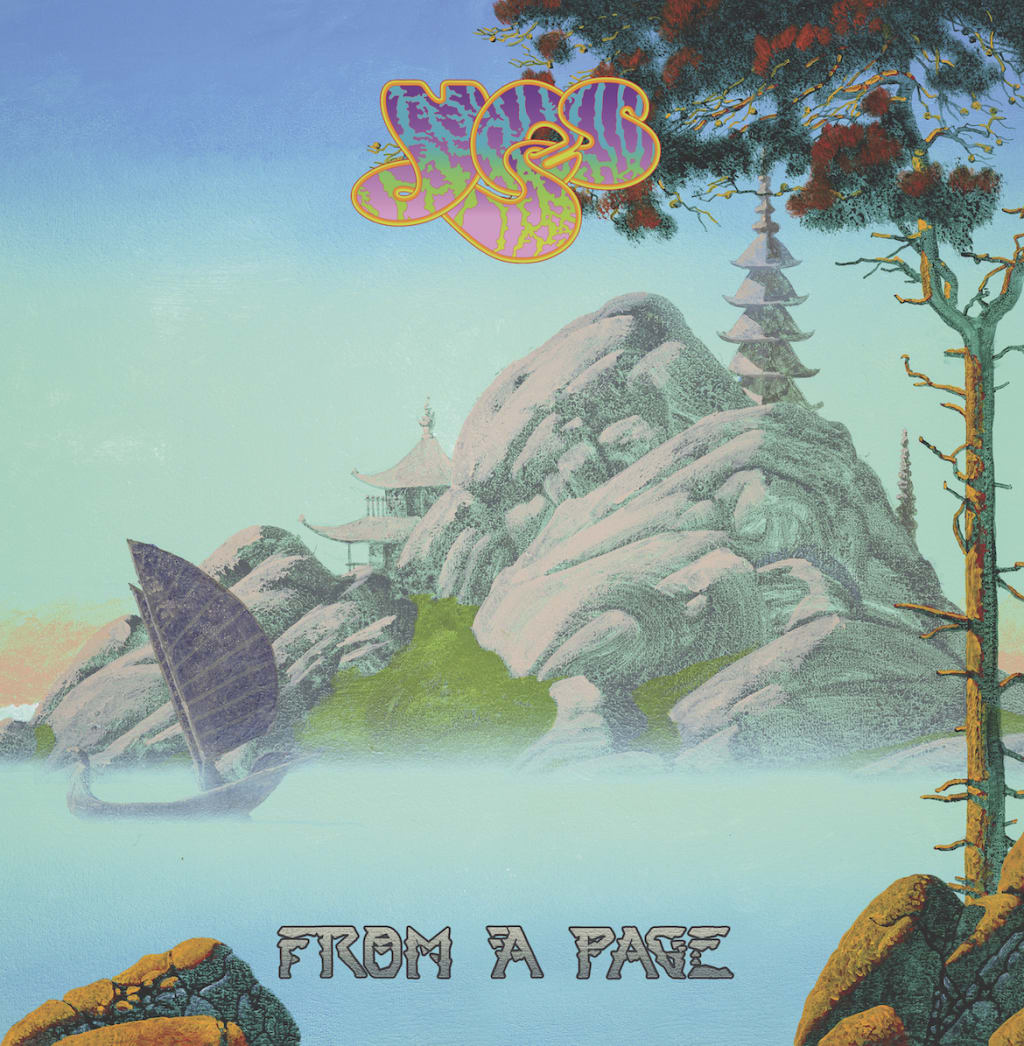 Cover art by Roger Dean
Within the last few months, I did a series of Yes studio album reviews as a way to commemorate their discography turning 50 years old. The last studio album review was Heaven & Earth, but then a week later, on October 25th, there was a surprise announcement. Now available via Burning Shed was From a Page, a collection of studio tracks worked on by Yes in 2010. At the time, the lineup consisted of Benoît David (vocals), Steve Howe (guitar), Chris Squire (bass), Oliver Wakeman (keys), and Alan White (drums).
To me, this was a delightful surprise. I remembered seeing an old tweet by Oliver Wakeman containing titles of songs that did not make it onto 2011's Fly from Here, an album on which he only performed on three tracks and did not get his chance to shine as producer Trevor Horn had him replaced by Geoff Downes. While I love Fly from Here, I remember wondering what could have been as I typed my review of it. So to have Oliver (credited as producer) being allowed to release From a Page and have his chance to stand out really makes me happy.
There's also the matter of Benoît David. For much of Fly from Here, it felt like he was trying to emulate Trevor Horn. When Horn later replaced all of David's vocals for 2018's Fly from Here - Return Trip, there were fans here and there who felt as if David was essentially being erased from Yes history. Since he is featured on From a Page, as well as the live In the Present - Live from Lyon that was re-released with it in a mini boxset, things seem to have balanced out. Both David and Wakeman get their time in the spotlight, and we get to hear them alongside the other familiar members of this lineup, including the late Chris Squire.
1. "To the Moment"
"To the Moment" is a strong track to start this collection. It really begins with a heavy instrumental thrust. The shift from the intro to the way Benoit sings "I don't know what you're thinking when you close your eyes at night" somehow reminds me of "Be the One." The "From the moment of awakening" stanzas are accompanied by energetic interplay between the musicians. This music really does "pierce the gloom."
As the song continues, I'm ever aware of the textures that Oliver Wakeman adds to the background. His keys become more front and center nearly three and a half minutes in, sounding like his father in places. The guitar goes through a triumphant journey that reminds me of the Union songs "I Would Have Waited Forever" and "Silent Talking." And then Wakeman sweeps the space with his musical prowess in a way that reminds me of "Awaken," which is fitting given that "awakening" is a theme. I was worried about whether there would be a lack of Wakeman when I initially heard the single version of this track. But it's clear that some of the best stuff was saved for the full version. He plays until the end of the song, effectively cementing his place in the Yes discography.
2. "Words on a Page"
After such a heavy and impressive song, we are treated to somewhat lighter fare in the form of "Words on a Page." I am not sure why, but I love the way David delivers the words, "Magical worlds, distant planets." The keys and guitar notes make me think of "Madrigal." The bass adds to the reflective vibe. I'd also add that aspects of this song remind me of "Turn of the Century." I suppose one can say that "Words on a Page" feels like it could fit within the late '70s era of Yes.
As the song continues, I am even reminded of "To Ascend," a favorite of mine from Heaven & Earth. That song's lyrics "I will open the book / Raise the pen / Let it reinvent / My life again / Take me from where I am" come to mind as I hear the following lyrics from this "newer" song: "Journey that changes with time. Travel within the written word." I'm even reminded of that album's "Light of the Ages" as I hear, "All from the verse of an age." "Words on a Page" give me an impression of what Heaven & Earth could have ended up being had some of the material been fleshed out more.
When the drums are heard, they come in a bit of a power ballad form but do not overtake the atmosphere. The notes of the instrumental section feel very reflective. Before the singing returns, Howe's guitar soars and echoes through the valley imagined in my mind. "All from the hearts that you reach" resonates with me as a writer who hopes to make readers feel something.
3. "From the Turn of a Card"
"From the Turn of a Card" feels the most different from this collection. It was previously released on 2013's Ravens & Lullabies, an album by Gordon Giltrap and Oliver Wakeman. That album's version featured more instruments and had David on vocals. On From a Page, we have a stripped down version with just David and Wakeman, the former singing lead (in a lower register) and the latter playing piano and adding background vocals. From what I understand, this was never recorded with the rest of the band. I might actually prefer this newer version since the other one sounded a little bit too busy to me.
I could imagine this song being performed in a saloon-like place, or perhaps a parlor, or a classy club. It conveys a story about one not being certain about the future even when they seek guidance from others. Realistically, there is a bit of doubt since those who offer advice may not be all-knowing: "If you ask, they will tell, that things will soon turn out well. / Why can't I see, what you see?" Believing that things will get better is a gamble of sorts, which I suppose is why cards are a fitting motif. I am also reminded of tarot cards that people use to predict the future. The words "Now I can see" toward the end are reassuring.
4. "The Gift of Love"
The vibe of "The Gift of Love" remind me of "Kings and Queens" by 30 Seconds to Mars. Since that song was released in 2009, a year before "The Gift of Love" was recorded, I suspect that there may be a bit of an influence. Then again, the similarities could be coincidental. After all, it does not feel like an exact copy.
At the beginning, Squire's enigmatic bass is accompanied by keys announcing that this is a triumphant song worth placing at the end. The drumming is paced appropriately, step by step before the keys accelerate. Then the music slows down a little but still takes us on an optimistic journey. I am very fond of the sentiment "The Gift of Love is all we need." I also like how the song conveys the nature of dreams: "As I begin to dream I start to drift away / And I feel so free again." The latter line is repeated in a different way that conveys the free-flowing freedom.
I hear the scat singing that is sung on "The Game" from Heaven & Earth. It feels very positive and liberating to sing along to it. I love how this, the final track on From a Page, ties back to the first song, just as "Into the Storm" ties back to the "Fly from Here" song series: "From the moment of awakening / To the moment that we wake from our dream / and realise it's not real." Wakeman's notes cast an air of uncertainty at this realization, but the "speaker" of the song seems to pick up from where they left off, allowing positivity to gush forth in their life. This song, moreso than perhaps even "Words on a Page," reminds me of Heaven & Earth and what it could have been. David sings about the realization again, but with certainty, followed by a confident sort of scat singing promising that love will prevail. I am really grateful that David is showcased the way he is here.
Howe's guitar then comes to the forefront again, and then David repeats the realization. The music swirls around, and I can picture dream clouds going in a circle forming a tunnel through which to travel. From here to the end, we hear the repeating of "The Gift of Love is all we need," "Open your heart, live free," and the scat singing from "The Game." Wakeman also adds a nice piano contribution, and really, all the instruments convey such an energetic vibe that make this something worth hearing. The drumming telegraphs the inevitable end of the song seconds before it's over. And what a victorious voyage it has been. This is definitely my favorite track here, and I cannot imagine it being anything other than the final track.
Conclusion
As you can probably tell, I absolutely love this archival release. It really showcases what David and Wakeman are capable of doing. The whole lineup feels like it gelled well for these songs, and I'm glad that they saw the light of day. I'm sure that some fans may create playlists that mix and match these songs with those of the latter half of Fly from Here or even with songs from Heaven & Earth. But these four songs work really well together. If the current Yes lineup is indeed thinking of making a new studio album in the near future, then they may want to take a page from From a Page.
Reader insights
Be the first to share your insights about this piece.
Add your insights