Forms of 'Fly from Here' Lingering
Remember What Yes Have Achieved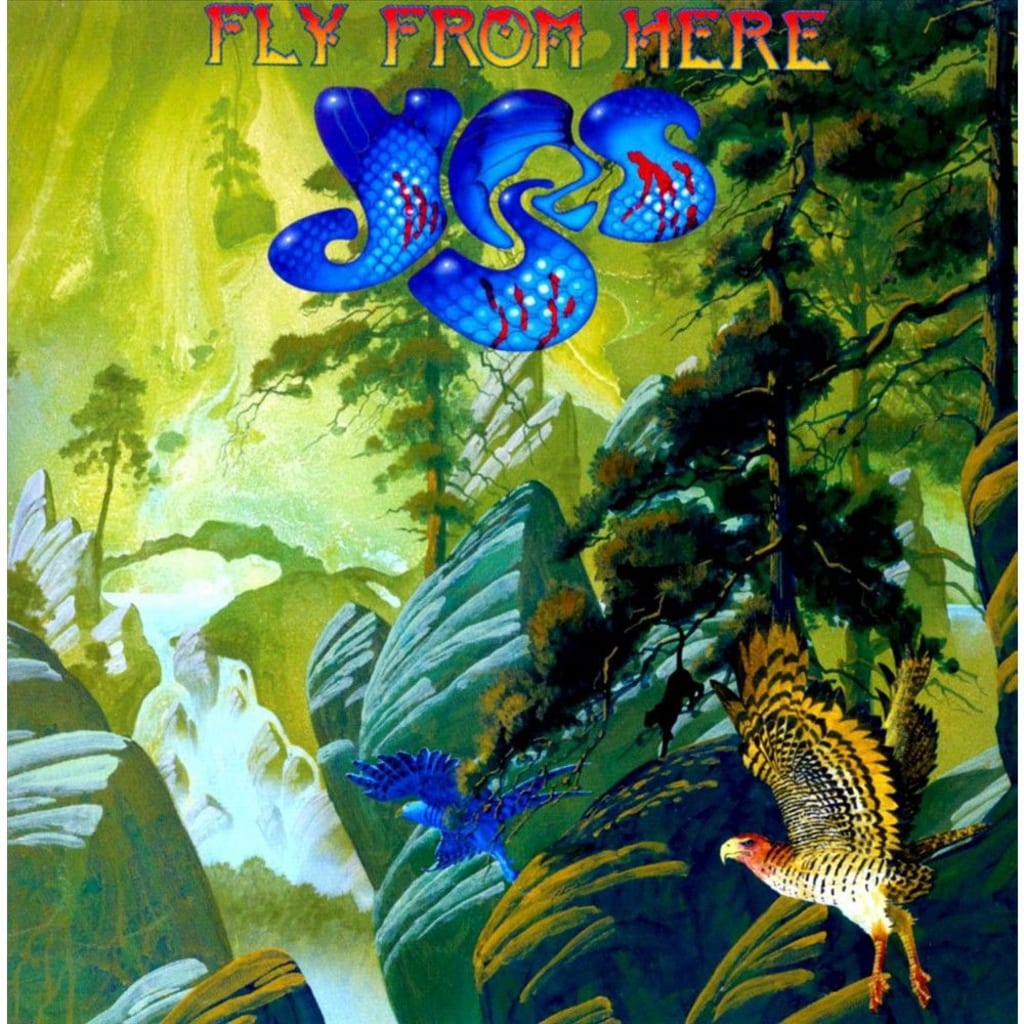 Album artwork by Roger Dean.
After Yes' 35th Anniversary Tour, the band ended up going on a hiatus. Many years later, Jon Anderson would admit that he left Yes in 2004. By 2008, there were plans to commemorate the 40th anniversary with the Close to the Edge And Back Tour. Other Yes veterans would have included Steve Howe (guitar), Chris Squire (bass), and Alan White (drums). Rick Wakeman's son Oliver Wakeman joined the band in his father's place.
However, the tour with Anderson was not to be, as he had a respiratory attack. It would take time for him to recover, so the rest of the band decided to bring in vocalist Benoît David from the Canadian rock band Mystery and the Yes tribute band Close to the Edge. Initially, the band toured as Howe, Chris Squire, & White of Yes, with some merch and ads adding Benoît David and Oliver Wakeman were being featured. By the time they toured with Asia in 2009, the band was simply billed as Yes.
Toward the end of 2010 and into early 2011, this lineup went into the studio to record the first Yes studio album in ten years. With Trevor Horn as their producer, they decided to dig up "We Can Fly from Here," a song that they had worked on during the Drama sessions and performed on the tour that followed. For the new album, Fly from Here, it was extended into an epic that was almost 24 minutes long. This was helped by the incorporation of songs that The Buggles had written for their 1981 album Adventures in Modern Recording that became "Sad Night at the Airfield" and "Madman at the Screens." Trevor Horn provided backing vocals on the album.
Over the course of the production, Geoff Downes was brought back to work with the band. Oliver Wakeman would receive credit for appearing on "We Can Fly," "We Can Fly (Reprise)," and "Hour of Need." He would still tour with the band for their 2011 Rite of Spring Tour. But Geoff Downes would replace him around the time of the release of Fly from Here. "From the Turn of a Card," which had been written in LA and played independently to Howe, Squire, and White (who each liked it), would appear on the 2013 Gordon Giltrap & Oliver Wakeman album Ravens and Lullabies, with David singing it. The song "Credit Carnival," the 3/4 over 4/4 riff of which had been played to Howe with some lyrics (but was never developed in the studio with Yes), also appeared on Ravens and Lullabies. Oliver Wakeman has also talked about how he wrote and recorded songs titled "To the Moment" and "Words on a Page" on his own around the time of Fly from Here. He also co-wrote a song with Squire titled "Gift of Love," and the Squire bits would end up on "The Game" from the next Yes album Heaven & Earth.
I remember when the album first came out, I thought it would have been nice for Horn to sing lead on the "Fly from Here" epic, with David singing lead on the other songs. Interestingly, 2018 would see the release of Fly from Here – Return Trip, a reworking of the album with David's vocals replaced by Horn as a way to give a sense of a new album by the Drama lineup. (Squire appears posthumously.) Changes resulted in the entire "Fly from Here" epic being over two minutes shorter on Return Trip. Having two versions of the album makes this review a bit more complex to work on. But I got through Union, comparing and contrasting different versions. So there will be a similar approach here, with both versions of the Fly from Here album in mind.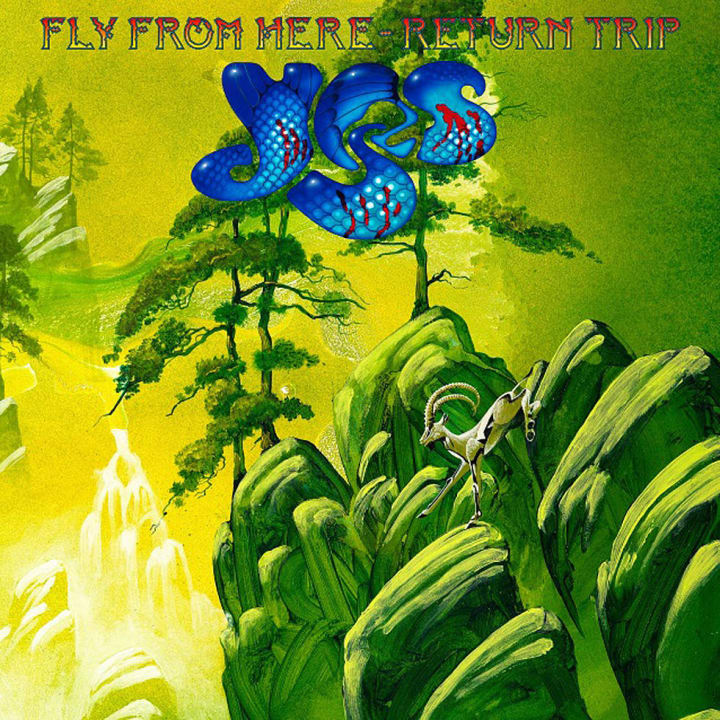 1. "Fly from Here—Overture"
The epic begins with an instrumental section. The enigmatic keys open the piece, and then more sound comes crashing down, showing that this is a heavier side of Yes. Whenever I listen, my mind follows the keys for the most part. But everything else that surrounds that pathway creates a great environment. What a way for Yes to show that they are back with a full-length studio album.
2. "Fly from Here PT I—We Can Fly"
It gets more silent, bringing night time to mind. (On Return Trip, it even sounds like there might be crickets.) The vocals come in. The way that David and Horn sing on their respective versions are noticeably different, but both do well. And then the guitar adds some tension a few verses in as the "Nights are cold on this airfield" is sung. The pace picks up, and I cannot help thinking existential thoughts when I hear, "Every day that you wait is one more that you've lost." The rhythm section really gets into a great groove after the "We can fly" verses. As the interplay between instruments continues, one can imagine a flight taking place. "And we can fly from here / Into the sky so clearly" provides a sense of optimism that is very much associated with Yes.
On Return Trip, the vocal harmonies during the later "Along the edge of this airfield" stanza sound richer. That version also has a different ending to this track that repeats a beat until we hear a radar and a heavy door, which make me think of a submarine. I find it to be very grounding.
3. "Fly from Here PT II—Sad Night at the Airfield"
"Sad Night at the Airfield" is a quieter section. The 2010 reissue of Adventures in Modern Recording included a demo of this as the bonus track "We Can Fly From Here—Part 2." ("Part 1" was the "We Can Fly" section.) The guitar notes on "Sad Night at the Airfield" provide a feeling of contemplation. "There's no one sleeping/No one awake" sounds rather odd. Are people in some sort of in-between state, on the edge of sleep?
We also get, "I'd start an engine in the night / If only just to break the silence / That last intake... of air." In the middle of that last verse, the silence is broken as more instruments raise the volume. I find it interesting how "But we both must / Face the dawn...alone" subverts expectations, suggesting that perhaps each person has to be alone when experiencing the morning. The music feels haunting, especially during the verses, "Only ghosts are in the empty corridors / They're all strangers / Who never cared." "Turn this ship around" is an odd line. Aren't we supposed to be flying?
But I suppose that Return Trip makes it clearer that this section takes place on a ship. Horn adds, "The storm is coming/The wind will run you abroad" after one of these "Turn this ship around" lines. To me, these extra words add another dimension and accompany the music in an effective manner. Horn also adds extra singing of "We can fly from here."
4. "Fly from Here PT III—Madman at the Screens"
The enigmatic keys from the "Overture" section return. (On Return Trip, these are preceded by sounds that make me think of a harp. It may feel a bit out of place, but I do not mind.) "Take a table in the evening / By the waterside" reminds me of "There by the waterside" from "Into the Lens." The music gets heavier, giving a vibe of chaos and peril on this journey. I find myself bobbing my head and tapping my foot to this. Ships come to mind again as, "Sailor, sailor beware / There are storm clouds." And of course, there's the line, "Out on the shoreline someone is waiting." This tack has a really good rhythm, and it might even be my favorite section of "Fly from Here."
5. "Fly from Here PT IV—Bumpy Ride"
An early version of "Bumpy Ride" appears on Howe's 2013 album Homebrew 5. This section of "Fly from Here" feels like a detour from what precedes it. This is more upbeat and feels somewhat like video game music. Some have said that the epic would have fared better without it, but I do not mind it being here. Mostly instrumental, there are only three verses, and they are sung in a dream-like manner: "Dreaming / Seeing you there / See you sometime somewhere." And then the pace of the music quickens, escalating and seguing into the final section.
6. "Fly from Here PT V—We Can Fly (Reprise)"
The keys sound very triumphant in the beginning, as travelers exit a storm and fly on their merry way to the destination. The skies are clear, and there is no doubt that flight is possible. The 2011 version has voices on a comm at the end. Perhaps they add a bit more atmosphere, but I don't miss them much on Return Trip.
7. "The Man You Always Wanted Me to Be"
"The Man You Always Wanted Me to Be" has Squire on lead vocals. His former bandmate from The Syn, Gerard Johnson, guests on piano. It begins with a question many people might ask themselves at some point in their lives, "What have I become?" This is a song about finding oneself within their interactions with a romantic partner. There is determination and resolve in the verses "From some other part of me / I'll summon the strength to see me through / From deep in the heart of me." Tangentially, the change to "What have we become" reminds me of the change from "You know I love you" to "You know we love you" in "You by My Side" from Squire's Fish Out of Water. "Ee-yeah" is sung repeatedly toward the end, with "The man you always wanted me to be" sung in between." The Return Trip version, however, has them sung simultaneously. I actually prefer them more separated, as they are on the original.
8. "Life on a Film Set"
"Life on a Film Set" was originally demoed by The Buggles for Adventures in Modern Recording. It was included as a bonus track on that album's 2010 release, under the title "Riding a Tide." This title makes sense given the mention of beaches and the incorporation of sounds that seem like they are meant to emulate waves of water landing on a shore. On that demo, though, the words sung are "Riding a tiger" rather than "Riding a tide." Strange.
"Life on a Film Set" begins with mysterious and contemplative guitar notes. The music gets heavier as we hear, "Heaven sent the mortals / Raged upon the wall." The stanza that this is part of is replaced on Return Trip. I'm not sure which is better, but I think it would have been possible to incorporate all the verses from both versions. On Return Trip, the new verses are as follows:
You were always making ghosts
Of shapes you could not name
Of emptiness and nothing
A silhouette remains
A shadow icon falling
Slowly down
This is then followed by a couple of verses that follow the cadence of the latter two "tiger" verses.
Lying there beside her
All her dreams flow like a river
Now you're riding a tiger
Riding a tiger
The music gets more upbeat and optimistic as we hear about beaches and the sky. "Follow the road / That leads to the sun" sounds very Yes, reminiscent of "Ritual." With the mention of the sun and a tiger, I think of William Blake poems and paintings. The music escalates as "Riding a tiger" is repeated toward the end. I am not sure if I have a preference between the David and Horn versions, but perhaps they both could have been included on the reworking. Maybe trading between certain verses and/or stanzas?
9. "Hour of Need"
Steve Howe had actually recorded a song titled "Hour of Need" for his 2005 album Spectrum, on which Oliver Wakeman guested. However, the Yes track is a different song altogether, with only the title being the same. On the 2011 Fly from Here release, "Hour of Need," with David and Howe singing together, is only three minutes in length. But there was also a bonus track on the Japanese version incorporating instrumental bits before and after what we hear on the original version, thus more than doubling the song in length. The heavy instrumental intro and outro reminded me of Howe and Downes' other band Asia upon first listen, and they still do. The guitar and drums are certainly strong during these parts.
But in the quieter bulk of the song, we are treated to "In the dark where the obvious isn't clear / Can't believe just what can interfere / Remember what has been achieved / Keep trying it's the hour of need." Oliver Wakeman's keyboard parts remind me a bit of "The Revealing Science of God," on which his father performed. "Hour of Need" seems to touch upon world problems as it brings attention to mouths that need to be fed. But it keeps reminding us that we should remember what has been successful in order to continue efforts to make the world a better place. "Either we sink or swim." This makes for a good ending on the original version, so perhaps the outro is a bit much while the intro is fine.
Return Trip incorporates both the intro and the outro, but David is replaced by Horn, apparently. David and Horn's vocals do not sound very different here, so it seems pointless to have replaced David. I think it would have been good for the David-sung Japanese bonus track to have been placed on Return Trip.
10. "Solitaire"
It almost seems like there is a tradition of having a Steve Howe solo studio track on a Yes album every 20 years. ("Mood for a Day" on 1971's Fragile and "Masquerade" on 1991's Union.) "Solitaire" makes me think of one finding beauty in the world even when alone. It goes through some shifts, and it is well put-together. Howe sounds like he is having a great time playing it. An early version titled "Solitaire Excerpt" appears on Howe's 2013 album Homebrew 5.
11. "Don't Take No for an Answer"
"Don't Take No for an Answer" has Howe on lead vocals, with Horn providing backing vocals. I really dig the music that accompanies them. "Amidst these mountains again" brings to mind Yes' return to Fly from Here, with mountains on the cover once again. "Now I'm left with the key" brings the Keys to Ascension era material (such as "Mind Drive" and "Bring Me to the Power") to mind. The lyrics do feel a bit repetitive when the title of the song is simply repeated. But I enjoy hearing Howe sing lead on this.
12. "Into the Storm"
"Into the Storm" is very upbeat, heavy, and intense. It works as a great closing track for the album. Everyone is together again, making the words "Need a hand to hold onto" feel somewhat fitting. We are told to take a leap of faith into the storm. Depending on the version you listen to, either David or Horn sing the following, as the music provides a sense of one entering an intense storm:
Armies of angels are starting to form
Bathed in the light of the break of the dawn
Armies of angels are leading me on
Take me away from the heart of the storm
There is a sense of urgency whenever "Take me away" is repeated. Toward the end of the song, there are great instrumental twists and turns, swirling around like a storm. "And we can fly from here" is sung repeatedly at the end, almost drowned out by the music. Perhaps there is an intended effect of making it feel as though someone is being enveloped by a storm. On the Return Trip version, Horn singing "And we can fly from here" sounds more clear. To include David on Return Trip, I think it would have been a good compromise to have Horn just sing "And we can fly from here" and have David's vocals intact on the rest of the song. Horn does a good job, but, again, it would have been nice to have still had David on Return Trip.
Conclusion
As one can tell, Fly from Here was filled with a bit of its own behind-the-scenes drama. But it resulted in fantastic Yes music after such a long wait between albums. Most of the songs would get great live representation of the tour. ("The Man You Always Wanted Me to Be," "Hour of Need," and "Don't Take No for an Answer" are the only ones not played live by Yes.) Return Trip improves certain aspects of the album, though I do still wish that David's singing could have remained intact on some parts.
In 2012, Benoît David had to leave the band due to respiratory illness. The next lead singer for Yes ended up being Jon Davison from Sky Cries Mary, Glass Hammer, and a Yes tribute band called "Roundabout." He continued the Fly from Here tour with the band and is still a member to this day. On the Yes50 Tour, Yes performed "Fly from Here PT I - We Can Fly," which was closer to the Return Trip arrangement. A recording of this is available on Yes 50 Live. Trevor Horn also guested on the song in London and Philadelphia in March and July 2018, respectively, as part of the Yes50 Fan Convention and YesFanFest. Though Fly from Here has gone through various changes, many Yes fans keep in mind the musicians who contributed to the different versions of the album.