Forever Young Rod Stewart
One of the Best Selling Song Artists of All Time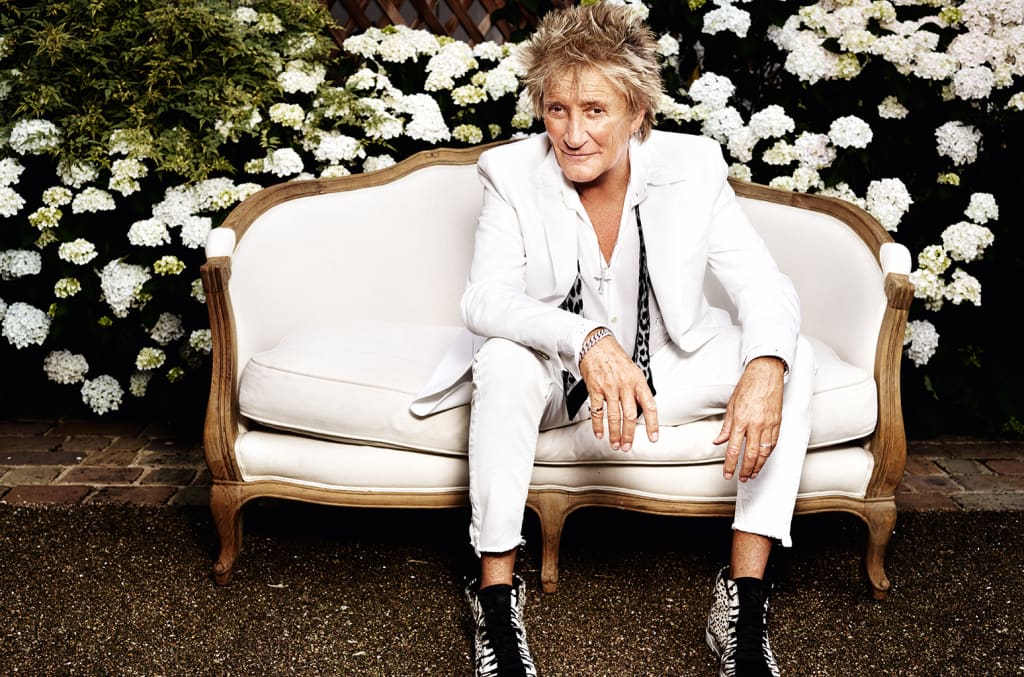 This British rock singer-songwriter with his unending energy and vitality continues to entertain his fans to this very day. Rod Stewart's heritage is a mixture of English and Scottish ancestry. He counts himself among the best selling music artists of all time, and has sold more than 100 million records around the globe. In the UK alone he has had six consecutive number one albums, and has had four number one hit singles on the Billboard Hot 100 in the US. He got his star on the Hollywood Walk of Fame in 2006.
Rod Stewart has got this incredible raspy kind of voice that just puts the emotion into the songs he sings. He rose to stardom in the late 1960s, and early 1970s, starting with the Jeff Beck Group, and later the Faces. Going solo he came out with his first album in 1969 An Old Raincoat Won't Ever Let You Down. Released in the UK, the album title was changed to The Rod Stewart Album in the US Most of the songs on the album were written by Stewart, including the title song. His music was a mix of rock, folk, soul, and R&B. In the 1990s his music took on a new wave, or soft rock quality, and when it came to the early 2000s, he had a series of successful albums interpreting the Great American Songbook.
Billboard magazine ranked Stewart as the 17th most successful artist on The Billboard Hot 100 Top All-Time Artists in 2008. He has won both a Grammy and Brit Award, and is ranked at 59 on Rolling Stone magazine's 100 Greatest Singers of all time. He was inducted into the Rock and Roll Hall of Fame in 1994, the UK Music Hall of Fame in 2006, and one more time into the US Rock and Roll Hall of Fame in 2012, as a member of the Faces.
During his incredible career, Rod Stewart has had many successes, and a lot of his songs still remain popular today. In 1975 his album Atlantic Crossing produced the popular single "Sailing," and was used as the theme music for a BBC documentary series about HMS Ark Royal. Other popular songs during this period were "This Old Heart of Mine," and "Get Back."
In 1976 he topped the US Billboard Hot 100 chart for a whole eight weeks with his ballad "Tonight's the Night." It was included in his album A Night on the Town, and went platinum. Another hit followed in 1977 "The First Cut is the Deepest."
In 1977 Stewart and his own band came out with the album Foot Loose & Fancy Free, and brought him lots of popular singles among them "You're in My Heart", "I Was Only Joking," and "Hot Legs." He scored big with a song that included a disco beat "Da Ya Think I'm Sexy?" which reached number five on the Billboard chart.
In 1980 he moved toward new wave, and came out with the album Foolish Behavior producing the hit single "Passion." In 1981 he had success with his album Tonight I'm Yours, and the title song hit the charts along with the song "Young Turks," and the album went platinum. During the period between 1982 and 1988 Stewart had four US Top 10 singles including "Young Turks", "Some Guys Have All the Luck", "Infatuation", "Love Touch", and "Baby Jane." His album Camouflage went all the way to gold, and this album included the song "Some Guys Have All the Luck."
1988 brought the hits "Lost in You", "Forever Young", "Crazy About Her," and "My Heart Can't Tell You No."
In 1989 Stewart recorded a successful single "Have I Told You Lately" a song that was written and recorded by Northern Irish singer and songwriter Van Morrison. Stewart covered the song for his 1991 album Vagabond Heart, and it became a hit in both the UK and the US In the US the song was certified gold. The album also included another favorite from Stewart "Downtown Train."
In 1993 it was "All for Love," which became a favorite among the songs Stewart released. The song was written by Bryan Adams, Robert John "Mutt" Lange, and Michael Kamen for the movie The Three Musketeers. The song was sung by Bryan Adams, Rod Stewart, and Sting, and became a power ballad, and a worldwide hit rising to number one all over Europe, Australia, and North America.
Having sold more than 100 million records around the globe in 2002, Rod Stewart started singing pop standards of the 1930s and 1940s included in his album series The Great American Songbook. He released a total of five albums in this series.
You could say that Stewart is singing a never-ending song. In 2018 he released his 30th studio album Blood Red Roses where the title song, and most of the other songs were all written by Stewart. Among them, "Look In Her Eyes."
Today Sir Roderick David Stewart continues to tour and perform, and he is still dynamite, and adored by his many fans.
60s music
My passions are writing and creating poetry. I write for several sites online and have four themed blogs.
Receive stories by Rasma Raisters in

your feed