Flesh N Bone Do You EP Review Best albums of 2020
Flesh N Bone made an epic EP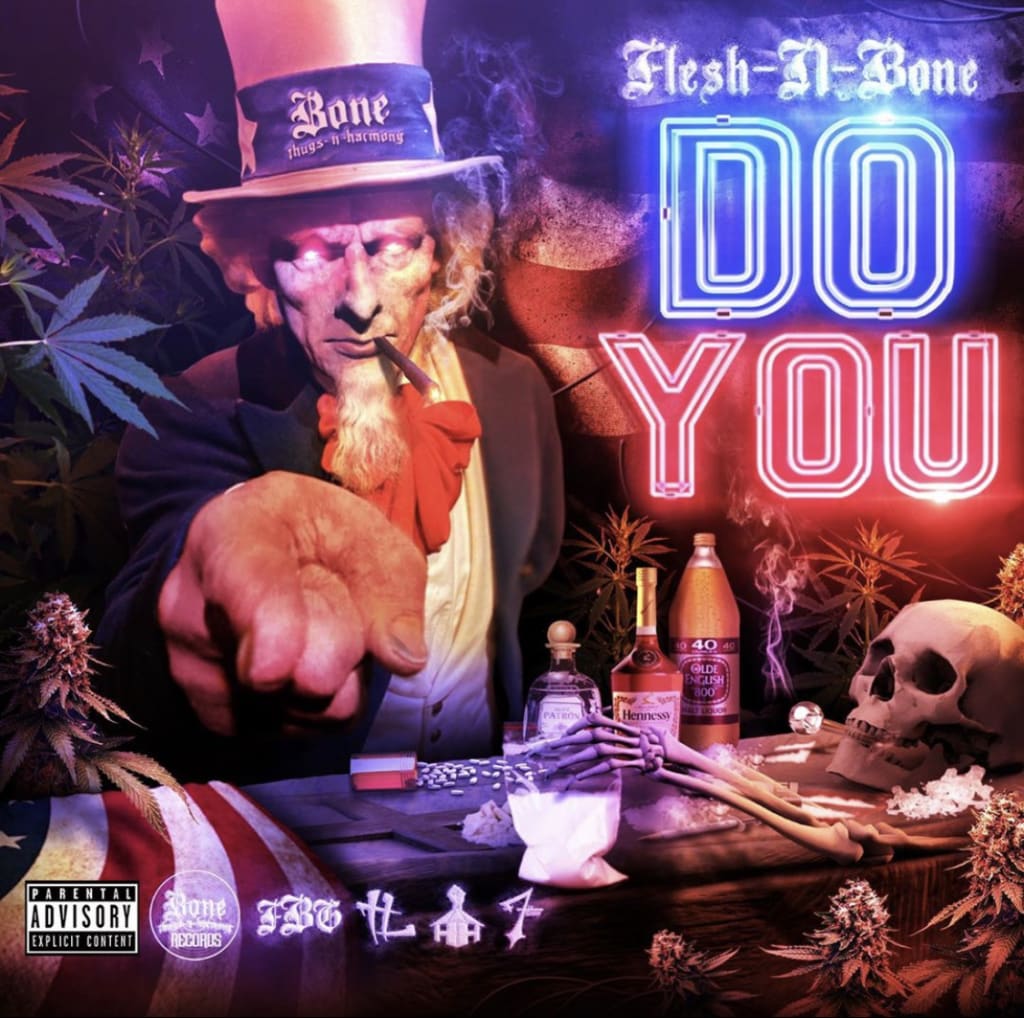 Flesh N Bone Do You EP is one of the best albums of 2020. He brings hard beats with lots of bass. But he also brings a ton of energy with great lyrics and flows. I was blown away as soon as I started to play the album.
One thing I noticed right away about Flesh N Bone Do You EP. Is that Flesh used some more modern beats. He shows how these beats are meant to be flowed. He spits fast and clear without mumbling. He also sings and says his chorus so clear with no auto tune.
The song Louder really just stands out as on of the best songs on the album. The beat shakes everything when you play it on a big system with bass. His lyrics are so raw and real on this track. One line that stands is any time is a good time for a cold one and any times a good time to roll and blow one! Those are such real and true words.
Crazy stuff is a song that has a sort of gangsta west coast style to the beat. The singer on the chorus has a good singing voice. Flesh spits some hot flows and great lyrics. He is spitting some real life things. Which is such a breathe of fresh air in rap. We need more songs like this with real lyrics. This song hits hard and is another great track.
Now let's talk about the lead single Do you. This song and music video is so raw! Flesh has tables with him and friends gambling and drinking 40oz bottles. Now this is taking it back to the old school. The beat is so hot. The chorus oh wow really is catchy. Flesh rips it with great flows and awesome lyrics. His flows about sipping beer and making money are something people will be able to relate to. Probably one of the best songs on the album.
Already famous has a really feel good style beat. It's sounds happy and inspirational. And it fits Flesh N Bone's lyrics about how he has already been famous and has success in music for years. His story telling lyrics about how he first got famous with Bone Thugs N Harmony are just cool. A really cool and feel good song. Perfect for riding to in the summer.
One thing I love Flesh N Bone Do You EP. Is that Flesh has a song for just about every mood and occasion. You can find a song to vibe to any time on this epic record. The only thing I can complain about is that I wish the songs were longer. Because you really do get addicted to them.
Flesh N Bone brings that old school thug style on the song Dr. Frankenstein. The beats hits hard with lots of bass. Flesh Is spitting some hard lyrics. If you are a long time Bone you will love this song. Flesh calls out the fake rappers on this song and really brings it. You can tell he was not playing when he made this great song.
The song Everyday is really cool. I love the flutes and cool beats they used on this song. It also has some really good hard hitting bass. Flesh brings that classic fast flow with harmony on the chorus. His lyrics about break bread everyday, pray everyday, and crack heads everyday are great. His flows are smooth and he spits lyrics with his classic style on this track.
Now Before the rap is one of the best songs on the album with a hard beat and great intro. The Biggie Smalls sample just fits in with the song perfectly. Hard beats and bass bring power to this song. Flesh is spitting that classic gun and thug style lyrics. He really brings the hardcore violent lyrics people want on this song! All Bone fans are going to love it.
Overall this was a solid album and one of the best records of 2020 in rap. If you are looking for some real rap with lyrics and hard beats then go the Flesh N Bone Do You EP!
Reader insights
Be the first to share your insights about this piece.
Add your insights