Fans Choice: 30 Favorite New Wave Songs
Depeche Mode / The Cure / New Order / Tears For Fears / U2 / and More...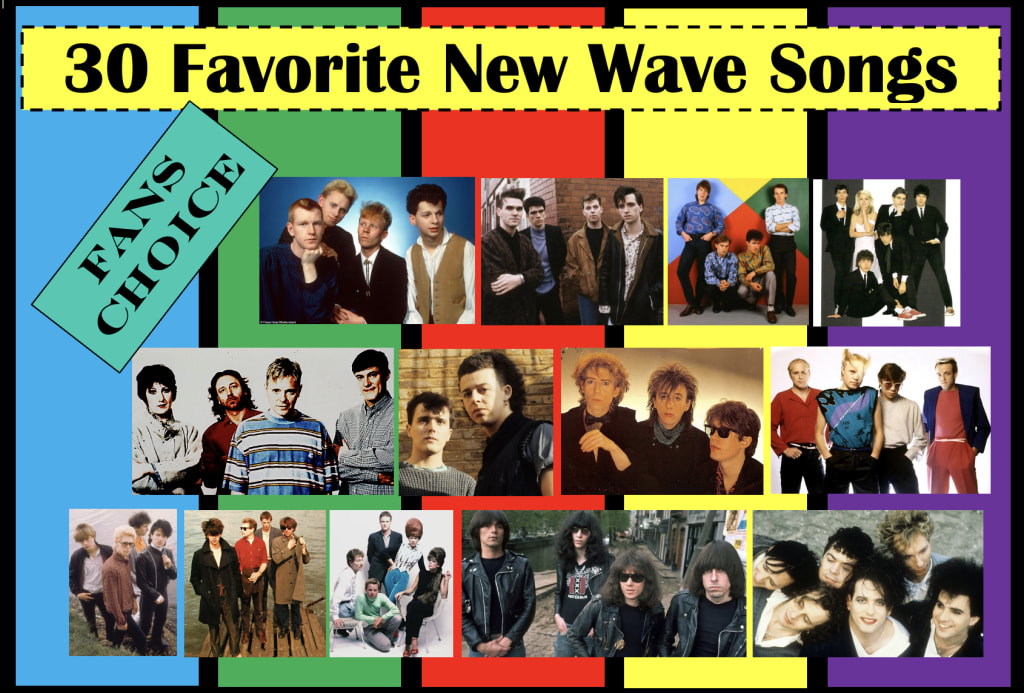 Fans Choice: 30 Favorite New Wave Songs (Image designed by Rick Henry)

Recently, I conducted a survey of 155 people asking what their favorite New Wave songs are.
I have long been a fan of New Wave music. It started in the summer of 1978 when I bought the single "The Robots" by Kraftwerk. I was into this futuristic thing which began a year earlier with the film Star Wars. This electronic dance tune was the catalyst that helped me branch out into the world of New Wave music.
New Wave incorporates edgy pop-oriented styles from the late 1970s and the 1980s. It is an umbrella term for various styles of music including power pop, synth-pop, ska revival, post-punk, and more specific forms of punk rock that were less abrasive.
From Kraftwerk I dug into The Cars' debut album which served up songs that were a blend of classic rock and New Wave such as "My Best Friend's Girl" and "Just What I Needed." Then when I came across Talking Heads' "Take Me to The River" I became a dedicated fan, not only of the Heads but of this new type of alternative rock called New Wave. I was all over the board with records such as Replicas by Gary Numan, Pop Muzik" by M and one of my favorites "Lucky Number" by Lene Lovich.
In the early months of 1979 Blondie's "Heart of Glass" erupted all over the place and over the next 2 years Debbie Harry was my #1. The first time I heard the B-52s "Rock Lobster" was Halloween night 1979 at a big party. When I arrived (fashionably late) the DJ was playing "Rock Lobster" and they were at the part where Fred Schneider is singing "down, down" and everybody on the dancefloor was on the ground on their backs squirming, bouncing, and popping. I had never seen anything like that before. But I was intrigued and the very next day I went out and bought the single and just loved it.
Because I love this record so much, I must mention it. One of my favorite albums or EPs is Klark Kent by the mysterious Klark Kent whom we later came to discover was Stewart Copeland the drummer from The Police. I played the quirky record to the ground. I had to buy a second copy.
Check out this crazy Klark Kent video…
The survey consisted largely of diehard new wave fans. If you know anything about fandom, the diehard fans of anything usually dig for the lesser known more obscure gems, some of which ended up on this list.
Top Artists
15. Modern English / 14. The Smiths / 13. The Care / 12. A Flock of Seagulls / 11. The Ramones / 10. Blondie / 9. B-52's / 8. Psychedelic Furs / 7. Echo and The Bunnymen / 6. U2 / 5. Tears For Fears / 4. New Order / 3. Orchestral Manoeuvres in the Dark (OMD) / 2. The Cure / 1. Depeche Mode
Artists with the Most Songs Voted on By the Fans:
8. Siouxsie and The Banshees (5 songs) / 7. B-52's (5) / 6. U2 (5) / 5. New Order (6) / 4. Tears For Fears (7) / 3. OMD (9) / 2. The Cure (11) / 1. Depeche Mode (15)
Believe it or not Hall & Oates were mentioned twice by the Fans… "Possession Obsession" from the 1984 album Big Boom Bam… and "No Brain, No Pain" which appeared on the B-Side of the 1979 single "Wait for Me" were mentioned. The latter was mentioned by my lifelong friend Sandy.
Before we get to the Countdown, I want to mention a few odds and ends mentioned by the Fans
"It's My Life" by Talk Talk / "Say Hello, Wave Goodbye" by Soft Cell / "Tears Run Rings" by Marc Almond / "Vanessa Vacillating" by Slow Children / "Chamber of Hello" by Wire Train / "Love Moves in Strange Ways" by Blue Zoo / "Sickle Moon" by Xmal Deutschland / "Bondage Up Yours" by X-Ray Spex / "Beds Are Burning" by Midnight Oil / "Bringing Home The Ashes" by The Wild Swans / "Enveloped Ideas" by The Dawn / "The Evening Mist Morning Dew" by The New Wave / "Jukebox" by The Flirts / "My Time" by Telex / Broken China" by Polyrock / "I've Got Your Number (Written on the Back of My Hand)" by The Jags / "Here Comes The Rain Again" by The Eurythmics / "Hurt By Love" by Chris Spending / "Baby's On Fire" by Brian Eno / "Bela Lugosi's Dead" by Bauhaus
Bubbling Under the Top 30
60. Under the Milky Way - The Church / 59. Blitzkrieg Bop - The Ramones / 58. Music That you Can Dance To - Sparks / 57. Never Say Never - Romeo Void / 56. Legal Tender - B-52's / 55. Gentlemen Take Polaroids - Japan / 54. Duel - Propaganda / 53. Catch My Fall - Billy Idol / 52. Christine - Siouxsie and The Banshees / 51. Strange Love - Depeche Mode / 50. Shot By Both Sides - Magazine / 49. Strobe Light - B-52's / 48. Eyes Without a Face - Billy Idol / 47. True Faith - New Order / 46. Fire in Cairo - The Cure / 45. Together in Electric Dreams - Phil Oakey and Giorgio Moroder / 44. Blasphemous Rumors - Depeche Mode / 43. The Whole of the Moon - The Waterboys / 42. 99 Luft Balloons - Nena / 41. The More You Leave; The More You Love - A Flock of Seagulls / 40. Everything Counts - Depeche Mode / 39. Souvenir by OMD / 38. Lips Like Sugar - Echo and The Bunnymen / 37. A Way - The Bolshoi / 36. Space Age Love Song by A Flock of Seagulls / 35. Absolute Reality - The Alarm / 34. The Promise - When in Rome / 33. Feels Like Heaven - Fiction Factory / 32. If You Leave - OMD / 31. Pretty in Pink - Psychedelic Furs
Finally… The Main Attraction!!!
The Fans Choice: 30 Favorite New Wave Songs
30. Girlfriend in a Coma by The Smiths (1987)
Parent Album: Strange ways, Here We Come
Musically inspired by Bob and Marcia's cover of Nina Simone's "To Be Young, Gifted, and Black." Lyrically the song is dark and serious yet backed by a musical arrangement that is bright and cheery but comes back to the serious topic of death with Morrissey's downcast vocal performance.
29. Bring on the Dancing Horses by Echo and The Bunnymen (1985)
Parent Album: Songs to Learn and Sing
Here's a timeline. "Bring on the Dancing Horses" first appeared as a single in October 1985. Then showed up a month later on the compilation album Songs to Learn & Sings in November 1985. Finally in February 1986 it was featured on the soundtrack for the film Pretty in Pink. According to the liner notes of the CD edition of Songs to Learn & Sing the song was specifically written for the John Hughes film.
28. Wishful Thinking by China Crisis (1983)
Parent Album: Working with Fire and Steel – Possible Pop Songs Volume Two
"Wishful Thinking" is China Crisis's only Top 10 hit in the UK having made it to #9.
27. Love Plus One by Haircut One Hundred (1982)
Parent Album: Pelican West
Their biggest hit worldwide as well as their biggest hit in the UK and the US. This is one of my favorite songs, I love the upbeat poppy feel.
26. Nowhere Girl by B-Movie (1980)
Parent Album: Forever Running (1985)
A five minute long 12" single of "Nowhere Girl" was initially released in November 1980 but came and went without recognition. The song was re-recorded in 1982 with a more polished sound and a smoother, stronger lead vocal. It was released worldwide on both 7" and 12" singles. The song charted in the UK and Sweden. Though it did not chart in the US the song became a dance club classic of the 1980s.
25. I Wanna Be Sedated by The Ramones (1978)
Parent Album: Road to Ruin
"I Wanna Be Sedated" is one 9f The Ramones' best-known songs and has ended up on many New Wave 80s compilations. The new Wave compilation series Sedated in the Eighties was named after this song and was track one on volume one of the series.
24. Psycho Killer by Talking Heads (1977)
Parent Album: Talking Heads: 77
This was the first Talking Heads song to chart anywhere. It made it into the top 20 and the Netherlands and Belgium and number 92 in the United States. Talking Heads was my favorite band from 1980 to 1983.
23. Atomic by Blondie (1979/1980)
Parent Album: Eat to the Beat
Billboard magazine has described the song as an electronic enhanced dance number. It is a fusion of new wave, rock, and disco which proved to be very successful previously with their #1 hit Heart of Glass. I love Blondie tremendously to this very day. I still buy their music whenever they do release something.
22. Bird Fly (Whisper to a Scream) by The Icicle Works (1983)
Parent Album: The Icicle Works
In the US The Icicle Works is sadly a one-hit wonder. "Bird Fly (Whisper to a Scream)" was their only single to make it on Billboard's Hot 100 Singles, it peaked at #37. Although it made it to #13 on the US Dance chart as the song was very popular in dance clubs across the US. In the UK the song only made it to #90 but after the success of "Love is a Wonderful Colour" they re-released "Birds Fly…" and this time it made it to #53. As a side note The Icicle Works was also a one-hit wonder in the UK but with the song; "Love is a Wonderful Colour."
21. Eighties by Killing Joke (1984)
Parent Album: Night Time (1985)
The ultimate anthem of the 1980s with its recurring lyric: "Eighties - I'm living in the eighties," strong percussive beat, and outlook of struggle and greed. The song was played during the party scene in the 1985 film Weird Science.
20. Boys Don't Cry by The Cure (1979/1986)
Parent Album: Non-Album Single
"Boys Don't Cry" is one of The Cure's best-known songs. The original version in 1979 and in 1986 the original music track was remixed, and Robert Smith re-recorded his lead vocals. This latter version ended up becoming a top 40 hit all throughout Europe.
19. Pale Shelter by Tears for Fears (1982)
Parent Album: The Hurting
"Pale Shelter" was originally released as a single in 1982 in the UK only but failed to chart. After the successes of "Mad World" and "Change" the song was re-recorded and released again. This time it made it to #5 in both the UK and Ireland and #12 in Canada and #25 in Germany.
18. Secret by OMD (1985)
Parent Album: Crush
The song was a moderate hot reaching #34 in the UK and #63 in the US. The song appeared in the 1988 film Arthur 2: On the Rocks.
17. Shout by Tears for Fears (1984)
Parent Album: Songs from the Big Chair
Before "Shout" Tears for Fears had hits throughout the world with "Mad World" and "Change" but it was "Shout" that broke loose and was their first song to become a worldwide mega-hit.
16. Flaming Sword by Care (1983)
Parent Album: Diamonds and Emeralds
Ian Broudie who was also associated with the British bands Big in Japan, Original Mirrors, and Lightning Seeds (see #10) co-wrote the "Flaming Sword" and under the alias Kingbird he produced it.
15. Major Tom by Peter Schilling (1983)
Parent Album: Error in the System
The song is based on the main character in David Bowie's 1969 classic "Space Oddity." The song was a huge hit around the world reaching number one in Austria, Canada, Germany, and Switzerland. It also reached the top five and Holland, France, and South Africa. In the United States the song made it to number 14. The song was a major hit in dance clubs making it to number two on the US dance music charts. Just as a little side note this is one of my very favorite songs of the 1980s. I love it.
14. Killing Moon by Echo and The Bunnymen (1984)
Parent Album: Ocean Rain
Singer/Songwriter Ian McCulloch says he woke up one morning with the lyrics in his mind, "Fate up against your will. Through the thick and thin. He will wait until you give yourself to him." He said he half credits the lyrics to God. The chords of the song were based on David Bowie's "Space Oddity", played backwards.
13. Enjoy the Silence by Depeche Mode (1990)
Parent Album: Violator
"Enjoy The Silence" was originally intended to be a ballad. But after prompting from band member Alan Wilder the song was reworked into an upbeat version.
12. Losing My Religion by R.E.M. (1991)
Parent Album: Out of Time
This song won two Grammy Awards: Best Short Form Music Video and Best Pop Performance by a Duo or Group with Vocal. It is also R.E.M's biggest hit in the US and worldwide.
11. Love Vigilantes by New Order (1984)
Parent Album: Low-Life
Though the song was not released as a single it is one of New Order's best-known songs. The lyrics are rather dark with a Vietnam soldier returning home after it was thought he was dead, only to find his wife having committed suicide.
10. Pure by Lightning Seeds
Parent Album: Clockcuckooland
The song reached #31 in the US and #16 in the UK. Lightning Seeds worked as a solo project for lead vocalist, multi-instrumentalist Ian Broudie. Broudie was also associated with the British bands Big in Japan, Original Mirrors, and Care (see #16).
9. More to Lose by Seona Dancing
Parent Album: N/A
Comedian Ricky Gervais was the band's lyricist and lead vocalist.
8. Mad World by Tears for Fears (1982)
Parent Album: The Hurting
"Mad World" is one of the most iconic songs around the world. Yet it has only chart on very few countries including #2 in South Africa, #3 in the UK, #6 in Ireland and placed in the Top 25 in Australia, New Zealand, and Germany.
7. Ghost in You by The Psychedelic Furs (1984)
Parent Album: Mirror Moves
"Ghost in You" was one of four Psychedelic Furs songs to place on the US singles chart reaching #59.
6. Just Like Heaven by The Cure (1987)
Parent Album: Kiss Me, Kiss Me, Kiss Me
Peaking at #40 "Just Like Heaven" was The Cure's first song to make it into the Top 40 on Billboard's Hot 100 Singles chart in the US.
5. I Melt with You by Modern English (1982)
Parent Album: After the Snow
This is one of those songs that due to its popularity around the world it seems that it should have charted better. It made it unto only one major national chart and that was Billboard's Hot 100 Singles reaching only #78. The song did fare better on a few minor charts: the US Mainstream Rock chart at #7 and #18 on the UK Indie Chart. The song was featured in the 1983 film Valley Girl.
4. Take on Me by A-Ha (1985)
Parent Album: Hunting High and Low
The song's pencil-sketch animation and live-action combination music video was largely responsible for making the song a hit. The animation process called rotoscoping was completed in 3,000 frames in order to give the characters realistic movements. This took 16 weeks to produce. The video has received 1.5 billion views on YouTube (at this moment 1,558,147,575). The video has won six MTV Video Music Awards.
3. What's Your Name? by Depeche Mode (1981)
Parent Album: Speak and Spell
Martin Gore and Andy Fletcher have both stated that "What's Your Name?" is their least favorite Depeche Mode song. However, the song is a huge fan favorite.
2. Bizarre Love Triangle by New Order (1986)
Parent Album: Brotherhood
"Bizarre Love Triangle" was a huge hit in dance clubs across the United States making it to #4 on the US Dance Music chart.
1. With or Without You by U2 (1987)
Parent Album: Joshua Tree
Produced by Daniel Lanois and Brian Eno "With or Without You" has become one of U2's best known and most covered songs. The song has made it into the Top 20 in about 20 countries around the world and reached #1 in the US, Canada, and Ireland.
Thank you friends for visiting and reading... Check out another one of my Fans Choice articles... 25 Favorite Songs of David Bowie...
About the Creator
Writing is a distraction for me. It takes me to places unknown that fulfill my need for intellectual stimulus, emotional release, and a soothing of the breaks and bruises of the day.
https://www.facebook.com/groups/vocalplusassist
Reader insights
Outstanding
Excellent work. Looking forward to reading more!
Top insight
Expert insights and opinions

Arguments were carefully researched and presented
Add your insights