Everyone in Harmony
The move of an all-male society towards an inclusive one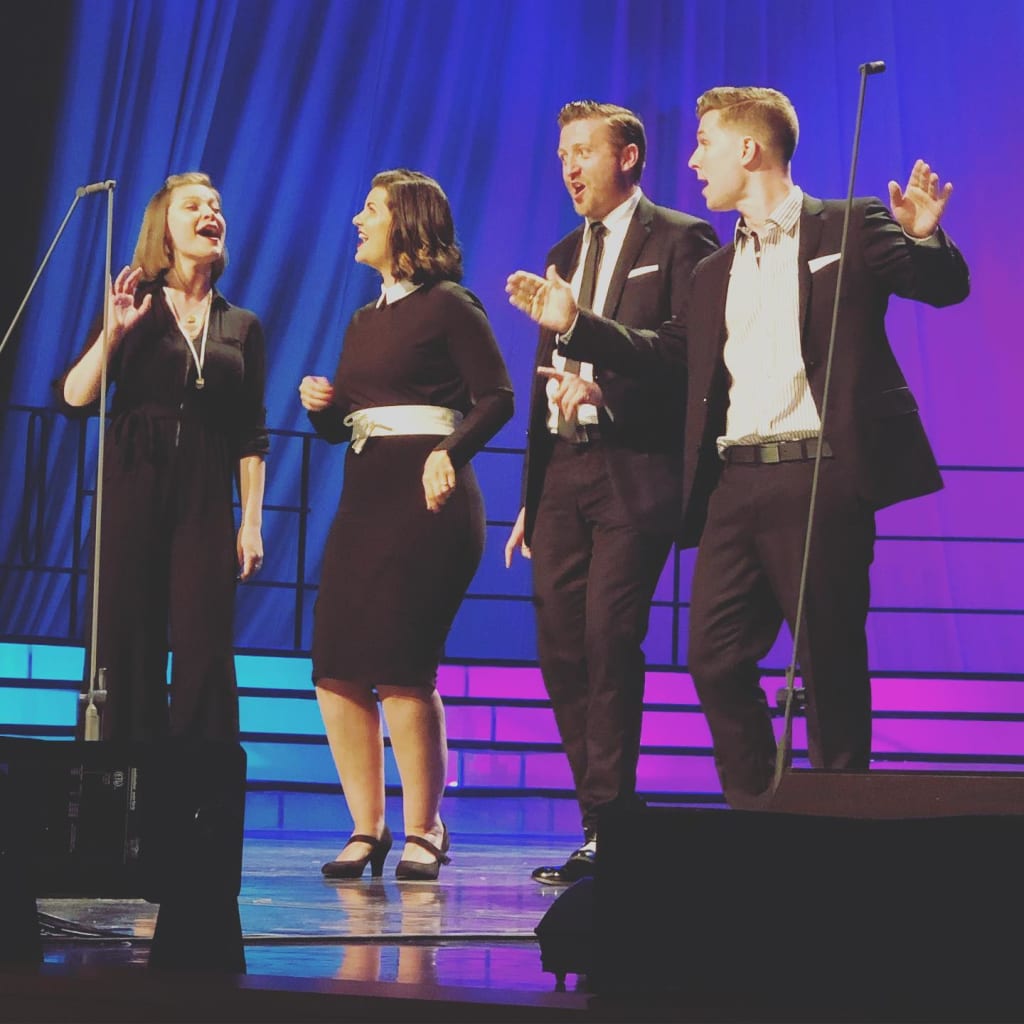 Picture Credit: Barbershop Harmony Society, Salt Lake City 2019 Barbershop International Convention. Quartet: Half and Half
The Barbershop Harmony Society (BHS), originally called the Society for the Preservation and Encouragement of Barber Shop Quartet Singing in America (SPEBSQSA) first began on a rooftop on April 11, 1938. It started with 26 men, and eventually grew to a society of thousands spreading across the globe. Since the start of SPEBSQSA, the Society has been male driven. And not just male driven, but white male driven.
In 2017, BHS launched their new initiative, Everyone in Harmony. This was a huge move to include more diverse groups of people including age, race, religion, social, and economic backgrounds. This initiative eventually saw the addition of women into the society in January of 2019. In the past, women were able to join BHS, but as associate members. This allowed them to participate events, but not join them formally as members. That all changed with the launch of Everyone in Harmony.
A huge side of barbershop is the preservation of the art from from its original roots. People want to preserve the old songs we used to sing, and preserve the culture of the society. I myself I love the culture that barbershop grew from. I love learning about the history, and participating in the BHS culture. Some people, however, feel that the initiative is stripping away the culture and the history of the organization. I believe that the change that the society is trying to induce is sort of surprising people. Change is never easy for anyone to go through.
I believe that Everyone in Harmony is the correct step for us to take in the Society. Opening the doors to more people can be a good, and sometimes necessary change. It encourages other people to participate in the art form, and encourages the continuation of the society. Giving an avenue for all sorts of people to express themselves through an organization that is incredibly uplifting is something everyone needs.
I do agree with some people that the implementation of the society has been, for a lack of a better word, vague. I love that all of these mixed quartets are popping up, and that people of all different backgrounds are taking the stage and doing what they love. The hastiness of the initiative is what I don't agree with. It started in 2017 and in 2019 membership opened up to everyone. That's great, and an encouraging step for the society. In 2020, however, they plan to open contest and convention to mixed and women's quartets as well. My concern is that contest and convention can already be three to four hours long. The addition of all of these quartets will further extend that time and make people restless during performances. I don't think that the contest or convention set up was properly thought about, or was even talked about in real discussion by more than a board of people. Changes like this take time. The society heads did put forth a plan on how they intend to unveil the initiative, but again, it lacked clarity, and seemed like they put together a plan just to put a plan together.
What we need to do is slow down a bit. Make sure that we are combing through all the pros and cons of the initiative, and giving Everyone in Harmony its due. Change in the society might be easier for me to digest, because I've only been in it for four years, however, I understand that a change this big needs to simmer slowly and not be brought to a rolling boil all at once. If we break down Everyone in Harmony into smaller, digestible chunks, it will be easier for people to be on board with the changes. Provide the much needed clarity to the members at large, so they can see how and why we're implementing the changes, and listen to the members of the society for their desires and opinions.
Everyone in Harmony is a great addition to the society. It allows more people to enjoy the art form that we so love, and gives us more opportunities to sing and form communities. A lot of us in the society came to our chapters for our love of singing, but stayed, because we discovered a new family. Let's open the doors to let even more people experience that camaraderie as well.