Eurythmics: '1984 (For the Love of Big Brother)'
Thirty-five years later, Eurythmics' prophetic masterpiece still rings true.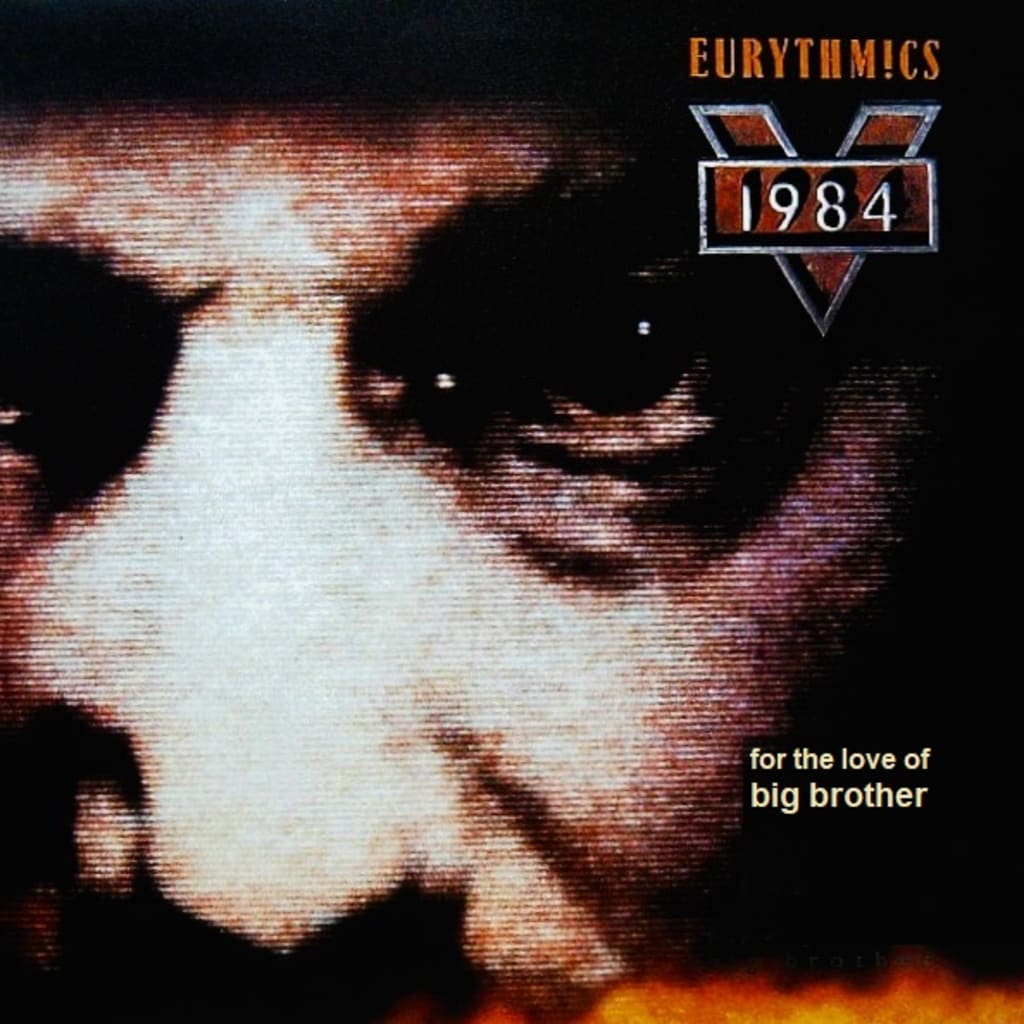 (© 1984 RCA Records and Virgin Records)
In the summer of 1984, Eurythmics' David Stewart and Annie Lennox were commissioned by Richard Branson and Virgin Records to compose a musical soundtrack for Michael Radford's film version of George Orwell's dystopian novel, Nineteen Eighty-Four. Eurythmics' songtrack album was subsequently released one month following the film's premiere and contained nine songs derived from the instrumental interludes Stewart and Lennox composed for the movie.
Eurythmics' album release of 1984 (For the Love of Big Brother) is mostly instrumental, but also contains three full-bodied songs: the brooding title track, "Sexcrime (Nineteen Eighty-Four)" and "Julia." The latter two were released as singles, and with help from its accompanying music video clip, the lead single "Sexcrime," went on to become the duo's sixth consecutive Top 10 hit in the United Kingdom. Ironically, "Sexcrime" was met with resistance in the US and was actually banned from many American radio stations' playlists due to its speciously perceived song title, which would surely have amused Orwell himself.
The album begins with Lennox's closemouthed humming on opener "I Did It Just the Same" as if to illustrate a melodic protest of speech censorship. Lennox's blue-eyed soul scat-like singing on "I Did It Just the Same" slowly erupts into one of the most amazing vocal performances without the use of any words, which truly exemplifies Hans Christian Andersen's adage: "Where words fail, music speaks."
The album's most conversant track "Sexcrime," is a rhapsodic dance banger showered with various musical Annie-isms, which illustrates Lennox's innate vocalizing skills to their maximized best. This single was the first in Eurythmics' canon which truly demonstrated Annie Lennox was not just another pop singer. It's almost comical now to think this album featured a hype sticker upon its initial release which read: "Censored by the Thought Police." Ironically, this became true in a sense, as radio stations wouldn't play the lead single due to its repetitively intoned title (referring to the act of sex itself as literally being deemed a crime), despite being edited in its 45-rpm incarnation.
The album suddenly shifts lanes with the haunting title track's hypnotic mix of swirling keyboards and sitar-like strains, eloquently yet, effectively underscoring the murky subject matter of spying eyes and dictatorship. The sinister mood is immediately set as Lennox sings:" I still hear the sound of conversation down the hall, look to see who's coming but it's nothing and there's no one there at all."
The ethereal "Julia" is a nearly 7-minute opus, which was not only the album's second single, but also the main recurring theme used in Michael Radford's film. The ballad not only served as the highlight of the film's musical score, but still stands as one of Eurythmics' preeminent masterpieces amongst the duo and fans alike. Lennox has previously likened the beautifully haunting ballad to something you might hear on a Kraftwerk album. Even Stewart himself described the album's material as: "Kraftwerk meets African tribal meets Booker T and the MGs." The otherworldly ode explicitly paints a sonic soundscape with its sparse unification of synths and acoustic guitar: "When the leaves turn from green to brown, and autumn shades come tumbling down/To leave a carpet on the ground where we have laid."
Eurythmics' 1984 (For the love of Big Brother) and its currently relevant subject matter successfully combines elements of electronica and dance to create an effective and appropriate foreboding tone, yet it is far removed from a typical EDM album. Its chilling timeliness seems as if the duo could have created this material in today's current climate of kleptocracy, especially when you consider we now have political figureheads seemingly in cahoots with and striving to become modern day dictators. For example, just listen to the album's seventh track, "Doubleplusgood," with its ominous newspeak fragments, it's almost hard to envisage that it was written 35 years ago.
The album's Bahamian tribal-like beats, performed by Junkanoo Drums and Blast, really work effectively to drive home the sonic landscape of a bleak and horrific dystopia, while the brief, but dreamlike "Winston's Diary," evokes distant echoes of the stylings of Vangelis. Finally, the closing track "Room 101" easily sounds as if it could've been included on Giorgio Moroder's Metropolis soundtrack.
Eurythmics' 1984 (For the Love of Big Brother) is a beloved, although often overlooked piece of work, which is considered to be the duo's most experimental output to date. It may not have been what the film's director commissioned, but Eurythmics' movie songtrack was ultimately the perfect companion piece. It should be considered a crime how dreadfully overlooked and mistreated this body of work was upon its original release as well as its continued neglect. It screams for a newly remastered rerelease with bonus materials (especially the extended version of "Sexcrime," which hasn't been readily available since its original vinyl release), especially considering its relevance to the planet's current state of affairs. Its preliminary description as: "Music derived from Eurythmics' original score of the motion picture '1984,'" almost sadistically makes me ponder how much of this well-crafted piece of work is shamefully lying dormant in a vault somewhere.
"Like a train passing in the distance, like a bird in flight I hear you call…"
About the Creator
I'm a music journalist, blogger and crate digger. I began writing about music during college and again as a freelancer. Links to my published pieces can be found on my music blog at: popmartzoo.com and/or follow me on Twitter:@popmartzoo
Reader insights
Be the first to share your insights about this piece.
Add your insights