Essential Rock Stories: "Doctor My Eyes"
The origin story behind Jackson Browne's iconic hit.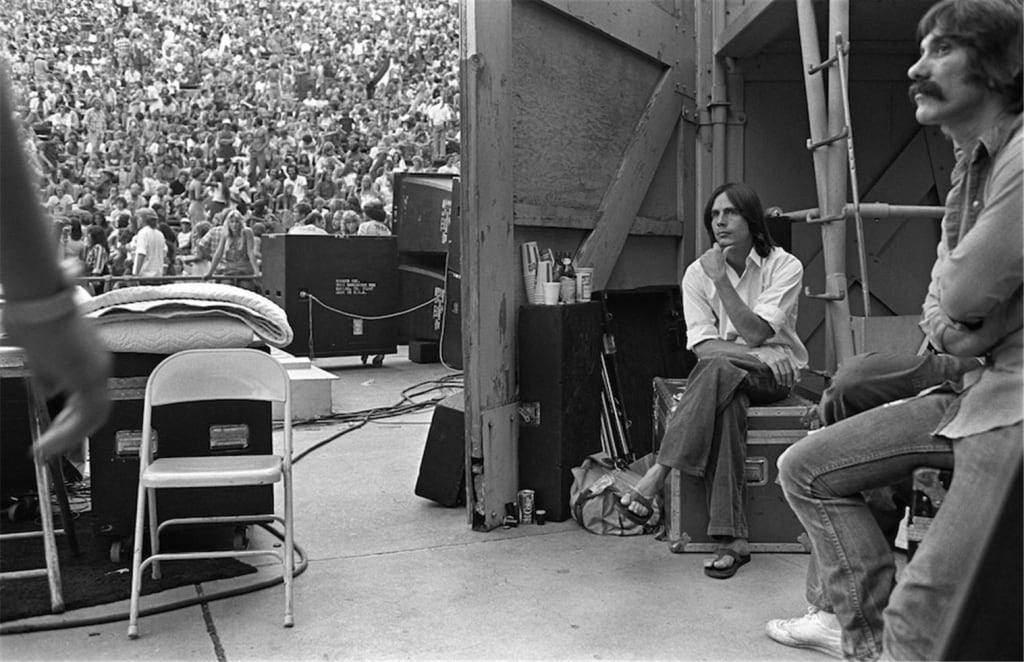 Photo Copyright Joel Bernstein
Welcome to the first edition of a series I like to call Essential Rock Stories, a deep dive on your favorite classic rock artists, songs, and albums that will change the way you think about Rock & Roll! Today we're directing our focus on Jackson Browne, and his smash hit, "Doctor My Eyes."
While most of us know Jackson Browne as the award winning singer/songwriter that grew to prominence in 70s Southern California, the artist formerly known as Clyde Browne had humble beginnings. Browne was born in Germany in 1948 while his father was stationed overseas, and returned to the US when Clyde was three. The Browne family moved into a family home in Los Angeles, which proved to be a lucky turn of fate for the young Clyde. Browne began to frequent the clubs of the Sunset Strip of Los Angeles when he was just a teen, and actually joined the Nitty Gritty Dirt Band for a period shortly after graduating high school. The songwriter then traveled to Greenwich Village in New York City to join the folk music scene burgeoning in the late 60s. After a breakup with Nico, singer from the Velvet Underground, he moved back to LA where he began to meet and collaborate with fellow up-and-coming superstars.
Just two of the fellow artists he grew close to were Glen Frey and Don Henley, fresh off of their turn in Linda Ronstadt's backing band. Frey and Henley were in the midst of creating their own band, which had not yet been named The Eagles. The two left a successful life on the road with Ronstadt's band, and decided to settle down in Los Angeles while they pursued their own musical ventures, and in doing so had to find a place to live.
Enter Jackson Browne, who was also looking for a new place to live while he pursued his own musical dreams. He had found the most success so far in penning tunes for other artists, but at this point began to write specifically with himself in mind. Browne moved into an apartment adjoining that of Frey and Henley's, and began to earnestly write and perfect his own tunes. One of those tunes was "Doctor My Eyes," which Browne would fine tune every morning on his piano. Early every morning, Frey and Henley could hear through the thin walls the sounds of Browne tapping out those iconic opening bars. Frey claims that by the time the song came out, he was already tired of hearing the song, as he had heard it thousands of times during its inception!
The song of course was a huge hit for Browne when it was released on his self-titled album in 1972. The single quickly climbed the charts, and reached number eight on the Billboard Hot 100 list. Browne and other producers on the album recall that although "Doctor My Eyes" had a lively beat, the lyrics and meaning behind the song paint quite a depressing picture. They describe the story of a man that is searching for meaning in his life, after he has endured many hardships and wonders "if it's too late for me." Browne originally included a fourth verse that ended the man's story in a more tragic turn of events, but he decided to cut the verse in the final version. He has performed this version just a few times since then, so if you've heard it you may be one of the few to do so!
What iconic Jackson Browne song is your favorite? My personal go-to is "The Pretender." Let me know in the comments, and let me know who I should cover next on Essential Rock Stories!
history
About the author
A music enthusiast that's never met a cat or record store she didn't like, Sierra lives in the mountains of North Carolina with her cat Groucho. She reads presidential biographies by day and listens to Billy Joel and The Eagles by night.
Reader insights
Be the first to share your insights about this piece.
Add your insights