Elvis the Movie
Film review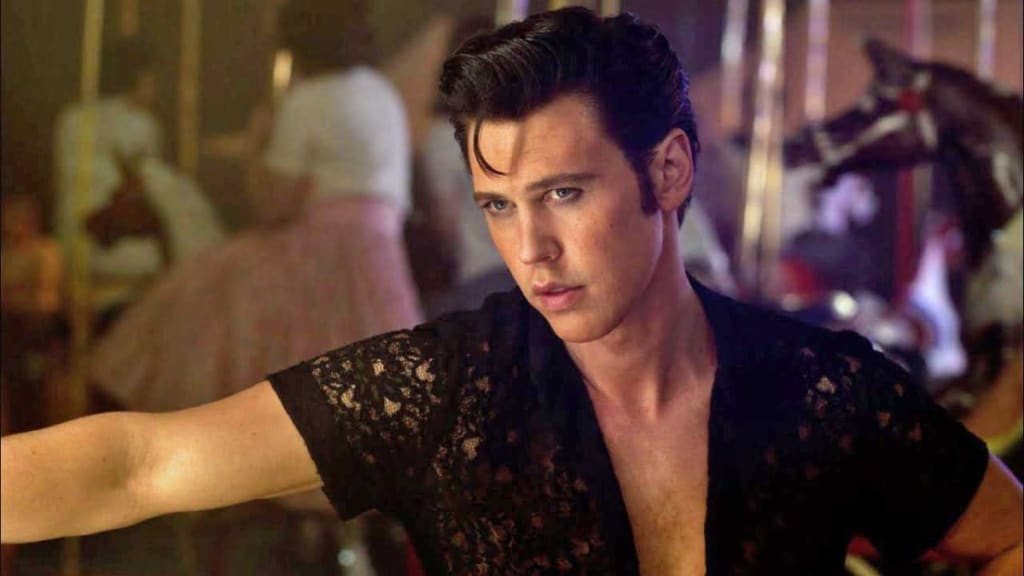 Austin Butler as Elvis (Warner Brothers Photo)
I left the movie theater a few nights ago after seeing the Elvis film with both sadness due to the tragedy in the film and joy from the uplifting effect it had on me. A few days later, I am still singing Elvis songs and replaying the film in my head. This was the best film I had seen in a long time. Baz Luhrmann did an excellent job directing this film. Also, casting Austin Butler as Elvis was a genius choice. Austin embodied Elvis so well that you forget you're watching Austin and think you are actually watching Elvis. Austin Butler even sounds like Elvis Presley. From the tone of his voice, to his clothes, to his amazing dance moves, Austin Butler deserves to win awards for this performance. Austin will have you believing he is Elvis. This no doubt will be a huge turning point in Austin Butler's acting career. The young man proved he has amazing talent and focus.
Elvis is a 2022 biopic about the famous rock and roller, Elvis Presley. Elvis lived in Memphis, Tennessee and was brought up around music, mostly gospel. He lived on the border of a predominantly black neighborhood during times when racism was a huge problem. Yet, Elvis embedded himself and was accepted as if he was family. He grew up around some of the greats like B.B. King and Little Richard. Tom Hanks portrays Elvis' manager Colonel Tom Parker who discovers Elvis and offers him a chance to work together and make big things happen. Elvis took the Colonel up on his offer and became one of the most famous singers of all time. The film takes you on a rollercoaster ride showing you the successes and difficulties Elvis faced throughout his lifetime. For the older crowd, some of the film will be reminiscent for you as y0u remember growing up with Elvis music. Your feet will be stomping in the theater and you'll definitely want to sing along.
Tom Hanks has received mixed feedback for his performance as the Colonel. Some called his performance corny but I thought he was brilliant. In true Tom Hanks form, he embodied Colonel Tom Parkers' character. From the accent to the physical appearance you might find yourself having a love/hate relationship with this character throughout the film. He shows love for Elvis as if he was family, but he also shows a lot of manipulation. Colonel Tom Parker was the narrator throughout the Elvis film. It felt like the storyline was split between the story of Elvis and the story of Colonel Tom Parker.
The acting in this film is brilliant all the way around. Chemistry was on point with all the actors. Olivia DeJonge was excellent as Priscilla Presley. Helen Thomas was very believable as Gladys, Elvis' mother. You really get a sentimental feeling about how close Elvis and his mother were.
There were a lot of amazing talent in this film. Talents included, Kelvin Harrison Jr, David Wenham, Kodi Smit-McPhee, Luke Bracey, Richard Roxburgh, Dacre Montgomery, and we must not forget the debut of Chaydon Jay as young Elvis. Chaydon Jay did an amazing job portraying a young Elvis. He even had the dance moves down as witnessed in a scene during a gospel song at a church service. He literally looked like a young Autsin Butler. This young talent should be recognized and noticed.
Baz Luhrmann did a wonderful job on this film. The set designs, make up, wardrobe, everything was beautiful to look at. The film has a lot of amazing and beautiful visual effects. The soundtrack of course is outstanding. You think you are actually attending an Elvis concert. This film was a heart touching experience. You just can't help yourself from feeling so many emotions. Pricilla Presley, Elvis' wife (widow) and his daughter, Lisa Marie both gave the film their blessings. You have to know that if they approve, then the film must give a pretty accurate portrayal of the life Elvis led before his tragic and way too early death.
This film is a must see. I honestly think it should be eligible for picture of the year. It left me with such emotion and thought. I can't wait to see it again.
Written by: Sue McGaughey
movie review
About the author
I worked 24 years in special education primarily doing behavior management. Writing has always been my passion. I was lead writer for a Lifestyle and Entertainment magazine for 8 years, until they closed during Covid.
Reader insights
Be the first to share your insights about this piece.
Add your insights