Dove Cameron Is Back At It With Breakfast
Another Banger of a song from the queer icon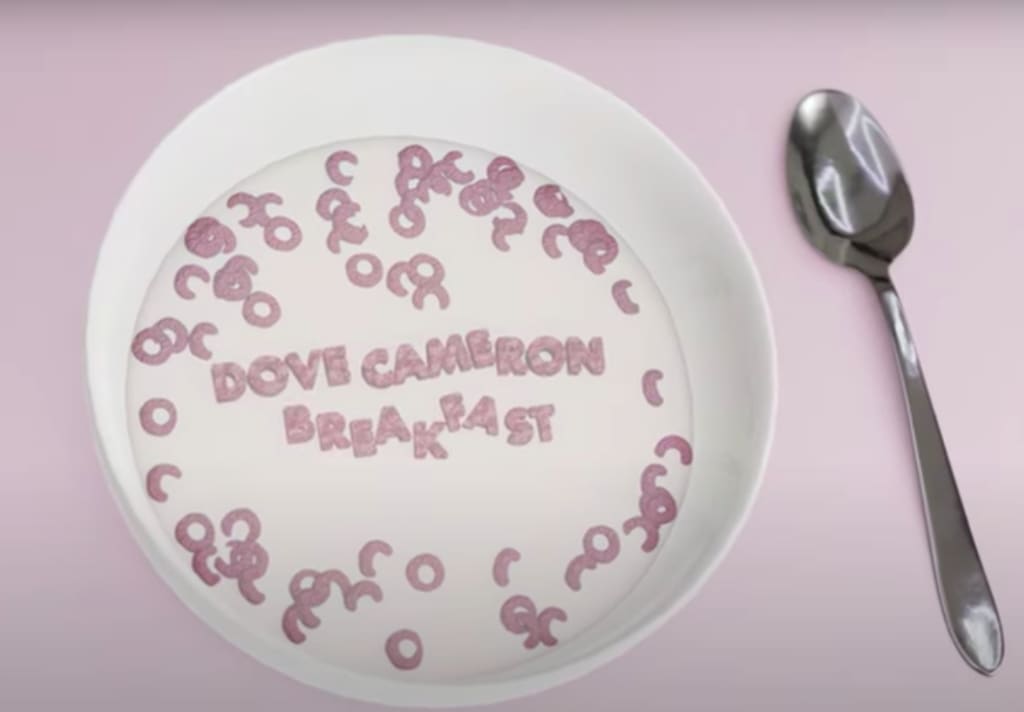 Dove Cameron's Breakfast
Ding! Ding! Breakfast is ready, you guys! Dove Cameron has released another steamy and satisfying single, this time feeding us all a hearty meal with Breakfast. Ditch the soggy oatmeal and dig into what Dove is serving up.
Dove Cameron has recently been ruling the charts with her previous release, Boyfriend. Boyfriend first went viral on tiktok, a small clip of the song garnishing over 4 million views. It became a queer phenomenon in just a matter of months, already certifying gold in the United States and Australia. Boyfriend is a top ten hit pop song that is really cementing Dove's place in music and letting the world know she is someone to keep an eye on. With Breakfast, she wants to keep us looking, and listening, but also satiated and well fed on some fantastic music. She's serving us up nothing but absolute bangers, and Breakfast doesn't disappoint at all when it comes to another deliciously tasty treat of a song. Summer has begun, and we've got a delicious snack to get us through the simmering heat. I'll definitely be blasting it all season long and well beyond.
Breakfast starts off a bit like an action film soundtrack, the beat teasing you about what's to come. The anticipation making the hair on the back of your neck stand tall. Then Dove begins to sing, a low tone like venom dripping from her lips. Breakfast feels like a late night date in Los Angeles. Streets that have seen too many broken dreams under smoggy skies and forever expanding skyscrapers. She says it herself, "Hot and dirty like the LA air." It's like a hidden bar behind a bookshelf before last call when a stranger whispers in your ear and makes you shiver. Lust like desert heat hangs in her voice and pulls you in like a serpent luring in their prey. If the film Jennifer's Body were embodied in one song, it would be Breakfast. An anthem oozing with Megan Fox as Jennifer Check goodness. Dove's voice alone is a sweet seduction layered over lyrics ripe with goddess like power - she can eat boys like you for breakfast and the way she sings it, it's one of her favorite meals. Whilst Dove is not literally resorting to cannibalism, she's actually singing about how this boy is not a challenge to her, he can't overpower her. It's refreshing to listen to her sing about her aggression, her dominion even, as women even today are forced to be meek and powerless in the shadow of their male peers. As if being a woman isn't the true prestige in a world like ours. Breakfast is a feminist power call, especially in a time where toxic masculinity is still running rampant. Men are allowed to collect women like charms to brag about, and she's turning the tables with all the boys strung on HER necklace. The very boys she's overpowered. She's not here for cat & mouse games, she IS the cat, and she's letting everyone know. You want to talk about power? Dove Cameron is on her rise, and she's ready for her throne. Dove Cameron supremacy is here, so join the revolution.
If 2022 is any indication of Dove Cameron's future success, we can only hope for more top 40 hits and exposure in her future. TikTok and other social media platforms will come and go, but Dove Cameron is here to stay.
Breakfast is available to stream now, and you can view the official lyric video on YouTube here:
You can read my review of Dove Cameron's previous single release here on Vocal!
Reader insights
Outstanding
Excellent work. Looking forward to reading more!
Top insights
Expert insights and opinions

Arguments were carefully researched and presented

Eye opening

Niche topic & fresh perspectives
Add your insights