Double the Pleasure
Popular singing duos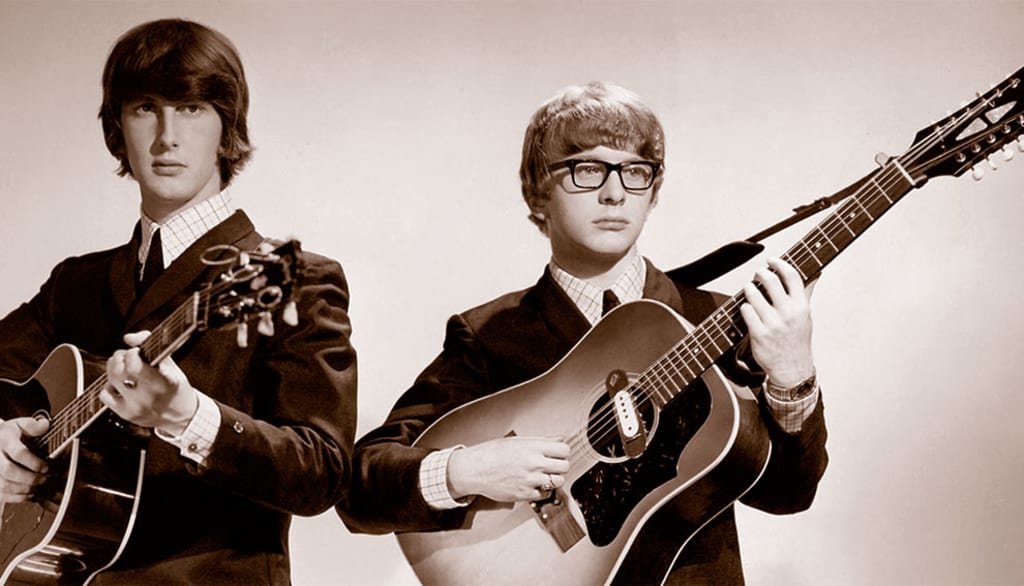 Peter and Gordon
Peter Asher and Gordon Wallace were a British pop duo that sprang up in the 1960s. "A World without Love" became their first hit and made them famous.
In the 1950s, Peter and his sister Jane became child actors. At one time, Peter's sister Jane dated Beatle Paul McCartney. When Peter and Gordon came together, they sang some songs written by McCartney and credited to Lennon-McCartney.
Among these hits were "A World Without Love," "Nobody I Know," "I Don't Want to See You Again," and "Woman".
"Nobody I Know" was thought to be a "strong follow-up" to "A World Without Love" by Billboard.
"Woman" is a single written by Paul McCartney in 1966 under the pseudonym Bernard Webb. It was recorded by Peter and Gordon, With this song, McCartney wanted to see if one of his compositions could be successful without being credited to Lennon-McCartney. The song was successful and made it on both the UK and the US charts.
Other hits for Peter and Gordon were "I Go to Pieces," a song written by another rocker known as Del Shannon. and they also did a remake of the Buddy Holly hit "True Love Ways".
They scored a final hit in 1966 in Britain, which is still heard today on oldies rock stations "Lady Godiva." This song made it on both the British and the U.S. pop charts. They lasted until 1967.
Afterward, Peter Asher went to Apple Records and was head of A&R, and wound up in California. He was the manager and producer to such rock greats as Linda Ronstadt and James Taylor. It wasn't until August of 2005 that Asher reunited with Gordon onstage at two tribute concerts in N.Y.C. They performed together at Disney's EPCOT Center in Florida in 2007 and 2008. Peter and Gordon also played at the commemoration concert on the 50th anniversary of the death of rock legends Buddy Holly, Richie Valens, and the Big Bopper.
The last time Peter and Gordon appeared on stage together was in Las Vegas, Nevada, on July 1st and 2nd,2009, and sadly, Gordon Wallace suffered a heart attack on July 17, 2009, and died at the age of 64. However. their rock lives on, and Peter Asher keeps rocking.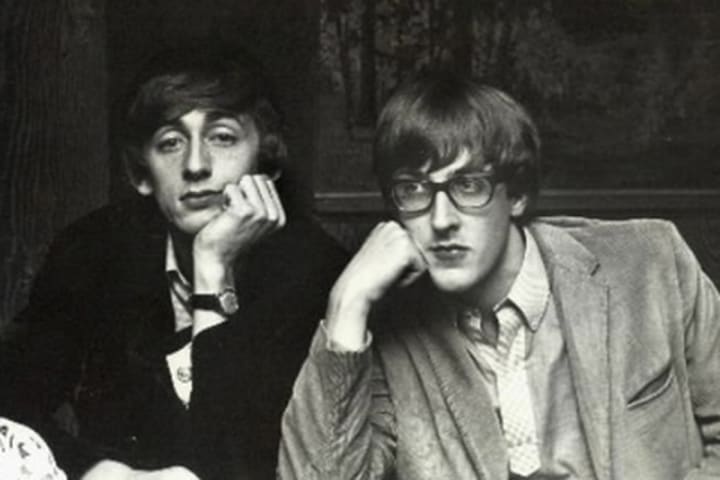 Chad & Jeremy
Chad Stuart and Jeremy Clyde were a folk-rock duo who came from England and became part of the British Invasion making the American rock scene in the 1960s. Surprisingly they only had one U.K. hit in 1964 "Yesterday's Gone". Their next single became a great hit in the U.S. "A Summer Song" which made it on the Billboard Hot 100 chart, Two other hits were "Willow Weep for Me" and "Before and After".
Their two albums Of Cabbages and Kings in 1967 and The Ark in 1968 were not too successful. In 1965 they appeared on the TV show "The Dick Van Dyke Show" playing a duo called The Redcoats and played two songs "No Other Baby" and "My, How the Time Goes".
As Nigel and Patrick they appeared on "The Patty Duke Show" singing the songs "A Summer Song," "The Truth Often Hurts," and "Yesterday's Gone."
Appearing as themselves on the popular 1960s show "Batman" they sang "Distant Shores" and "Teenage Failure."
Jeremy Clyde went on The Dating Game being picked as the favored bachelor and Chad Stuart did the voice of Flaps the vulture in the Disney movie "The Jungle Book" in 1967. They made the music for the movie "Three in the Attic".in 1968
When they came together for a reunion in 1983, Chad and Jeremy recorded the album Chad Stuart and Jeremy Clyde. On the album, five songs were written by Chad and five by Jeremy.
They starred in the West End production of Pump Boys and Dinettes in England from 1984 – 1985. Along with other British Invasion artists, Chad and Jeremy returned to the US in 1986 for a nostalgia tour. In 1987 they performed on their own at Harrah's Casino in Lake Tahoe and the Reno Hilton in the U.S. and went their separate ways.
In 2003 PBS reunited Chad and Jeremy to perform in the 60s Pop-Rock Reunion Special. Afterward, they began touring and released Ark-eology an album featuring their songs from the 1960s. They performed at the Sundance Film Festival in 2009 in Park City, Utah, In 2010 a limited-edition CD Fifty Years On was released.
Chad Stuart passed on in December 2020 at the age of 79. Jeremy Clyde is 81.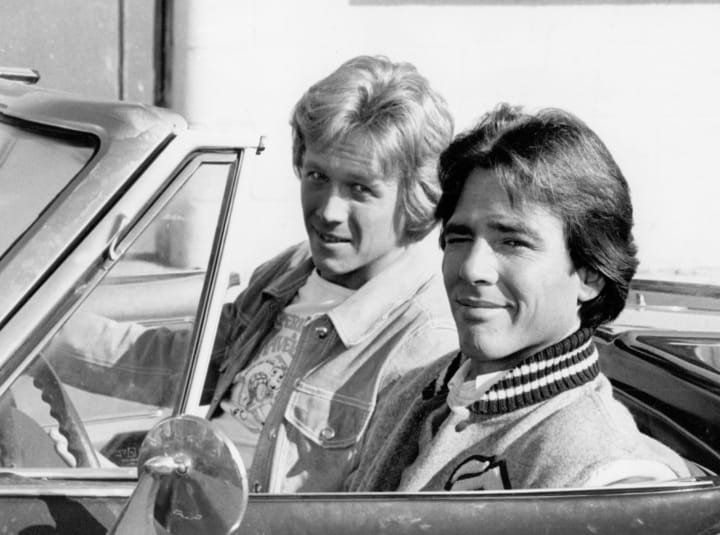 Jan and Dean
A popular rock and roll duo who came together in the late 1950s were Jan and Dean their full names being William Jan Berry and Dean Ormsby Torrence. The Beach Boys had made "surf music" popular and this duo had successful hits in this genre as well including "Surf City", "The Little Old Lady from Pasadena", and "Dead Man's Curve".In 2008 Jan and Dean were inducted into the Grammy Hall of Fame.
High school pals Jan and Dean entered a talent competition at their high school and performed with a doo-wop group called The Barons. In 1958 when this group broke up, Berry and Torrence tried their hand at songwriting and practiced in Berry's garage.
In 1959 they had a hit was the song "Baby Talk." Jan and Dean reached their peak of popularity in 1963 and 1964, during which time they met Brian Wilson of the Beach Boys. The duo has 26 chart hits during the period from 1958-1966 and one number one national hit, "Surf City," which was written by Brian Wilson.
Jan and Dean hosted and performed in the historic concert film The T.A.M.I. Show. This film included a string of rock and roll stars, among them The Beach Boys, The Rolling Stones, and Chuck Berry, as well as many others.
They had two hits "You Really Know How to Hurt a Guy" and "I Found a Girl" in 1965. In April of 1966, Berry was involved in an auto accident and received head injuries which left him with brain damage and partial paralysis. Torrence became a graphic artist and designed and created record album covers and logos for other recording artists and musicians. Berry returned to the studio and began to write and produce music again in April of 1967 and Jan and Dean signed up with Warner Bros. Records.
Unfortunately, they were not successful in regaining their former popularity and worked on other projects. Jan and Dean appeared at the Hollywood Palladium in 1973 but were booed off stage when they lip-synced "Surf City". A TV movie was aired about the duo "Deadman's Curve" in 1978. Together they toured throughout the 1980s and 1990s.
The end of Jan and Dean as a duo came in March 2004 when Jan Berry died before his 63rd birthday. Dean Torrence is 82.
60s music
About the author
My passions are writing and creating poetry. I write for several sites online and have four themed blogs.
Reader insights
Be the first to share your insights about this piece.
Add your insights