Does It Make You Feel Better ?
In his new release, Joshua Turchin explores why bullies feel the need to put people down in order to make themselves feel better.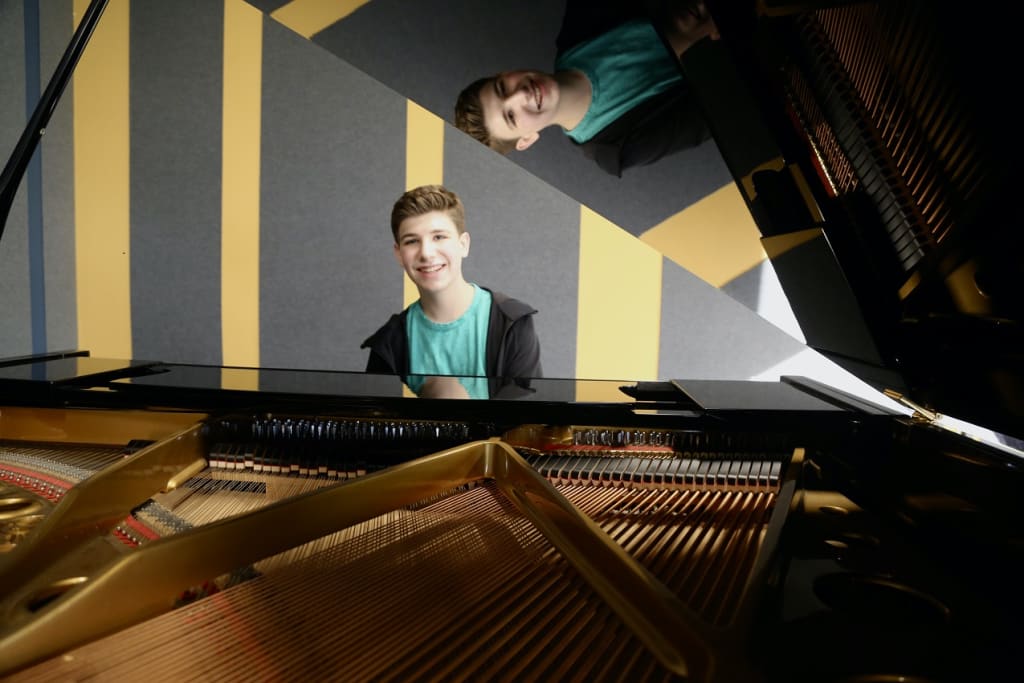 Inspired by recent experiences Joshua Turchin had with former friends who were bullying him, Does it Make You Feel Better explores why bullies feel the need to put people down in order to make themselves feel better. Through writing this song, Joshua learned that the root of bullying stems from the bully's own insecurities.

"As someone who constantly endeavors to lift up and provide opportunities for others, it just didn't make sense to me why I was being targeted. I hope those who bully others look inside and think about why they needed to put someone down to make themselves feel stronger."

Does it Make You Feel Better is co-written with the incomparable Victoria Shaw, known for writing such songs as The River with Garth Brooks and John Michael Montgomery's I Love the Way You Love Me among others. Recorded at M & I Recording Studios in NYC, Shaw also co-produced the song with Rocco Fiorentino.
Q: Tell us a little bit about yourself. Do you come from a musical family? Your (music) background?
I'm a professional composer, performer, and writer. I began studying music when I was 6 years old and have continued learning ever since. I've been acting professionally since I was around 8 years old when I played Randy in the Broadway national tour of A Christmas Story the Musical, and I've continued to perform since then. I was in a few Off-Broadway shows, including the latest Forbidden Broadway, and performed as Flounder in The Little Mermaid at the Hollywood Bowl. I was also recently in The Marvelous Mrs. Maisel, and recorded vocals for Apple TV+'s Schmigadoon! Growing up, my family was a "musical" family, not in the sense that we were music-oriented, but that we all really loved Broadway and music. I was surrounded by musical theatre, which certainly had a positive impact on my music. My dad used to play the piano all the time around me growing up, which partially sparked my initial love for music. I would actually try to pull myself up to hit the keys before I could stand on my own.
Q: What is it about music that makes you feel passionate?
I love being able to evoke emotions in others and tell stories through music.
Q: Are you signed to a label, or would you like to be?
I am not signed to a label as this time, but I'm not opposed to it. I think music distribution is very different now than in the past and artists have a lot more access to fans than ever before with social media.
Q: Do you have a preferred genre?
As a composer, I really enjoy writing for musical theatre and film, but I also love writing pop, classic rock and country. It's fun to write in different styles and create new music.
Q: This is exciting, your 1st release … What's behind the name, 'Does It Make You Feel Better'? Tell us a little about the song.
Thanks so much! I've released several singles of my original music over the past few years, starting when I was 11 years old. I also wrote an original new musical called The Perfect Fit, which was recently released on all streaming platforms by Broadway Records.
This latest song, "Does It Make You Feel Better" is a collaboration with award-winning songwriter Victoria Shaw. The song is our stand-up song to bullies. So many of us have been through bullying and I was thinking about why bullies bully. Like, does it really make them feel better to make someone else feel badly. I was going through some bullying at the time we wrote it and I thought about how so many others my age are going through it. I want them to know they are not alone, and we are here for each other.
Q: Were there any challenging aspects to recording "'Does It Make You Feel Better'"?
One of the biggest challenges is conveying the emotion through my voice that I felt in my heart and in the words. As victims of bullying, we sometimes feel a bit of pain and I wanted others to feel what I felt when listening to the song.
Q: Do you have any other plans relating to this release? A video?
We are planning on releasing a video of the song soon, and I can't wait to share it.
Q: You have an impressive resume already with 'The Marvelous Mrs. Maisel' and 'The Early Night Show'. Did you originally set out to do it all or do you stop & think "Wow, how did that happen"?
Thanks so much! I knew from a really young age that this is exactly what I wanted to do. I came up to NYC with my parents for a few weeks when I was 8 and told them that I found where I belonged. Within a few weeks, I had already started working and booked a lead in a Broadway National Tour!
Q: Do you, or would you like to, perform live?
I do perform live and love it! I've been recording live episodes of The Early Night Show every week at the Broadway Makers Marketplace in NYC. I recently sang at Birdland in NYC, and I'm music directing and performing at 54 Below in NYC in September.
Q: Is there a cover song you think would be fun to perform live?
Waving Through a Window is one of my favorite songs to cover and perform live. Evan Hansen is one of my dream roles, so I love performing the song.
Q: Share a funny moment or positive experience that has happened during your career.
One of the craziest experiences in my career was going to see the Off-Broadway show, The Other Josh Cohen. After the show, I ran into composer Alan Zachary who I had recently recorded demo tracks for on a new musical he wrote. He told me about a concert he thought I'd be a good fit for and connected me with one of his friends. Next thing I knew, I was in L.A. performing as Flounder in The Little Mermaid Live-To-Film at the Hollywood Bowl with Alan Menken because of him!
Q: What music do you listen to 'for fun'?
For fun, I typically listen to Broadway music. However, I do sometimes listen to some pop and other styles.
Q: Would you like to travel to other countries to perform your music? If so, what would be your first stop?
I would love to perform in other countries with my music. I think the UK would be fun so can see shows on the West End. But there are so many beautiful countries to explore!
Q: Who inspires you musically?
Alan Menken and Stephen Sondheim inspire me musically because I grew up listening to their music. I really enjoy the melodic structure of Menken, while Sondheim's clever lyrics and dissonance also inspire me.
Q: If one artist were to perform at your party, who would get the call?
If one artist were to perform at my party, Alan Menken would definitely get the call. I grew up listening to his music and being able to watch him perform in person is a dream.
Q: Do you have a preference… vinyl records, cassettes, CDs, or downloads?
I would have to say downloads because it's the most portable option for me. Also, I don't really use CDs, cassettes, or records, although it's fun to see the evolution of music listening habits and distribution.
Q: What is your favorite/best outlet to connect with your followers Instagram, Spotify, FB, Twitter, iTunes? How would you want them to follow?
I love all social media platforms, but I do have to say I post more on my Tiktok! You can follow me everywhere at @joshuaturchin.
Q: Do you plan to release one song at a time, or do you have plans to work on an Ep or album?
I am working on several new songs, so make sure to stay tuned for more information!
Reader insights
Be the first to share your insights about this piece.
Add your insights