Documentary Review: 'Box of Rain' is a Love Letter to Fans of The Grateful Dead
Wholesome, emotional, and thoughtful, Box of Rain is a lovely tribute to a truly unique fan base.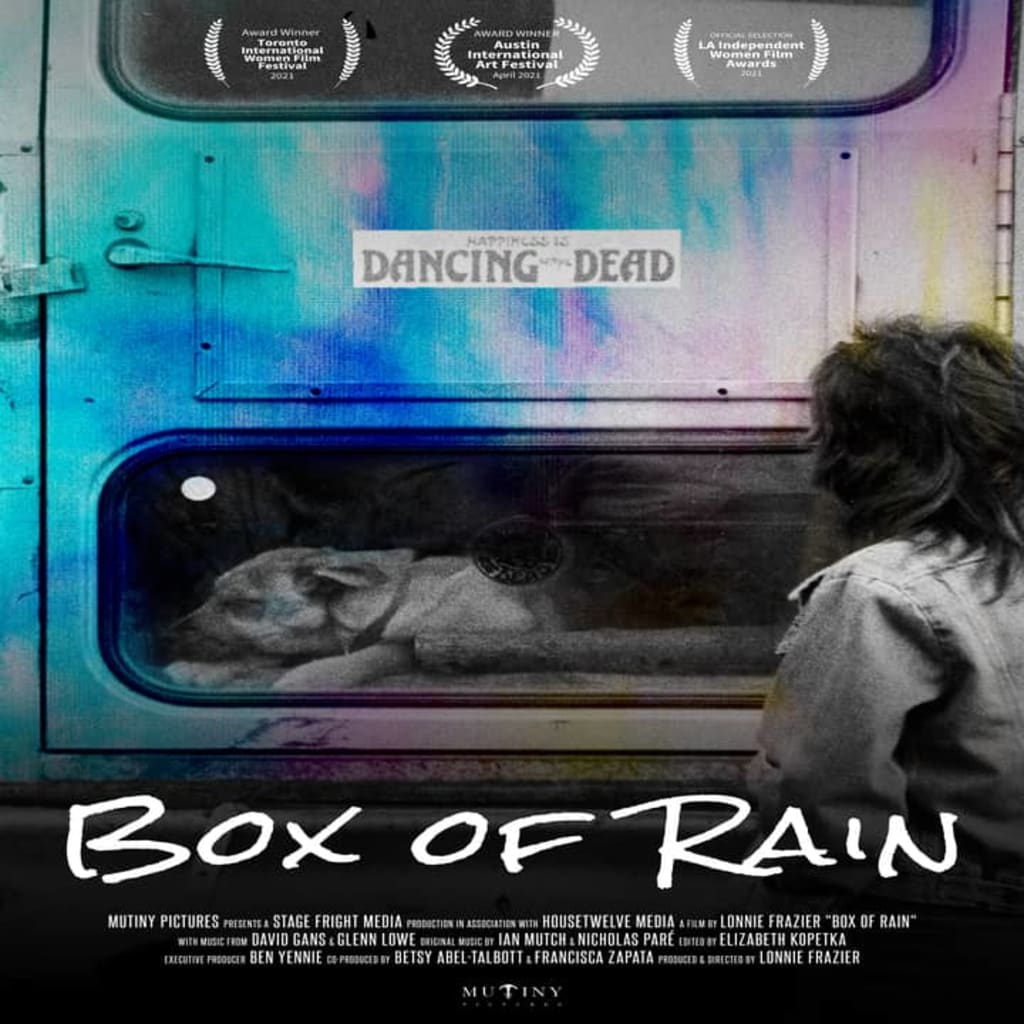 Box of Rain is an emotional journey through the connection of The Grateful Dead and their incredibly unique and dedicated fandom. Shot through the prism of director Lonnie Frazier's own emotional connection to the band, forged in the wake of a devastating sexual assault, Box of Rain reflects on a loving and supportive fandom that is like few others in modern popular culture, music or otherwise.
Lonnie Frazier was a teenager who accepted a ride home from a group of boys she'd known for years from School. She had no reason to suspect that these boys she'd known so well would change her life with their horrific actions. Lonnie Frazier was raped on the way home from a party and it created scars that have lasted a lifetime. Desperately seeking some form of comfort and stability, Lonnie Frazier found something in the music and community surrounding the band The Grateful Dead.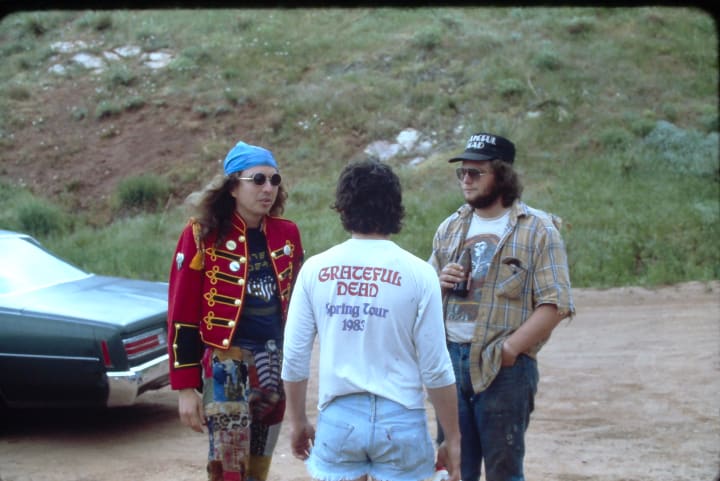 After receiving a ticket, seemingly fated and yet at random, Lonnie piled into a car with a pair of female friends and went to see The Grateful Dead. It was a life altering moment as the music and the safe, loving community of Dead fans created a proto-'safe space' for the recovering young woman desperately in need of a community of people she could trust. The experience led to several weeks of following The Grateful Dead, making and selling bracelets to afford gas and tickets for the next show, and enjoying the remarkable generosity and kindness of fellow Deadheads.
Box of Rain tells Lonnie Frazier's personal story but also has plenty of room for the similar stories of fellow Deadheads who relate similar stories of connection with fellow fans. Those interviewed in Box of Rain uniformly speak of being poor, and hungry and finding warmth and full bellies from the kindness of strangers among Deadheads. The stories of The Grateful Dead community giving out food and blankets, accepting trades for goods, and creating a sense of compassion and selflessness are very moving in Box of Rain.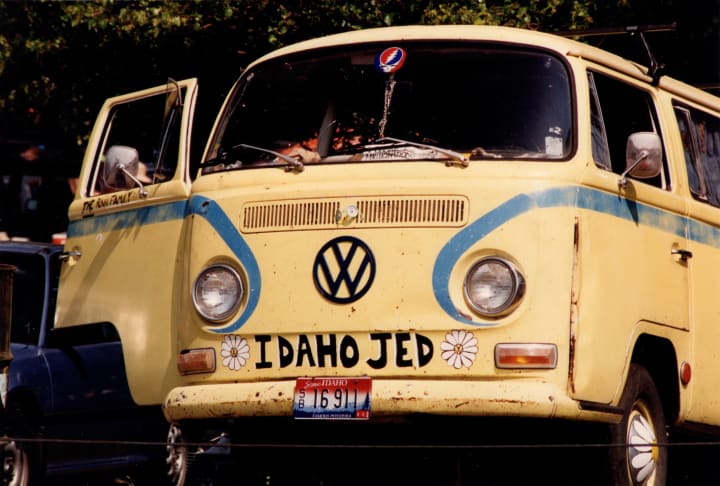 I am a member of The Grateful Dead fandom. I'm not opposed to The Grateful Dead, I've listened to their music and I understand the appeal, but I've never taken a liking to the music in general. And, with my not having been a fan of the music, I have always had only a vague notion of what The Grateful Dead fan base was like. I'd always heard about the generosity of spirit that accompanied The Grateful Dead from City to City but Box of Rain is my first real exposure to The Grateful Dead experience and I am very impressed.
Few fandoms that I've ever seen have appeared as generous and kind as Deadheads. That's part of their reputation but Box of Rain puts that generosity at the forefront as we meet Deadheads who helped each other along the way, nurtured each other with kindness, and communed with each other in a safe and welcoming environment. One man recalls a story of meeting a woman needing a ticket, giving her a spare that he had, spending the concert together and never seeing each other again. Instead of talking about how attractive she was or about any lost romantic connection, he talked about just connecting with her briefly and that was it. It's downright wholesome.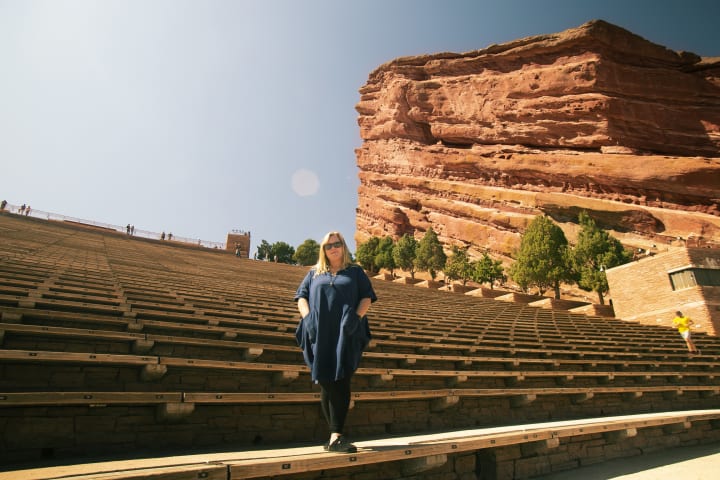 There were romances to be had and enjoyed, drugs consumed and activities of all sorts enjoyed, but rarely were their issues among Deadheads. Conflicts were shockingly rare and even towns that welcomed the Dead had kind things to say about the fans, even as they took over large portions of towns with their tent communities. Grateful Dead legend Jerry Garcia told fans in the early days of their touring that if The Grateful Dead were going to be invited back to a venue, the fans had to make sure they took care of the place while they were there and that ethos carried forward through four plus decades of The Grateful Dead on tour.
Box of Rain is sweet, thoughtful, wholesome and emotional. Lonnie Frazier's true life story gives the film an emotional grounding that allows for the rest of the documentary to float along, doting on stories about the generosity, warmth and safety of their fandom. It's lovely to hear about a group of fans who worked only to make each other happy and that appears to be the case among Deadheads. Box of Rain is a fairly uncritical work but it's not intended to be critical, it's an anecdotal and personal story and on that level, it portrays a lovely community that you would love to be part of.
Box of Rain will be released on most digital platforms on May 3rd, 2022.
About the Creator
Hello, my name is Sean Patrick He/Him, and I am a film critic and podcast host for Everyone's a Critic Movie Review Podcast. I am a voting member of the Broadcast Film Critics Association, the group behind the annual Critics Choice Awards.
Reader insights
Be the first to share your insights about this piece.
Add your insights