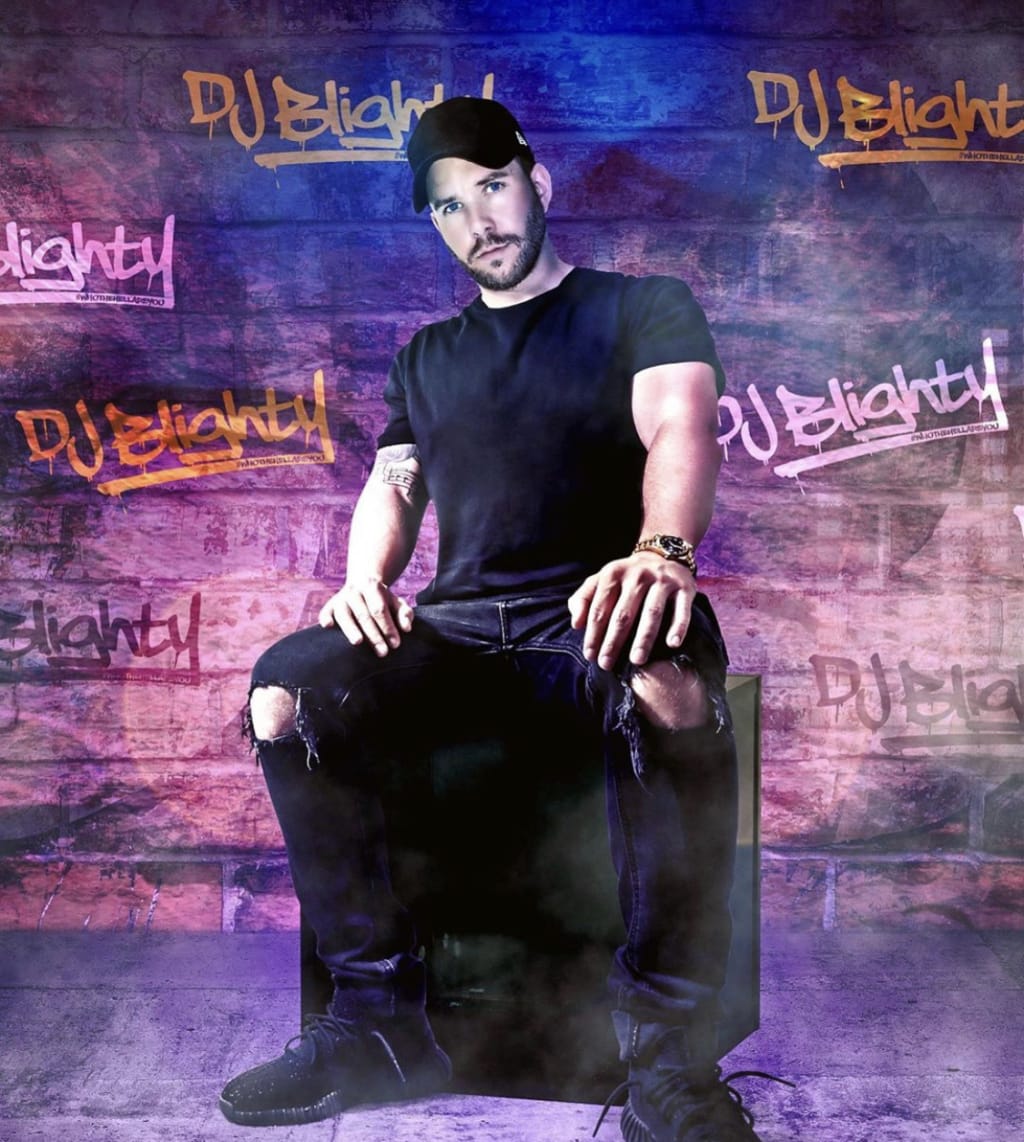 Adam Blight professionally known as DJ Blighty is an international DJ & Producer from the U.K. who's loyal fan base is fast growing, not only in the U.K. but the world over, due to his far reaching DJ mixes on the Mixcloud platform aswel as his original productions & remixes. His mix-shows on the Mixcloud platform regularly see him trending top 5 worldwide, alongside some world renowned household names, as well as topping individual genre charts each week. At present, his Mixcloud channel has over 16,000,000 online streams amassing an astronomical 210,000,000 listener minutes, making him the most listened to DJ worldwide for everything Beats & Bass from R&B & Hip Hop to Dancehall & Afrobeats. His popularity see's him regularly called in for guest mixes on national radio stations, namely BBC Radio 1xtra, Kiss FM & Capital Xtra, he's also had mixes and productions aired on DJ Whoo Kid's primetime Saturday show on Eminem's Shade 45 Radio station in New York City aswel as Pitbull's Globalization also on Sirius XM Satellite Radio. Blighty has collaborated on projects with many legendary names in the U.K. music scene such as DJ Swerve (Kiss FM) & Jaguar Skills, their 'Workout' series of mixes is still in heavy rotation across the globe.
He's not an unfamiliar face on the U.K. club & festival circuit either, he can be seen playing headline shows the length & breadth of the country year round. On the international scene, he can be found playing shows anywhere from Val Thorens in the French Alps to holiday islands such as Crete & Tenerife and as far afield as Canada & the U.S.A. There's demand in over 80 countries worldwide, all thanks to the popularity of his online mixes & the fans this has created.
In the corporate world, Blighty is often a go to name for high profile brands and has recently been involved in product launches for the likes of Carmex & Yves Saint Laurent as well as being approached to work with the likes of Nike. He's also a go to name in the sporting world, his mixes are used in many Premier League football clubs as pre-match motivation, this also sees him called upon for private events for high profile sports stars.
2020 is all about original productions and releases with 5 solo singles scheduled for release this summer, aswel as remixes and collaborations with some highly respected names within the music industry. If there's one thing we can say about Blighty's original music, happy would be it. Nothing but uplifting, positive vibes guaranteed to put a smile on your face. Having heard some previews of the new material coming this year, it's safe to say he's without a doubt one to watch over the next year or two. You can link easily to Blighty's music via his official website: www.djblighty.com where you can choose to sign up to his mailing list where you'll receive a monthly news letter, just to ensure you don't ever miss those all important releases. His sights are set high, with no end goal in sight, just constant evolution & the hope that his loyal base of listeners continues to grow by the day.
Blighty is currently exclusively represented & managed by international talent management agency "Friday Flava' who's roster boasts artists such as Jazzy Jeff, Snoop Dogg, Jason Derulo, Tyga & Busta Rhymes plus many more. He is available for worldwide bookings through Friday Flava.
Blighty's latest single 'Summertime Fling' is out now & available worldwide via all digital music outlets. Simply type 'DJ Blighty' into Google to find it.
About the Creator
Jason James is an American journalist Andrew writer from Miami, Florida that specializes in covering the entertainment industry.
Reader insights
Be the first to share your insights about this piece.
Add your insights