Dear Taylor
From a grieving Foo Fighters fan.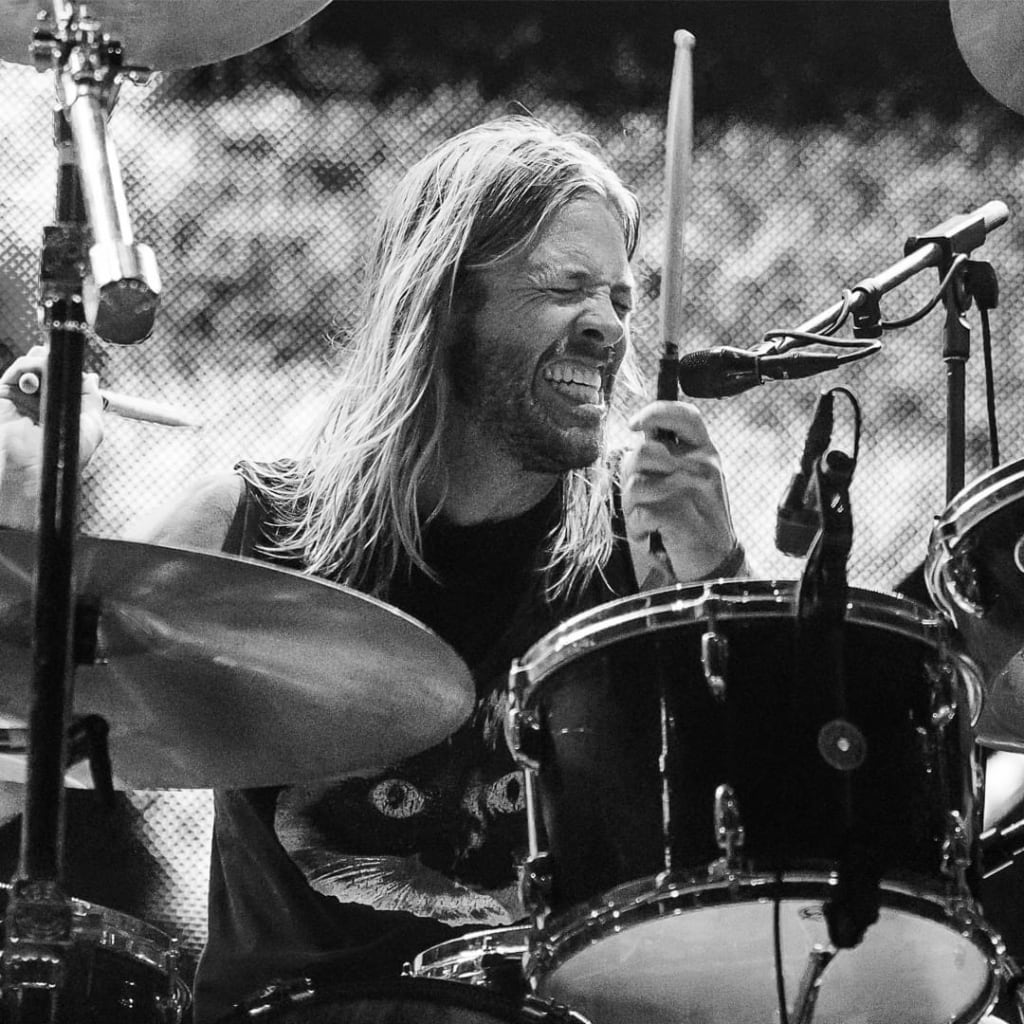 Dear Taylor,
It's been eight weeks since you've passed. It took me eight weeks to finally write this. I've spent so many days pondering over whether or not this would be worth it; whether or not people would care to read this. I came to the decision today that I needed to do this for me. To release every thought that's built up in these eight weeks. I never thought the death of someone I never met would impact me this much, but here we are.
I don't think there are enough words to express how sorry I am that this happened to you. I refuse to believe this was the outcome you wanted, regardless of the rumours surrounding your cause of death. Interviews are being taken out of context, people are jumping to conclusions, your friends are having to clear the air since reporters can't keep their stories straight… it's a mess. You didn't deserve any of this. You were so incredibly talented, generous and kind. Your skill and musicianship couldn't be matched. You left us so broken. I find myself worrying about Dave a lot, and your family of course, but this is now the third time Dave has lost his best friend. First Kurt, then Jimmy, and now you. You two had a friendship I could only dream of. You were soulmates. My heart breaks every day knowing you're not on the same side of the universe anymore.
The night we found out you passed, I was shocked to my very core. On the inside I was screaming, I wanted to cry out so loud, but I couldn't breathe or make a sound. I went next door to the bar that night and told my best friend who was already there. We sat outside for a while just trying to wrap our heads around the situation. My friend cried and I wanted so badly to cry with him. We spent the rest of the night drinking Jager shots and listening to Foo Fighters. I'm not much of a drinker, maybe a couple drinks once or twice a month, but I got so plastered I couldn't find my way home... and I live twenty feet away. It wasn't until three days later that all of reality hit and the tears finally came, and once they started they couldn't stop. I think it's safe to say I was hysterical. I didn't know what to do. It wasn't just the loss of you I was mourning, but the loss of my future goals. All I have ever wanted was to work with Foo Fighters.
Foo Fighters first came into my life when I was thirteen. It was spring 2011, my dad was watching the Back and Forth documentary on TV, and out of pure boredom I sat down and decided to watch. Little did I know my life was about to change forever. I think maybe a week later I bought my first CD with my own money, and it was Foo Fighters Greatest Hits. I was an expert fan by the time my fourteenth birthday rolled around in August, which is also when I got my first guitar. In the fall of the same year, I was dealing with a lot of family issues and abuse, and the lyrics from Times Like These saved me from killing myself. I got to see you guys live for the first time on May 19th, 2012, in Asbury Park, NJ. I cried the second all of you walked out on stage. I couldn't believe you were in front of me. I sang along to every single song until my voice went raw. I was so inspired by all of you that I decided right then and there that I wanted to be a musician. It was one of the best nights of my life. In fact, all three times I've seen you live were the best nights of my life. Number four was supposed to happen this summer in Toronto.
When I was around nineteen, my career switched focus onto graphic design, and since then I've dreamed of working with bands and musicians, creating album covers, posters, merchandise, etc. The ultimate goal being to one day work with Foo Fighters. I don't know how much say you had in the artwork decisions, but I still wanted to show you my ideas, and I wanted to show you my own original music as well. So whether it was being a musician or graphic designer, working with you was always in the forefront of my mind. Knowing I'll never get to meet you and show you my art, it hurts more than I could have ever imagined. I've also struggled with addiction and overdoses, maybe not to the point of a coma, but it's something I've wanted to share with you and tell you how your story and your struggles helped me feel less alone in mine. I always imagined we would talk about life while having a cigarette. The chances of any of this happening were already slim, but now there's no chance at all. There may be plenty of other bands and musicians to work with, but they're not you. I've loved you since the day I watched that documentary. When I bought my first drum kit at 21, the first thing I did was spend hours on YouTube watching you play live. You were the reasom I decided to add drums to my list of instruments. You and Dave inspired me more than anyone when it came to music. There's truly no one else in this world I would rather meet.
I have to apologize again, but this time it's for jumping to conclusions about how you died when it first happened. I'm sorry there were some days I was angry at you, thinking you did this to yourself. But the truth is we don't know and we can't make assumptions. The substances in your system may not have had anything to do with your death, since most of them were prescribed, it could have just been your heart's time. Or it could have all to do with your death. We don't know and we never will. Regardless, I hate that I got as angry as I did for a couple days. I should have been thinking of the good memories, rather than saying "you fucking knew better" to an empty room over and over. I now stop myself from thinking about how you died at all. Cause it doesn't matter. You're still gone. All of us wish we could have prevented this, to go back in time and somehow save the day, but no one gets to be that lucky. All we can do now is honour your life, keep your spirit alive and continue to play your music.
Finally, I need to say thank you. Thank you for being you. Thank you for the music. Thank you for being a part of my life for eleven years. Thank you for everything you did for others. I know you are watching over Dave, the band, and your family with every fibre of your soul. There have been photos surfacing lately of Dave at recent festivals and visiting studios, and it's honestly a bit of a relief to see. He's smiling, and I'm sure that's you keeping him going. I hope wherever you are, you are surrounded by peace, love and endless drums. We love you, and we miss you so much.
Until I join the crowd in heaven. 🤘
Ace
celebrities
About the author
Reader insights
Outstanding
Excellent work. Looking forward to reading more!
Top insights
Heartfelt and relatable

The story invoked strong personal emotions

Compelling and original writing

Creative use of language & vocab

Easy to read and follow

Well-structured & engaging content
Masterful proofreading

Zero grammar & spelling mistakes

On-point and relevant

Writing reflected the title & theme
Add your insights