David Byrne: Still Making Sense
David Byrne's 'American Utopia' live show is a truly magnificent beast indeed. Talking Heads' front man has crafted a remarkable concert experience.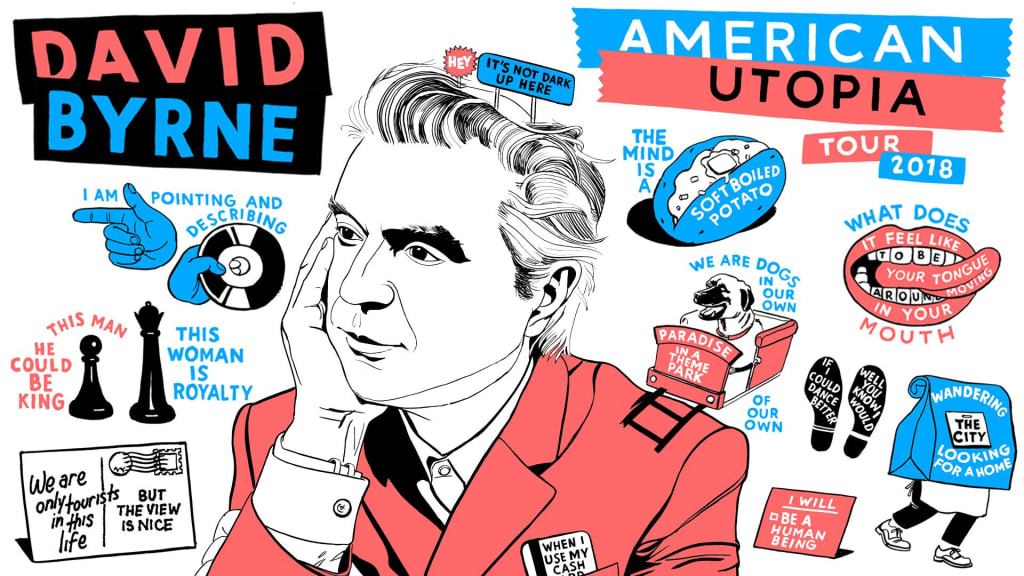 "All I want is to breathe."
I hear you, David, I really do. It's sweltering in the Hammersmith Apollo in west London, and the sweat is pouring off me. And the beat goes on, as Byrne's band power through the opening track from Talking Heads' Remain in Light album, "Born Under Punches."
There's a definite sense that the majority of the crowd are here for Talking Heads too. Sure, there are some tracks on Byrne's latest album, American Utopia, which are decent enough, and he performs a handful of them here. But the volume from the crowd goes up several notches when the material from Byrne's original band gets an airing.
It's rare for me to be one of the youngest audience members at a gig these days. However, I was about six months old when Remain in Light, one of the greatest albums of the 1980s, was released, but at the concert, I was definitely surrounded by people who enjoyed it at the time.
The show starts with "Here" from Byrne's new LP, but it really gets going when he plays "Lazy," his collaboration with X-Press 2. It's far from the only song on the night that Byrne created in partnerships either, as tracks he has made with St. Vincent, The BPA, Fatboy Slim and the late, great Sharon Jones all feature.
As Byrne himself once noted in an interview, "Pitchfork once wrote that I would collaborate with anyone for a bag of Doritos. This wasn't intended as a compliment—though, to be honest, it's not that far from the truth."
Byrne must've bought a multi-pack of Doritos for this tour, as there are 11 other musicians on stage, all playing together apart, wandering around and dancing.
It seems impossible that the complexity of music being made can be being performed purely by the people in sight, and indeed, Byrne addresses that issue during the show. As a musician, pedant and nerd myself, I occasionally try to spot drum noises which aren't being made by the bevy of percussionists on stage, but of course, I don't notice any.
Early on, when the band plays Talking Heads' classics "I Zimbra" and then "Slippery People," I start to think this will be the best gig I have ever been to.
And who knows, maybe it was. The past is viewed through rose-tinted glasses, scored with a backbeat from "Losing My Edge," "I was there...when Daft Punk had an electro pyramid" or whatever. It's impossible to compare concerts across over two decades with any degree of fairness. But this is a show of multiple memory imprinting high points.
A personal highlight was seeing Byrne strut his stuff while playing a white Stratocaster. He's a superb vocalist and physical performer, but something just feels right about seeing him with a guitar.
I can't help think that if money were no object I'd get Byrne and Nile Rodgers together to play scratchy, funky guitar lines over each other. As a pair of New York legends, more importantly, how has this not happened already anyway?
Whether it is the best gig musically I've ever attended, it's hard to think of a better show than Byrne's latest. The choreography is simply remarkable, with some of the scenes definitely referencing Stop Making Sense. And why wouldn't you, when it's widely considered to be the finest concert film of all time?
There's a political edge to the evening too. In one gap between songs, Byrne implores the audience to make sure they're registered and vote. While that feels like preaching to the converted, there's no denying the power of the evening's final song, a cover of Janelle Monae's "Hell You Talmbout." Proof, not that it was needed, that David Byrne is still making sense.