Dave Cavalier Opens Bourbon & Beyond
And Talks About the Long Road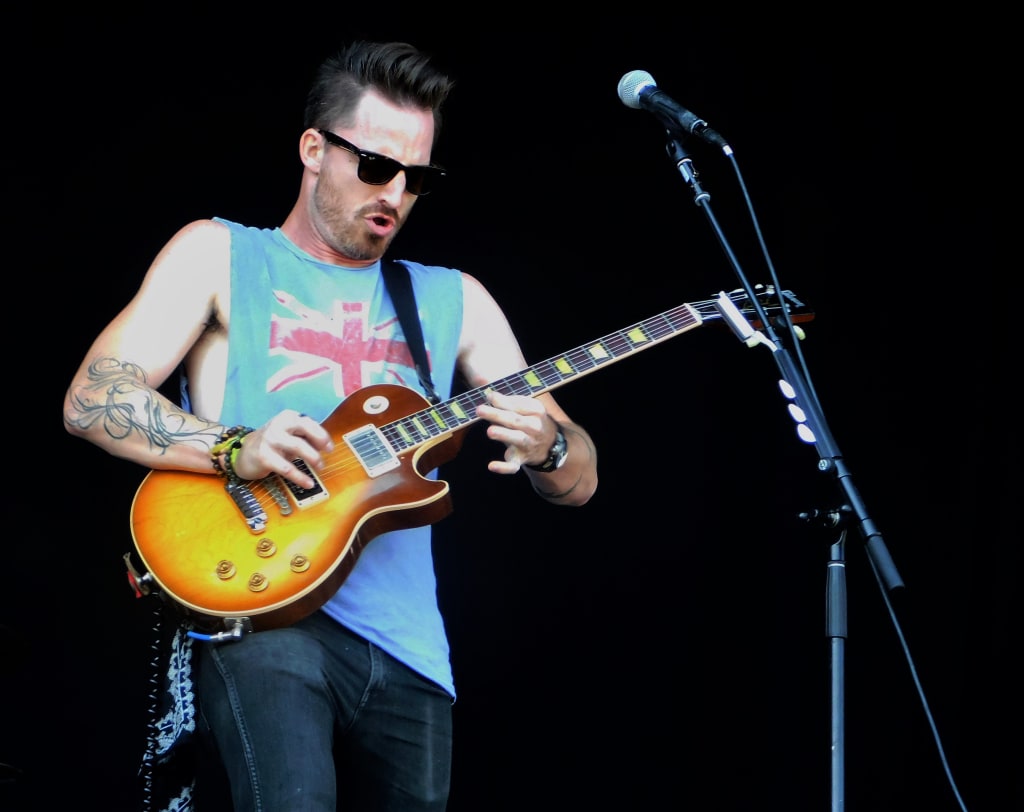 Dave Cavalier performing at the Bourbon & Beyond Festival. Photo by Brittany Lambright.
When Dave Cavalier's name appeared on the schedule to open the inaugural Bourbon & Beyond festival, many questioned who he was. As the crowd grew and his performance went on, there were many more who wanted to know more about the man and his music.
Cavalier describes himself as "an alternative blues artist." That's a simplified explanation for a man who grew up in Chicago in the music industry with a singer mother and a guitarist and music store owner father, and has lived in Los Angeles for many years.
I sat down with Dave Cavalier at the Bourbon & Beyond festival just after he left the stage to learn more about his music and the thoughts behind it.
One-on-One with Dave Cavalier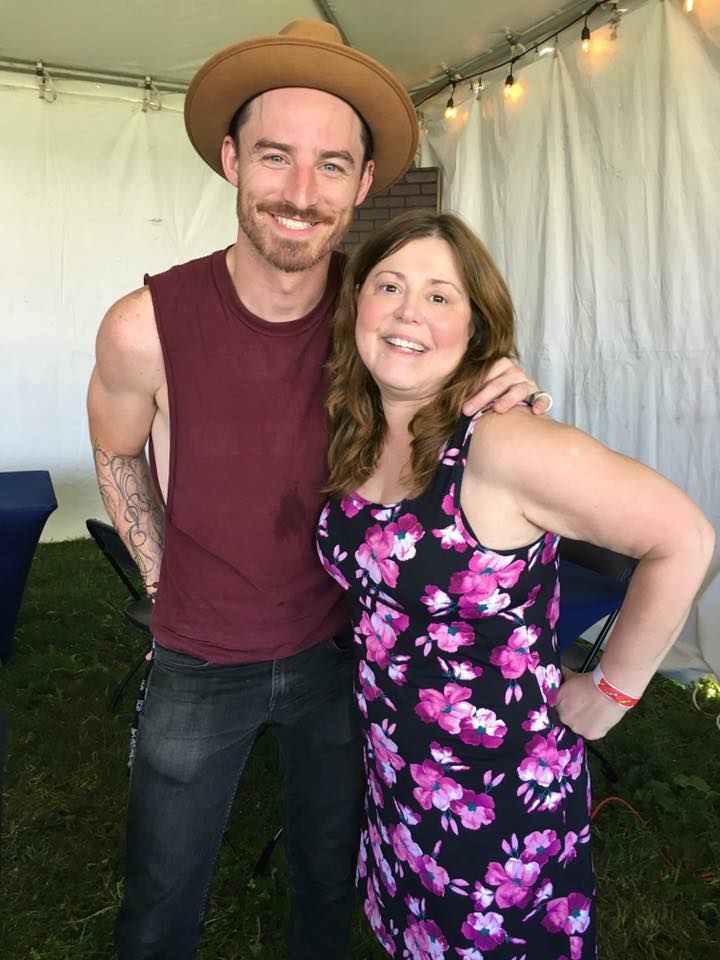 Marcia Frost: Was it daunting to be the opening act at this festival?
Dave Cavalier: Buddy Guy has always been the guy for me since I'm from Chicago. I felt like just being on the bill with these guys is genuinely amazing. It's easy to get caught up in all this. I said, "Let's enjoy this ride. Let's have fun." As long as I didn't trip and fall off the stage, it was smooth sailing.
Now you have two days to have fun.
I'm excited. These guys have put on an incredible festival. Just being part of one and coming to Louisville for the first time, we've never played out here before.
Have you done any other festivals like this (with Danny Wimmer Presents)?
I've worked with them for a bit, but this is the first time I've been able to take the stage for these guys. It's cool.
Where are you living now?
I'm originally from Chicago and Los Angeles which is where the band is based now. So, it's a long walk, but we finally made!
(laughter) You could have hitched a ride with us!
I love the "Danger on the Dance Floor" video. Where did that idea come from?
It was really cool. There is a photographer who is incredible, Meredith Carlson. I've worked with her for a number of years. She and her boyfriend were the ones who conceptualized the video. We're and up and coming band, making it happen on our own. We wanted to come up with a cool concept that would deliver what we wanted to do with this video. Someone mentioned snakes.
I loved the snakes!
The day before the video, we were almost short of dancers. All the dancers we work with on a little side thing, so we collaborate with them on another project. They weren't available, but it all came together.
You're from Chicago, living in California, and you also talk about the south. Where does your Southern connection come in?
I always tell people the four pillars to my electric church: Phoebe, Jimmy, Stevie, and Eric. Phoebe (Snow) because I'm obviously from Chicago and Jimmy (Hendricks) because I grew up on the experience.
With Stevie Ray Vaughn, there's something about that roadhouse thing. There's just an energy to it. I always picture the Blues Brothers scene, where the brothers are hugging. If this was something the band was welcoming. That's Southern Roadhouse Blues to me. That's why I fell in love with Stevie Ray.
Eric (Clapton) is just power to it all, but I think Stevie Ray Vaughn is where it's all coming from. I just want people to dance. I don't want people to necessarily rock out, I want people to dance. I want people to drink, to laugh.
The "Long Road"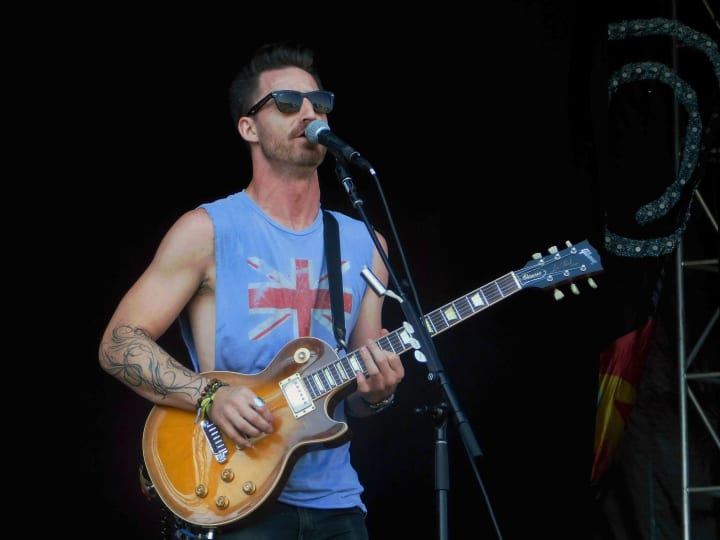 Last year, you posted on your website about the song "Long Road":
'The presidential election of 2016 was like one we've never seen before as a nation. Regardless of party affiliation, the divisive nature of the rhetoric and the ... on the country made me sick, but I didn't have the answer to any of it either.'
Tell me how you feel about that song a year later.
That's a great question. The road gets longer. I think, honestly, it's just one of those where every day you wake up and you've got something to do with your time. That's just human nature. I think the journey and the long road is that we all have our individual battles. I'm not fighting for a meal, which is someone else's battle, but I'm chasing a dream, which is my battle.
It takes so much emotion. A year later, it's the same fight, different battle. It's the people around me. It's conquering the years that puts the gas in the tank, that makes you just keep wanting to claw and fight, to not say no, just keep saying yes.
As far as the quote on how the political campaign just tore everybody apart, do you think it's better or worse a year later?
I think it's both, really. The thing I realized – and this could have been more of a California thing because that's obviously very liberal, I think, for me, November 8th was a haze. Even up until November 11th. The people around me… I didn't think I knew the country I was being shown so, with no disrespect to those who believe what they believe, if you go to some areas of this country, there's a lot of different truth for a lot of different reasons why they chose a particular candidate over another.
For me, when we do what we do, we try to offer that distraction. There's a lot who use the stage, and more power to them. Tommy Morello is one. More power to him. He's a genius. He's articulate about using his platform for (political) rage and everything. For us, we're the distraction. Come to us to dance and shake hands, and make love to that person on the other side of the aisle. Do it at our show.
Are you working on any new music now?
Yes, so we are releasing a live record today, an EP. It's only been on the website until now, but it's going to be on all digital outlets, Spotify, Amazon, etc. in honor of this show. We're also wrapping up a studio EP. It's probably going to be a couple of months, but this one has all the energy of that one and it's got a little bit more of a contemporary sound. We are trying to bring some new elements I haven't done before. The songs are strong. I'm really excited.
Where are you heading next? Any other shows coming up?
I am actually headed back to LA after I spend some time in Chicago, because I'm kind of close and say "hi" to Dad. Then, we're going to be in Oklahoma City showcasing for NACA, the college circuit. We're going to turn our sights a little bit toward prepping for spring and getting in front of some college kids in the Midwest.
You need to come down to Champaign! The City Center is a great venue.
If they'll have me, let's do it! I'll even play in your backyard, as long as you barbecue. See Dave Cavalier's website for the latest on his tour. You can also follow him on Twitter @dcavaliermusic, or on Instagram @davecavalier.
About the Creator
I am a well-published lifestyle journalist, who specializes in travel, food, and wine. I also wrote about music as a teen in the late 70s & early 80s. I'm back at it again, mostly writing about the same bands I covered decades ago!
Reader insights
Be the first to share your insights about this piece.
Add your insights