Dating in the K-Pop Industry
Rule No.1: No Dating!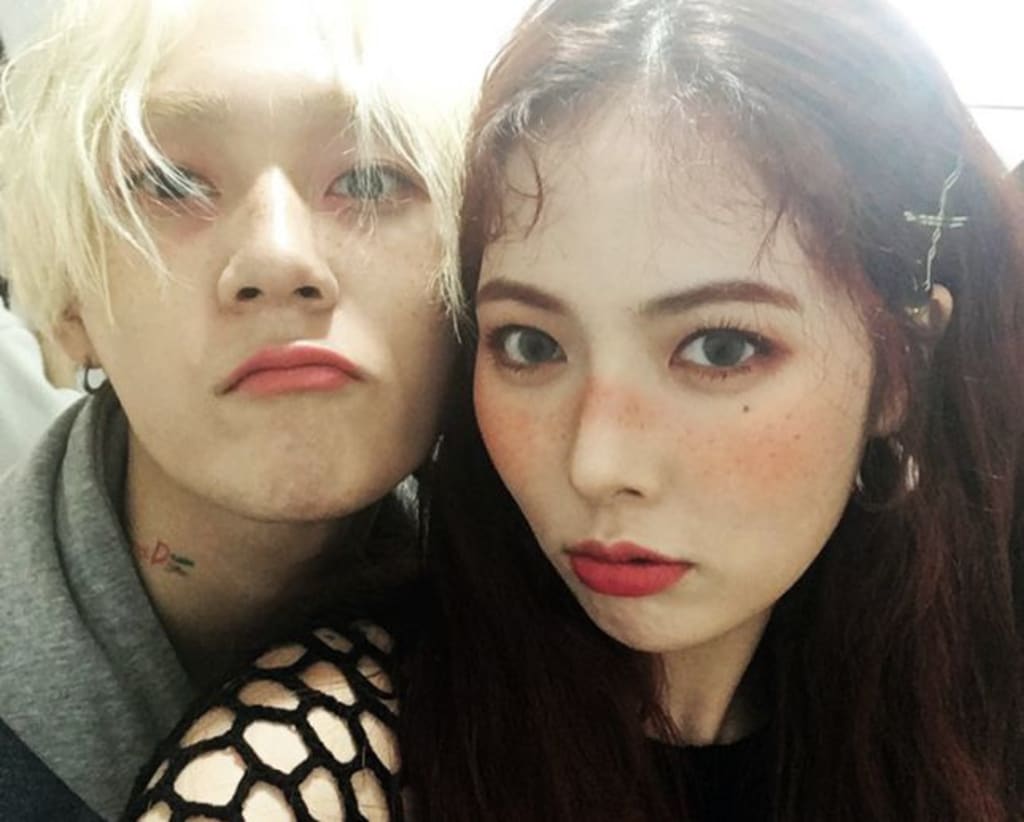 Picture from Hyuna's Instagram
It is known by now that the K-Pop genre is taking over the world, captivating everyone's hearts since "Gangnam Style" by PSY. Lately, it is the group BTS that has been performing all around the globe, with a bigger fandom than Justin Bieber's.
But there's no artist that has an easy life going on, especially artists in the K-Pop industry. Besides going on extreme workouts and almost starving with dangerous diets, they have strict rules given to them in their contracts that last from five to seven years if they don't renew them. Those rules may be about having vacations or using practice rooms or even not allowing artists to use personal cell phones. But the one rule that strikes off artists the most is the "No Dating" rule.
Most companies in the K-pop industry, if not for all of them, have this rule as strict as having the artists to perform on stage; and many scandals have happened in this last decade for this exact reason.
In 2014, in response to rumors, the company SM Entertainment confirmed that EXO's Baekhyun and SNSD's Taeyeon had been dating for some time. This made a huge arise for fans, especially Baekhyun's. Some were really mad and some made up conspiracies like getting the focus off from Kris (an ex-member from EXO that left at the time), something that I would actually believe.
The same thing happened with EXO's Kai in 2016. A confirmation from SM Entertainment stating that he and F(x)'s Krystal have been dating was shown to the public, and it made the fandom go wild. But even though it happened, it is said that the relationship did last some time, ending in 2017; unlike Baekhyun and Taeyeon's that had broken up in a week from the SM confirmation.
But may the most scandalous case of the decade be the relationship of the solo artist Hyuna and Pentagon's E'Dawn. Both being from Cube Entertainment, they got together two years ago and they admitted to this about August 2018. Some fans got mad, obviously, but it wasn't them who had made this case the biggest scandal, it was Cube Entertainment who kicked out the duo out of their company in middle September 2018. This made a huge downfall on their stocks and fans that before were mad about the relationship now have turned against the company.
But why do Kpop industry have this rule? To not make fans mad about the fact they don't actually own the artist in a sentimental way? Well, yes, it is just like that. Since the fans are the ones who actually give the companies the profit, they will try to do anything to please them and we know that there will be a big group of crazy fans that want the artists for them only, so they forbid the artists from doing things like dating or having long vacations.
The good side of this entire issue within K-pop industry is that since it started to grow out of Korea and to all over the world, it shows to us international fans how they treat the artists and take their rights. It obviously has a negative consequence for the companies, and maybe someday they will cross that "No Dating" rule out of their contracts as well as many other rules.
About the Creator
I am that one quiet person whose thoughts aren't usually spoken out. From K-pop to anime and fanfiction, I am all about that stuff.
Reader insights
Be the first to share your insights about this piece.
Add your insights