Dark Chronicles:
The Punk Rock Years 1988-2006, Part Two
Twenty Five years ago...Edinburgh City of Punk Rock!
Before we continue Part Two of my Punk Rock years, here's a short but fun Glossary of terms (for our overseas chums not familiar with British/London slang) which I forgot to put in the first chapter ...
karzi/bog-toilet jimmy riddle (piddle)- urinate
offy-off license: a shop that specifically sells alcohol, cigarettes and tobacco
pally- friendly clicky-insular
plod- the police absolute blinder-superb
poxy- stupid, insignificant bob/dosh- pounds/money
nipper-child sort/bird/skirt- woman
top wack- a large payment of something, ie a ticket for an event.
wot- London/Cockney pronunciation for 'what'
cream crackered (knackered)- tired blow off- fart
floats his/her boat- a subject someone is not interested in , ie "her music doesn't really float my boat," etc
fag- cigarette wally-idiot kip-sleep
chav- an acronym which supposedly stood for Council House And Violence; basically, troublesome youths
pissed/smashed/steaming/shitfaced-drunk
And now, continuing the story....
1995
Oi Polloi, P.M.T. 121 Centre, Herne Hill, South London £1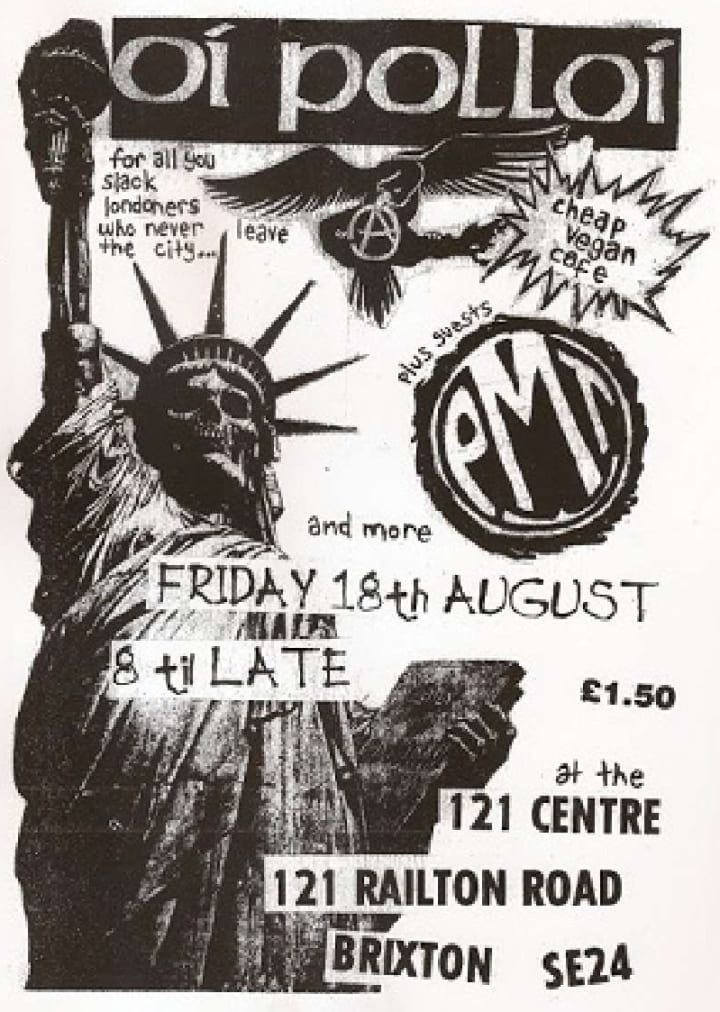 Elvina is now a distant memory but it was fun while it lasted. This was the year I started to attend local squat gigs at the 121 Centre, half a mile away as the crow flies, from Mum's, but because it wasn't a direct route, the walk would take around 20 minutes. 30 minutes on the way back when pissed. And that was every time I went there for a gig. The one thing I hated about all gigs that was staged at this anarcho-squat was the fact that every gig was advertised as it being in "Brixton SE24" and not Herne Hill, SE24 where the building is located, although it was a 10 minute walk from Brixton itself. Railton Road starts of from where Herne Hill railway station is at SE24 and continues into and linking Brixton SW2. The two suburbs are completely different from one another, but the road was known as the infamous "Front Line" which was one of the hotspots of the Brixton race riots of the early 1980's. In the mid 1990's, Railton Road was still a dump and Brixton, even worse.
It incensed me even more because the people that ran the squat weren't even local (one of the main anarcho-punks being Irish) and I remembered getting into a blazing argument with Big Helene from France when she tried to correct me, me, of all people, in my local area at my local squat.
"Excuse me, but how could you possibly tell me, a local, about my own road I've known all my life, seeing that you're French and you weren't born here?"
And of she stormed off angrily; probably thinking about what I said was racist. Pffff.
In 1995, if you lived in Orpington and you wanted to have your fill of punk rock other than Herne Hill or Brixton you would have to travel further out. In Orpington, all we had were dumb redneck chavs and the elderly that had retired. The word punk had about as much meaning around here as a sunflower growing in the nearby Kent cornfields in winter. So a bunch of us would, on a regular basis most fortnights on a Saturday go to a place in Kingston-Upon-Thames called The Cockpit, next door to The Fighting Cocks pub.
We'd get a 'travelcard' which worked out cheaper than getting individual single rail tickets, got a fast train up to Waterloo East, cut across to Waterloo main station via the footbridge, which once had a row of shops on it before the whole lot was demolish to make way for some hideous modern soulless structure, and then get a local train to Kingston, a few miles away from the Surrey county border. As the crow flies, from Orpington to Kingston is around 18 miles away but there is no direct link to either towns so the quickest way was by train up to London and then back out, a journey of about 28 miles which took around an hour. We didn't care though. It was somewhere to go, and most Saturday fortnights we'd be down there having a pogo and boozing to the sounds of punk, ska, goth or just alternative.
Sometimes, in midweek I'd go to a pub called The Saucy Kettle about a mile or so up the road in nearby Surbiton where every Wednesday they'd be a skinhead DJ called Dave who lived a few miles away in Sutton. Wednesday nights between 7 and 11pm was punk/ska and alternative night. When I first went there, I had thought at first I'd gone to the wrong pub as it was almost deserted. Doesn't pay to go too early to these as it doesn't start to get lively until about 9.30pm. Don't get me wrong, there were some good nights there, but for more livelier atmosphere, nothing could beat The Cockpit at the time.
The Mighty Mr Men, The Bun Shop, Surbiton, Greater London
The Selector, H.O.R., Ska Bala Skam The Marquee, Charing Cross Road, Central London : This was one of the last times I bothered to attend a Selector gig because at this period in time Pauline Black, the lead singer had such an appalling attitude on her (and many skinheads would vouch for me on that.) The gig was more memorable for the fact that it has been the only ever time I'd ever seen stage diving at a ska gig. Gotta admit, it was impressive, seeing a couple of youthful looking skins climbing up and diving back into the bemused crowd. I'd thought I'd join in the fun and I climbed upon the stage and did a little skanking sequence, not knowing that an angry stage-hand had sneaked up behind me. Just as I was ready to dive into the crowd, I felt a savage shove on my back and got flung to the ground.
Made to look like a right wally, I dusted myself down and screamed obscenities at him. He beckoned at me to challenge him which left me even more enraged and I was literally seconds from climbing back onto the stage to confront him despite the fact the band were still playing, when I was stopped by some friends I had met.
Needless to say, it was not a particularly good ending to this particular gig. Rating: 5/10
MAY
Laurel Aitken The King's Head, Fulham, South West London £6 Saturday 20th : He's been around for around three decades and not for nothing is he known as 'The Godfather of Ska.'
£6 was a bit expensive for a pub gig; but it was worth it just to see The Top Man himself, even if the support group, whoever they were, wasn't. Good turn out of skins and rudies which just for once alternate dress outnumbered the trendies. Trendies are laughable when attempting a half decent skank to the point that's embarrassing. Good atmos, though. Rating: 8/10
Chelsea The Garage, Highbury Corner, North London Tue. 23rd: Very underrated, this band. Didn't help either when only around 50 people turned up. The first support band by the name of Kung Fu something or other were bad enough, and the lead singer's guitar kept fucking up during the first half of their performance, poor bloke. The 2nd band weren't even worth a mention so we'll leave it at that, but Chelsea, when they came on, captured the true "Spirit of '77" punk era but for some reason do not seem to be appreciated in the same way the Pistols, The Damned and the suchlike are. And they've stuck to their values. The band never truly became too commercialized and 'sold out' to their true fans and despite the lack of atmosphere, it was still a good night out for the hardcore small mob of fans up at the front of the stage area pogoing. Rating: 6/10
Utter Madness, The Miztakes The Venue, New Cross, South London Sun.28th: Such is the popularity of Madness that there are no less than four tribute bands at the moment out there are doing homage to them and here was one of them playing at The Venue. The only difference between these guys and One Step Behind who I saw for about the 5th time yesterday night at The Swan, is that Utter Madness seem to attract a far more bigger crowd. They look nothing like Suggs and co. but their performance was a treat. But yet….there was something lacking. Mod atmosphere. Skinhead atmosphere. Because trendies don't and never generate decent atmosphere.
The Miztakes were a great cover/support band, taking excerpts from The Specials' Too Much Too Young, Bad Manners' Special Brew, The 4-Skins, and Prince Buster to name a few. Few support bands are hardly worth mentioning these days let alone to watch, but The Miztakes were in a league of their own that night.
Rating: 5/10 (because it was at New Cross, a horrible venue, in a horrible town spoilt by horrible trendies)
Dirt, Final Warning 121 Centre, Herne Hill, South London
Mon.29th: Check this out: it's venues like these and people like (most) punks that make gigs like these. This was only the second time I had attended the 121 Centre. And everyone, and I mean EVERYONE were 100% punk or crustie/New Age Traveller type. Absolutely NO bastard trendies. And admission was just ONE QUID. Cans of booze were selling for a quid and you had a choice of vegan food to eat upstairs starting from just 30p. Commercialism didn't exist on this night- and to think Sex Pistols once played in places in this!
There wasn't much difference between the two bands in musical terms but Final Warning tended to drift towards the death metal side. There was no stage and the space between the musicians playing and the audience you could literally count in centremeters. No one cared and no one worried about it. Mind you during the set of both bands, their guitars kept on fouling up (whats the chances of both bands having that misfortune at the same gig) so there was a wait of about 20 minutes each time before they resumed playing. But during the second hold up there was a disturbance of some kind and Dirt immediately dropped their instruments and joined in! That would be the first and only time I would witness a band actually joining in and prolonging a fight at a gig.
Rating: 10/10
PUNK AND HARDCORE ALL DAYER : The Standard, Walthamstow, East London £10
June 10th marked another punk all dayer, this time in the outer North East London suburb of Walthamstow, directly opposite Blackhorse Road tube/British Rail station. The Standard is a fairly large pub, but the stage area is small. London punks had a notoriety that if a local DIY do wasn't within a half a mile's walk, it wasn't worth bothering about. I was never like that.
Conflict were due to play here but apparently withdrew because (Charged) GBH were on the same bill. Conflict had apparently a reputation of not seeing eye to eye with practically all bands, but in particular The Exploited. A lot of the top, main bands seemed to have had this odd rivalry/hatred with each other, The Exploited hating Crass, Sex Pistols hating The Damned and so on. Furthermore, the billing was mucked up as one or two other bands had also pulled out for various reasons so the running sequence went in order like this: New Speakers; Truncheon Meat; Red Letter Day; Truth Decay; Black Couch; Chaos UK; English Dogs; UK Subs; GBH.
Being that the gig was after all staged in a pub, a large crowd of almost 300 turned up and they were of all nationalities and creeds. But as usual as at so many gigs like these, it all started to go wrong when tempers frayed and a fight broke out during the Black Couch h/c set. The only three bands worth mentioning were Truth Decay, from Sheffield; English Dogs and UK Subs. All the other bands were either adequate or forgettable. Because the stage itself was very small, it made it easier for just about every pisshead to literally walk onto the stage and interrupt the bands while they were playing. By the time English Dogs followed by the UK Subs came on, it just became plain ridiculous and the dancing becoming increasingly violent. Purposely shoving people violently ISN'T my idea of fun dancing.
Even GBH were a shade disappointing, and that's rare for GBH. Most people had to leave halfway during their performance as they couldn't afford to miss the last tube back to Central London. Either that or wait an hour for a night bus or even worse kipping rough in poxy East London.
No thanks.
TWO DAY HARDCORE BENEFIT FESTIVAL : The 1 in 12 Club, Bradford, West Yorkshire July 1st and 2nd
The one sole reason why I traveled 180 or whatever miles Oop Narf to attend this was to see Chaos UK and Oi Polloi and that was it. I don't understand Hardore (h/c), and I am not a fan of hardore. (This is not to be confused with 'Happy' Hardcore which is a off-shoot of techno/House.) As far as I'm concerned the music is just another off-shoot of punk that is more extreme and intense, but the dress sense is different. For this two day event, day tickets were £9 each. Chaos UK and Voorhees had pulled out, so the Saturday line up, which was more punk oriented, was as follows: Manrae; Stalingrad; Kitto; Attila The Stockbroker (punk poet), Malva; Policy of 3 (from the U.S.), Ex-Catherda, and Oi Polloi, both from Scotland. The Scottish bands were the only ones worth watching. Most of the punks that had turned up were either outside getting smashed, supping strong cider or were upstairs up the bar boozing-prices started at just £1.15 for a pint of lager. Brilliant or wot. There was also an area selling vegan food. There seems to be some sort of policy that at all and any punk establishment, vegan food HAS to be served. All very well and sundry for rabbit food people but what about punks that aren't vegan or vegetarian?
The first band came on at around 6.45pm and the last finished at 1.30am. As I said, the biggest cheer was reserved for Ex Cathedra with their blend of ska and punk and Oi Polloi thrashing out their brand of anarcho-punk.
Sunday 2nd July was very, very different to the previous night. Different bands, different crowds, different atmosphere. People standing around like statues most of the time. Truly a dreadful experience. Weren't many people from last night that came here today. Who could blame 'em? Out of the eight bands not one was worth mentioning who played today, apart from Above All from Southend was probably the only good band worth a shout. Death/thrash metal and very hardcore with it, clearly influenced by Slayer, Sepultura etc. But sod all response from the lackluster audience. And to add insult to injury the lead singer getting slagged of by some silly cow at the front of the stage.
AUGUST
EDINBURGH EUROPEAN CITY OF PUNK ROCK
The Edinburgh City of Punk Rock festivals were legendary in their stature. It ran for three years between 1995 and 1997 and they were massive in its nature, each of them running for something like 10 days, a record for any music event. Ten days of non stop punk gigs, fun events, workshops...and boozing. Many punks and alternatives from over the world attended and I had formed some great friendships with many of them. I found that each year that progressed was less fun than the previous year I had attended, but nonetheless, each were memorable in their own way for the people that had attended, the bands and the good camaraderie between friends. Each year produced a souvenir programme of the various gigs, events, vegan or veggie shops or good punk-friendly pubs scattered around the city centre.
However, with all gigs, it was sometimes unpredictable as there would be occasionally be line up changes so what might have been advertised in the programmes gig wise might not have been what was actually been at the gig itself, but on the whole it mostly stuck to the running order of things.
The festivals were specifically staged to be held at the same time as the Edinburgh Fringe festival, so thousands of tourists were descending on Edinburgh as the same time as hundreds of punks and alternatives. Almost all the gigs were held at The Tap O'Lauriston and were all free, and some of the more high profile bands were playing at either The Venue or The Cas Rock Cafe, all very affordable, and no ticket was more than a fiver.
The London punk scene at the time was more popular with foreign punks than local/English punks. There were a large concentration of French punks that had settled over in London and a lot of them were renowned for stealing off other punks, an ultimate sin in my book. So I was glad to leave London for a while, go to another country, even if it was Scotland and just go on an almighty piss up for a solid week.
Tuesday 8th: For various reasons which I cannot remember as it was so long ago, I'd missed the first four days of the festival. Today started of badly as I had missed the previous Monday morning departure from London Victoria Coach Station by about 10 minutes and had to rebook at an additional cost for the Tuesday morning departure. If the coach had stuck to its original schedule, it should've arrived early into Edinburgh at ten past seven in the evening. Would've been on time to head straight to see the first band of the night, Ex-Cathedra at The Tap O' Lauriston then.
Nope. Not my luck.
Luck? Me? Yer joking, right?
For some reason the coach driver decides to go up the M6 via Motherwell and not the M1 via Newcastle, so having arrived an hour late, missed the first band anyway. Only one of the best bands of the 90's revival, too. WELL pissed off.
I eventually got to Tap O' Lauriston, exhausted and fed up. The Tap was always affectionately nicknamed 'The Trap' because it was a tiny pub and you really did feel trapped when any band played there because of very limited space to stand, let alone dance. All the bands playing were squeezed into this tiny corner only a few centimeters separated from the audience (if you were lucky as sometimes, the bands themselves became part of the audience!)
I don't remember much of the other band, Cathode Species. The map of the local area which I received with a punk festival programme was not very informative so I had trouble locating the next venue, called The Venue for the next set of tonight's gigs.
I started heading towards the city centre and stopped of at a pub called The Black Bull where almost immediately I got chatting to a fella called Shawn/Sean (cheers mate!) who informed me where The Venue was.
I also got introduced to a brill fella called Chazz who was the first (and to this day the only) person of West Indian origin I ever seen who spoke with a Scottish accent. He later explained that when he occasionally visits London he does get annoyed with some of the Londoners who can't figure out how come "a black man is speaking with a Scottish accent." Pretty typical of the attitude of most Londoners but then that's pretty typical of just about any person who have a lack of understanding anything. And people in general are afraid of anything they don't understand. So yes, I can perfectly understand how he must feel.
As I entered The Venue, an East German punk commented that he didn't like my jacket.
I shrugged. "Well since I'm a non-conformist," I began, "I couldn't give a shit if you like it or not."
Tosser.
Unique Freak I unfortunately missed so here we go with the following: this was the first ever time I saw Oi Polloi in Scotland itself. The band have been going for some 10 years now, belting out their brand of Oi-anarcho-punk and the lead singer (Deek), a dead ringer for the Cockney Reject's Micky Geggus. The highlight of each set is two songs at the end where he holds up a placard for the first song, John Major is A Wanker (the title would change over the following years to correspond with whoever was in charge of the British Government) and the second song centering on the actual punx picnic.
All together now!
"Punx Picnic-Punx Picnic-Punx Picnic-Oi, Oi, Oi!!"
Brilliant.
Up next were the brilliant Citizen Fish fronted by Dick Lucus, a legend in his own right.
The band had played at the Fordham Park Festival, Deptford, a couple of weeks back. (Varied opinions suggested that most of the bands who had played with them there were rubbish and I'm perfectly inclined to agree with them.)
Playing an interesting mixture of 'softcore' punk and ska with a touch of good 80's chart pop, the band seemed popular with everyone in the audience so to make up for the disappointment of missing out on four and half days of anarchic fun, I decided to do a few stagedives just for good measure (and the only time I was brave enough to do a backwards dive, too, which resulted in an 'air swim' bobbing above peoples heads for what seemed a full two minutes before being dropped onto the floor. Mental! This was the gig that made me, for a short time being, punk famous, when someone was shooting a video for this and you see me doing a mad crowd surf for about two minutes with my legs flaying up in the air, bless!
Wednesday 9th: PUNX'N'TRUNX! This was a unique event where a whole mob of about 30 punks, punkettes and crusties turned up at Edinburgh's Commonwealth Pool to cause punk mayhem and a mad splash about! We all chipped in a quid to enter (some of the more cheekier punx managed to sneak in for free, the sods). Chaotic aquatic fun including punx brave enough to dive from a set of diving boards ranging from about 15 feet, to about 40 feet….sheer horror! And having a total fuck about on two chutes called The Vortex and the Twister respectively.
The Man From Atlantis can go fuck himself!
The Tap O'Lauriston: Beergut 100, Sven Hassel
No one, including yours truly could actually remember who Sven Hassel were because everyone was getting well and truly smashed; but Beergut 100 reminded everyone of what true Oi! was all about in the days when it was more of a laugh and a lot less political. Covering tracks from The 4 -Skins, The Exploited, The Business and some of their own material, the moment the bass player hit the first note, the band went down a riot.
Afterwards, everyone all trooped of to The Cooler for Diatribe and The Newtown Grunts.
Coitus had been supposed to have been playing here tonight, but had pulled out. But when everyone heard they wouldn't be playing, most of the punx boycotted the gig and went elsewhere. A shame seeing it was only a couple of quid to get in and the Grunts, who had replaced them were a really good substitute.
Thursday 10th: The Tap O'Lauriston: Bloodshot, Unique Freak
All the gigs at The Tap were free entry. All the other venues charged no more than £4. There were punks from all over the world who attended the festival. There were Dutch punx, German punx, a Canandian, Austrians, French, Americans, and even an Aussie. Shit loads. It was at around this period that I was making so many acquaintances and exchanging phone numbers and addresses, that I began to lose count at one point. If I'm that popular why can't I get a wee shag then?
A mini-picnic/piss up and a footie match was held at the nearby Meadows during the afternoon, but amongst today's events that afternoon were an anti-M77 motorway camp near Glasgow and a demo against the political activist Muima Abu-Jamal's eventual execution who is on Death Row in America after being framed for allegedly killing a policeman.
Local band Unique Freak kicked of the evening in blazing hardcore style, and did their own version of Madness' Baggy Trousers. Nice! And Bloodshot are among the new wave of thrashy but melodic hardcore bands cropping up at the moment.
There were just as many people outside The Tap boozing as inside. Scottish Plod, who were never the brightest sparks when it came to common sense and being intelligent, were up to now weren't being a nuisance but all the same were keeping tabs on us now and again. But because the landlady could've had her license withdrawn as we were taking pints outside the pub, we were told to stay inside if having a pint. The problem with that idea was that there were no space left in the pub left anyway because of the audience and the band. Yet, just around the corner 40 yards away at the side of the pub people were guzzling and boozing drinks that had been brought at nearby offies and no one took a blind bit of notice.
That's Pig Mentality for you.
Friday 11th: The Tap O'Lauriston: PUNK PUB QUIZ 3pm
Now this was a lot of fun. But surprisingly difficult. Shows you how much I knew about punk, huh! I only intended to just watch but got roped into a team unintentionally. Unfortunately I couldn't stay behind to know which team won the quiz as I had to go back to the bus and coach station to check on my luggage accompanied by a German friend, Alen.
A few hours later, The Tap played host to a superb band called Haywire, with support from Rock-A-Ragnanok. One hundred percent DIY in yer face punk rock. Tune into the melodic sounds of Oi!, thrash-punk, heavy rock mixed together and the result are 'underground' bands like Haywire tonight who generate more of an atmosphere than any commercial band put together. Alen summed up the reaction of the audience in one:
"When you go to a gig you go to enjoy yourself. Not to stand at the back looking like a lifeless statue."
Hear hear.
On the same night but at a different location, The Cas Rock Cafe, the UK Subs were playing. When a popular band like the Subs appear at a pub venue like this, then you're asking for trouble. The pub holds less than a hundred people and tickets were sold out long before doors opened. To make it worse, it was announced that you could turn up on the night and pay then. Of course, loads of punx tried doing just that and ended up furious after being refused entry. Those that had been lucky to get inside, including I, were sweltering under the lights. There was no air ventilation and it was a wonder people weren't dropping like flies. Worse still, if you went out to cool off, you were actually refused entry back into the gig regardless of the fact if you had a ticket or not.
This was well out of the manager's hand. But as a manager, he should've taken more responsibility. He had tried to be apologetic and reasonable but all the poor fella got was a mouthful of abuse from everyone.
To top it all, we were now getting hassle from PC Filth as well, although the door bouncers were strangely subdued.
Not a very nice night overall.
* * * * * * *
Since the punk festival had started, no one had actually bothered to rent hostel rooms; everyone were either squatting, sleeping rough elsewhere or staying at friends. The last few nights and every other night there afterwards most of the punx and I were squatting at a disused shopping centre called Goldbergs. Scottish Plod Filth cotton on to this and at first tried to get rid of the squatters by re-boarding a forced entrance, but on this night me and a couple of French anarchists I met up with kicked down the wooden barrier down so that all the other punx could use the squat again.
Hurrah!
Saturday 12th: McDonald's Picket, at the West End, 12 noon. I'm not a vegetarian or vegan but I respect their views so long as it's not thrust down my throat. I thought I'd pop down to the demo out of interest to catch up on the latest gossip from acquaintances. I was chatting to George from Belfast when a couple of Pigs comes up, one with fiery red hair and a walrus moustache. Bit like the 60's comedian Jimmy Edwards. The other one had piercing eyes that made you think he could stare right through you. Fiery Red did all the talking.
Pig: "What are you doing here?"
Me: "I'm waiting for some friends."
Pig: "What friends?"
Me: "Just...friends."
Pig: "How many?"
Me: "About four or five."
Pig: "Could you be more specific?"
Me: "I just have."
Pig: "Do you know anything about this demo being staged then?"
Me: "No, I don't."
If he was trying to make me look uncomfortable, he wasn't doing a particularly good job of it, even though I was wearing my battered punk jacket with the phase "All Coppers Are Bastards" painted at the back with a two finger salute drawn with with both policemen appeared not to have noticed.
Apparently satisfied that I and my friend weren't going to cause any trouble, bless 'em, they left. Nothing much came out of the demo and at about 1.30pm we all drifted of towards Princess Street Gardens for the Punx Picnic (Hassle by the Castle!)
By 2.15pm over a hundred of us were all swigging back the booze. But glancing up at the sky, some grey clouds had gathered and it had started to rain a little. So someone organized a fun football match. How I wished I'd join in! There must've been 15 to a side-including 4 dogs! The ball eventually got punctured when one of the dogs bit through it so a vote was decided om playing punk rugby instead. During the match there was a mad scramble for the ball and half the watching audience joined in for the tumble! Odge from Manchester, who'd earlier in the day had been the centre of attention when he had his photo taken by a news photographer and had appeared in today's edition of a local paper, threw himself backwards onto the mob and everyone watching just fell about pissing themselves laughing.
Classic stuff.
The Cas Rock Cafe: Oi Polloi, UK Subs, Schwarzenegger
Schwarzenegger's lead vocalist, Steve Ignorant, once of Crass, started the proceedings for tonight's do. I was too busy at the bar chatting to Charlotte from ska band Spithead to pay much attention. Oi Polloi, of course blew everyone else of the stage, but much of what happened last night with UK Subs happened exactly tonight as well: all the tickets had been sold out in advance, people were literally fainting inside the pub as it resembled a furnace; and the local Plod outside giving people shit.
Sort yerself out, Cas Rock.
Sunday 13th: The Tap O'Lauriston: Sad Society, The Bus Station Loonies : A great ending to 10 days and nights of gigs, piss ups and chaotic fun. Back to the days of "the spirit of '77 era." Lead singer Deek from Sad Society (what a great and apt name for a band! So appropriate, too) was giving out free 7" singles to everyone after the band had finished their set. Wotta man! The music was highly charged, the dancing frantic. So frantic that I got booted in the head by some bloke who had decided to dive into the audience from half standing at the bar (don't laugh you bastards) and almost sent their drummer Stuart flying when I got shoved too far towards the band while pogoing. Covering stuff ranging from Pistols to The Exploited (their version of Dead Cities was nothing short of astoundingly brilliant) mixed with their own material. And all supported by the West Country's finest, The Bus Station Loonies ("We're the Loonies! We're the Loonies! We're the Loonies from the bus station!") this was a fitting ending to the first Edinburgh City of Punk Rock Festival.
SEPTEMBER
NORTH SEA PUNX FESTIVAL-Blauwe Aanslag, Den Haag (The Hague), HOLLAND. All Dutch bands except where stated: Saturday 9th: Seein' Red, Fleas and Lice, Brawl (Ireland), Anarcrust, MVD (Germany); Sunday 10th: Krogt, Brezhnev, Bambix, Hiatus (Belgium)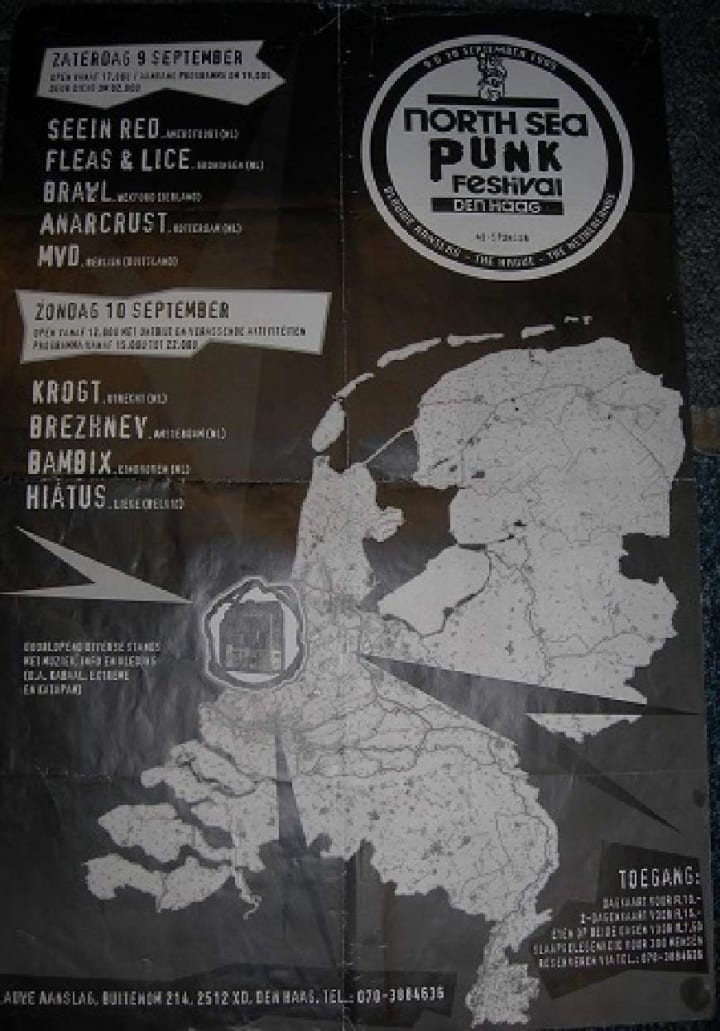 BIRMINGHAM PUNX PICNIC The Red Lion, Balsall Heath, Birmingham , ft. P.M.T, Police Bastard, Spithead
OCTOBER
Defiance, Substandard, Haywire 121 Centre, Herne Hill, South London Sun. October 22nd £1.50
Irish Sex Pistols , Walthamstow, The Standard, East London , Mon. 24th October £3.50
Oi Polloi, The Restarts, P.M.T., Spite, 121 Centre, Herne Hill, South London , Mon. 30th October £2
NOVEMBER
The Riffs The Grey Horse, Kingston-Upon-Thames, Greater London Sat. 4th November, £3 : Yawn. And so it continues with yet another skinhead explaining to me how the skinhead scene started and how it all became National bloody Front in the 1970's and how the bloke waffling on to me justifying himself that he himself isn't a racist and blah blah bloody blah. Look mate, I really REALLY couldn't give a shit!
The Riffs, One Step Behind, Fulham Broadway, South West London Fri. 10th November £5
Doom, Quarantine ,121 Centre, Herne Hill, South London Sat. 11th November £2 : This was the gig I|took one of the New Bromley Contingent Punx, Crustie Alex with me and while I was busy socializing with people, he had gotten himself into a fight and next minute I knew he'd come past me with blood streaming down his face, stating that 'that was the only fight he'd ever lost' and before I could react, he was out the door and back to Orpington. I think that was the last time I ever saw him, too.
BAD MANNERS & JUDGE DREDD TOUR 1995 ft Bim Skala Bim This would be the first and only time I went to four consecutive gig dates following a band. To say I am more than a Bad Manners fan would be an underestimate.
The Foundary, Birmingham Tue. 14th November
The Astoria, Charing Cross Road, Central London Wed. 15th December
On this night, this would be the only ever time I would support dumb Nazis in anything as I hated bouncers even more in those days, who were literally thugs for hire by Rent-A-Mob. The black bouncers were the ones that had real attitude. This is not a racial stereotype thing, it was just the way it was. They were already giving that same bad attitude to people going through the doors and searching everyone aggressively. I was at the back of the venue keeping myself to myself so they left me well alone. When the bouncers tried to get funny with the Nazis they found themselves on one hell of a thrashing. Something inside me gave them a thumbs up and I smirked to myself.
"Those cunts got what they deserved at last," I thought.
I didn't see them doing any of that seig hieling shit while I was watching the bands but you could tell 'em a mile off who they were and what they stood for, but yet here they were at a ska gig. Some of the biggest hypocrites in the world are dumb skinhead Nazis and they still continue to pollute the scene today. They were big bastards who could probably go ten rounds with Mike Tyson and end up winning. I was just glad that for once I didn't get any hassle and someone else that deserved getting a pounding, did.
Oxford Town Hall Thur. 16th November
The Forum, Hatfield, Hertfordshire Wed. 22nd November : I did a recording of this on my old Walkman. Bim Skala Bim I weren't bother about because they were playing what is known as 'Third Wave' ska, it was too jazzy and I hated it. Couldn't wait for the band to finished every time I had to see them. Judge Dredd only came on for about three or four songs during an interval when Buster Bloodvessel left the stage for a short break in the middle of his set, but the Bad Manners brass section would carry on playing. This was a familiar thing he did at all the gigs he did with the Judge.
DECEMBER
Sham 69, UK Subs, John Cooper Clarke; The Venue, New Cross, South London £2.50
Who would've believed it. Sham playing at a smaller, more local gig, and with the Subs. And all for just £2.50. This was too good and too unmissable to not go to. The Sham skins were keeping themselves to themselves near the back of the venue and John Cooper Clarke doing his punk Poet Laureate thing. Still had his trademark mass of black tangled/spiky hair and black shades though.
Sham, as ever were brilliant. There is no Sham without Jimmy Pursey, just like there is no Exploited without Wattie, or no Bad Manners without Buster. It just would not work. Its been about 17 years since the band first produced records and doing gigs and 17 years later the band still are one of the finest live bands around. Rating: 9/10
1996
'SMASH IT UP' All Dayer The Que Club, Birmingham Methodist Hall, Birmingham, Saturday February 10th: as part of The Damned's 20th Anniversary tour, with yet another 'last ever tour' scenario, memories are patchy with this gig as to who supported them, who I was hanging out with and the such like. In fact, I had to do a bit of research on this chapter of the book, because the picture you see of my gig ticket is indeed a rarity in the fact that the gig was never held at The Institute, but at a Methodist Hall in Corporation Street. The Que Club (later shortened to just The 'Q' Club) has now faded into punk history, like so many memorable gig venues, and although the Methodist Hall still exists, it no longer holds any music events and it's now left in a sorry, dilapidated state.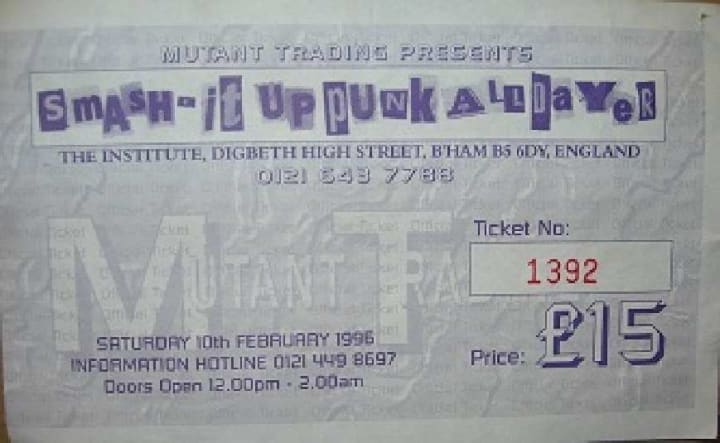 NOTTINGHAM PUNX PICNIC: "The Royal Divorce Celebrations" Notttingham had always been my least favourite place to visit when it came to punk. I wasn't the only one who thought that the attitude of the majority of many of the local punx was a "us" and "them" thing. ie, if you weren't from Nottingham, you weren't one of us. I actually ended up hating the scene here because it was so "clicky". There was one punk I hated more than all others over the years because of his racist attitude to people and society. He came from Derbyshire (the East Midlands was always known for having backward dumbfucks anyway). Let's not forget that me being me, I will always be a minority in any scene, but it doesn't bother me and never has done. This guy was called Derek. Well, I'm going stick with Derek because I can't remember the twat's real name, nor do I wish to.
He'd used to say "hi, you black bastard" as a 'friendly greeting' as a few hypercritical, dumb punx used to say to me. Luckily for me, I never saw him too often, unless it happened to be a gig up north sometimes. He was one of those strange people that actually thought that greeting me racially was actually normal. He looked like a drug addict, pale gaunt face, tall, always looked a little tired and spaced out. He had short, black spiky hair, and often wore a grey denim jacket riddled with punk patches and badges. He reminded me of a "crustie". "Crusties" as they were known to us, were all anarcho-punks, many of them with long dreads, too political for their own good and vegan. Many were also into hunt sabbing. Almost fascist to the extent of their beliefs. I couldn't deal with such extremism in punk and often gave them a wide berth.
There was only one good thing about this particular Punx Picnic. To celebrate Charles and Diana's divorce, on the stroke of midday, everyone shouted and screamed. Roz from Huntingdon had one of the loudest shouts and I just fell about on the ground pissing myself.
SEX PISTOLS: "The Filthy Lucre Tour" :Finsbury Park, North London Sunday 23rd June: Nineteen years after the original Pistols had split, they were back. And with a vengeance. I had always stated that if the Pistols ever reformed one day I'd get a ticket like a shot. This would be my only ever chance I'd get to see them perform live so I bought my ticket hours after it was announced to the general public. Including booking fee, it came to a total of £26.80. The band had openly admitted on national tv that this time they 'really were doing it for the money.' Sorta made sense because of the fact the various band members through Malcolm McClaren's management, the majority of what the band earned really was fiddled away. Despite the fact for years that Johnny Rotten, Steve Cook, Paul Jones and Glen Matlock had always stated they would never reunite after Matlock had been sacked and about a year later the band's acrimonious split, someone very, VERY rich had persuaded them to do so.
Reunite, that is.
They certainly got back their lost millions on this day, all right.
This was an open air all dayer at Finsbury Park. 40,000 people came that day. Old punks, new punks, trendies, alternatives, the lot. The band were supported by 3 Colours Red, 60 Feet Dolls, Shane MacGowan, The Buzzcocks, Skunk Anansie, The Wildhearts and Iggy Pop.
Only The Buzzcocks and Iggy Pop were worth seeing. The others, instantly forgettable. Especially Skunk Anansie who I loathed at that time, fronted by that strange half bald woman.
Sex Pistols was being recorded live for Radio One listeners. But due to some clever technology, the recording had managed to omit all of the profanity despite the fact it was being recorded live.
I pushed my way through the crowd right down to the front. Right down to the very front where the security barriers were and behind them were the security people. The atmosphere was electric and there was absolutely no room to hardly breathe, let alone dance. I was slowly beginning to find it difficult to maneuver or turn around as I was being crushed. The band came on. There was a deafening roar. The first song they belted out was Bodies, my all time favourite punk song in the world, period.
"She was a girl from Birmingham , she just had an abortion , She was a case of insanity , her name was Pauline, she lived in a tree!"
It was a hot afternoon and I was punked up to fuck. I felt like I was going to pass out because I was being crushed. If I hadn't been pulled over the security fencing by security, along with many other people I saw as I glanced half dazed to my left and right of me I would've indeed passed out and been trampled on. The world seemed a haze as I staggered around the main bulk of the closed off arena and sat down on a grassy knoll breathing heavily. It took sometime to recover properly and when I had, met up with some punk friends I'd bumped into and enjoyed the rest of the band's performance from a further distance.
Never again would I want to experience a concert like that. Unbeknown to me, Sex Pistols had also done a couple or so smaller shows somewhere in Central London after the massive Finsbury Park concert so I was a bit annoyed that I had not known about this as I would've rather gone to have seen those instead. There was also talk of the band recreating their infamous boat trip down the River Thames. But unfortunately it was just that, all talk.
Still, I'd finally seen The Sex Pistols. And that's all what mattered.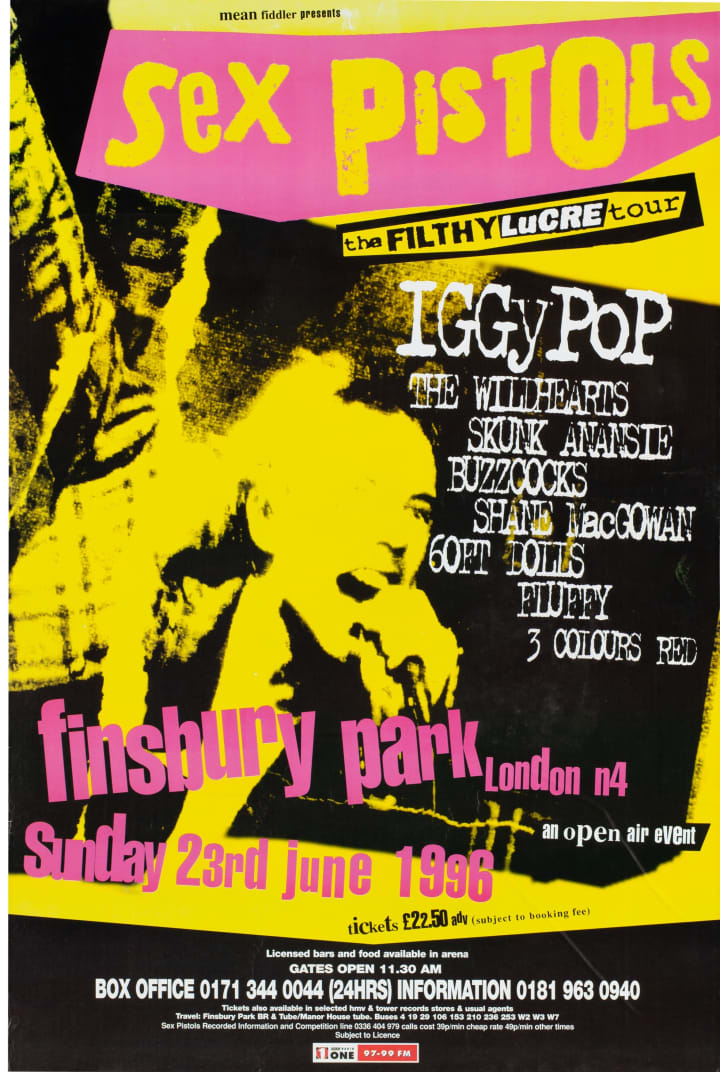 Doe Wat '96 Punk Festival, Arnhem, Holland: This was overseas punk rock at it's best. Bit like last year's Edinburgh City of Punk Rock fest but on a smaller scale. Five days of punk rock booze filled pogo fun. Once again I decided to travel by myself because I had no one to go with. I didn't even know the exact location of where the first day's venue was. All I had with me was a small printed piece of paper showing a roughly drawn, not-to-scale map with half the roads missing or without the road names, depicting the key points of the festival, like the campsite, a few miles north of the city, vegan cafes, cheap supermarkets for booze and gig venues.
Remember, there was no such concept as Sat Navs or mobile phones in those days, so everyone had to do with a map or just asked. Also, some knowledge of the Dutch language wouldn't have gone amiss as well, but since everyone in Holland seems to speak and understand English...and in a lot of cases speak English better than most English people... I eventually found the place. But after a torturous start which included a ferry across from Harwich in to the The Hook, a journey I had done several times as I didn't like plane travel, which took around four hours, and a train into Arnhem (I think it was Arnhem...somewhere…) the memory is patchy on most accounts, but I remember trying to get to the campsite walking for miles and ended up at a Dutch farmhouse in the middle of nowhere. I was exhausted, shattered and hopelessly lost.
Getting my breath back I thought it wouldn't do much harm to ask the occupants of the house which was the way back to where I needed to go. I received better than that: not only was I told where to go but got a lift in their car back to the nearest point to continue my journey! Result or what!
The next stage of my journey happened courtesy of four or five mad German punx I encountered by chance whom I tried to explain my situation. There wasn't enough space for me and four other people in their car so one of them hit upon an ideal solution. Lying on the laps of the occupants sitting at the back of the car with my arse in the air, we traveled to the venue. It was a very unconventional way to travel, but what the hell, it's punk rock!
I spent a total of five days socializing, boozing, and enjoying the atmosphere and the bands. Bands from all over Europe participated and here was the rundown:
Wednesday 3rd July : Victims of Society (Belgium) ,End of Ernie (Belgium) , Obnoxius (Holland) , District (Germany) , Zwaar Klote and Game Over (both from Holland).
Thursday 4th July : Slumgang (UK) , Vanilla Muffins (Switzerland) , Boycott, Oi Stress and Totaal Verleft (all from Holland) , The Stains (UK) , Opening Up and Bad News (both from Germany)
It was all a bit of a blur really, but there were some great people I had chatted and became good acquaintances and friends and others, like in every scene I could've done without.
Friday 5th July : There was this incident where we had all gathered outside 'The Fountain of Youth' at the Willemsplein where there was massive rows upon rows of parked cycles (cycling is a national institution in The Netherlands) and we were all boozing.
A punk had turned up right beside me, small guy, and said he wanted to nick a bicycle.
Drunk, I looked at him and said I'd go with him. Don't ask me why I agreed to do such a thing, I will put it to "it seemed like a good idea at the time."
So for about five minutes there he was checking various bicycles to see if any were unchained or unlocked and there was me keeping a sharp look out for any pigs. But drunk. But we had been spotted by Dutch Plod anyway and by the time I got Punk Bike Thief's attention, Dutch Plod were already upon us.
Plod came in the guise of a no-nonsense female who was in no mood for back chat or excuses. I tried to say something to defend Punk Bike Thief but was cut down in seconds by Dutch Plod who was having none of it. I shrugged. After a few minutes we were let of with a warning. Obviously I didn't understand much what she was talking about because most of it was in Dutch. I trundled back to where I'd be sitting and I turned my head towards Punk Bike Thief who was yapping away constantly to his fellow friends about me as he kept on glancing towards me. I shrugged again and carried on boozing.
Gig roll call Oi Polloi (Scotland) , Short & Curlies, Riot Clone (both from England) , MVD (Germany) , Fleas And Lice, Zwaar Klote (both from Holland) , Cowboy Killers (England)
Saturday 6th July
During day four of my Holland Punk thing, everyone had to travel to a place called Oosterbeek. This was the place for a new venue for tonight's gig as for some unexplained reason the original venue was now no longer available.
The mob I was with, along with a German Oi skinhead from Essen who had tagged along with us all trundled onto a bus No.1 to the town. And a shout went out.
"More beer for the PUNX!"
We got of somewhere and headed towards a petrol station to stock up on refreshments. While getting three cans of lager and managing to nick a apple strudel at the same time, we all had a fun piss about on a disused shopping trolly before heading onwards towards the gig. Unintentionally in true Micky fashion I'd missed the first band, the excellent Game Over who had played on the first night and that was one band I'd desperately wanted to see. Proper annoyed about that, but still, never mind. Onwards to see some cracking German Oi bands, the strictly anti fash Stage Bottles, followed by the Bovver Boys. Continuing the German theme with Six Pack Riot, Demolition Girl, B-Bang Cider and Public Toys, it was on this day that it would be my most successful when it came to pulling some punk skirt. I'd chatted and pulled some German bird and thus ended my snog starved wilderness after two months. About jolly time too I might add.
And...as always with me, there was a catch. Capo Regine came and went and The Lurkers had just finished their set when I was hastily dragged out of the venue to meet up with Sander, Jean the Dutch Oriental skingirl, Nano the Japanese punkette and a few others as there had been a pre-arranged drive back to some persons gaff where I'd get some floor space for the night and the driver of the car had wanted to leave early. Didn't even have bloody time to say goodbye to everyone I'd met, including a British skinhead who had traveled over to the festival independently and had bought me a couple of beers after we'd bumped into each other a couple of times during the gig.
Needless to say I was angry after what happened because I would probably never see 'em again having not exchanged contact details; so I tried to keep my disappointment to myself.
* * * * * * *
Sunday 7th July
There was no Day 6th in a real sense. There was supposed to be some free gigs and a punx picnic somewhere but no one seemed to have a clue as to what was happening and most people had started to drift away for home anyway. Me, Sander, his bruv, Jean, Nano, and a fella called Jaap walked all the way to the punk campsite which was a good three mile walk (four and a half kilometeres). I was getting very bored with all this wasting of time so I, with Jaap decided to head back into Arnhem by bus. I'd wanted to visit my friends in nearby Preskihaff and I could've avoided all this. And I had left my bloody camera too so that was a right pisser.
For the 2nd time this week I had another chance to get acquainted with some skirt, an attractive alternative in her late 30's I'd say. She was pissed, but that made her all the more attractive, in an odd sort of way. It's always the way, uncannily that whenever i'm chatting to any female friend that the blokes around me seem to 'flock'. For fuck's sake, it gets frustrating.
I quickly said my goodbyes to Jaap and hurried tried to find the German woman again, but in barges Jaap yet again who'd just finished phoning someone. AAAARGGH!!
I decided to go to Sander's bruv's house. But first stop, the local McDonald's for a bite to eat. In almost anything to do with punk, it was an ungodly sin if any punk ate McDonald's stuff but as I said, I was never one for conventional rules of any sort in any situation. I bumped into three French punx I'd seen at the Thursday gig. It was great just sitting down on the pavement with the three chatting a mixture of broken English and French with the dumb trendies walking past!
It was getting on for half past seven. I tried to walk back to Sander's bruv's house, took a wrong turn, got hopelessly lost and ended up at Vesterpoort Station.
"Just how the FUCK did that happened?" I pondered.
It was now too late to visit so I tried to retrace my steps to where I started before by attempting to train bunk one stop down the line into Arnhem: got caught by the train guard bloke, escorted of the train to a station Pig block, got questioned and was eventually released with a caution and a penalty ticket.
Which I threw away, of course.
Monday 8th : The end of all things punk rock, at least for now. The festival had ended and everyone had drifted off home. I had pre-arranged with some good friends including an acquaintance called Avrille I'd met sometime back, to travel down to the south of France to visit, the day after The North Sea Festival. Sander said he was going to drive me as far as Brussels and that was almost 150 miles away. I couldn't see him do that. So I had decided even well before I'd traveled to Holland that I was going to train bunk my way down from Arnhem to Toulouse. That bit I had pre-planned in case of any emergencies, so that was my "Plan B back up". What I wasn't prepared and I had sorely underestimated this, was just how long the journey would take because of the sheer distance. Remember: I'd be traveling through three countries including the length of France, for Christ's sake!
OPERATION EUROPEAN TRAIN BUNK Arnhem (Holland) to Toulouse (France)
I did have a European railway pass. But the pass only enabled me to do two main journeys, an outward and return and only on certain trains. I had already done an outward journey going to Arnhem from England. The idea was to use that same pass to bluff my way through an additional outward journey before making my final, return journey, back to Britain. The first three stages of this massive journey were unexpectedly successful. I eventually managed to board a semi-fast train at Arnhem at 12.50pm to Roosendal. 139 kms away.
Changed at Roosendal for an Inter City train into Brussels, another 98 kms and then at Brussels Midi (Central Station), a TGV express non stop into Paris, 313km away. I believe this service is unique in its' kind being the first modern express train service to run non stop between two capital cities in two countries. It also surely has to be the fastest journey for a 195 mile non-stop run taking just under an hour and forty minutes...incredible, when you think the same journey in distance by train in Britain would take well over than three hours. Special tickets are issued for TGV services and are not used on any other French railway services. Very pricey, but you pay for quality: comfort-wise, not that much difference when traveling on a Inter City 125 in Britain. I got caught but somehow manage to bluff my way out of it.
I arrived at Paris Gare Du Nord at 7.30pm. I had plenty of time to kill before getting the night train to Toulouse. So I went around doing my second favourite hobby, photographing the beautiful architecture of Nord Station and then a few minutes just down the road was Gare du L'est.
Outside L'est Station I got chatting to an American who was currently living in the Czech Republic, but was spending some 'me time' in Paris itself. We were sitting at this posh restaurant-cafe place where the word 'extortionate' had a new meaning; the American was called Mike and he offered to buy a round in and a couple of fags. So here we were just chatting away and puffing away. Sometimes the best things in life are the simplest things in life. I was chatting to a total stranger and it was one of my happiest moments of my entire trip.
In my book it's only fair if someone's decent enough to buy a round, you return the favour. At 19 Francs (about £2.60) for a small glass of beer that turned out to be extremely costly.
A lot of the time I will not wear my glasses. Nothing to do with vanity but its for me not to notice people staring at me as it always happens. As I am short sighted, it works out well. But Mike had spotted some French alternative gawping at me and said she'd fancied me. Yeah, like bollocks!
After a while, it was time to leave and said my goodbyes to Mike for a wonderful sociable time. I got the Metro across town to Gare d'Austerlitz where there was just enough time to do some quality railway photography before boarding the "L'Occitan" night train express to Toulouse.
This train was comprised solely of sleeping berths and there was no actual seat carriages. Oh well. I tried to make do by sitting on the corridor floor as I was not going to pay for an expensive berth. A kid had taken interest in the way I looked and even though we couldn't correspond verbally, somehow we made ourselves understood. So I let him listen to my favourite Anti Nowhere League cassette and he went of, very pleased.
My luck eventually ran out when the guard came back a few hours later realizing I'd be using my ticket illegally and I got chucked out at about 4 in the morning at some place called Brive-La-Gaillarde in the middle of nowhere. Small mercies and a blessing as I was getting too uncomfortable trying to sleep on a train corridor. I'd done brilliantly to get this far anyway and congratulated myself. 300 miles from Paris later and I slept in the waiting room for an hour and a half. I must be getting used to kipping rough because when I woke up my neck didn't hurt. Bloody nice dream too it was, all about hiring out a big tit video (I'll leave that bit to your imagination.)
Tuesday 9th : Shortly after getting some shut eye, the final stages of 'Operation European Train Bunk' was to travel another 146km (91 miles) on an all-stations local service to Mountaban and very pleasant it was, too. This time when the guard came to check tickets, once again it was a case bluffing and pot luck and it paid off. "I lost my single portion of my ticket."
At Mountaban Station, my connection for Toulouse came within five minutes of the all stopping service departing and then it was non stop by Inter City on a relatively short 56 km journey, finally arriving into Toulouse Gare de Matabaiu some 20 hours after I'd left Arnhem. I'd traveled a total of 1,232 kilometers. That's nearly 766 miles. Avrille wasn't there to meet me at the station, but I knew where she lived so that wasn't a problem. Every friend I ever had that I've taken time to visit had never met me at a final destination point, such as a bus or coach station. Muggings here was always expected to meet them at their house, and it took Muggings a long time to realize if those same 'friends' couldn't return that respect by visiting me once in a while then those same 'friends' really ain't worth bothering about.
Needed some cash, but I had a hard time trying to find a bureau de change to exchange some currency. Took ages but when I finally located one and did what I had to do, it was straight to the nearest McDonald for a good nosh up, walked to Avrille's house and had another splendid nosh up; and later got treated to a good drinking session with her and four other of her friends: Mimi, Alexandra, Crystal and Christine. All six of us going out together. It must've been a real sight; for the first and only time, me going out with five birds and all of 'em spoken for. Typical. I'll also never forget the sight of one of the women downing the equivalent of an entire pint of beer in one go after been wagered a bet.
Hardcore!
Wednesday 10th: My fun with my friends have come to an end. Time for the long journey home. Got a lift on the back of Avrille's scooter back to Matabaiu Station. It was uncomfortable and at one point I thought I was going to fall of the back and onto the road. Certain disadvantages of being a tall person! But who am I to complain, it saved me a two mile walk into town anyway.
On the 11am departure out of Toulouse to Paris I was already planning my next punk rock fest adventure away from England...
EDINBURGH CITY OF PUNK ROCK Friday 2nd August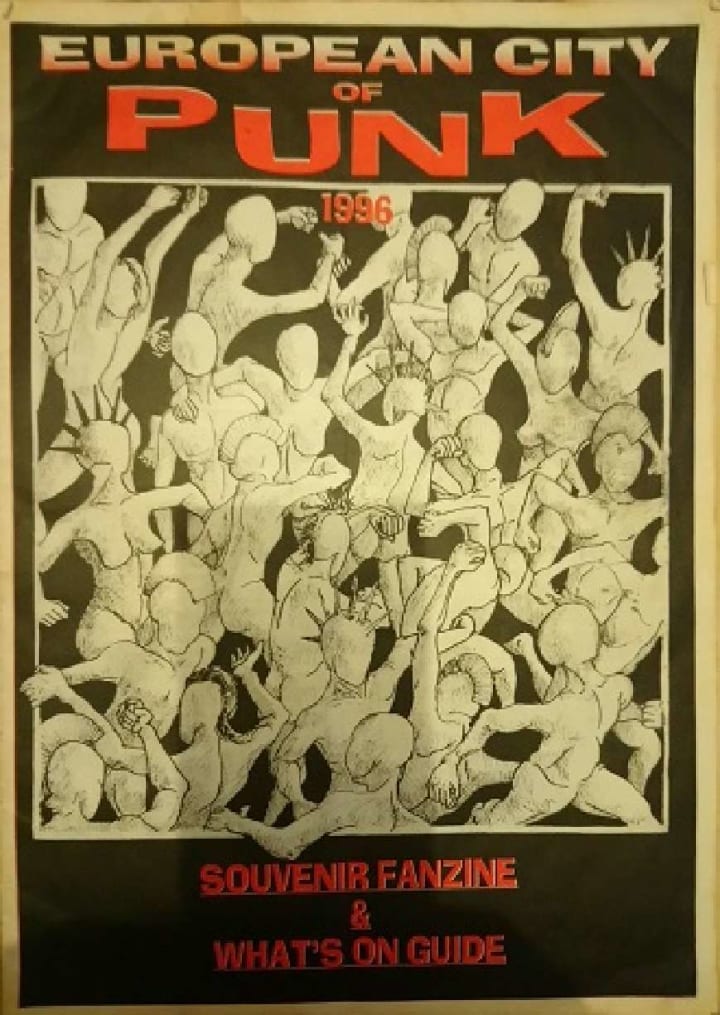 In which I danced with Mags of Newcastle, who was more than overjoyed to see me after meeting each other last year at the first Edinburgh City of Punk Rock , accompanied by her mate Vicki, a local but originally from Stoke-On-Trent, all danced to the top punk tunes of Bad Blood and co. A superb night of fun and laughs, actually pulled on the first night (Vicki), went back to her flat along with Alen of Germany and Rolf from Holland. Cuddles, huddles and sleeping with her but none of the obvious when a couple usually go to bed together.
Saturday 3rd August: In which we all drove to Cramond Island except Alen who decided to remain in town, and got absolutely shitfaced out of our heads; me frantically stage-diving to Beergut 100 and Oi Polloi, two of the best ever punk bands to come out of Britain, never mind Scotland. Superb stuff. Lead singer John Beergut was doing so many stage dives to Oi Polloi I lost count in the end , it was hysterical just seeing him doing it. One of the all-time great punk days fondly remembered. Slept rough in The Meadows with French punkette Highque, after bumping into her by accident during the night.
Sunday 4th August : In which Highque seems to be getting more and more boring every time I meet her and Delphine, another French punkette and well known face on the London scene in those days ("Dolphin" as I secretly used to nickname her); half fell asleep during the gig at The Attic although Deek from Oi Polloi had bought me a pepsi during a set…top man, that Deek..slept rough again at The Meadows and woke up fucked with a bad headache. Groan! Top moment of the day: the bottle fight at The Meadows.
Monday 5th August: In which I'm suffering from a mild, but very irritable sore throat, but spent most of the day drinking at The Tap as there was suppose to be a fanzine fest but no one seemed to have known anything about it. Spent the night by myself, this time at Princess Street Gardens.
Tuesday 6th August : Right now, feeling the way I am, I wouldn't have given a shit about either Highque or Dolphin ever again as things between the three of us have distinctly become more distant and I've only talked to them briefly in the last 2 days. However, to make up to what will eventually be a break-up of yet another friendship (unbeknown to me they had been having a lezzie affair together), I had met a young woman called Sarah Jane, or SJ for short, so at least I had someONE to talk to for some of the day.
Wednesday 7th August : The rotten luck continues when somehow I missed out on both the J.S.A. demo and the Punx'n'Trunx event at a local swimming pool. Me and the Chiltern Punx were boozing it up when some scum newspaper photographer starting taken photographs of us. He soon beat a hasty retreat when he was approached. (A picture of us with me at a side profile was shown the next day in The Scottish Star along with a typical fabricated report of "evil smelling punks").
We boarded a bus, which was heading…somewhere…clambered to the top and sat near the front.
And then we started singing.
Loudly.
"The Punx on the bus shout Oi Oi Oi
Oi Oi Oi, Oi Oi Oi
The Punx on the bus shout Oi Oi Oi
All....day...long"
Simon Chiltern was sitting behind a tourist couple and he was absolutely steaming.
"Can I smell your cunt?"
We all fell about on the floor pissing ourselves, screaming with laughter. Apart from the two tourists. Which I have no time for anyway.
And that was the only highpoint of my day as the rest was absolute wank.
Thursday 8th August : In which I met up with Big Helene from France and had the best snog of my life. She was at the Notts Punx Picnic and was only in Edinburgh for one day only. Pity.
Friday 9th August : In which I had a planned mission to go out and be totally blind drunk. I didn't succeed. Everyone had gathered in Princess Street Gardens for the punx picnic. I spotted Dolphin and walked over to her to try to speak to her. When I had no response and she kept on being silent, I knew then and there our friendship had ended then and there.
"Right, so that's it is it?" I shouted at her. "Well fuck you. FUCK YOU!"
The whole of the congregation had heard me as I stormed off to continue boozing with the two Lees, Geordie and Notts. They were trying to rope me into trying to find a supposed fascist that had been lurking around the area, and wanted to give him a well deserved kicking.
"Right. Let's go and find the cunt."
Of course, I wasn't thinking rationally because I was angry with Dolphin and drunk. Plus I wanted to let of some steam. But luckily for the fascist and unfortunately for us, we never did find him. Later on I was in brighter spirits by persistently stage diving to Oi Polloi and Citizen Fish.
Saturday 10th August
Holidays In The Sun, Blackpool Winter Gardens, Lancashire
During the night in Edinburgh, I kipped rough outside a side entrance at Waverley Station. Well, an hour here and there really. Some arsehole had spat on my sleeping bag while I had dozed off and I woke up to find phlegm covering part of it. I got one of the first trains in the morning out of Edinburgh for England, but didn't get too far as I got chucked off barely two stops into the train journey for train bunking. It was still cold and there was a bitter nip in the air. I had to wait ages before another train arrived and through a series of changes en-route arrived in Blackpool, just before midday. The Holidays in the Sun annual event (later renamed as 'Rebellion') was in its' early years, this being only the second or third time before it became really commercial and popular.
It always used to amaze me that the majority of the punks that come to these events, DIY punx especially used to complain about paying a few quid to get into a local gig but yet somehow find £60 for a whole weekend of punk music. And that was just for the weekend ticket. A whole shitload of band were playing simultaneously on two stages. Stage One consisted of Suburban Studs, The Vibrators, The Lurkers, Radio Stars, 999, Anti Nowhere League and The Damned, while on Stage Two was The Walking Abortions, Funeral Dress (from Germany), Public Toys (also from Germany), Sic Boy Federation, The Casualties (from the USA), Splodgenessabounds, Major Accident and One Way System.
The day ticket was £20. But thanks to Sic Boy, I was on their guest list so I got in for free.
Sunday 11th August: Edinburgh City of Punk Rock: The final day and drying down time. Safeword, plus Jenny's Baby at the Tap; and later on that evening Poison Streak, with Sad Society at The Cas Rock. Just £1.40 entrance.
* * * * * * *
Three weeks later I was off yet again to Holland for yet another punk fest abroad. Can't keep a good punk down. No matter how pissed he is!
NORTH SEA PUNK FESTIVAL : BLAUWE AANSLAG, Den Haag (The Hague), HOLLAND
Saturday 7th September : Lolita 18, Droop (both from Japan), Rat Patrol (Holland) Brawl (Ireland), Spite (England)
Sunday 8th September : Corrupt (Germany), Insane Youth (Belgium), Slapstick, Distress (both from Holland), Portobello Bones (France)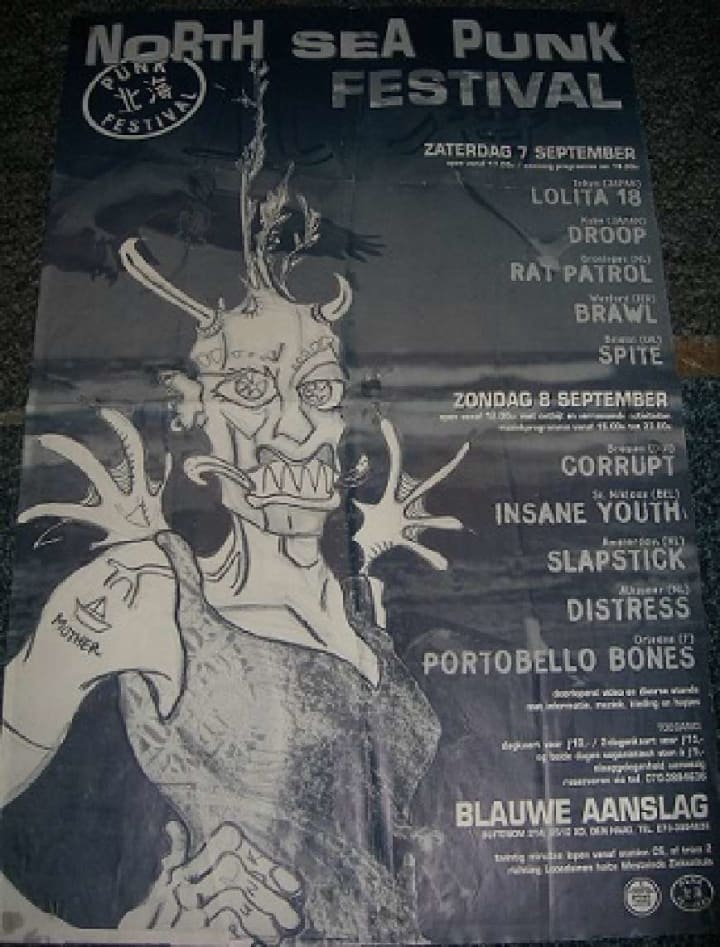 CHRISTMAS ON EARTH : ANTI-CHRISTmas punk night with The Anti-Nowhere League, Anti Pasti, One Way System, Demented Are Go, Chaos UK, English Dogs, Gin Goblins £10.50 The Astoria, Charing Cross Road, Central London Sun.17th December: another big punk do, which kicked of with a lesser known band known as The Gin Goblins in which Big John, who was the original lead guitarist from The Exploited now appears in. Good melodic hard stuff, a nice mixture of slow and fast numbers with a good tempo upbeat; should get even the most non-dancing person moshing a bit. English Dogs and Chaos UK always guarantee a good pogo session when they play live; and Demented Are Go playing the usual Wreckin' Crew psychobilly heaven. This was one of their best ever performances I'd seen and had punks and psychobillies united slam dancing and wreckin' together. (Some fool skinheads tried joining in... but it didn't quite sorta work.)
Anti-Pasti and One Way System are among the best ever bands to see live. Atmos started of a bit slow but once everyone got into the spirit of things, it really exploded big time.
"Die Maggie Thatcher and NO GOVERNMENT!"
Classic.
Lead singer Animal from the League seemed to be widely hated among female punx because everyone thinks he's a poser! Probably just all show, I expect. Another flawless performance from the band nonetheless.
"Ain't got no fucking birds Ain't got no fucking money Dog don't even fucking recognize me Get chucked outta my fucking house next week!"
Superb. Rating: 10/10
UK Subs, MDM (Mere Dead Men) , Dublin Castle, Camden Town, North London 31st December Free (sneaked in)
End of year punk party in Camden at the Dublin Castle. I was with a skinhead friend called Paul, from Sutton, a town on the bare outskirts of Greater London, not far from the Surrey border.
If there was one person that is totally dedicated to the punk movement, that one person is Charlie Harper, the Subs, lead singer and harmonica player. He may be past 50 but he could give people half his age a run for their money.
Especially when he's up there on stage belting out such classics like Warhead, Endangered Species, New York State Police. And when he's not singing he's flogging merchandise at reasonable prices, and chatting or drinking among fans. After the first 10 times, I lost count of how many times I'd seen the band play as they gig often in the London area. One time-10 times-a hundred times-it doesn't matter. They will always be brilliant no matter how many times they play.
I was to witness, for the first time a Scouse punk band known as MDM and I was instantly hooked. Female vocalists seem to be a rarity these days in punkdom but lead singer Mandy MDM stands out from the lot. She wore a black leather jacket with leather trousers and her blonde hair spiked up. The band has been going for around 10 years so this gig was a fitting event to hold their anniversary. They played their own version of 'White Riot' and half the audience went beserk.
The bassist, a portly, bespectacled guy had apparently been keeping a wary eye on Paul at the same time performing with the band. After the band had done their set I got chatting with the band members and the bassist revealed he was ready to jump off stage and smack Paul if anything happened. I assured him that Paul is definitely not one of 'those'. But later on, he was to hypocritically reveal himself as a bigot, intentional or otherwise, which will be revealed a little bit later on in this book.
End of Part Two