Dark Chronicles:
The Punk Rock Years, 1988-2006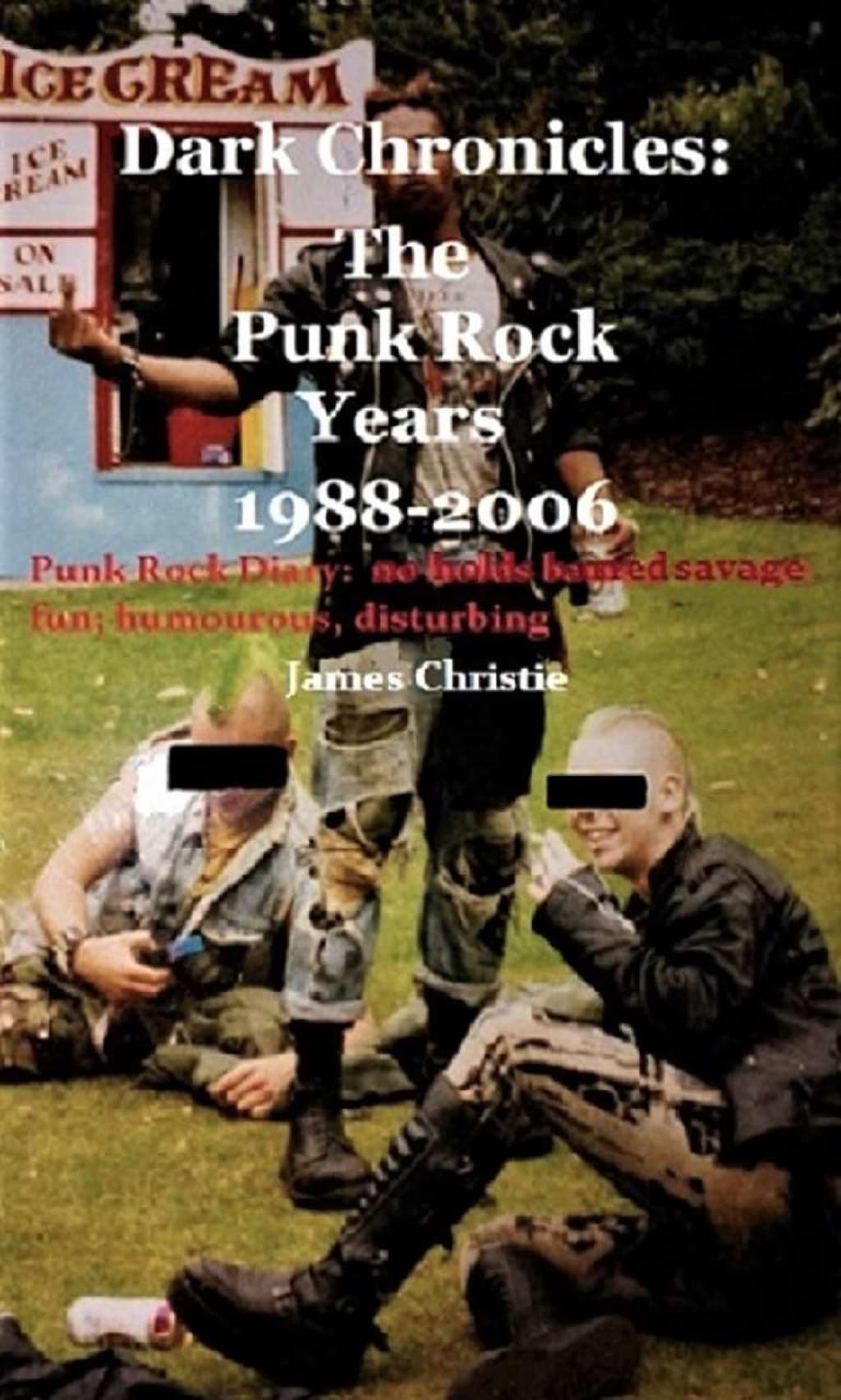 Forward...by a disillusioned guy who has never understood society or people in general
There are three specific things in life you are definitely guaranteed in your lifetime. Hypocrisy, people who cheap talk and ignorance. It surrounds us all.
Every minute, of every day, of every month, of every year it surrounds us.
When I was about 19, I discovered Punk Rock. And then later on ska and skinhead. To me, it was exciting, fresh and different. At last, I thought there was a sense of belonging, to a group of like-minded individuals who thought the same as I did.
There was just one difference though.
I didn't happen to be white. And there surprisingly a certain amount of intolerance in my early days in the scene. Years later, just after my 47th birthday it took me half a lifetime to realize that all scenes, in whatever guise it is, are all pretty much the same.
It is no different today. Full of sheer hypocrisy and the arseholes that continue to try to pollute and ruin the various scenes. I am no longer part of any particular scene but I have no regrets whatsoever of my time involved, even the more darker periods I experienced but there thankfully were a lot more fun moments and times I had.
The majority of the venues mentioned in this book have long since gone or have been turned into some god awful trendy wine bar.
Not all gigs and events I went to are listed here, including scooter rallies. The scooter rally experiences was a whole different ball game which will one day be explained in another book.
This diary-autobiography is being told from an alternative point of view: a non-Caucasian. And it's written in part slang, too.
All I ever wanted when I attended gigs was just to have crazy fun with like-minded people; snog as many birds as possible-and get drunk a lot. Trying to avoid the violence associated with it.
Deep within the scene itself also trying to avoid the more murkier, sinister side, getting into confrontations with the ultra politically vegan fascists and nazi skinhead filth polluting the scene. While all the while deep down subconsciously looking for that one special person I could call a soul mate which I never did find.
It will make you laugh. It will make you sad. It will make you disgusted and then it'll make you question why certain people act and say things in a way that will repulse you.
Maybe I should've taken up sociology.
Maybe.
* * * * * * * * *
Dark Chronicles: The Punk Rock Years 1988-2006
This….is the story, in diary form, of me, in my youth of when I was in my rebellious years which every kid is at some point or other and where every kid like me at the time thinks they are so much better and smarter than their parents when they reach a certain age.
PART ONE
Up to the age of 18 I lived in a quiet suburb of South London called Herne Hill, four miles from Central London. Herne Hill is distinctly split into two main parts: the Brixton end where the working classes and my family lived and the posh Camberwell and Dulwich end where all the middle classes and rich toffs in their £400,000 Victorian terrace houses and large posh flats lived.
There wasn't anything remarkable about Herne Hill; the two parks we had at either end of the town, Ruskin and Brockwell Park respectively were always a hive of activity, especially in the early summer at Brockwell when it was host to the annual Lambeth Country Show.
There were no nightcIubs to speak of (everyone went into Brixton, a mile down the road, or to Central London for their gig buzz.) There was the Half Moon pub in the centre of town that put on the odd gig or two but that was really that.
I discovered punk almost by accident.
In 1987 I was working for the much maligned British Rail at my local station and a colleague who I was pally with, had lent me his Anti-Nowhere League- "We Are The League" LP and the first thought that came into my head and I clearly remember this, was "this is what the fuck I've been missing all my life."
It just sounded so different, so vibrant, so…angry… to the usual Top of the Pops, Capital Radio crap I'd listen to most of the time.
I personally couldn't wait to leave my parents once I reached 18 because I spent far too much time arguing with them…and subsequently getting smacked if I became too out of line…so a few weeks shortly after my 18th I had had enough, packed most of what I had in my bedroom and with Mum cackling in my ears left for a dump of a town called Penge, four miles down the road.
Half of Penge is council estates but I moved into a small room above a Greek café. And here, for the first time ever, I was independent but it also was a real eye opener to experiencing life.
Before all the local and county boundaries were changed in the mid 60's and again in the 1970's, Penge was part of the original London County Council which itself were spit into various metropolitan boroughs. It was a sort of border town as a few minutes down the road was Beckenham which was officially in the county of Kent. Fifty five years later to everyone else it still is in Kent despite it being part of the London Borough of Bromley. It gets even more confusing to outsiders that the town and everywhere else beyond it still retains its original Kent postcode (Beckenham being BR3) but has a London phone code (01). A few years into the future, Beckenham would be a focal point in my punk years but for now, Penge would be my home.
The harshness of life as a stark reality hit me with a bang. Within a month I had been chucked out of my rented room over some dispute about rent and went back to Mum's with egg on my face.
I'd began to listen to more punk stuff, courtesy of my BR acquaintance. He was more into his Gary Newman New Wave alternative stuff but he had in his collection some punk vinyl's and 7"s. I went to a local HMV and was fascinated by just the cover of this compilation LP entitled "Maggie Maggie Maggie-Out Out OUT!" It was a bit like the Beatles famous Sergeant Pepper album, only that this one was a montage of mad looking spiky tops and mohicans with various bands.
So I bought it on the spot. And I played it relentlessly.
The first type of music I clearly remember being into and liking was Disco, back in the late 1970's. I was only a nipper then but I remembered we always seemed to have boiling hot Indian summers and freezing cold winters. But great chart music. Disco was massive only for about two short years and then it just sorta fizzled out and died.
Then when I went to secondary school, hip hop, techno, rap and scratch had only just emerged onto an unsuspecting Britain but the kids of my age were loving it. This was something alternative and a whole world away from mainstream pap pop. Don't get me wrong, the majority 1980's mainstream music was brilliant and I'd be glued to Top of the Pops most weeks.
Only two things spoilt my viewing however.
Noel fucking Edmonds (even at an early age I couldn't stand the bloke) and R'n'B garbage which polluted the charts.
Punk was still a whole world away. Most of the music you couldn't hear anyway because it was strictly an underground movement so you would never hear any of it in any mainstream media. John Peel, a DJ legend in his own right was the only guy playing probably the nearest thing to anything remotely punk, but it was the usual 'acceptable' stuff like The Stranglers.
Two Tone Ska had emerged a few years later and bands like Madness and Bad Manners were still occasionally making an appearance, although in hindsight Madness stopped essentially being a true ska band after 'Baggy Trousers', in my opinion their last great Two Tone track was released.
* * * * * * * *
The period between 1987 and 1996 were the most turbulent years of my life, having had to move house on more than thirteen occasions and was officially classed as homeless for six months, living in two grotty bed and breakfast hostels before finally getting a bedsit in Upper Norwood.
Society dictates that moving house is often the most stressful thing you can encounter and the b'n'b hostels were the next thing to a living hell, what with desperate wretched families and their kids screaming the house down and druggies playing loud music or arguing all the time. But having forced to move so often, depression, in which I already had a mild form of, was steadily becoming worse.
Circumstances dictated I was never to settle in a place for too long as the majority of landlords were unscrupulous bastards (still are) who would say anything not to give you your deposit back. Some of these places I had to house share with people who had absolutely nothing in common with me at all. But at the time, I didn't have a choice of where to live, really; if the first available room to rent was available, it was first come, first serve.
With all this constant upheaval, I was always in and out of jobs, mixed with often long periods of unemployment and boredom.
The depression, mixed with anxiety and paranoia could be problematic at times and the shit I was prescribed by so-called doctors and psychiatrists, anything like Prozac and stronger stuff with names I couldn't even start to pronounce, let alone remember them, left me more zombiefied, than better. So with all this free time I had, it was possible to go to as many gigs I wanted, wherever I wanted.
1988 was the turning point when punk was about to take over my life. I remember the very first gig I ever went to wasn't actually in London, but in a Northern town called Retford, in Nottinghamshire. I had bought a NME (along with 'Sounds' and 'Melody Maker' they were the music bibles of our youth) and checked out any punk gig listings. Weren't any in London to speak off but the one band that was about to have a real influence on me for the next 14 years or so was The Exploited.
The band were playing at a venue called The Porterhouse and were being supported by what I self-termed as "gore-punk", a unique band called Sic Boy Federation who would have inflatable penises and sheep and shit like that on stage fueled by copious amounts of fake blood. I don't remember much about the actual gig itself, but what I do remember were some local punks offering me a place to stay after the gig as I had planned to kip rough at the local railway station afterwards.
The next gig I went to, also out of London, was with Culture Shock along with some support band calling themselves The Hippy Slags (!!) and they were playing at the Fleece and Firkin somewhere in Bristol. So I hopped on a National Express and off I went.
In those days I used to go almost everywhere by coach because it was affordable. With a coach card, nowhere in Britain would cost more than £25. Train travel was still expensive and out of my reach for most journeys.
This is what I remember vaguely about the gig, before and after: I had arranged with someone to stay at her place in the Stapleton Road area for the night before the gig. While both walking towards her house I got racially hassled by some 10 year old brat before he decided he had had enough and walked of somewhere (the racists start of young in Bristol, they do.)
The gig itself was hot and claustrophobic. I was being jostled, squeezed and crushed amongst youths that resembled gypsy travelers. But I enjoyed the atmosphere and experience.
Bristol, as it turned out to be, was horrific in the way I suffered abuse in some form or other. The city, seeing that it never seemed to have forgotten that its' past wealth was built on slavery and the slave trade and was the second most important city in Britain after London during this despicable part of UK history, was right up there in my top three most loathed cities in Britain, because on the three or four occasions I went back there over the years to either attend a gig or to visit a friend I'd get shit from some arsehole yokel; on one occasion, after stepping of a coach from London just outside the central area on the way to meet a punk acquaintance, some middle age redneck sitting at a bus stop had taken offence to me wearing my combat trousers.
As I walked away, not wanting to be in any confrontation with this moron he shouts out "you black bastard."
I turns round, walks right up to him and outstares him.
"You ever call me that again, you racist cunt, and I'll punch you."
The bloke really did look a pathetic sight as his head drooped and became silent as I walked off.
Another time and me and the same punkette acquaintance were walking through the West Indian suburb of Bristol called St Pauls. But here the insult was more of a piss take rather than racial as some Jamaican dredded guy decided to have a pop.
"Punk's dead, man!"
"Yeah and so's fucking Bob Marley, mate!"
* * * * * * * *
In 1988, after three years of working for British Rail I decided I wanted out and started working for the even more much maligned Royal Mail, at Beckenham Postal District Office. An acquaintance had let me listened to 'Never Mind The Bollocks, Here's The Sex Pistols" for the first time, and that was me hooked on punk music , period.
Beckenham, and the outer Greater London suburbs south of Penge was a haven for racist scum and National Front supporters and you could still see NF stickers on the odd lamppost, usually half torn or defaced as someone morally decent person had tried to tear them off.
I was living in Penge again, but only a few yards away from my original spot, this time at a West Indian pastor/reverend's house, renting out a back room. The man was quite insane and took his worshipping of the Almighty too far when every night I'd hear him loudly praying and singing to his poxy God while I was trying to get some adequate sleep in order to wake up in time to start at 7am. Things came to a head and I got clouted with a ketchup bottle.
So back to Mum's a second time. But Dad was having none of it and went down to the mad pastor's house to have it out with him. Some nosey parker who had heard the commotion informed Plod who dealt with the situation and nothing further happened.
I still wanted my independence and moved out of Mum's for the 3rd time in less than six months, this time moving to a rented top floor room in a house on the Shortlands Road going towards Bromley. This was the first time I'd ever moved out of Inner London into Greater London. This was still an ideal location because I was about a mile's walk from work, the same as when I lived in Penge.
************
GIGGING
Going to a gig can be great fun as I'm now frequently going to gigs up and down the country and usually by myself. As I have normally no one to go with locally because everyone I knew around me weren't into punk and most people I'd see at the gigs I wouldn't see again until usually, but not always, the following gig, especially in London, where the followers of bands were mostly their friends and /or hardcore supporters.
It's obviously an advantage going with a friend or an acquaintance to a gig as it helps breaks the boredom, but when I see other people at gigs socializing and chatting amongst themselves and I appear to be alone like some spare peg on a washing line, it actually doesn't really bother me too much at all. I sound like a loner but that's the odd thing, I never feel lonely. I keep myself to myself, enjoy the gig as best as possible then fuck off home.
There are five types of gigs, or at least the ones mostly in London in which a regular gig goer like me can identify:
1) pub gigs normally free or dirt cheap entry, never more than £4, usually held in some small pub where the band is squeezed into a tiny corner or a small space laughingly called a stage area; atmos can be pretty good, depending who's playing and more importantly where the gig and pub is located, Never ever fascist bouncers at the doors- just someone who takes your admin money/stub off ticket.
Gig will finish when it's pub chucking out time (11.30pm ish)
2) nightclub gigs- extreme late night gigs where the first band will not start until 11pm earliest start. Strictly for the partisan locals or die hards who have their own mode of transport. Because Night Busing in London after 11pm is horrendous. Depending on who's playing, admission can be expensive or it can be virtually next to nothing. There was only one case of once where there were hardly any space to move, let alone dance and that was at The Fridge in Brixton, a former cinema turned into a gay and lesbian nightclub.
Oddly enough, the bouncers at a lot of these nightclubs seem pretty decent in all hindsight.
3) underground gigs, always held in some squat taken over by anarcho-punks, or small pubs and venues (see pub gigs) . Never more than a few quid depending on what band is playing, usually three bands will play in a late evening/early morning do. Bring yer own booze job (squats) or try and sneak booze in (pubs). Don't expect the first band to come on earlier than 10.30 at a squat or gig finishing before 1 am.
4) semi commercial gigs held in larger venues holding around 400+ people. The Marquee at Charing Cross Road, The Subterania in West London and The Dome at Tufnell Park are fine examples of this. Unless someone "really big" is playing, the gigs are never more than around £8. The worse sort of bouncers imaginable seem to pollute these gigs and none I despise more than the scum at The Venue, New Cross where all seem to be virtually closet fascists that enjoy searching and intimidating people.
Exactly the same a few miles across South London to Brixton, where The Academy is (see commercial gigs) but worse, and up into Central London at The Marquee. Drink prices are extortionate and a total rip off, but once pass that barrier, you're almost guaranteed a fantastic night out with good atmos, especially if it's at a venue where stage diving is allowed.
5) commercial gigs are not really gigs at all in the true sense, at least not to a regular gig goer, but concerts that are held at large, to huge venues ranging from a capacity of a few thousand (The Academy, in Brixton) to 15,000 or more. The NEC just outside Birmingham, The Royal Albert Hall, Wembley Arena and Hammersmith Apollo are all perfect examples; other prime examples are ones that are held in a city's respective town or City Hall (ie Sheffield City Hall).
Normally at these sort of places you have to sit down on some crummy, cramped expensive seat. Bit like going to the theatre in the West End. Totally kills the atmosphere. Plus the fact that unless you pay top wack for a ticket which will usually set you back around the £20/ £30 mark, you're sat at the back which means you can't see fuck all. Definitely not my kind of venue and I've never paid more than £12.50 for any one concert ticket.
I don't particularly like gigs where
1) It's overcrowded and you have about half an inch in which to move, never mind dancing
2) Fascist bouncers
3) People who dance too aggressively at gigs and seem to get a pleasure of shoving and violently pushing other people (exception being part of the 'wrecking crew' at psychobilly gigs where you are expected to do just that in the mosh pit) as this would almost always lead to fights breaking out and that's something I would always try to avoid.
4) People in the audience that are now adapting this bizarre form of cheering the American way of "whooping." Have we no originality for anything any more, that we must adapt to everything the Yanks do? Makes 'em sound like some one's just poked a red hot poker up their arse.
STAGEDIVING
The four types of classic stagediving -
1) Frontwards (usual type)
2) Backwards (you gotta be brave to do that one
3) Sidewards (my favourite)
4) "Timber Drop";
I've only ever seen this executed perfectly once and it was bizarre but brilliant seeing this punk do this: he had clambered on stage but then had stood momentarily still before falling into the frenzied audience but standing absolutely straight, like a ruler. It was just superb seeing that pivotal moment in punk: it was like watching a tall industrial chimney from a factory being demolished, but only, this was in human form.
1989
In the very late 1980's and early 1990's I was going through a phase where I would always dress entirely in black but I never considered myself a goth. I was a huge Siouxsie and The Banshees fan and I had managed to obtain every album and most of the singles released up to that date.
Once again, being somewhat naïve of the whole alternative scene thing, I thought that goths, punks, skinheads and anyone else that refused to be a trendy norm all mixed together. How wrong I was proven to be in the upcoming years at various gigs.
1989 was the year of my first ever punk all dayer. This was at The Upper Cut Club at Forest Gate in East London. To get to the venue from where I was living at the time at Penge involved a lengthy and horrendous trip into Central London on British Rail, getting the tube to Liverpool Street and then British Rail again to Forest Gate where it was a few minutes' walk from the station.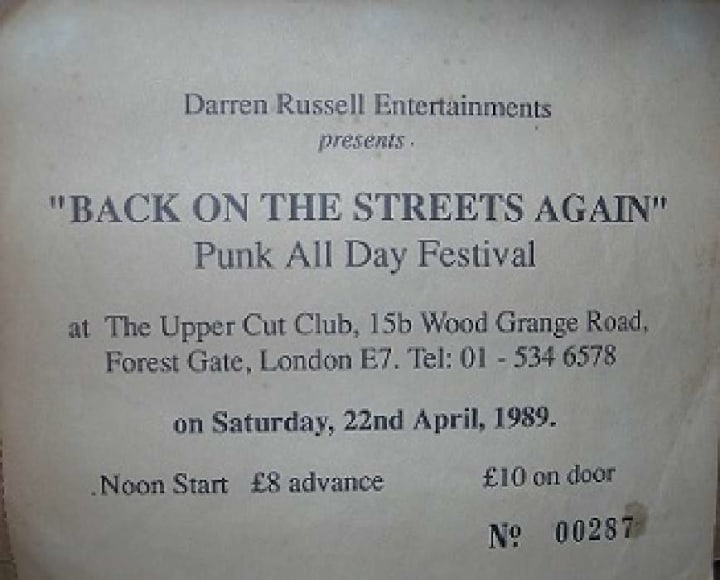 I had no idea what to expect at the gig nor reckoned what I was getting into as I was alone. But the line up alone was a magnet for anyone to do with punk to attend: The Exploited, Sic Boy Federation, UK Subs and 999 to name a few.
It was The Exploited I really wanted to see again, after the mental mark they left on me last year when I saw them. I remember almost everyone looking 'colourful': all these mad looking people with an assortment of various mohican and spiky top hairstyles, different attire of studded, pinned and patched leather jackets, combats, tight denim, DM boots.
There was this clear image of this person I'll never forget till the day I die. He had put safety pins not just on his clothes but half his face was covered with them. I couldn't look at him for too long because it was that disturbing; I think for some people the whole punk thing was taking it a bit too extreme.
I had to get my last train back into London so I left the gig before it ended. I saw some punks at the far end of the London bound platform looking as if they were trying not to either pass out or become sick from too much booze, but all in all this was going to be my first taster of what punk rock all dayers were going to be like, or at least some inkling of things to come.
Also that year, non-punk/alternative included I attended were
Siouxsie and The Banshees, Royal Albert Hall, Kensington .
In the late 1980's, it was possible to see Siouxsie and The Banshees at massive venues like the posh Royal Albert Hall for less than a tenner. I was stuck right at the top of the auditorium so basically I was seeing little more than ants on the ground but the volume of the music was still the same…deafening. Still, it was a nice experience watching a band at a top venue like this.
Motorhead, Royal Albert Hall, Kensington, West London
Lemmy and the boys tearing out the old classics, and naturally Ace of Spades. Apparently, Lemmy got his nick-name as he was always asking to borrow money or other things "lemme ('lend me') a fiver will ya?"
You go to a Motorhead concert, you leave a Motorhead concert deaf. On the three occasions I saw Motorhead, it made no difference stuffing some tissue into your ears or tiny ear plugs; I was left deaf for three days before I could hear anything properly.
Them metalhead fans must suffer some serious ear (and probably brain) damage once in a while.
The Primitives, Town and Country Club, Kentish Town, North London
Stiff Little Fingers; Brixton Academy, South London
The Buzzcocks; Brixton Academy, South London
* * * * * * * *
The George Robey, Finsbury Park, North London
There were a few times when I went to an absolute dive of a pub known as The George Robey, a few minutes' walk from Finsbury Park tube to see gigs. The moment you stepped onto the floor of the pub your feet would be saturated from the amount of piss that was on the ground, there were never any bog rolls in the graffiti-ridden toilets which always had flies swarming around and there was always this strange murky smell about the place as if someone had died and had been left to rot.
I remember seeing one of my first ever Peter and The Test Tube Babies gigs there. I was pogoing and then suddenly getting punched repeatedly in the head by someone. I covered my head to try and deflect the blows raining down on me and ran through the crowd until I felt safe enough to be by myself.
Everyone seemed to be carrying on socializing and boozing as if nothing had happened. But I had been attacked out of the blue by some wanker of a skinhead and there were a fair amount mingling in the crowd giving me odd looks. I decided then and there there was no point in staying for the duration of the gig half bruised and battered so I left, cursing myself.
1990
At the beginning of the 1990's the UK experienced a massive punk revival and I was swept up in it. Slowly but surely I began to look and dress more punk as the months went by.
Gig roll call
UK Subs, The Exploited; The Dome, Tufnell Park, North London
The Exploited; Opera on the Green, Shepherd's Bush, West London
The Damned, Doctor and The Medics; Brixton Academy, South London (twice)
The Varukers, Blitzkreig, 999; Shoreditch Town Hall, East London
1991
Gig roll call
Subhumans; The Venue, New Cross, South London, January
Napalm Death, Hellbastard; Subterania, Ladbroke Grove, West London, April
UK Subs, Demented Are Go, Self Destruct ; The Marquee, Charing Cross Road Central London (twice), May
Conflict; The Marquee, Charing Cross Road, Central London
Grunt, Planet X, Liverpool Oh for christ's sake! I goes all the way up to Scouseland expecting to see Peter and the Test Tube Babies only to find out they'd cancelled the gig, and this local outfit comes on instead. Oh well, different night out from London I suppose…
Voice of the Beehive; Camden Underworld, North London Wed. June 6th: This was the first time I had experienced a gig venue that then had turned into a nightclub once the main band had finished their set. But this gig was also extremely different for the variety of people that was there: a real mixture of goths, mohicans, trendies, ethnic minorities, some middle aged bloke…and a couple of lezzie lasses having it off in full frontal view of people and they didn't seem to give a shit either about it.
But they were not the obvious bull-dyke shaven hair hideous stereotypical mutants associated with lezzies, these were more your tanned Page 3/Playboy centerfold models. I'd never seen such gorgeous women, a blonde and her brunette partner. They were tall, around the 5ft 8 mark, all legs, and all bust. The jet-haired brunette really was like something out of the pages of Busty Magazine and they didn't seem to be too bothered about the band playing. Same non-concern for the audience whom they were oblivious with as they kept on smooching and caressing each other.
I have to admit It was hard not to take your eyes of them and I wasn't pissed at the time neither.
Oh, and the band were excellent, by the way, too.
Bad Manners; The Marquee, Charing Cross Road, Central London
(Charged) GBH, Extreme Noise Terror, Broken Bones ; The Dome, Tufnell Park, North London
X-Ray Spex, Sham 69, 999, UK Subs, The Lurkers, Chelsea ; Brixton Academy, South London Sat. Sept. 14th : This was one of the last ever gigs that X-Ray Spex were going to play in front of a live audience before the band disbanded permanently and the various band members went their separate ways. X-Ray Spex were one of the forerunners of early British punk rock, led by flamboyant singer Poly Styrene.
Peter and the Test Tube Babies, Trench Fever The Marquee, Charing Cross Road, Central London Fri. Sept. 20th
* * * * * * * *
1992
The Stick Of Rock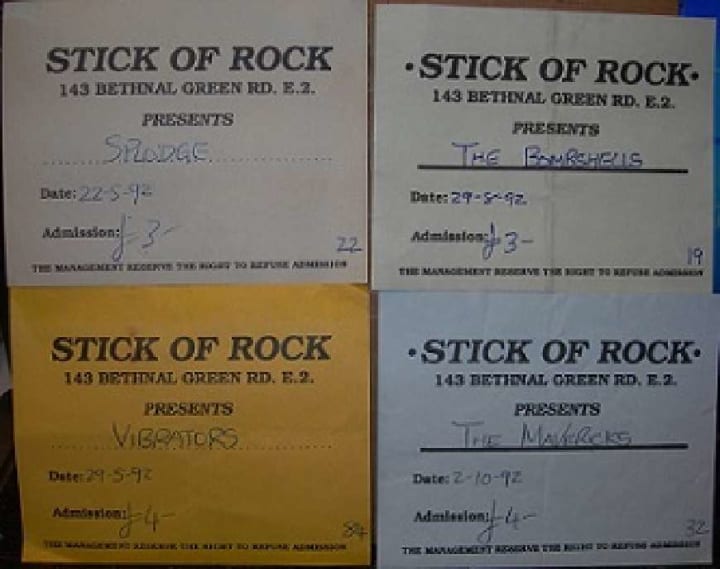 The Stick Of Rock pub, in London's East End, not far from Bethnal Green tube, was a haven for punk rock in the early 1990's. The venue has probably been long since demolished or turned into some god awful trendy wine bar like so many small venues and hangouts I used to go to, to fill my punk addiction. It was a tiny pub and it used to stink of piss all the time. Seriously. But it was all punk rock and I loved it.
* * * * * *
1992 was also the year of the punk rock all-dayers: no less than at least six were staged that year in London.
At one of these punk all dayers, typically at The Academy in Brixton, there was yet another unfortunate incident with yet another dumbarse racist skinhead. The Academy is split into two parts, upstairs where you could sit down and downstairs where you could stand or dance. It was not often I'd sit down for any gig but during this all dayer I needed to rest a bit between one of the bands that had finished their set and the next band coming on. I was with a goth acquaintance and we were in conversation.
Some drunken, lumbering skinhead comes up the stairs, near to where we were speaking, looks at us and mumbles something incoherently. Couldn't make out the guys accent. Probably Oop Norf somewhere or European.
We ignore him and carry on chatting.
He then shouts out the dreaded N word.
We look at him, but we didn't react. We tried to carry on our conversation but he then shouts out the N word again to which I tell him to fuck off.
"Sorry mate, didn't mean to say that...you're ok mate, sorry..." and then he staggers of somewhere.
My goth acquaintance looks at me angrily.
"Are you going to take that shit from him?"
I shrugs helplessly. What could I do? I'm no fighter and I abhor violence. But at the same time I really did need to stick up for myself and not take shit from people. Unbeknown to me right now, the tide would begin to turn when I would suffer more abuse from so-called punks than racist skinheads.
* * * * * *
Beki and The Bombshells, The Stick of Rock, Bethnal Green, East London Saturday 7th March : Former Vice Squad frontwoman Beki Bondage, looking more of a stunner now than when she was in Vice Squad 10 years earlier, now has her own band called The Bombshells, who play a mixture of rock and heavy metal. The advert for this gig stated that it would start at 8pm, but London gigs rarely, if ever, start on time and the support band, Sole Asylum didn't come on until 80 minutes later.
They were adequate, shall we say and weren't greeted by a lot of clapping or applause afterwards.
Then it was going to be a full 45 minutes of more utterly tedious boredom before The Bombshells would finally come on, but for many in the tiny crowd of about 30 people it was well worth the wait. The band beltered out some brilliant rock numbers and out of their set only one was a slow number but you can't expect fast numbers and fast songs all the time in any gig set; I wanted to get her autograph but I was so painfully shy, I didn't have the nerve to ask even though I had plenty of opportunities during her break and afterwards.
So I did the next best thing by nicking a door poster and a large photograph of her sitting on a motorbike.
Doctor and The Medics; The Powerhaus, Islington, North London Thursday April 2nd : Forgetting about the two support bands...whoever they were...as they were garbage, the good Doctor and his Medics didn't come on until past 11pm and what they played was a complete turnaround in the style of music compared to the last time I saw them when they played mostly punk and now they played mostly rave.
The majority of bands and singers will reinvent and change their style of music at some point during their careers in order not to sound repetitive but this was too much of an extreme change.
The only highlight of this gig were the two female goths in their Jason and the Technicolour Dreamcoat outfits either side of The Doctor as backing singers, one of them had a chance to demonstrate a role as a lead singer when she did a solo rock song stint which was brilliant.
I walked out before the gig finished, that's how much of a let down it felt.
Rating: 4/10
Blitz, The Elite; The Stick Of Rock, Bethnal Green, East London Fri. May 12th : This was one of my first ever "Oi" gigs I ever attended. Of course, still being relatively new to the punk rock thing, I didn't have a clue about the difference between Oi! Punk (or "Street Punk" as it was sometimes labelled), thrash punk, 1970's punk or DIY punk. To me it was all punk, and it all sounded more or less the same whoever sang it.
However, the Oi! thing was more to do with skinheads, sang in a more aggressive style and when I saw all these mad looking skins, yeah, of course I was nervous. Well, a lot. Me being a black punk, in East London, in a pub full of skinheads.
I don't take much notice to what news media say about any group that isn't apparently "normal looking" in society, but there was some truth about the hype concerning some (and I stress, not all) skinheads.
I bought a pint, and headed right to the back of the pub. All night I stayed straight at the back of the audience and I was not going to take any chances of me getting picked upon by some racist wanker and risk getting a slap. The music was bloody good though. Raw and hardcore. The second the gig finished, that was me straight out them doors like a shot.
Splodgenessabounds; The Stick Of Rock, Bethnal Green, East London Fri. May 22nd : The original band that was billed to play in the first place was the UK Subs. But they were currently on tour in Germany so Splodge had stepped in. They were supported by a band called Run Foxy Run (?), playing a mixture of heavy metal and punk, an odd mixture which strangely worked and they weren't half bad.
Splodge came on 35 minutes later. I had seen them before at a previous gig and they were great tonight as they were before. In the tiny audience were some hecklers who were taking the piss out of the Gary Glitter lookalike bass guitarist but their famous "Two Pints of Lager and A Packet of Crisps Please" ditty went down a storm as always.
The Vibrators, The Stick of Rock, Bethnal Green, East London Fri. May 29th : I'm trying to remember why on earth I bothered to go and see The Vibrators because I regard them as one of the most boring, over hyped bands ever and they don't do anything for me at all. Perhaps I must've been that bored and there was shit on tv as always that I probably thought "right, fuck it, let's travel up to shitty East London from where I am in South London for some punk rock even though I have to fight my way through the bastard tube system because there's nothing worth going to in South London, as always."
I must've been desperate because I walked out before the gig ended, it was that crap.
* * * * * * *
In the summer of 1992 I had started a controversial DIY fanzine called Stick Two Fingers. I had wanted it to be as DIY as possible so it was literally cut-and-paste and very little of it was typed as it was mostly handwritten. It came out sporadically every two months or so (or when demand grew as it surprisingly became popular amongst many people).
Stick Two Fingers was literally what the title of the zine meant; sticking two fingers up to the world and people in general (but from my personal view). I set out to just about offend every aspect of society, including punk society, right up to the hilt. It wasn't racist obviously, but it became known as 'borderline' or 'dodgy'.
It quickly became a zine that people either loathed or loved at the same times simply because I was (and still am) so outspoken about anything and everything that pissed me off. And I used to feed off the negative reviews I'd get and turn it into my advantage with savage toilet humour to make people who had slagged of the zine and me even more pissed off.
So yes, it did cause some controversy and me being me didn't give a fuck. In fact there was a couple of times when I had full blown arguments and I snapped back, "well if you don't like it, don't fucking bother to read it then," which is after all a fair point...can't stand people doing a bloody Mary Whitehouse on me!
During its' 10 year plus run, which itself was a remarkable feet seeing that the zine wasn't a professional publication, I was lucking enough to have gotten some top interviews with some of the top performers of the day like Charlie Harper from the Subs and Rat from The Varukers, amongst other bands. The interviews were deliberately meant to be informative but depending on who I was interviewing it was also with sharp toilet humour within the questions themselves. Along with the interviews were typically piss taking articles ("Intelligent Coppers Shock", "Free Dirt for the Crusties", "Sheep-Are They Shaggable, or wot?" and "Why Nottingham is Shit") and fun stuff like the popular "Phil and Grant from East Enders" monologues called "Sorted", focusing on the brothers sorting out any situation, always misunderstood, with extreme violence.
It was always written in an untraditional style as if you were speaking and reading it as a real Cockney (this was always the most popular read part of the zine. A few years later Viz Comic did the same thing with the classic Cockney Wanker set of strips, the character looking a mixture of Mike Read and Del Boy Trotter),
The majority of the issues have long since been consigned to anarchic history but a selection of the interviews and articles can be found in various parts of this book.
**********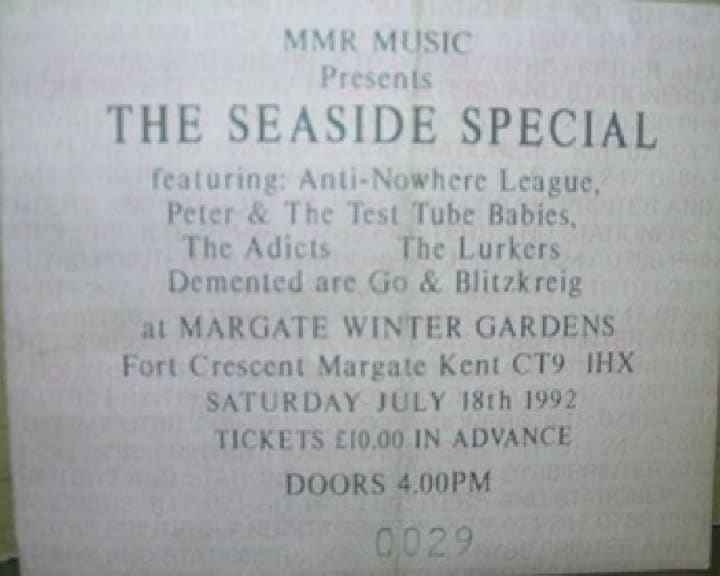 "The Seaside Special", Margate Winter Gardens, Kent Sat. July 18th : This was I believe, my first ever big punk all dayer outside London. Margate was the great seaside resort all South Londoners on the Kent side part of the Thames would go to every baking hot summer, but this particular summer, all the punks and skinheads descended on the town, the poor locals didn't know what had hit 'em.
In the line up was Anti-Nowhere League, Peter and the Test Tube Babies, The Addicts, 999, The Lurkers, Blitzkrieg, Demented Are Go, and a couple more.
I remember waiting in this queue patiently to get into the venue and some bloke kept on starting at me intensely. He looked and dressed like an original 1970's punk. Black all over, some band names dabbed on his leather jacket, straight hair (not spiked. (The mohican look didn't come until around 1981 when bands like The Exploited first came on the scene.) If he had something to say I wished he'd fucking had the guts to just say something.
This was my first real taste of how much skinheads were widely loathed by punks at the time, although there were a mixture of psychobillies thrown in for measure as Demented were also playing. I had joined in the mosh pit when Peter and the Test Tube Babies had come on but between the tiny space separating the dancers and the people standing, I had began to pogo.
Suddenly I felt a knock at the back my head. Before I had time to turn round, three more hard smacks around the face were repeated in quick succession.
Behind me, while I was trying to comprehend what the hell had just happened to me in a matter of a few seconds, a woman had screamed at someone.
"Get of him, leave him alone!"
A punkette had pulled of this fat porker of a skinhead who looked as if he could barely grunt, let alone speak.
"You ok,mate?" she asked concerned.
Quickly catching my breath, I replied "yes, yes, I'll be ok." I dusted myself of. "Thanks anyway," before glancing at Porky and walking off.
Oddly enough I didn't feel real pain afterwards. It all happened so quickly and stopped just as quickly. I had drunk a vast amount of vodka and coke anyway so the pain was quickly numbed. I was shaken by the experience but I refused to be put off over the incident. I remained for the duration of the concert at the far back or near to the side wall.
This was the second of three attacks I received at the early gigs I went to by bloody skinheads.
And all of them when Peter and his Test Tube Babies were playing.
* * * * * *
UK Subs, Bum; The Stick of Rock, Bethnal Green, East London , Fri. July 24th
The Damned; Town and Country Club, Kentish Town, North London Sun. July 26th
This venue was one of my least favourites in London, big time. The bouncers were scum, let's put it like that, over priced bar as always and half the audience were twats to the full degree. Well, The Damned were playing so you had a real mixture of punks, goths and alternatives. And I'd never seen The Damned before.
They were one of the forerunners of the beginnings of British punk after all, although 16 years later, they are as popular as they had been right from the start and sounded just as tight.
Not too sure about all that odd goth dancing though.
Lunachicks; The Marquee, Charing Cross Road, Central London Fri .31st July : Man, but you gotta love The Lunachicks!! They were at the forefront of the "Rriot Grrl" phenomenon of the 1990's when punk rock chicks were mean, badass and angry attitudes (but talented musicians in their own right) and the female drummers were often more hardcore in their speed drumming than many of their male counterparts.
Before the band became too commercial their gigs were legendary, stagediving was commonplace and the atmos explosive.
This gig was one of them.
Rating: 10/10
Beki and The Bombshells, The Stick OF Rock, Bethnal Green, East London Sat. August 29th : Before my favourite rock band came on, there was support from an unknown band called Katana who were shit hot, simple as that. I'm not too much into heavy metal stuff, but this band was one of the best.
And this time I finally plucked up enough courage to ask Beki for an autograph which I received with her blessing and I was sent into seventh heaven. Yippee!! I also got from her a gig list for her next set of gigs she was due to perform at. But tonight's gig was not in the same style I had heard her perform before, more soft metal ballads than heavy rock. However, her last three songs of her set she performed, an old Deep Purple hit and a couple of Chuck Berry numbers she blasted out were out of this world. Superb stuff.
"Fuck Reading" Brixton Academy, South London Sun. August 30th : The following day, only half recovered from the night before, I went to a punk all dayer billed as "Fuck Reading". This was the first of many such titled all dayers which were a direct punk protest to the already established Reading Festivals in Berkshire. Line up was Sham 69, in the days when Jimmy Pursey still fronted the band; The EXPLOITED, The Vibrators, GBH, Peter and the Test Tube Babies, The Lurkers, Johnny Moped, Chelsea, and The Straps.
There was another support band, but no one included I remembered who they were. So they can't have been that good if no one remembered them, haha!
This was a superb line up. Except for the Vibrators in which I had no interest in seeing and headed straight for the over priced bar when they came on. It was going to be a long, boozed fuelled day with ten bands to watch and about seven hours in which to socialize.
However, once again, when the Test Tubes had come on and I had been dancing, I found myself again on the wrong end of a fascist skinhead's fist. There was I minding my own business as usual, and enjoying the music. The next minute I find myself getting walloped the shit out of by some brain dead skinhead wanker.
Trying to cover my head from further punches raining down on me, the beating suddenly stopped. I think I said a loud "fuck off" to the guy before walking off bruised but not too battered towards the upstairs part of the venue where you could at least sit down for a bit and relax.
"Christ, if I'm going to get attacked by some bastard skinhead wanker every time I go to a gig, maybe I'd better stop going to gigs altogether," I mused to myself.
But of course, I didn't. It was too much in my blood to simply just give up like that on account of one brain dead prick thinking himself hard by attacking someone defenceless and without provocation.
"Never let the bastards grind you down," was the saying I was going to use for the next 20 years.
* * * * * * *
Lunachicks; The Venue, New Cross, South London Fri. September 11th
Anti-Nowhere League; The Astoria, Charing Cross Road, Central London Sun.September 20th : The Astoria, like The Academy four miles away in Brixton, was once a famous cinema that had seen better days in its' last few year of its' existence as a cinema before it closed down, only to be re-used years later as an ideal music venue. Next to The Astoria, but backing onto an alleyway was the Astoria 2, held for smaller gigs. And because it was smaller, the Astoria 2 was always my better choice over the main Astoria.
Once again, The Astoria was securitied by thug bouncers whom everyone loathed. It was to be many years before there was a whole overhaul of the security system where everyone is now retrained and badged. But back in my day, I despised bouncers for years because they literally and really were a rent-a thug mob. The term 'bouncer' came about because the cunts would literally 'bounce you around the floor' with their warped idea of preventing trouble.
Another great line up as support, in order before The League came on were Sic Boy Federation (the 'K' -in 'sick' being purposely left out in the spelling), the ever wonderful UK Subs, Peter and The Test Tube Babies and 999. Sic Boy came on and did their gore punk bit with inflatable penises and shit. It was all I could do from not pissing myself with laughter watching their stage act. It was even more funnier watching some of the punks literally taking the whole thing serious and having a good moan about it. Bless 'em.
The rest of the bands were tight as hell. For once, I didn't get attacked by some nazi wanker during the Test Tubes set. What was worse was that I got attacked by some bastard bouncer as I attempted to leave the venue drunk with a half pint of cider in a plastic container.
"Get your hands of I me," I stormed.
The next minute I knew, I got punched in the face and got dragged into a small room by two other cunt bouncers. I tried to retaliate but I had no chance.
"Get the fuck of me," I kept on saying. I got punched again but all it did was just made me angrier. After a couple of minutes I got thrown out of the room and out onto the exit/entrance doors to the venue. My nose had been fractured and blood had made a right mess of my t-shirt. My glasses had fallen onto the ground when I had been smacked but luckily an acquaintance had picked it up.
I needed to go to a hospital. My nose felt like it was twice its' size and I couldn't stop the bleeding. But I didn't want to be stuck in Central London all night. So the next best thing was to walk 15 minutes down the road to Charing Cross Station, holding my nose and looking a right mess. On some advice, I took some pictures of myself at a photo booth. This was to be used as evidence as I wanted to press charges against the security firm. Already I was beginning to sport one hell of a shiner.
I eventually made my way to Bromley Hospital and after a lengthy wait was seen to by a doctor.
"It's not broken, it's fractured, but it will heal in due course," he said.
Broken, fractured, it's all the same to me and although by this time I'd stopped bleeding, it still fucking hurt.
Needless to say, coming into work the next day looking as if I'd been run over by a bus did cause some queries from the staff.
* * * * * * *
A few days later, I received a mysterious phone call from someone claiming to be the manager-owner of the security firm whose cunt bouncers had attack me. He declined to say just how he had got my mum's phone number but he had wanted to settle out of court to avoid any unnecessary bad publicity, and had offered £500.
The case never did get to court.
And I never got the £500 either.
King Kurt; The Astoria, Charing Cross Road, Central London Sun. 27th September : Back to The Astoria a week later to see my first proper psychobilly gig. The Wrecking Crew mosh pit was something you had to see to believe and experience-mental stuff!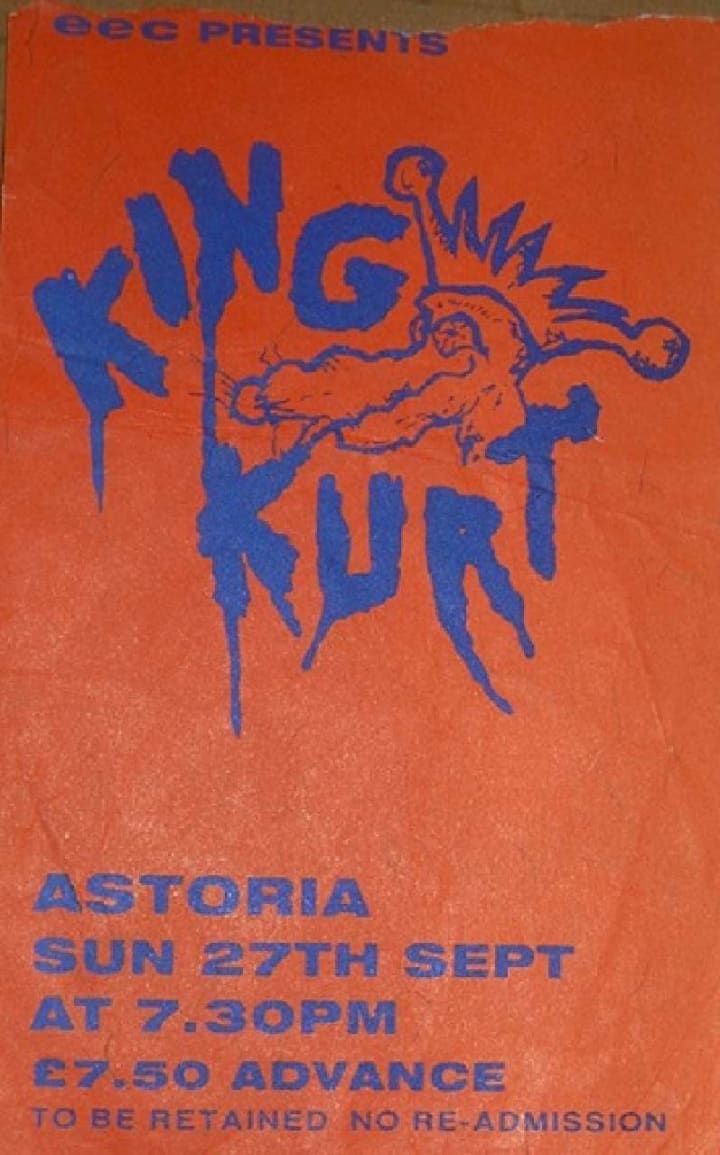 The Lurkers, The Elite, Cock Sparrer, The Addicts ; The Astoria, Charing Cross Road, Central London Sun. October 4th : This was, in all hindsight an Oi! gig in all but name. I stayed well at the back this time as I wanted to avoid any trouble that might of occurred.
Gwar, Camden Palace, Camden Town, North London Sun. October 11th : This was a manic rock gig with a difference. A band that defined blood splattered gore fest at its' best and woe betide anyone down at the front who were within 10 feet of the stage. Because you'd be drenched in fake blood from top to bottom if you were. The stage act itself was unique.
As well as the heavy bass line rock music pumping out, there was this fight sequence consisting of a woman and one of the musicians, all dressed as neo-apocalyptic warriors, ala Mad Max having this impromptu stage fight complete with added film sound effects when a punch occurred (like the film Rocky 3 and 4-heavily exaggerated).
A unique gig not to have been missed.
The Scottish Sex Pistols Subterania, Ladbroke Grove, West London Tue. October 13th
* * * * * * * *
1993
In 1993 I started going to as many ska gigs as punk gigs but still kept a punk image of a sort no matter where I went. I was a huge fan of Bad Manners and I would try to go and see them play no matter where they played. I did tone down a bit, dress sense, and not be too hardcore looking, but then, I never really cared what people thought about how I looked anyway.
I had perfected my punk look and outfit. I would normally wear a black leather jacket with lots of patches and badges pinned to the front. I'd wear either combats, also laden with punk patches, or a pair of battered jeans. And of course, not forgetting, me DM's, jet black of course.
Gig Roll Call
Toxic Shock Syndrome Bull and Gate, Kentish Town, North London Sun. January 17th : Love this band! They had been advertised in the NME a few weeks back and loved the article so much I bought one of their DIY demo tapes. 20 years later I still have their demo tape. I loved it so much I thought it'd be good to seem 'em not just once, but twice. This was the first of two visits to see the band in the same month and tonight they were supported by I Thought I told You So (?) and The Keatons.
Good old fashioned sing-a-long punk rock sang by basically kids with punk attitude. TSS were English Riot Grrl at its' best-loud, raw, hardcore. Oddly enough, for some reason or other they didn't seem to last too long as a band as I never really heard much from them again after the second gig, which was a mile or so up the road at The Dome in Tufnell Park. Which was a real shame because the band had real potential to have had a big following. I will miss them.
Rating:8/10
Beki and The Bombshells; The Woodlands, Gillingham, Kent ,Sat. January 30th
Beki and The Bombshells; The White Swan, Greenwich, South London Thur. February 4th
Scottish Sex Pistols; The Venue, New Cross, South London Fri. March 30th : This was where I got some bother from an Irish bouncer who had beckoned me to fight him would you believe it, rather than professionally trying to solve a verbal dispute. Once again this was a venue I hated with a vengeance simply because of the attitude of the bouncers.
Bastards.
Suzi Quatro (billed as Suzi Q); 1300 London Road, Norbury, South London Fri. April 16th : £7.50 for a pub gig? That's a rip off as far as I'm concerned. Alright, so it was Suzi Quatro and I'm also a big fan of glam rock and I'd always wanted to see her perform ever since I was a kid. But still, £7.50? The support came from two instantly forgettable support bands, Hang the Drummer (someone should've done just that after hearing the band perform) and Wolfe.
Bit of a disappointment, the whole gig really. She played an acoustic set of her former hits and acoustic sets I regard as dull, which doesn't do much for me anyway. Sometimes an artist or a band when playing do not live up to your expectations when you first hear them on vinyl or on tv and this was one of those gigs.
Ah well, never mind.
Lunachicks, The Esplanade, Southend, Essex Thur. May 20th
Lunachicks, The Venue, New Cross, South London Fri. May 21st : I feel like a Lunachicks groupie now! The Southend gig was infamous for the fact that either before or after the gig had finished, some pervert had spied upon the band in their dressing room/make up area and all hell had broken lose. This was one mental gig, atmosphere-wise, with pogoing and stage-diving at its' zenith. There was no way I'd want to miss any second of this gig and that meant missing the last train back to London.
The days when you could sleep quite happily on a bench or in a waiting room at a main line station and wait for the first train of the morning were long gone and consigned to distant memory so this was the first and only time I slept rough in public bogs. That is to say, half an hour's kip here, a few minutes kip there. All the time half dazed and trying to position yourself as best as you could without getting cramped to death.
Needless to say, I was black and blue and my back killing me by the time I walked back to the station having had a total of about two and a half hours total sleep time and got the train back into London.
Got back home-got some decent-kip-recovered-washed-grub-and out I was again, to New Cross to see the band again. I wanted to see the band as many times as possible when it was possible. I tried to forget about the incident when I went to see the Scottish Sex Pistols at the same venue back in March.
Don't think Braindead Bouncer was there this time anyway.
Peter and the Test Tube Babies, Sic BoyFederation ; The Narrowboat, Nottingham Mon. May 23rd : It didn't matter where a gig was. If I liked what was advertised and what was on the bill, I'd go to it no matter where it was, when it was, midweek or weekend. That's how much hardcore I was in those days and that's how much punk meant to me. If I couldn't find anywhere to sleep after the gig, I'd kip rough somewhere if the night wasn't too cold.
It did not matter to me one bit. Such was my punk rock life. And two of the best bands live at the moment were playing and I couldn't miss that, even if it was about 130 miles away from London. Another great night of atmos and booze.
This was the first time I'd gone to Nottingham to attend a punk gig. Out of all the cities and towns I'd traveled to attend gigs, Nottingham was by far the worse when it came to political correctness. This was my first taste of most of the people connected with the scene. As far as I'm concerned, my ideology of punk rock was just to have a lot of fun, get happily drunk, socialize and be yourself whether it was anarchic or otherwise.
My idea of punk was not to waffle on and argue about anything political or practically force the issue of all things vegan or vegetarian. All I came for was the gig itself and to socialize a bit. By the time this gig ended I ended up disliking the local scene itself after just one night and most of the punks associated with it.
"Fuck Reading" The Academy, Brixton, South London
One Sunday in August…
Featuring Argy Bargy, Chelsea, The Varukers, 999, GBH, Peter & The Test Tube Babies ,UK Subs, The Exploited, The Vibrators, Anti-Nowhere League
Once again, this was a superb line up of bands (well, minus The Vibrators, which I went straight to the bar when their dreadful "Baby Baby" was sung and nodded to their only decent song they ever did, "We Vibrate"). GBH, or Charged GBH to give the band their proper title were unique in the fact that they sang without any breaks in their set. Only one other band I've ever seen were like that and that was the legendary Ramones. Phenomenal stuff.
Rat, lead singer of the Varukers had by far the best stage presence.
Strutting and whipping the audience into a frenzy, it looked as if his face was distorted with a picture of pure hate, but it was all an act of course. Good thing Argy Bargy came on first. Get all that Oi! bollocks out of the way first with their suspect following and then get on with the decent stuff.
No decent punk all dayer would be complete without my favourite band of all time, The Exploited playing.
Lead singer Wattie still had his famous red mohican then; this was classic Exploited, still a few years before the band turned to speed metal.
Toyah; The Borderline, Soho, Central London Sat. October 16th : A disappointing night out. Once again, this was a singer I'd only ever seen on tv in the early '80's on tv/Top of the Pops when I was a young teenager and I had love her songs and quirkiness. Because once again, it was all different from the trendy norm. Ten years later I finally get my chance to see her perform live and what happens? She does this god awful acoustic set of her former hits, sitting on a stool in the middle of the stage by herself, reminding me of some love struck hippy crap. Dull as hell; walked out before her set was long finished.
Rating: 2/10
Tenpole Tudor; The Steamship, Poplar, East London Fri. October 22nd : This was one of the few gigs I was actually genuinely frightened for my life, not because of who was playing, Tenpole playing an absolute blinder by the way, but the pub's location. This was in Popular, real hardore East End, but it was more nearer to the district of Canning Town.
The pub was literally in the middle of nowhere, in what resembled a nuclear wasteland.
"Just what the FUCK have I gotten myself into?" I had murmured to myself.
As usual, I was by myself as I had no one to go with again.
I can't remember many punks or alternatives being there but what I do remember are all these meatheads that looked like they could have gone ten rounds with Mike Tyson and end up winning.
I couldn't wait to leave the pub once the gig had finished.
One Step Behind, The Clique The Edge; Deptford Broadway, South London Sat. October 30th : One of those special nights. Why bother wasting a fortune watching the real Madness when you could see this excellent tribute band instead. As it was a free gig (well it was free entry up till 10pm anyway, then £3 entrance fee) I took the opportunity of saving a few bob and enjoyed the atmosphere.
The venue here was some posh nightclub (now there's a thought: a posh nightclub in Deptford!) with sofas so comfortable you literally half-sank into one of them when you sat down. With all nightclub gigs and this one being no different, the support band didn't come on stage until 11pm. They were The Clique, a tribute '60's outfit, all dressed liked the fashion of Swingin' Sixties London and played a hardcore number of 60's pop and R'n'B.
Sort of like The Beatles/Stones/Monkees/Who all mixed into one.
A group that showed us and gave us some musical idea of what the Swinging '60's was all about.
When that great decade had ended, I was only six months old instead of sixteen years old so I never did get to savour wot it was really like. All I had to rely on to give some indication of what life was like was through old news footage, documentaries and old pop programmes like Ready Steady Go!, early Top of the Pops and the suchlike. Probably the older people in the audience enjoyed the band more sentimentally than I did.
In the last few years there has suddenly been a whole load of tribute bands that has sprang up, eg. The Counterfeit Stones, The Australian Doors, All Mod Cons (The Jam) and of course The Scottish Sex Pistols to name just a few.
There are three ska bands I know of that are tributes to one main one, such is the popularity: The Nutty Boys, Utter Madness and now One Step Behind, billed as "The Ultimate Madness tribute band ever" and perhaps they are after seeing the band on stage for the first time. Drinks here are the usual expensive ones at two quid a pint; I had one earlier just before The Clique came on, but I couldn't be arsed buying another one.
I asked the bar lady if they served food/light snacks but they didn't. When she then asked if I wanted a pint I said I couldn't afford to buy one. After a moments' hesitation, she bought me a pint of lager shandy.
I was astounded. I've never had a girlfriend in my life but yet this woman I've never met before until tonight buys me a pint of shandy.
"Well at least let me know wot your name is since you were kind enough to buy me a pint," I asked earnestly.
"Sally," she smiled. But there was no tone in her voice, as if it was almost emotionless. Momentarily, I wondered if it would be worth my while continuing the conversation before the main band came on. I can be painfully shy at the best of times and I decided then and there I wouldn't for two reasons: 1) 100% certain she probably had some meathead boyfriend 2) 100% "no" refusal if I asked her out. And rejection, while putting on a brave face, is hard to accept.
Between the interval while waiting for the band, the club DJ had been playing some seriously superb ska tunes as a warm up set which included "This is Ska" and a couple of Madness tracks.
I am not strictly a Madness fan, but three favourites stick out in my mind for all time: 1) Baggy Trousers, as this was the first ska song I clearly remember ever listening to when it was first released in the charts back in 1982; 2) their version of One Step Beyond – I had absolutely no idea until years later that theirs was a remake to an original and better version of the song sang by Jamaican artist Prince Buster back in the 60's; 3) Night Boat To Cairo. Love all that mod stomping stuff they did in their video!
One Step Beyond came on and went down a storm. There were only around 40 people in the entire nightclub but by the time the band had finished their set at about 1.15 in the morning, everyone was skanking till they were practically dropping. Even the more duller tracks in their set sounded as fresh as the day they were first sang. I'd never been involved in mod dancing/skinhead moonstomping before and it'd be the only time I would've been glad to wear a tonic suit, Rude Boy style naturally.
With such fast paced dancing, I got tired very quickly as I'm no fit fella even at my age. By the end of the set, as usual I was shattered, with the sweat pouring of me in bucketloads. But at least I wasn't doubled up in agony and my head spinning as was often the case.
They had saved the best for last. "One Step Beyond".
"Hey you! Don't touch this, touch that!
This is the heavy heavy monster sound!"
A superb night out. But this was the underlying foundation of the beginning of a slow but gradually shift from punk to trojan skinhead.
And I didn't even realize it.
Rating: 10/10
The Scottish Sex Pistols Flamingos, Woolwich, South London Thur. November 4th : Looks like these later day re-incarnations of the original Pistols are carrying on The Swindle left over from 14 years ago. A midweek gig and they didn't come on stage until well past midnight. I ask yer…strictly for the partisans, this, and half this lot in the audience boring trendies.
In fact there were, out of about 40 people who had bothered to turn up, only eight or so looked like die hard punks, including I.
I weren't feeling too good when they came on as I was suffering from some bug or other and I basically gave up dancing after the first couple of songs and just leaned next to the stage but occasionally joined in some moshing.
Lack of people meant lack of atmosphere. The problem with the whole gig itself was that since for some reason the P.A. guy brought and used such huge speakers, the amplifiers were tuned up to a unbearable maximum so it was so loud, there was no way you could hear what lead singer Johnny McRotten was trying to belt out although everyone in the audience pretty much knew the words to each song anyway.
It was like at the Subterania when I first saw them, although everyone then were relentless with the gobbing which was not to my taste. But that was the way it was. Johnny McRotten had asked one particular heckler to stop but all he got for his trouble was a stuck up finger from the guy.
At the end the band performed P.I.L.'s "Public Image Limited" – sounded sooooooo much better than the original P.I.L. had done!
Rating: 7/10
The Clique, One Step Behind; The Marquee, Central London Fri. November 12th : The following week, I decided to see One Step Beyond again as I had thoroughly enjoyed their gig the last time I saw them. The Marquee has never been one of my favourite venues but on this night, it wasn't too crowded as with previous times I've attended.
Same sort of atmos as it was at Deptford when I previously saw them: I enjoyed The Clique, then waited patiently for O.S.B.
I was trying to recover from the effects of flu so I still had the sniffles. As before, they saved the best for last and near the end of their set when they had finished performing Baggy Trousers, I was in a state of near collapse and had doubled up in agony. Sweat was coming of me in bucketfuls and my neck was killing me.
Spoilt the fun of a good night but that's the price you pay for dancing when you're ill. Why do I do it?
Because it gives me a buzz. Like being at football matches, particularly away ones. And that's why I do it, no matter how ill I am.
However, I had over exerted myself too much and I should've known better. When they belted out the final song "One Step Beyond", I was the only person in the frenzied audience leaning on the stage while everyone else was skanking like mad. I was in no fit state to even nod my head, let alone dance and my neck was in a constant state of pain. I would've collapsed and probably passed out if I had tried to join in. Deep down I was pretty much enraged that I weren't able to join in the atmos in one of the best ska songs ever produced. Still, there's always next time, at a gig elsewhere…
Rating: 7/10
Lunachicks, Astoria 2, Charing Cross Road, Central London Wed. November 17th
Xerox Girls, Manuskript; Dublin Castle, Camden Town, North London Thur. November 18th
* * * * * * *
From the pages of Stick Two Fingers comes yet more violence and fun in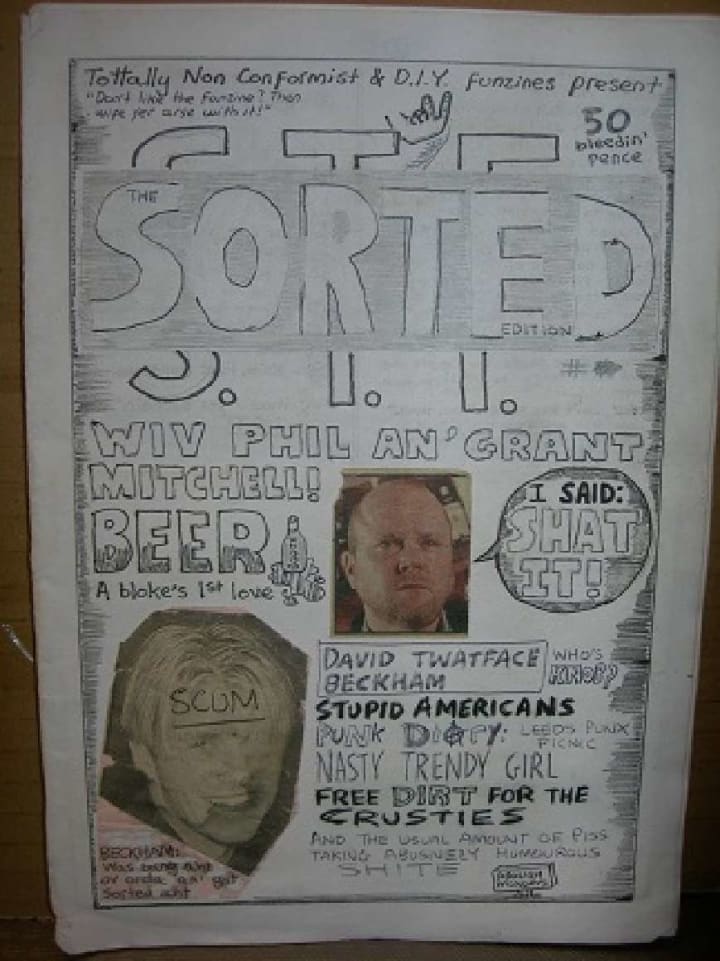 SORTED
with good ol' Phil and Grant outta East Enders
THIS WEEK' STORY: Diego 'The Hand of God' gets sorted out. The Cockney Way!
(Please read out as if you are a glorified ignorant West Ham United supporting Cockney twat forever going on constantly about how they single handedly won the bleedin' 1966 World Cup)
Grant an' Phil are on 'oliday.
PHIL: The fack did you drag me dahn to bleedin' Brazil for? I'd prefer Sarfend or Margit meself.
GRANT: Leave it aht bruv, this is carnival season 'ere. We're bahnd to pick up a few sorts 'ere and it'll take yer mind of Kathy, innit.
PHIL: 'an yer Tiff.
GRANT: 'ow dare yer mention that cahw's name, dat cahw got me banged up in Nick. Fackin' cream crackered, that wan.
PHIL: Yeah, too bleedin' right.
They go to their 'otel, the "El Costa Bollockas".
PHIL: 'ere, we cammin' 'ere for a pint or wot den?
GRANT: Wot you take me for, a bleedin' nonce or summink? COURSE I'm 'avin' a pint. Actually I'm 'aving at least seven minimum.
PHIL: Nice wan Grant.
After downing eight pints of Stella Artois each, Phil lets out one ripper of a belch.
PHIL: UUUUUURRRRRRAAAAAGGGURRR!!
GRANT: Looks like you enjoyed that session, bruv.
PHIL: Enjoyed it? That cat's piss? Leave it aht, I ain't even startid yet. I'm of to the karzi, then 'ave a chicken vindaloo, blow of and then I'll be back.
GRANT: 'ang on, I gotta take a Jimmy Riddle meself.
They walk to the karzi.
PHIL (to a passer by): Oi wot you fackin' lookin' at? You want sam or wot?
GRANT: Leave it aht bruv.
They enter the bogs and immediately spot a familiar face.
GRANT: 'ere, aint you that bleedin' Diego Maradona?
HAND OF GOD: Que Senior?
PHIL: I'll give you bleedin' "K" you barstard, you cost us the fackin' World Cup with yer bleedin' "'and of God" twelve years ago you cahnt.
HAND OF GOD (shitting it): Um...eeengleeesh?
GRANT: Yeah we're fackin' "Eeeeeengleeeesh" an' you aint got no bent ref to back you ahp nahw aint you san? You see THIS? (shows him his right fist close up to Hand of God's face) This is my 'Fist of God'.
PHIL: 'ere, an' you see my right boot? (points to his right boot). This is my 'Boot of God'.
HAND OF GOD: Mama Mia.
GRANT: Yeah an' I'll probably sort 'ER aht too after I've finished wiv you, my san.
Sounds of constant booting and punching to Hand of God's body; he falls down in a heap, blood everywhere.
PHIL: (final 'boot of God' kick in the ribs) and THAT'S for the 1998 World Cup you cahnt.
GRANT: Too right, an' you won't be doin' no more fackin' " 'and ov bleedin' God" nahw will ya?
PHIL: Nice wan Grant.
NEXT WEEK: Phil an' Grant outta East Enders sort aht their local postman when their mail arrives a minute late.
* * * * * *
1994
Elvina and Orpington
In 1994, I'd turned 25. I had moved to a ghastly, racist hellhole of an area called Orpington, on the Greater London/Kent border, about 16 miles south east of London. In the worse possible part of the town right on the outskirts almost bordering countryside was a notorious estate called Ramsden.
It seemed that all the scum of Orpington lived here and I had obtained a 14th floor ex-Bromley Council flat now owed by the even worse bunch of bastard landlords known as the Broomleigh Housing Association; like all scum landlords if you were a day late with your rent they'd come down on you like a ton of bricks but if you needed a repair done it would take them weeks…if you were lucky.
The flat was situated right at the very top of the block overlooking the borderlands stretching into the Kent countryside. But the road, which was nothing more than a country lane where the flats were situated was constantly used as a thoroughfare for traffic heading for the M25 so it was persistently noisy throughout, day and night.
I had turned Student Wanker and had gone to Orpington College to restudy history and art. Me, going to college. Something I had put off for years as I had detested school. There would be good reason for detesting college even more. College was no different to ordinary school whatsoever.
It was worse.
I naively thought it would be a bit different as the students would be a bit older, a bit more mature perhaps.
How stupid was I. If anything, they were even more ignorant and back biting.
I had also started college to also catch up on some German to make it easy for me to correspond more easier with my German punk acquaintances . I was later to fail miserably in all three. It was here through college that I had met my first ever girlfriend. At the age of 25. Very late starter.
It was a chance meeting in a local pub I sometimes drank in Orpington High Street. I was drinking with my next door neighbour who at the time had got on very well and I used to sometimes look after his and his missus' kids while they had to go out.
Her name was Elvina and she had apparently had taken a shine to me for a while, her excuse being, like with so others time and again "oh, a black punk, that's unusual."
She worked fast, I give her credit. One minute we had exchanged a few words at the bar, next minutes we were snogging the arse out of each other in front of my neighbour who had a bemused look. This was something I was not used to, kissing in public, so I tried to remain dignified after the mini snogfest and said I'd see her later at college.
Elvina, it turned out to be, was a bit of a wild one and had a reputation at college. The back biting was horrendous and when it became known that me and Elvina were now an item, the shit was hitting the fan, fast and furiously.
"Did you know that all black men rape white women? "
"What is she, doing with him?"
"HOW old is he?"
Elvina was seven years younger than me. But age never meant anything to me among people. She used to dress in black often but she was never a goth. She did listen to the odd alternative music once in a while but she wasn't into punk.
Well she wasn't until she met me, that is.
I introduced her to it, she seemed to like it and we went out a few times to some punk gigs. The problem here was that since I like a drink or two at any gig I went to, she'd have one pint and nod off to sleep. She was never violent when drunk; it was just that alcohol affected her in such a way she'd be literally away with the fairies after a couple of pints, or less.
Elvina, unfortunately, was too much into her dope and there wasn't much I could do about it.
There was one gig I had taken her to, could've been at the Underworld in Camden. After drinking barely a pint of lager she'd fallen asleep on a stool but with her head drooping so it looked like she was doing some weird impersonation of the Hunchback of Notre Dame. It was quite a funny sight but I couldn't get her to wake up no matter how hard I tugged at her. In the end I gave up and frustrated turned to a punk friend,
"look, can you keep an eye on her for a bit? I'm missing the band so when she wakes up she'll know where to go."
And then I left her to it.
There was a favourite moment in my time as punk with Elvina and it's a moment I will never forget. Long after we had gone our separate ways, it was still my finest moment in punk.
I had taken her to see Peter and the Test Tube Babies at The Venue in New Cross. A local Orpington friend called Alex had also come with us. He was more crustie in his looks than punk but all three of us made good company.
Elvina was drunk by drink number two but hadn't fallen asleep this time and was wobbling all over the place. The Test Tubes were about halfway through their set when I gets this odd, glazed look from her.
"I'll be back in a bit," she shouted.
She disappeared for a moment and we thought nothing of it as we thought she'd gone to the toilet. But the next instant would astound us and practically all the audience.
She had clambered onto the stage to where Peter Test Tube was and snatched the mike from his hand.
"Mick," she yelled, "I LOVE YOU!!"
The audience shrieked their approval with a massive cheer.
"That's Elvina up there," I yelled. "That's my Elvina!! Bloody hell!"
Never again would I experience such a moment in punk or otherwise, but it's a moment I'll relieve time and time forever.
* * * * * * *
At around this time I was in a group that was collectively known as the 'New Bromley Contingent Punks.'
This was based on the original Bromley Contingent of the late 1970's which had Siouxsie Sioux and co who all lived in different parts of the London Borough of Bromley, who would meet up and go to the early Pistols gigs. Our later version consisted of youngsters Alex, Vic, Maria, Chris and Natasha. But I was the only one of the lot that would actually go to gigs anyway. Alex lived on the same estate as I did in Orpington while the others all lived in a large house a few minutes walk at the back of Bromley South railway station.
Vic had once warned me of some dumb local nazi who had apparently had it in for me. So I said "well where is this wanker then? When he's stopped gobbing of and actually shows himself we'll see how it goes."
Like all dumb nazi filth who shoot their mouth off, the bloke was all gob and no action as I never did see who this bloke was.
Beki and The Bombshells; The Prince of Wales, Thornton Heath, Greater London Sun. 23rd January, Free
Conflict, Schwarzenegger, Homage Freaks, Fear of Fear ; The Venue, New Cross, South London Sun. 30th January, £5
Magnapop, Sharkboy, Gene; The Garage, Highbury Corner, North London Fri. 4th February, £5
Xerox Girls; Bacchus Wine Bar, Kingston-Upon-Thames, Greater London Mon. 14th February: It was actually free to get in but you were supposed to give just two pounds minimum donation but at the time I was too skint and tight to even pay that so I gave a measly twenty pence when a good punk friend, 'Hi-Fi' came round with a pint glass to collect money from people. Looking back, that really was a bit pants of me…
It was around this time in the mid 1990's that I first saw a band called Concussion at a frequently attended pub known as The Goldsmiths Tavern in New Cross, and they had bands on all the time. The lead singer's name I'll refer to as 'Belle'. She had a mass of brightly coloured hair, ala Toyah style.
We struck up a ever-lasting bonding friendship which still continues today after more than 20 years. She had been in other bands in the past. But with so many bands past, present and future, they never seemed to have gotten the right break, and although very talented, seemed to have been consigned to pub gigs.
Belle often wore a little tiara when she was on stage. She had this melodic aura which was beautiful to listen to and Concussion, as a band, should have deserved better. I didn't really regard them as an actual punk band, but very alternative.
Among the many friends and acquaintances that were well known on the scene at that time was 'German' Jenny, who looked rough and sounded rough. She was five feet nothing, brash and loud and always sported a blonde mohican. She must've been in her late forties even at that time; no one knew what part of Germany she came from, but she suddenly appeared on the scene and was a known face for years.
She was also as strong as an ox. This is where looks can be deceiving because at first glance she looked as if she couldn't be able to lift even the smallest weight. But we went to some gig one night, and she lifted me onto her shoulders, all 5ft 10" of me without any effort as if she'd be doing this all her natural life.
I jiggled on her shoulder for about a minute, in time to the music being blasted out. She gently put me down on the ground and I asked her a question.
"Jen, do you, or did you bodybuild?"
She remained tight lipped and didn't answer the question, as if she was ashamed of her past, or something. (Female bodybuilding is still a taboo subject to many people). A little glance towards her and I noticed she had blushed a little. I decided not to pursue what I wanted as an answer so we just carried on dancing.
Scottish Sex Pistols, The Venue, New Cross, South London Fri 25th February, £5: The more gigs I went to in the London area, the more I began to get recognized. I was soon adopted the nick name 'Mick Lightweight'. Because sometimes even a couple of pints was enough to get me sick. But the irony of it is that more than often I'd be the one holding my own with a few bevvies and sometimes out drinking most of the punx. And I was never in a position where I've seen it so many times where people get drunk and start fights. I'd be a self styled 'Happy Pisshead' and just get more merrier and chat bollocks.
And then pass out sometimes.
Xerox Girls; Bull and Gate, Kentish Town, North London Mon. 28th February £3 (discount)
Magnapop; Astoria 2, Charing Cross Road, Central London £4.50
The Selector, The 100 Men; Dublin Castle, Camden Town, North London Sat. 13th March £6 : This was at around this period of time that I began to dress a bit more smarter at ska gigs while reserving my punk stuff for everything else. From this gig onwards, I'd get skinheads coming up to me every so often waffling on about 'it was my people that started the music' and skinhead roots started with Mods and so on and so on and so on. As if it was I didn't know any of this already without having to be reminded almost every time I went to a ska gig by some idiot skinhead. Dur.
Toyah, Voice Mean Fiddler (Acoustic Room), Harlesden, North London Fri. 18th March £5
One Step Beyond, The Diversion; The Swan, Fulham Broadway, SW London Sat. 19th March £5
Suzi Quatrto; The Venue, New Cross, South London Sat. 9th April £7
One Step Beyond, Looney Tunes, The Diversion ; The Marquee, Charing Cross Road, Central London Sat. 16th April £6
The Selector; Amersham Arms, New Cross, South London Sat. 23rd April £4 (discount)
Bye Bye Sanity; The Cartoon, Croydon, Greater London Mon. 25th April. Free gig
The Walking Abortions, Suspiria, Dementia, Virtual Earth ; Heatham House Youth Centre, Twickenham, Greater London Sat. 14th May. £2.50 (with flyer) ; The Walking Abortions were a youth punk outfit that had been on some local tv consumer programme recently, and they had stated that their icons were the Sex Pistols and were 'carrying on from what was left of The Swindle'. It showed the band practicing in one of the guy's house basement and having that real, '77 punk attitude, but the gobbing bit they could've done without.
I saw the band a couple of times, and this was one of them, at Twickenham, a place more known for rugby and dumb trendies rather than punk rock.
Unfortunately, unlike their idols, but like many bands I've seen in the past and present, they never did seem to get very far as a group as no one seemed to have heard much of them any more.
The Damned , Anti Nowhere League, Speedway ;The Astoria, Charing Cross Road, Central London Sun. 15th May, £12
The Selector, The Utopians; The Powerhaus, Islington, North London Sat. 28th May, £6
Magnapop, Voodoo Queens; The Grand, Battersea (Clapham Junction), SW London Fri. 3rd June, £6 : Magnapop were a great alternative rock band from Georgia, USA that had made the national charts with the classic "Slowly Slowly" and had played England a few times. I was a big fan and this was my third gig of theirs in London. Lead singer Linda Hopper oozed a sensational aura on stage; Ruthie Morris on guitar was just manic.
After their show had finished I excitedly asked Linda when the band's next gig was going to be.
"Ahhxford", she replied in that Southern Belle drawl of hers.
Alas, I never did get to go to that gig. And I think this was the last time I saw the band live as well.
Gutted.
The Toasters; The George Canning, Brixton, South London Sat. 4th June £6 : This is a big pub, with an impressive stage area. But long before Brixton became too trendified with middle class wankers, and the pub renamed The Hobgoblin which then became the even more farcically named 'Hootenanny's' , there was the George Canning, a name that used to be synonymous with Brixton.
A 10 minute walk from the centre of town, the pub used to hold a fair number of rock, ska and alternative gigs, and whenever a ska band was in town, a contingent of skinheads I was once part of all used to congregate here. It was not one of my favourite haunts but it was handy if I was staying at Mum's which was about a 20 minute walk up the road (and five minutes round the corner from the 121 Squat. )
As American ska goes, The Toasters are my favourite. Blending 'two-tone' and trad ska, they really are brilliant to watch. Mind you, half the time, I'd climb up onto the stage to do a little impromptu skank dance with whoever ska band was playing at the time, much to the amusement of the skin friends and annoyance of some of the other po-faced skins and trendies.
GBH, Split Pigs; The Marquee, Charing Cross Road, Central London Sat. 7th July, £6
UK Subs, Big Boy Tomato; The Marquee, Charing Cross Road, Central London Sat. 16th July £5
Toyah; Electric Ballroom, Camden Town, North London Fri. 29th July, £5 : On my third visit to see Toyah at a gig, finally, this was the real Toyah I was waiting for. Quirky, exciting, alternative, atmospheric. One of her more well known songs 'Thunder In The Mountains', never sounded as good as it did that night. Quite brilliant.
And all for just a fiver, too.
The Crack; Archway, North London £1.50.
Uh oh, this was a mistake, and a big one. There is, or rather was, a punk band actually called The Crack and I thought what was advertised in NME was going to be the punk version. But when I went up to North London dressed to fuck in full punk gear imagine my surprise…and embarrassment… when I got to the pub to find out that this version of the Crack was some Irish folk band and not as I thought the punk band The Crack. Some stupid woman must've thought I was something out of an alien film as her eyes were transfixed on me for at least five minutes before I decided to leave the pub.
UK Subs, The Vibrators, S.M.A.S.H., Blubber; The Garage, Highbury Corner, North London Thur. 11th August £5
Anti-Nowhere League, The Exploited, 999, GBH, UK Subs, The Vibrators, Split Pigs, Frenzy, Guitar Gangsters, Chelsea, The Meteors ; The Academy, Brixton, South London Sat. 27th August £10.50
Strut; Amersham Arms, New Cross, South London Fri. 2nd September £2
The Selector; Dublin Castle, Camden Town, North London Sat. 10th September £6
The Ramones, S.M.A.S.H; Speedway; The Academy, Brixton, South London Sun. 25th September £10 : The support bands were unimportant as far as I'm concerned but I attended this concert with a good friend called Martin from Twickenham who had kipped at my flat the night before and then got absolutely slaughtered before attending the show.
We stopped of at the local Kentucky Fried Chicken food outlet for a bite to eat but as we were absolutely bursting we dashed to the bogs but there was only one urinal and I couldn't wait any longer so me being ever the non conformist did it in the wash basin.
"Well, look, fuck it, when you gotta go, you gotta GO!" I shouted as Martin cried with laughter.
As big gigs go, this was a truly memorable one. This would be one of the last times the band would play in England, and by the time we left the venue drenched from head to foot in sweat, and nicking a couple of gig posters along the way, we were both exhausted from the frenzied dancing and moshing. Martin made his way back to Twickenham while I returned back to Beckenham.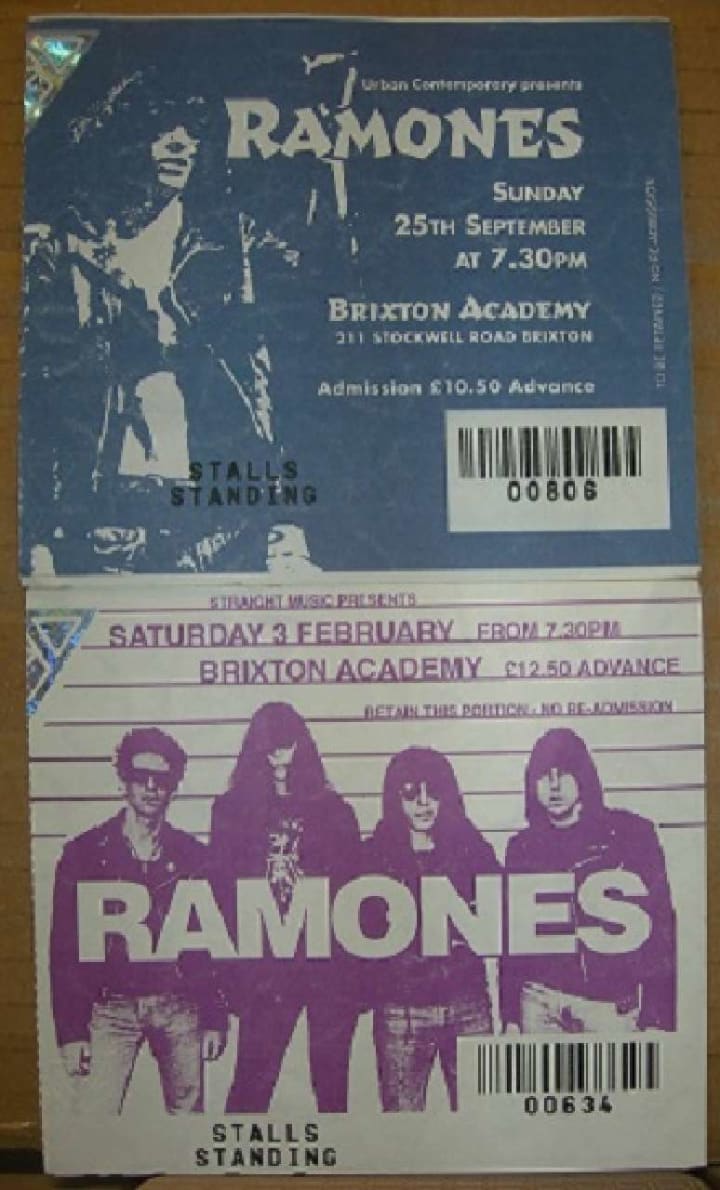 * * * * * * *
ANARCHY IN THE UK- TEN DAYS THAT SHOOK THE WORLD
The Anarchy in the UK festival was a series of events that took part in different parts of London for ten days between October 21st and October 31st. A 60 page programme was available for a quid listing everything what was due to happen during the fest, which included benefit gigs, rallies and fringe performances. Free food, all vegan stuff, was available at places like 'Cooltan' and at the 121 Centre, in Brixton, and Herne Hill respectively.
During this time I was living in Upper Norwood, just up the road from the Crystal Palace. So getting to the events wasn't much of a problem. However, since there was so much going on, and I was busy studying horticulture at the time, I had to pick and choose what events to go to.
Friday 21st October: naw!
Saturday 22nd October: Anarchist book fair at Conway Hall, Holborn, Central London. Tons of pamphlets, books, zines and wot'av'yer. Not particularly interesting or for that matter inspiring, so left after about an hour.
Sunday 23rd October: naw!
Monday 24th October: naaaw!
Tuesday 25th October: Football Benefit Gig: Intensive Care, Ugly Beat Joe ; The Robey, Finsbury Park, North London £2
Settling aside our football differences, albeit humorously, the Intensive Care gang, whose lead singer was a huge Arsenal fan and woah betide anyone stepping into the pub wearing a Spurs top...and there was me wearing my Crystal Palace away top because after all it was meant to be a benefit gig...and I didn't give a shit anyway...belted out some DIY top stuff punk rock.
The band weren't the usual mohican spiky top brigade, but just ordinary (the word 'chav' hadn't been invented yet and wouldn't be for a few good years) but in the punk world were normally known as 'herberts'. I didn't care though….I didn't care even when he shouted in the audience while still on stage to 'piss of back to South London' when I had shouted out my team's name. Socializing was the name and punk rock was the game that night….
Wednesday 26 th October: "Smut Fest" ; The Underworld, Camden Town, North London : Why do all the best things happen in North London anyway? As the name suggest, the Smut Fest was an evening of lewdness, lesbianism, sexual poetry...and smutty humour. Including acts like Mandy Barefoot, Lisa Haight and her Boy Bondage, and Phil Adams. You had the option of either having waitress service for £8 at the front or 'pot luck' seating elsewhere for £4 less. At the back were stalls where you could buy a programme of the Smut Fest, leaflets, badges and pamphlets. So I bought a "Fuck Censorship" badge.
21 years later I still have it.
Thurday 27th October: -naw!
Friday 28th October: 'Food & The Revolution' , Cool Tan Arts Centre, Brixton, South London ; Volunteers who wanted to help out with preparing food for the public would arrive at the arts centre at an arranged time and everyday a different dish was served. On this particular day a curious pumpkin and potato dish had to be served. You didn't have to pay for the food so I sampled some of the pie along with some organic tea. It tasted revolting. It's going to take me sometime to become vegetarian, let alone a bleedin' vegan.
Saturday 29 th Ocotber: 121 Centre, Herne Hill, South London. Not much happening to here...neither was the Cool Tan half a mile down the road in nearby Brixton…
Sunday 30 th October : There was supposed to be a punx picnic of some sort and sports event between 1 and 5pm in Hyde Park, Central London. Unbeknown to me and an acquaintance who I was with, the whole event had been cancelled anyway due to bad weather so we decided to go up to Battle Bridge Road Ecology Centre, right behind St Pancras and King's Cross Stations where staff were giving away free posters, leaflets and pamphlets to mark the end of Anarchy In The UK.
Met up with two other friends at Waterloo Station later on for what was supposed to be a pre-arranged time but in true Micky fashion I arrived so late the friends were about to force a British Rail staff member to announce my name over their annoy!
So a motley crew of me, Mart, Nicky from Abbey Wood...and female acquaintance...back on the Northern Line tube back up to Camden (it would've made more sense if Nicky and Mart had just met us in Camden instead of me having to leave the King's Cross area to travel three miles down to Waterloo only to double back up to Camden again) to the Filmakers Co-Op at 42 Gloucester Road.
This was a place where they were showing films on the subject of anarchism all week as part of the Anarchy In The UK fest. As this was the final night they showed The Great Rock'n'Roll Swindle, but at £3 entrance fee we had to pay each to see the film, and to our dismay, the film was cut and censored. We were by far, not impressed.
So we went to a nearby pub for a mini piss-up.
Bad Manners, One Step Behind, The Skanksters ; The Sanctuary, Milton Keynes, Buckinghamshire. 23rd December £11
Part Two will continue shortly....