Crosby, Stills, Nash, and Young
The music of an outstanding band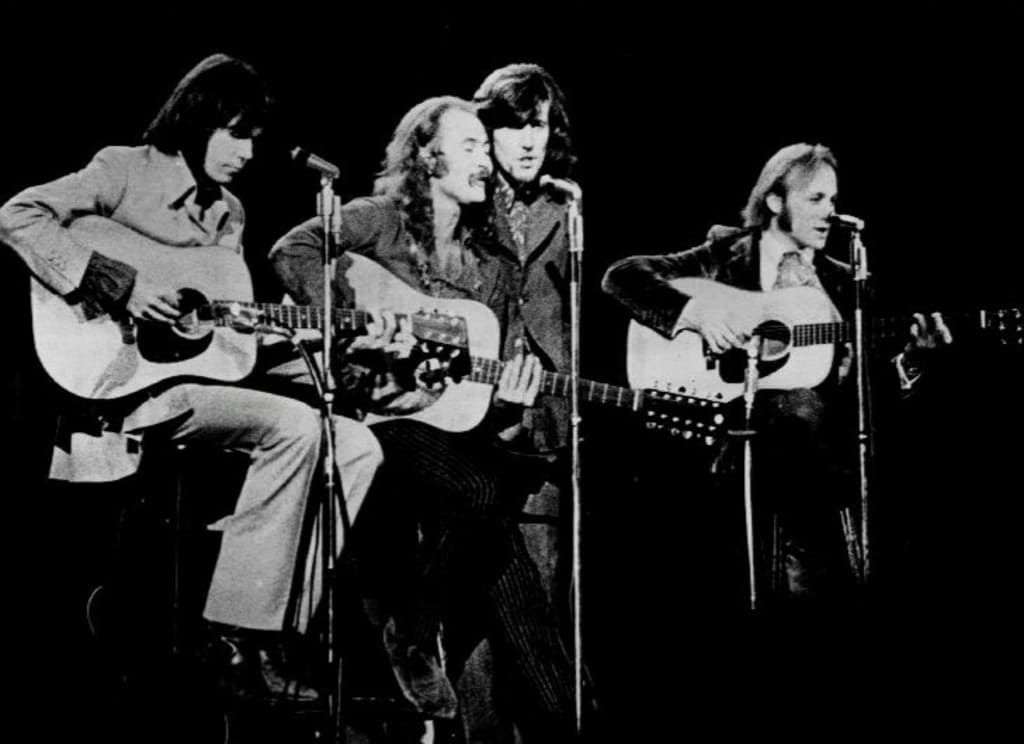 This American folk rock group is also known as Crosby, Stills, Nash and Young and is sometimes joined by their fourth member Neil Young. Singing as a trio they are David Crosby, Stephen Stills, and Graham Nash. All four of them have been inducted into the Rock and Roll Hall of Fame in 1997.
Before they came together as a rock band all of them were part of other famous acts. David Crosby performed with folk-rock group The Byrds, Stephen Stills with Buffalo Springfield in which Neil Young was also featured, and Graham Nash with The Hollies. Coming together they realized that they seemed to have the chemistry that made for winning combinations. They signed on with Atlantic Records.
Their first album Crosby, Stills and Nash came out in May of 1969 and brought with it two Top 40 hit singles. It was after this that they added Neil Young as keyboardist. Their first two singles from this album were "Marrakesh Express" and "Suite: Judy Blue Eyes." They went on tour in the late summer of 1969 and toured throughout the rest of the year. Their first performance was at the Auditorium Theater in Chicago, Illinois with the opening act performed by Joni Mitchell. The following day they moved on to perform at the Woodstock festival.
In September they performed at the Big Sur Folk Festival and their two performances can be seen in the movie "Celebration at Big Sur." In March of 1970 they came out with their second album which now featured Young and was titled Déjà Vu. There were four singles featured from this album "Woodstock," one of their most unforgettable hits "Teach Your Children," "Our House," and "Carry On." Déjà Vu also included "Helpless" a song by Young which could be considered one of his greatest compositions.
Their next tour that summer ended in a 1971 double album with concert recordings Four Way Street. Among the hits which came out at this time were "Déjà Vu" and "Ohio" which was a protest song. It reflected what happened at Kent State University on May 4, 1970 and became significant of the early-1970s social turmoil.
Between September 1970 and May 1971 each of the members of the band also came out with solo albums – Neil Young with After the Gold Rush, Stills' eponymous debut in November, Crosby's If I Could Only Remember My Name, and Nash's Songs for Beginners. All four of these albums got into the top 15 on the Billboard 200. Stills came out with another album Stephen Stills 2 which was also a success.
In 1972 they all had great success with their solo projects. Young rose up to superstardom with his great album "Harvest" which brought out the hit single "Heart of Gold". Stills joined up with ex-Byrd member Chris Hillman and formed a country band Manassas. They released a double album which became Stills' sixth top ten album. Nash and Crosby came out with an album Graham Nash, David Crosby which reached number 4.
The four members came together for a tour in 1974.In 1977 they released the album CSN which brought the hit single from Nash "Just a Song Before I Go". In May 0f 1982 Crosby was arrested and jailed on drug and weapons charges. He wound up serving eight months in jail while Nash and Stills released more solo albums in the mid 1980s.
Crosby, Stills, Nash and Young went on their "Freedom of Speech" tour in 2006 in support of Young's album Living with War. They were honored as a BMI Icon at the 54th Annual BMI Pop Awards. One of their all time popular songs "Teach Your Children" was performed by Crosby, Stills, and Nash on The Colbert Report in July of 2008. In 2009 they performed at the Glastonbury Festival in England and went on tour in the U.S., Australia, New Zealand, and Brazil in 2012..