Celebrating the Vocals of Lisa Fischer
Background of a Back-Up Singer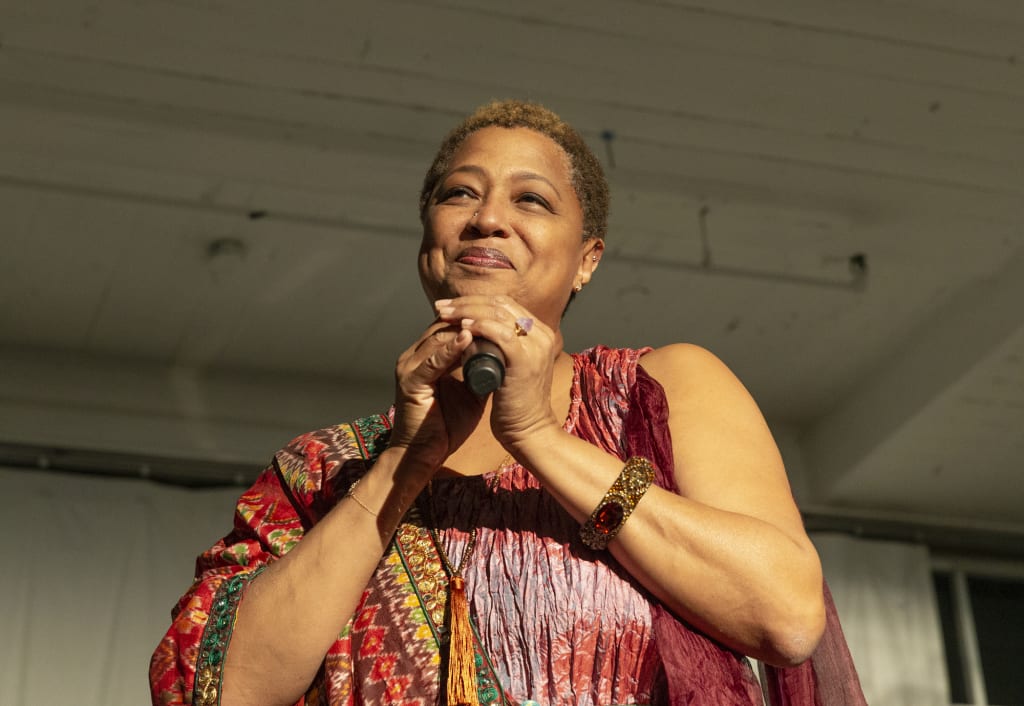 Photo: Lisa Fischer performance New York, N.Y. October 13, 2018/DepositPhotos
When we think of all the dominant African American female voices in music, the mention of first names like Aretha, Whitney and Tina get instant recognition. The truth is that there is a powerhouse of other female singers providing background vocals who do not receive the same consideration as their frontrunner counterparts... Today, I am recognizing a woman spending years in the music industry both as a backbone for other artists, and as an incredibly fierce soloist. Join me as I celebrate the vocals of Lisa Fischer.
Lisa Melonie Fischer was born on December 1, 1958 in New York to a young teenage mother. Growing up in a musical family, she enjoyed singing with her mother and father who once was part of a doo-wop group called the Cupids. She attended Manhattan's High School of Music & Arts and turned to music as an outlet of escape after her father left the family when she was only fourteen. Sadly, her mother passed away only three years later. For Fischer, music turned out to be a fortunate coping mechanism landing her first professional singing job in the early 80's.
Crediting her musical influences from childhood to the likes of Marvin Gaye, Melba Moore and Freda Payne, Fischer began her career providing background vocals for other artists. She sang backup for Billy Ocean and the previously mentioned Moore, and became a regular session singer. Her ability to adapt to a wide genre of music from rock and R&B to pop, house & soul made her a much sought after sideman. Her ability to fit into a group and operate smoothly to a variety of musical styles highlighted her as an essential backbone in any environment she performed in.
Fischer's artistic diversity landed her touring with the Rolling Stones until 1989. She grew her own audience performing on stage with Mick Jagger sharing lead vocals on the songs "Gimme Shelter" and "Monkey Man." Displaying her incredible vocals won her a great deal of attention and a hectic schedule juggling touring schedules between the Stones and another artist; Luther Vandross. Lisa toured with Vandross for 22 years prior to his death in 2005.
Mick Jagger and Lisa Fischer performing James Brown's "I'll go crazy" Live in Belgrade, Serbia 2007 during the "Bigger Bang Tour".
Vandross played an important role influencing Lisa Fischer's solo career but she also attributes the Black LGBT community in preparation for center stage. She recognizes the society helping her develop a stage image of beauty, eminence and exploration. In 1991 her solo career peaked with the release of her album "So Intense." The single "How can I ease the pain" won the Grammy award for Best Female R&B Vocal Performance in 1992. The album scored 3 top 20 R&B hits and peaked at #5 on the top R&B/ Hip- Hop Albums chart & #100 on the Billboard top 200.
Despite the huge success of her debut solo album "So Intense", a follow up LP was never recorded. Originally, Fischer never intended on making a recording deal and is quoted as saying "It was just one of those things." She preferred her supportive role in the music industry over the attention and pressure that comes with being in the limelight. Nevertheless, her commanding vocals and raw talent crossing multiple genres of music placed her name in association with mega stars across decades. Lisa has performed backup vocals for Chaka Khan, Nine Inch Nails, Roberta Flack, Teddy Pendergrass, and Beyonce'. She also sang on Sting's album "If on a winter's night" and from 1996 to 2013 toured with Tina Turner on her Twenty Four Seven Tour.
Aside from mainstream music, in 1996 Fischer made her theatre debut in an off Broadway play called "Born to sing." She is also one of the female artists featured in the 2013 Oscar winning documentary film titled "20 Feet from freedom." The documentary highlights back-up singers and their oral histories recalling personal experiences in the American music industry. This film won the 2015 Grammy Award for Best Music Film and features three generations of backing singers; Judith Hill, Merry Clayton and Darlene Love.
Following the success of "20 Feet from freedom", Lisa Fischer backed by her band Grand Baton, set out touring solo once again at the age of 57. Stepping out from the shadows of the superstars she spent years serving still makes her feel somewhat uncomfortable when the focus turns to her as the "front woman." For her, it has always been about the presentation of the music itself rather than the emphasis on her as an individual. Grand Baton and Fischer have been travelling and touring together since 2014 covering Europe, Australia, New Zealand, Asia, Canada and the United States respectively.
I chose to celebrate the talent of Lisa Fischer as a powerful influencer of African American women in the music industry, recognizing her as a true backbone character. She is a gifted singer, song writer, record producer and musician who spent the majority of her career assisting other singers. She chose a supportive role preferring to concentrate on the art of music as a whole and found contentment in that. The music industry is a demanding business with a burden of expectations not sustainable to every personality type. Lisa Fischer's name may not be easily recognized in comparison to some of her fellow musicians, but without a doubt her talent and devotion to her art make her a queen.
I leave you now with Lisa Fischer's Grammy Award winning single from 1992: "How can I ease the pain."

Marilyn Glover
I am a seasoned hospitality professional and aspiring writer. I especially love poetry and experimenting with different styles. My inspiration comes from personal life events and I am known to root for the "underdog." I am 48 years young.
See all posts by Marilyn Glover →