Can We Talk...
...about "Panini" by Lil Nas X?
Premiering on September 5, and with already 25+ million views, the "Old Town Road" top-charting artist Lil Nas X released the much-anticipated video for his song, "Panini."
At this point, everyone knows who Lil Nas X is. He's the fresh new rapper that made a hit country song using the app, Tik Tok, that was then removed from the hot country billboard charts, because it wasn't deemed to be "country enough." So, he took to Twitter and hit up Billy Ray Cyrus, and the duo collaborated on the "Old Town Road Remix," which instantly became one of the hottest songs of the summer for 2019 (finally, a summer without Drake).
And now, with another incredibly catchy hit, "Panini" is here to continue the Lil Nas X-train, and with a video to match. Here are my thoughts.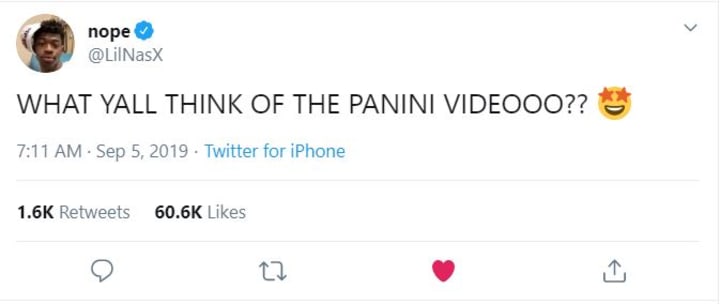 I already replied to most of this on Twitter, but I'm going to use this platform to expand on my thoughts in more depth.
It Goes Like This:
"Panini" takes place in this futuristic, tech holographic world that's likened to Tokyo, Japan, and we are introduced to our protagonist (unnamed, but starring Skai Jackson), gazing out majestically with her gorgeous hair in twists. A queen.
Side Note: (Skai was past my time watching Disney Channel. I stopped watching the channel around the time Wizards of Waverly Place had their movie, but I recognized Skai immediately from the promos I would see here and there for her time on Jessie.)

So, as I said, Skai plays this character, and she's kinda feeling overwhelmed by all this Lil Nas X propaganda. She decides it's too much and walks away from it, going off and minding her own business. But then, he pops up randomly out of nowhere in hologram fashion, singing the lyrics to "Panini" to her.
She's like, "Um ok. I mean... Hello, I guess. Yeah, that song 'Panini.' I get it. You're famous. Cool. I'm moving on."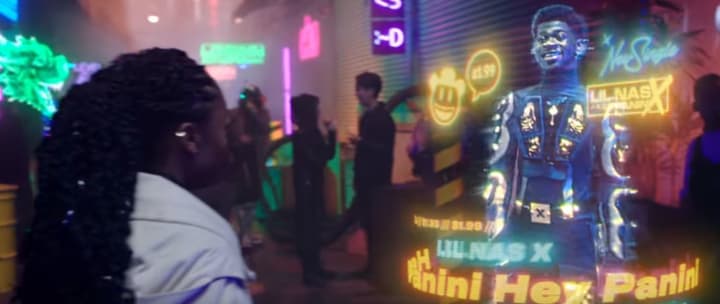 But then, he does it again. AND THEN AGAIN. But the third time's a little... Well, you see.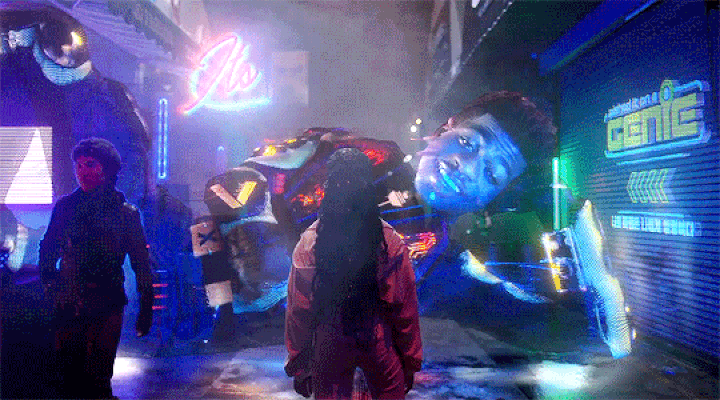 And so then, we quickly learn that the premise of this video is watching Skai's character run away from Nas X at every single turn. At first you're like, "Wait, is he stalking her? What's his deal?" But, it turns out that Nas X has blown up so big with fame and success that he is literally being projected everywhere. EVERYWHERE.
In a Dr. Seuss-like fashion, Lil Nas X is popping up on planes and trains with boats and goats, like he's Sam-I-Am. Sis can't even get into a future Uber without this man showing up.

So, she unbuckles fast, because sis has had ENOUGH. She would rather just walk. She's gotta get her steps in anyway. But guess what? Lil Nas X has other plans. What's the plan? Oh, he's raising the bar, and now he's dancing. He's giving us some N'Sync, "It's Gonna Be Me" boy-band vibes with robots.
He's basically like, "Listen, girl. I'm here. Say to me what you want from me."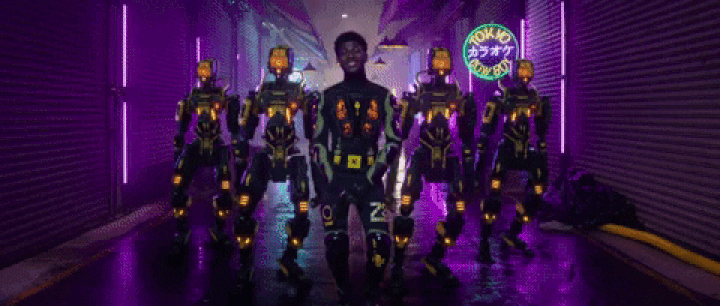 Sis is done. She can't do this. She's gotta get outta there. This is slowly evolving into a Jordan Peele film, where you're just not sure where this plot is going and you're uncomfortable... But, it's also got the jams.
So then, we come to find out... SKAI IS PANINI. That's her name. THAT'S her identification. Lil Nas is talking at her, to her, about her. Damn, Skai "Panini" Jackson—what did you do to this man?
Side Note: According to my research, Lil Nas X confirms that this song is inspired by an animated cartoon called Chowder. Chowder is about an aspiring chef, who's a bit of a scatterbrain, and there's this character in the show named Panini who is obsessed with Chowder. She has so much love for him that he constantly has to remind her that he is not her boyfriend. The two eventually end up together in series but in video. Nas X has used the character Panini to describe a fan that used to love him from his early underground days, before fame and success. And, since he has blown up and is everywhere, Panini is no longer impressed and has abandoned him, and he wants to know why. "Thought you wanted me to go up; Why you tryna keep me teeny? I got fans finally. Ain't you wanting them to see me?"
SO, NOW WE KNOW WHAT'S UP. Well, Poor Lil Panini is just trying to get away from him regardless of the reason, and she books a flight to God-knows-where just to escape the Nas X Mania. And, then what happens? You guessed it. THIS MAN Sam-I-Am-ed his ass on the wing of the plane.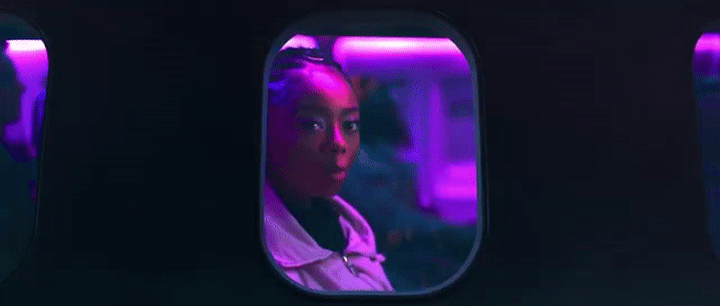 He's really out there. I promise you. It's raining, and storming, and Lil Nas X isn't giving up. He's demanding answers. Why is she being a hater all of a sudden? He's gotta know so badly that he's willing to risk his own life. This isn't safe, but she's going to continue dodging this man's calls. She closes the plane window to block him.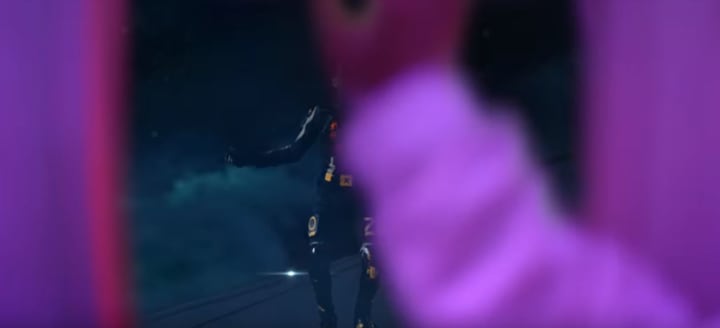 Because, now that we live in the digital media age, and we all have screens on the back of our seats so we can Netflix and Fly in peace, Nas X says, "Hey. You remember my dance moves? I learned them from Darren's Dance Grooves. I promise you, I'm good. Watch me instead."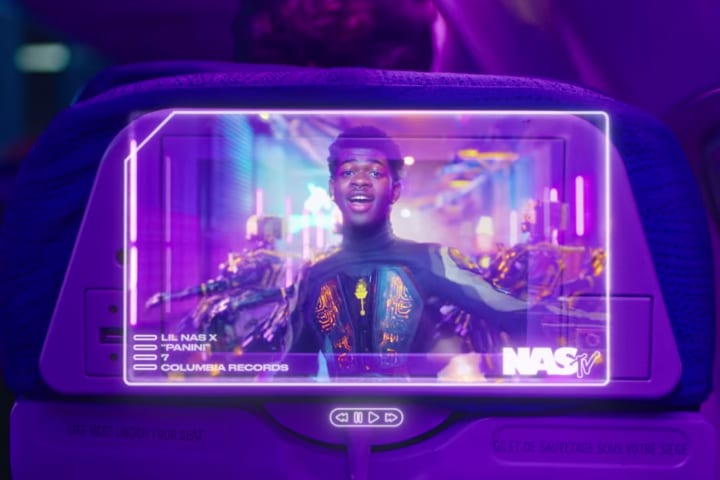 And, you guessed it. She is shocked. Appalled. Terrified. I'm like 95 percent certain this is a Jordan Peele movie. Just look at her face.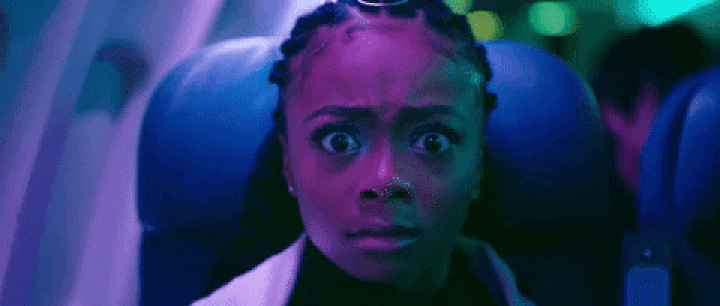 So, Skai "Panini" Jackson has gotta get outta this mess. She's desperate. She can't handle this. Lil Nas X has "stalked her whole life on the boardwalk," like Danielle did to Pauly D that one time.
But Panini, girl, you're like thousands of feet in the air, sis. How are you gonna...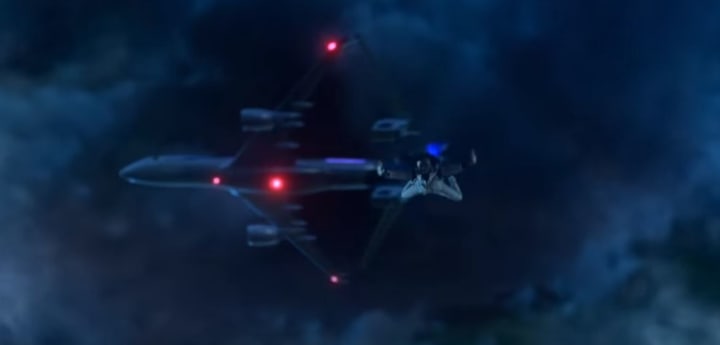 Yeah, sis is brave, and just jumps out of the plane. Lil Nas X has driven this black queen to try out some white activities, because she probably would never. But, as I said, he left her no choice. So, clearly she is safe. Nas X may have been wacky enough to stand on the wing of a plane, but surely he's not gonna...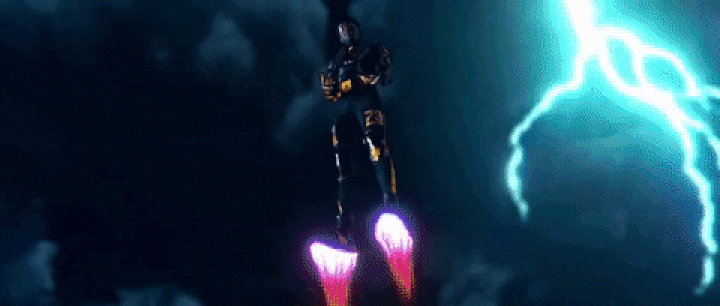 Panini. Ma'am. I'm sorry, but y'all are dead-ass from the future, and he's got little fire boots that let him gently float like Jesus to deliver his message: that you are a fake friend, and you should be out here supporting him, and not dodging him just because he's got a little coin now. But guess what, girl? You got a jet-pack parachute thing-y. And you get to, yet AGAIN, fly away from this fool (which is what she does).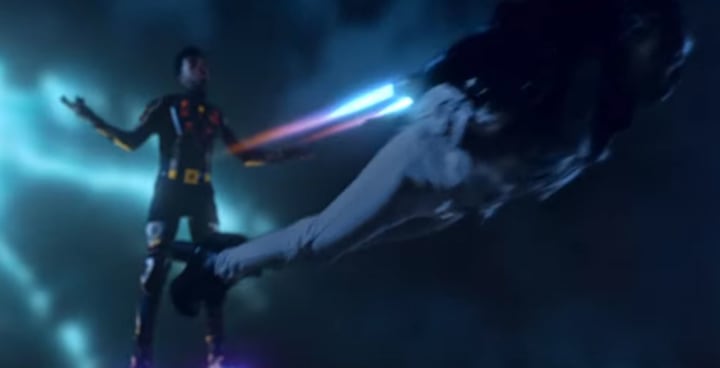 Well, Skai "Panini " Jackson, girl, I don't think there's much you can do. I think you're going to have to accept that Lil Nas X is famous now, and that he's endorsing so many products, and his song with your name is speculated to have a CHEF GORDON RAMSAY REMIX....

...And the song has a slightly sampled, "In Bloom" by Nirvana ring to it.
Either way, Panini, you're back where you started, and it doesn't seem like Lil Nas X is going anywhere. Maybe you can find some love for him again, and support him through his newfound fame. Maybe he can also take the hint, that we all don't HAVE to stick by you if we are choosing not to, but we can also learn to hear each other out and find some common ground? I dunno, sis, but the cool thing is that you have a bomb new passport pic, you jumped out of a plane, and maybe you can pick up some of those cool dance moves he was tryna lay on you earlier. We gotta get our steps in for the next Hot Girl Summer 2020.

But wait a minute—What's this?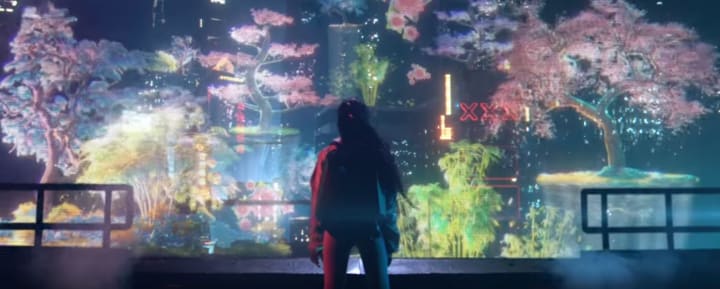 Wow. It would appear that Lil Nas X has gifted her with a break from his fame, and gives her holographic trees and mother nature instead. And, you know what? I dig it. Sis could use a vacation from all that traveling.
FIN.