Called "Far From Final" for a reason.
This is just the warm-up .....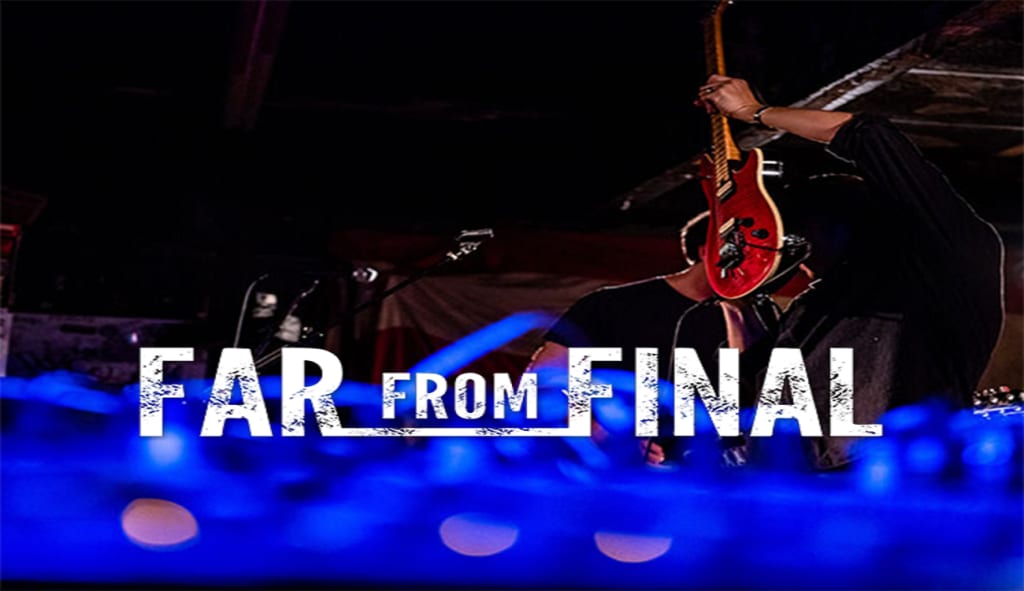 The band "Far From Final"
Far From Final recently released a new single Head Down the Hall.
W. A Wyatt took the time to answer my questions in order to learn more about this incredibly talented band.
Far From Final was founded by singer/ songwriter W. A Wyatt in Birmingham, AL. In 2017, he partnered with Ben Trexel Studios in Birmingham to create Far From Final and produce the first album, Crossing The Sun.
Why the name Far From Final?
The name Far From Final. There were so many song ideas floating around as we worked on the first album and we'd always find ourselves experimenting with different lyrics/instrumentals before finalizing songs. There was a lot of meaning in "Far From Final" for us, in that it sort of stood for never giving-up on your craft, embracing what you love, and overcoming fear of sharing your taste in music with others. 00
What is your chosen genre and why did you gravitate to that genre?
As the main composer/songwriter for the group, I've always had a love for Rock Alternative. From my days of learning how to play guitar, and first working on my craft of writing songs, I was influenced by many artists from the 90s. I not only loved the grungy feel and powerful guitars, but unique tempos, melodies/ballads. I loved the way the songs were structured and how lyrically, the songs used symbolism from surroundings to convey personal feelings, struggles, meaning. Many of the songs hooks were incredible, with memorable choruses, and unique chord progressions/transitions that were often unpredictable. I loved that about the music. In fact, I spent many years playing alternative rock covers in a band, which started in high school, and I found that playing this type of music eventually influenced how I structured original music.
How would you describe the music that you typically create and what is your creative process like?
It's interesting that some of my best song ideas pop-up unexpectedly. I remember driving to work one day and stopping at a red light. A guy in the car next to me had his window down, all decked out in suit and tie, and head banging to Metallica. I imaged that rocker in all of us and imagined some guy in his cubicle at work putting on a headset and escaping reality for a moment with the music. That's when I wrote the song Cover Is Blown.
Its moments like this and personal experiences in life that drive my songwriting process. I don't worry about what is mainstream but what works for me in telling my story. I most often write songs starting with acoustic guitar and then add the other instruments in demo compositions. However, sometimes I may go all acoustic. It's music rooted in guitar that I'm most passionate about. Growing up in the country, and learning to play music of all styles, I've been told my southern roots add a uniqueness to the music.
What is the best song you ever released and why?
For me personally, I feel like the song Reasons is the best song I've released. The song really encapsulates everything I love about music and songwriting. For so long, I wrote music and found so many reasons not to share my music. It was a song that needed no revisions and as I wrote it, I was amazed with how easily it flowed and how quickly the lyrics came to mind. It just seemed so natural.
What is your favorite song(s) to perform?
Back in Line is definitely one of my favorites to perform live. The song sort of embraces taking break and leaving troubles behind. I really enjoy the feel as we transition into the chorus and the upbeat tempo of the song. It makes you want to move and it makes you want to improvise with breakdowns, different guitar riffs. Overall, a very fun song to play.
I asked where the band has performed and about upcoming shows ...
As of right now we have no immediate shows but hope to schedule more shows once the COVID situation settles. But myself along with my brother Bradley Wyatt (drums), Nick Freeman (Bass), have performed all over the south for over 15 years. The Nick in Birmingham, Rhythm & Brews in Tuscaloosa, and Live Bait in Orange Beach, AL are some of my favorite venues.
Do you think you could get any better as a band? If so, how would you achieve that?
When I discovered Ben Trexel of Ben Trexel Studio in Birmingham, he really helped to take the music to the next level. I'd written the songs for Crossing The Sun well before the release, however, Ben brought years of producing experience. I always strive for better and I find we dedicate more and more time in trying to perfect each new mix. When I go back and listen to my earlier original demos, I'm amazed with how far we've come. In this process we've discovered some incredibly talented artists and sound engineers out there. Perhaps one day we will have a chance to work with others and share ideas with other artists seeking new music.
What was the best concert you've seen and why?
I would say the Sanitarium Tour in 2000, in Atlanta. That night bands like System of a Down, Korn, Kid Rock, and Powerman 5000 played before Metallica. When Metallica took the stage Lars Ulrich informed the crowd that James Hetfield had been injured and could not perform. There was an interesting response from the crowd initially but soon we were treated to an incredible show in which members of the other groups joined Metallica on stage. They performed some of Metallica's biggest hits. Afterwards Metallica invited us all back to Atlanta for a free concert at Lakewood Amphitheater later that summer. It was a summer to remember!
Who are your musical influences?
I first got into bands like Zepplin, Boston, and artists like Steve Ray Vaughn and Hendrix. When the grunge movement started, I really dug all the groups that emerged in the 90s generation, especially those like Alice in Chains, STP, and Days of the New. The harmonies and melodies were incredible. I would sing along to the them, try to learn on the guitar. The more I dove into the lyrics and understood the connections, it taught me how to make connections with music and my own experiences in life.
What's the biggest problem you've had to overcome so far?
My biggest problem for many years was always crossing the bridge to share my music with the world. I was always a lead guitarists and back-up singer but this was my first role as lead singer. I would listen to a song and think, well this part could be better, or I need to re-mix this song with a different guitar transition. One day I found myself with a large collection of original songs but I needed someone that could guide me to the next level. When I discovered Ben, he offered the encouragement I needed and helped elevate my ideas.
How would you define the word success?
Success to me is being true to yourself, sticking to what you love, and sharing your art with the world. When we completed Crossing The Sun, I felt like it was one of the biggest accomplishments in my life. I'd played so many covers over the years but I'd always wanted to produce an album. I feel like that in itself has been successful in feeding this passion I have for creating new original music.
Do you have a strong, viable, grassroots fan base?
Many of my fans from previous bands continue the support for Far From Final. The numbers continue to grow on social and streaming channels but every day we do our best to spread the message about the music and to invite others to follow the music.
How do you feel the Internet has impacted the music business & your music?
I remember the days in which a new album would be released. You would go to a music store, purchase a CD, and you couldn't wait to get back to the car to hear it. Those days won't come back in this new digital age. However, I realize that the internet has made this dream possible for us. Being able to produce music and find ways to publish and distribute from home, studio, or office. Our music has been played/streamed on stations all around the globe and I know this wouldn't be possible without the internet.
If you could go open a show for any artist who would it be? Who would you have open for your show?
When we perform, there are some great local artists/bands associated with Ben's productions that usually join us, including Amacio Favor, and Space of a Day. Would definitely add them to the line-up. That said, we've discovered some incredible talent out there, with bands like Best Not Broken, Letters of Transit, All Taken. It would be awesome to one day open for one of these groups, or a famous group like Alice in Chains.
What is one message you would give to your fans?
My first message would be to thank our fans for supporting independent artists like Far From Final and for what they are doing in supporting music during the COVID-19 pandemic. We thank them for never turning an ear on what's new, downloading/adding music to playlists, and for keeping rock music alive. Always take time to break away from the busy times in life, embrace the music, and let all storms pass over. We invite fans to connect with us on social and know the best is yet to come.