California Dreaming
Popular Sixties Band The Mamas and The Papas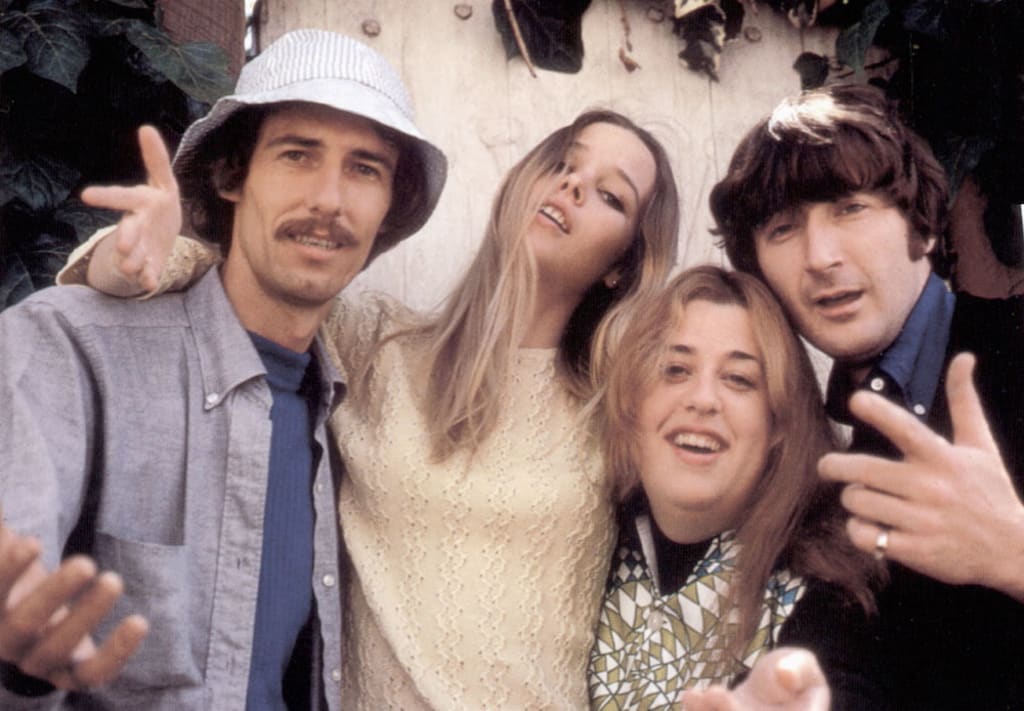 The way this band came together has everything to do with the saying – if something is meant to happen it will happen. The group members were Denny Doherty, Cass Elliot, John Phillips, Michelle Phillips and Jill Gibson.
Coming Together
The first time that John Phillips saw Michelle Gilliam was at the hungry I nightclub in San Francisco, California. True love for them was a rough path since Michelle was 16 and John was 25 and already married. However, he did get a divorce and married his California girl. During this time his group The Journeymen had broken up and he was trying to come up with a new group. He created the group The New Journeymen and included his wife Michelle. Along came Denny Doherty and stepped in as a tenor. Doherty had just broken up with his group The Mugwumps which had included future rock band "Lovin' Spoonful" member Zal Yanovsky and future Mama member Cass Elliot. Doherty was included in the band and so the three members sang as The New Journeymen.
Finally, Doherty arranged for the Phillips to meet Cass Elliot. This was the sixties and one night while tripping on the new drug LSD they met Elliot who joined in the party. They all wound up vacationing in The Virgin Islands and in the beauty of that setting John Phillips began creating and writing down songs. At first, John wasn't convinced that Elliot could sing the right notes and be part of the group. After getting knocked unconscious by a falling lead pipe and winding up with a mild concussion when she started singing again Elliot was finally able to hit that extra note and was accepted into the group.
Recording and the First Hits
Returning from the Virgin Islands Elliot headed straight for L.A. but the others flew into New York. It was so cold after the islands that Michelle wanted to head for the West Coast. John collaborated with her and they wrote one of their greatest hits "California Dreamin'". On the West Coast, the four members met at Western Recording Studios and Elliot mentioned that their group included both mamas and papas and so their name saw the light of day and they officially became The Mamas and the Papas.
Their first Top Ten hit was "California Dreamin'". After recording their first album If You Can Believe Your Eyes and Ears they practically became an overnight hit. The album was released in March 1966 and besides their first hit included the singles "Monday, Monday" and "Do You Wanna Dance?"
However, the group members started fighting among themselves. They had all moved into a big house in Hollywood and this resulted in Michelle and Doherty drifting into a flirtatious affair, Elliot getting resentful and John slowing withdrawing from everyone. The more popular they became the more they partied and the drug use grew. At this time John wrote, "I Saw Her Again Last Night". By the time they entered the studio to record their second album, Michelle and Elliot had drifted away to live separately and John and Doherty remained roommates.
Their second album was titled The Mamas and The Papas and included the singles "I Saw Her Again", "Words of Love" and "Dancing in the Street".
Trouble on the Horizon
Each member of this group appeared to have their own problems. Elliot kept distancing herself from the group and entertained poets, musicians, writers and bikers in her Laurel Canyon home. Meanwhile, John was getting more into drug abuse and starting to diminish his collection of art and fancy cars. Doherty was starting to drink too much and Michelle was flirting outrageously. John insisted they fire her from the group and she was replaced by Jill Gibson until finally Michelle returned to the group and she and John decided to try to repair their relationship. Elliot gave birth to a baby girl named Owen Vanessa in April 1967 but never revealed who the father was.
The Mamas and The Papas could not get over their problems and differences so their last performance together was at the popular Monterey Pop Festival. Elliot had decided to try for a solo career and recorded "Dream a Little Dream of Me". Since neither Michelle nor John nor Doherty was successful in going solo Doherty talked the group into recording one more album in 1971 titled People Like Us. The album had no single releases and included such songs as "Pacific Coast Highway", "Shooting Star" and "Pearl".
Michelle and John had a daughter Chynna and finally split up for good. Elliot went on to star in the movie "H.R. Pufnstuf", various TV programs and her own specials and Doherty released two solo albums. In July of 1974, Elliot had a two-week engagement at the London Palladium and got a standing ovation. Tragically on July 29th, she was found dead of heart failure in her apartment. The former Mama and two Papas got together to say farewell to their once dear friend on August 2, 1974.
The New Mamas and Papas
In 1982 John, Doherty, Mackenzie Phillips (John's daughter) and Spanky McFarlane (of Spanky and Our Gang) came together as The New Mamas and Papas. They still play today and have a new generation of fans.
As for the former members Doherty did a one-man show called Dream a Little Dream of Me dedicated to his beloved friend Elliot. He died from a second abdominal aortic aneurysm on January 19, 2007. John died on March 18, 2001, of heart failure at the age of 65. Michelle has a successful acting career and remains the only surviving member of the original group.
The Mamas and the Papas music remains legendary and new generations are discovering it keeping their memory alive. The group was inducted into the Rock and Roll Hall of Fame on January 12, 1998, and the Vocal Group Hall of Fame in 2000.