Blog: 'P!NK - 'Beautiful Trauma' World Tour
Wembley Stadium, London—June 30, 2019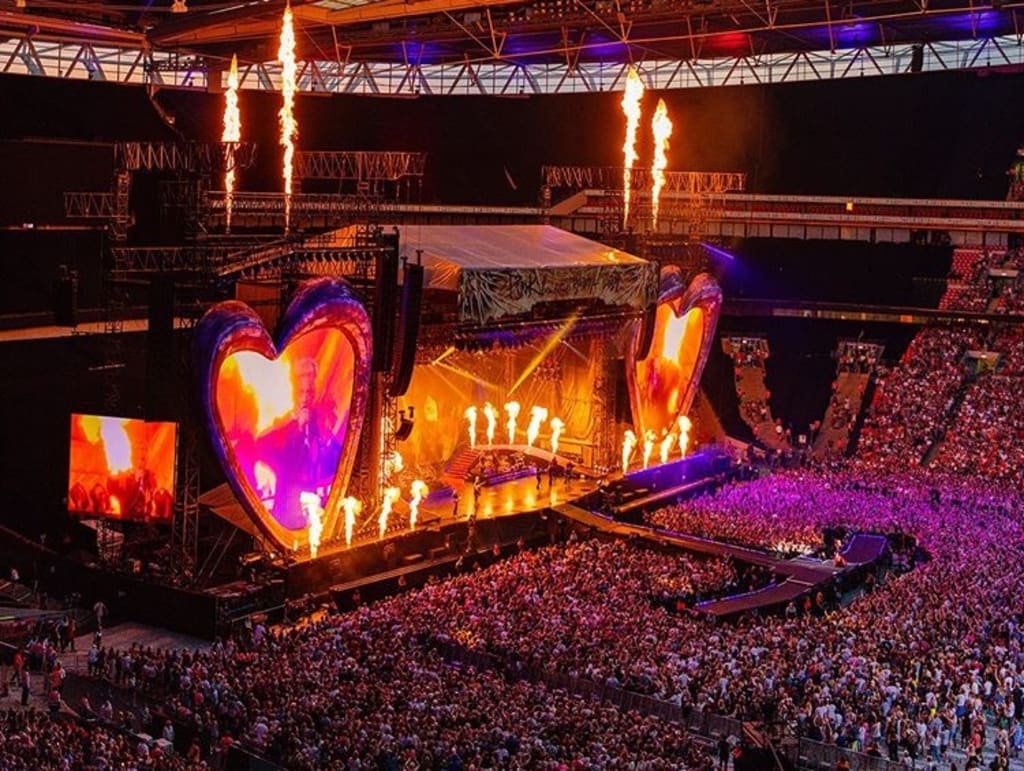 Photo Credit - Andrew Macpherson 
There are many people on my concert bucket list, and P!NK has always been right at the top. Never have I heard better things about an artists live performances, and to witness it firsthand was better than I could have ever imagined.
Arriving at a packed out Wembley stadium, a huge variety of people from all walks of life fill the stands. Yorkshire bred trio Bang Bang Romeo kicked off the night, followed by Aussie sensation and "Riptide" hitmaker Vance Joy, as well as crowd pleasing DJ KidCutUp who prepped the audience for the main event. At 8:30 PM on the dot, hanging from a sparkling pink (of course) chandelier, P!NK enters the stage in the most stylistic way possible. In a sparkling blue catsuit, with her guns on show, she manoeuvres through the chandelier whilst belting out her hit song, "Get The Party Started"—very fitting.
Continuing on the show with "Beautiful Trauma," the title track of the tour, followed by fan (and my personal) favourites "Just Like a Pill" and "Who Knew," everyone in the crowd lets loose and sings their hearts out. A quick costume change later, and an illuminating video entitled Revenge Land, she returns to the stage to sing "Funhouse," including a mash up with No Doubt's hit song, "Just a Girl." Introducing more of her aerial skills to the show, two of her newest hits are performed "Hustle" and "Secrets," which showcase both her physical and vocal capability, before going straight into the iconic song and accompanying dance to "Try." Interacting with the audience, P!NK starts to sing her worldwide hit, duet with Fun front man Nate Ruess, "Just Give Me a Reason," and in true P!NK fashion, restarts the song due to forgetting the lyrics. Even though a background video of Ruess was shown, the arena erupted into the song and took over his part of the song, which she accepted with so much love.
Following on with more interaction, P!NK talks about how other artists inspire her, and continues on to cover the hit song "River," by up and coming artist Bishop Briggs, followed by "Just Like Fire," where the actual fire bombs on stage made the warm June night even hotter. Exiting the stage, a video entitled Women Are Strong is played, and succeeding the film, "What About Us" is performed, a fitting tribute to the message of the video and the empowerment of women everywhere. "For Now" is up next, followed by "90 Days," in which she was joined by singer/songwriter Wrabel, who duets with her on the song. Entering into an acoustic set, she then covers Cyndi Lauper's "Time After Time," before performing her new single "Walk Me Home" with a single guitarist next to her.
"I Am Here" is up next, then "F**kin' Perfect," and in success with the powerful words of these songs, another video is played after, this time called My Daughter Is Beautiful. The short film illuminated her infamous speech given at the MTV VMA Awards in 2017. In an inspiring message to young girls and dreamers everywhere, focusing on her own daughter Willow, it encompassed tears and cheers throughout the stadium.
Raising the tempo, P!NK then performs one of her biggest hits to date, "Raise Your Glass," and during this introduces the crowd to her band and performers individually, before a surprise guest cartwheels onto the stage. A superstar in her own right, eight-year-old Willow Sage Hart runs into her mother's arms, headphones in place. And with the biggest smile, looks around the entire stadium, waving to her hearts content.
As we near the end of the night, "Blow Me (One Last Kiss)" is performed, followed by "Can We Pretend," which had the whole place jumping in unison, and looking to the sky as fireworks and confetti lit up the night.
A short while later, armed in a harness, P!NK returns for her finale. Somersaulting across the stage, whilst belting out "So What," not a note out of place, she reaches the other side of the stadium to continue the song. Many people were questioning if there was a fault with her harness due to her only going to the back of the arena and not all around like her previous dates; however, this was due to the shape of the stadium, and not because of any faults. I can tell you now, there are very few people in the world that could do what she does, spinning around, upside down, metres high, she does not miss a word of the song, and her vocals are not compromised one bit, if anything they are even better.
In complete contrast, she exits the stage only to return in a plain white tee, blue jeans and trainers, to perform her final song "Glitter in the Air." Whilst not one of her most famous songs, the understated track showcased her down to earth nature, and allowed the audience to take in the incredible night.
There are many reasons why P!NK is an icon, and one of the most respected people in the music industry. But her live performances have to be right up there as the number one reason. To be able to do what she does as a physical performer, carrying herself with such strength and stamina is one thing, but add to that some of the most challenging vocals, sang faultlessly, and a personable audience interaction at all times, is something else. I feel honoured that I got to witness such an incredible gig, and would watch it again in a heartbeat. P!NK truly is one of the greatest, and undoubtedly her shows and music will go down in history if they haven't already.