Blog: George Ezra - 'Staying at Tamara's' World Tour
Mediolanum Forum, Milano—May 17, 2019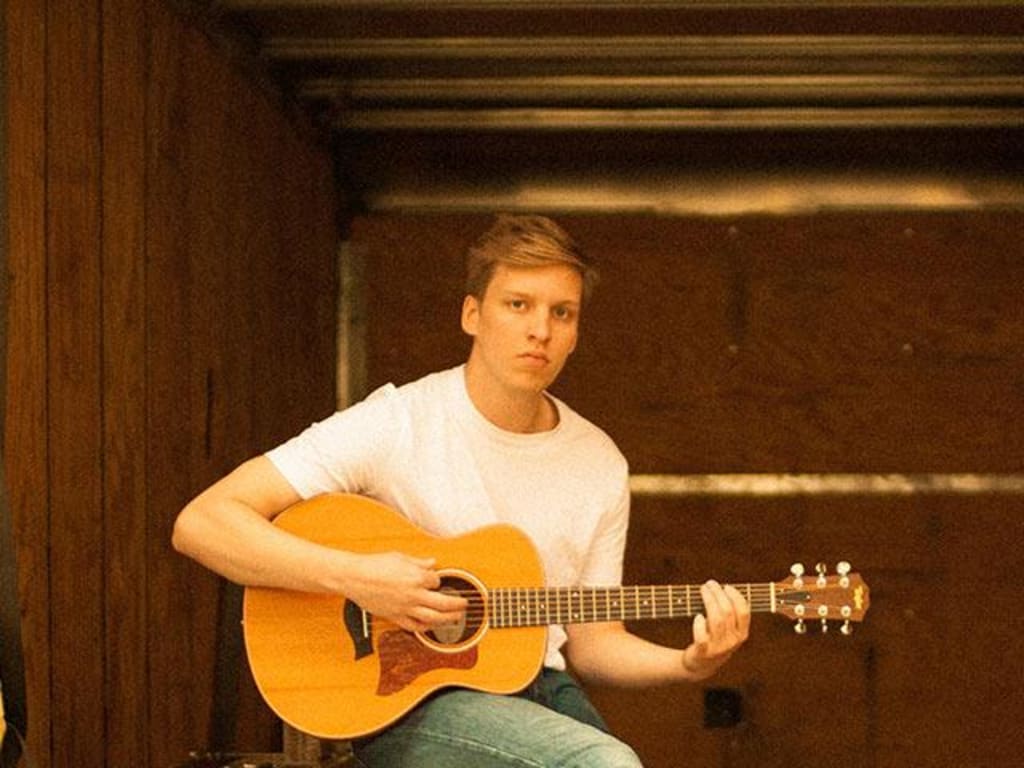 Let me start by saying, Milano was never on my bucket list, but seeing George Ezra was. So when his European tour dates fell around my birthday, I figured why not make a weekend out of it?
The flights and tickets together actually cost less than one ticket to see him in London, which made the decision even easier. So, on a rainy Friday evening in Milan, after a day of day drinking, my best friend and I headed to the Forum for the last leg of the Staying at Tamara's tour.
A sea of people filled the arena relatively quickly, and just in time for the Hot 8 Brass Band to hit the stage, and kick off their supporting gig. With a mix of songs, varying from all genres and decades, they enthralled the crowd, and started the show with a bang. In particular, their take on "Sexual Healing" got everyone up and dancing, I even caught the Security Guards having a boogie—which I have to say, is something I always look out for at gigs. You know it's going to be a good time if they are up and dancing!
After their set, a stage transformation took place, and 'Tamara's' house was born. A vintage circular rug for George, tall dim lamps for the band, and blooming plants surrounded them all, along with an old school record player to the left of the stage. Leading up to the show, Oasis' "Don't Look Back in Anger" played as part of the setlist, and at that point, I looked around with my beer in hand to see just how full the stadium had gotten. A strong sing-along later, and a giant electric alarm clock was dangled from the roof.
As the clock struck seven AM, an Italian announcer 'woke us up' and introduced George—just as Greg James did for the UK leg of the tour—I can't however tell you if he said the same thing, as I do not speak Italian! Ezra's seven-piece band entered the stage, and the intro to "Don't Matter Now"—the first single from Staying at Tamara's began.
With a cheesy grin, and bundles of energy, George ran on stage, and the whole crowd roared into "Sometimes you need to be alone..."
It was a great opener and got everyone out of their seats and moving. His eccentric band created a fun presence on stage and gave him a run for his money with his dance skills. They continue playing straight into "Get Away" before George tells us the story of Tamara.
After releasing Wanted on Voyage, he wanted to write music and so went to a European city for a few months to do just that. Instead of staying in a hotel, he crashed in Tamara's spare room. Surrounded by musicians and artists in a beautiful city, the album was written.
That city was Barcelona.
And thus, a content and quiet beat crept in, and he sang what seemed to be one of his most underrated songs—but one of my favourites. If you didn't get the hint, the song is called "Barcelona." As the final beat hit the drum, the band intro-ed "Pretty Shining People"—Ezra's newest single. A wave of excitement came over the audience, and before long they were jumping and singing along to the catchy tune. A quick round up of the band and his breath, George simply investigates the crowd and says, 'shall we sing "Listen to the Man?"'
Now I'm not a singer, and never will be (you'll thank me for that), but I can only imagine how amazing the feeling must be to have 12,000 singing along to every single word of your song. I don't know if they loved the song, or just Ian McKellen in the music video—but not a word was missed by anyone.
Introducing the record player to the mix, Ezra walked over and played it, for us to hear the misty intro of "Did you hear the rain?" which was his first single back in 2014. A moderate success, the song showed that it is aging gracefully, and the crowd kept getting better.
Now, for another story, Ezra and his band were touring through California, and whilst everyone was enjoying the weather and the views, he got sick. Not ideal, so he wrote a song (of course.) Tempting the crowd with the first line of "Paradise" acapella, the cheers began, and the song was sung. I'm not wishing on anyone to get sick. But if he writes songs that good when he is ill, surely there is no harm in it, right?
Slowing it down afterwards, we all needed to catch our breath, the melody of "Song 6" enveloped the forum. The underrated-ness of the song—including the fact it didn't even get a name—shone through, and his vocals were highlighted beautifully. Continuing the romance, "Hold my girl," and "Leaving it up to you" were next. My two personal favourites. For the last chorus of "Hold my Girl" an abundance of lantern lights draped from the roof, and lit up the arena moving gracefully, along with thousands of mobile phone torches to create a starry view—something I never get bored of seeing.
As you may notice, traveling influences a lot of Ezra's music, and a song about his trip to South Africa didn't fail to excite the crowd. He performs "Sugarcoat" followed by "All my Love," which showcases his incredible band.
It is rare to see artists and their bands having as much fun as these guys; all getting their moment in the spotlight, they engulf the stage with energy and light. They look like they are having an absolute ball, it is undeniably refreshing. Following the showcase, Ezra simply asks, "Shall we sing 'Blame it on me?'"—and with an eruption, it was obvious the answer was YES. One of his most popular and successful songs, the audience are the loudest they've been all evening, and by the end of the second verse, he leaves it up to us to belt it out. On the last strum of his guitar, he looks out with a smile like a Cheshire cat, and you can tell he is taking it all in. What a feeling that must be.
He proceeds to tell us about his traveling stories, and one in particular when he stayed in a city a few extra days after buying some rum off a park stranger, and meeting two Swedish girls—I mean, who wouldn't? However, it did mean he missed a stop on his trip. Yet somehow, the place he missed started a whole new life for him. He states, "I never did make it to Budapest," and that right there, was a moment.
As I said previously, the crowd just kept getting better and better—and as a result, so did George and his band. The song showcased his undeniable vocal and musical talent, and how great of a songwriter he is. Whilst the song 'ended' the show, they said their thank you's and goodbyes—we all knew there would be an encore. The cheers grew and grew, and after a short run down the stairs and back up again, the band and Ezra returned to sing "Cassy'O." Now, if you ever need to burn some calories, that's the song to listen to, it'll get you up and dancing without a second thought.
Before his final song, George compliments his incredible band and support act, the Hot 8 Brass Band, who re-joined him on stage.
With no introduction needed, the words "Home grown alligator" leave his lips, and the entire arena bursts into song. "Shotgun" was the song of the summer, and it did not disappoint to hear it live. The brass band returning made for an incredible performance, and the smiles on everyone's faces on the stage, and in the crowd (yes, that includes the security guards) were an absolute picture. A final drum roll and goodbye saw Ezra run around the stage, interacting with as many members of the audience as possible before saying farewell.
Ezra's humble and down to earth nature somehow creates a confident, well prepared, and hugely entertaining show. I believe that he doesn't know how good he really is. An impeccable voice, sound, band, and show. I genuinely could not fault it, and would pay good money to see him again, and again. With a summer of headlining festivals ahead of him, I hope that he takes another trip round Europe—and makes it to Budapest—so we can experience more of his triumphant and beautiful stories within another album.
He truly deserves all the success and love that comes his way. If you get a chance to see him, GO, without a second thought. You won't regret it.