Blog: Dido 'Still on My Mind' Tour 2019
Eventim Apollo, London - December 8th 2019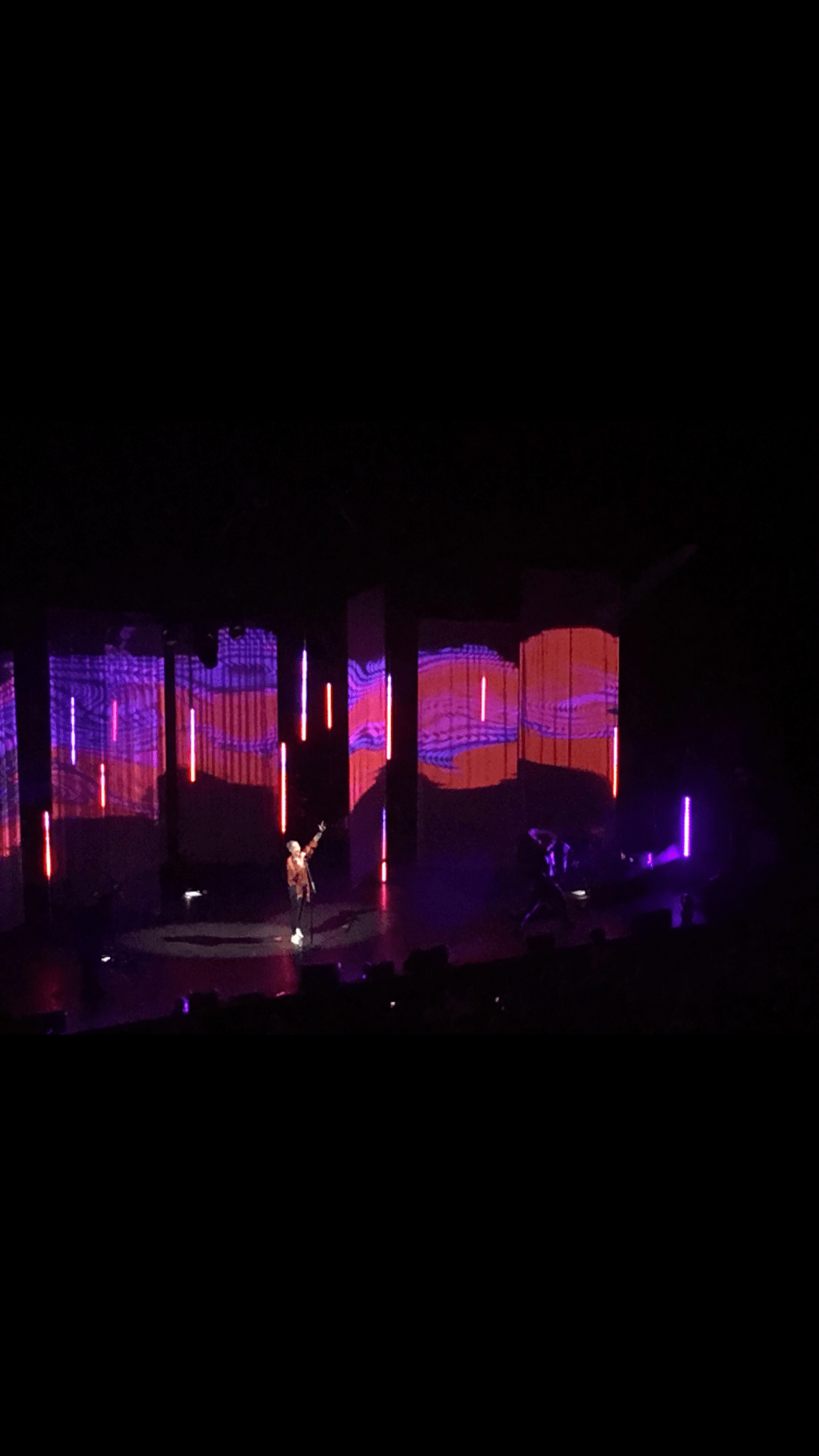 Dido at the Eventim Apollo, London
When I was six years old, whilst most people my age were listening to Disney, I was listening to, you guessed it, Dido. Her 2003 Life for Rent album was the soundtrack to my childhood, and still stands as prominent in my life today.
16 years later, there I was at the Eventim Apollo ready to see one of my heroes for the first time. Following on from fantastic opening act Sonia Stein, Dido graces the stage with her band in with her signature hairdo, eyeliner, t-shirt, jeans and trainers, and proves that she has not aged in her 20 year career.
Kicking off the show with "Hurricanes" from her most recent album Still on My Mind, instantly she shows that her voice live does not falter from that on her records, and her production is way more than expected. With a full band behind her, and projective screens zig zagging across the stage, the lighting and imagery reflect the lyrics perfectly, something that continued faultlessly throughout the night. Continuing with her new album, she sings "Hell After This" before acknowledging the crowd and expressing how great it is to be back in her hometown for the final show of this year-long tour.
Going back in time, "Life for Rent" is performed, alongside "Hunter" from her very first album, 1999's No Angel, before fast-forwarding fourteen years to 2013's Girl Who Got Away to sing "No Freedom" acoustically. Next, Dido tells the story of "Grafton Street" a song she wrote the day after her father passed away. It is known among fans that she couldn't sing the song live for a long time after it was released on her 2008 album Safe Trip Home, so it was an unexpected treat to hear it tonight. As the song ended, the audience stood still in time, as she held back tears. After an abundance of roaring from the crowd, she shook it off and asked if anyone had experienced a holiday romance, which apparently in Germany, isn't a thing. Introducing "Sand in My Shoes" she mentions it is a great one to get up and dance to, in which the audience succumb, and by the end of the song, near enough the entire sold-out crowd are stood on their feet dancing along.
In complete contrast, the next song she sings is "Give You Up," a heartbreaking break-up track from her latest record. Whilst not one of her most well-known records, it got one of the best reactions of the night from the audience. Speaking about 'a song she wrote in the bath' Dido then performs the song that ultimately put her on the map "Thank You". An already successful hit, it became a worldwide phenomenon when used on Eminem's 2000 smash hit "Stan". For the first time this evening, you can fully hear the audience singing along, and even take over for the last chorus.
Succeeding the hit, "Friends" is sung, an upbeat, sassy track from Still on My Mind. As she shares a sweet anecdote about her brother, Faithless member, Rollo Armstrong who has co-written many of her hits, she is joined centre stage by her lead guitarist to sing "Sitting on the Roof of the World" (co-written by Rollo) just them and their guitars. Placing down her guitar, she then sits on the edge of the stage to sing "Quiet Times" before going into one of her first and biggest hits, "Here With Me." Showcasing her incredible band and her unstoppable range, she shows us why she is one of the most successful British artists in history, and how her music is still as loved today as it was when it was first released twenty years ago.
Nearing the end of the show, she sings break-up song "See You When you're 40", new hit "Mad Love" and "My Boy" a dance track she recorded with her brother and Sister Bliss, for their collaborative album as R Plus, The Last Summer, which was released earlier this year. Singing next about addiction, "Don't Leave Home" is performed, before she stands centre stage to thank her incredible band, as well as the fans for coming out and being a part of this amazing tour. Closing out with the first ever song she recorded, she sings "Take My Hand" from No Angel and receives a standing ovation from everyone.
As she exits the stage with her band, the cheering and chanting begins for an encore, which we all know is coming. Dido re-appears to the stage, and shares her reasons as to why she has had an almost fifteen year break from fully touring. One of which she says, is her eight year old son Stanley, whom she wrote a song about on her latest album. Although she admits at first she thought it was cheesy to write a song about her child, she couldn't resist, and sings "Have To Stay" which has the audience, and almost Dido herself, in tears.
Before she goes, she asks if the audience have any more songs they want to hear. A unanimous "White Flag" is the response, to which she smiles and the intro to her biggest ever hit is played. With the audience on their feet, she sings the song exactly as we know it, not missing a note or an ounce of emotion. Production soars to its biggest of the night, and almost 4000 voices are singing along to every word. As the last chorus nears to a close, she reaches the mic to the crowd, as the fans end the show.
One final bow with her band and a sweet goodbye, an incredible night ends on a high. It is not often an artist will take that much time off from touring, but to be welcomed back with such love and appreciation must be an overwhelming and gratifying feeling. Dido truly is one of the greatest British artists in history, which she shows not only through her music and lyrics, but also through her incredible show production and performance.
The legend assured us she would not leave it as long next time, and I for one will definitely be going to see her next tour, in which I recommend you do too.
Like what you read? Follow me on Instagram @behindthesounds_ for daily Country content, and to be the first to hear about my latest blogs.