Blog: Carrie Underwood - 'Cry Pretty' UK Tour
The SSE Arena - Wembley, London - 4th July 2019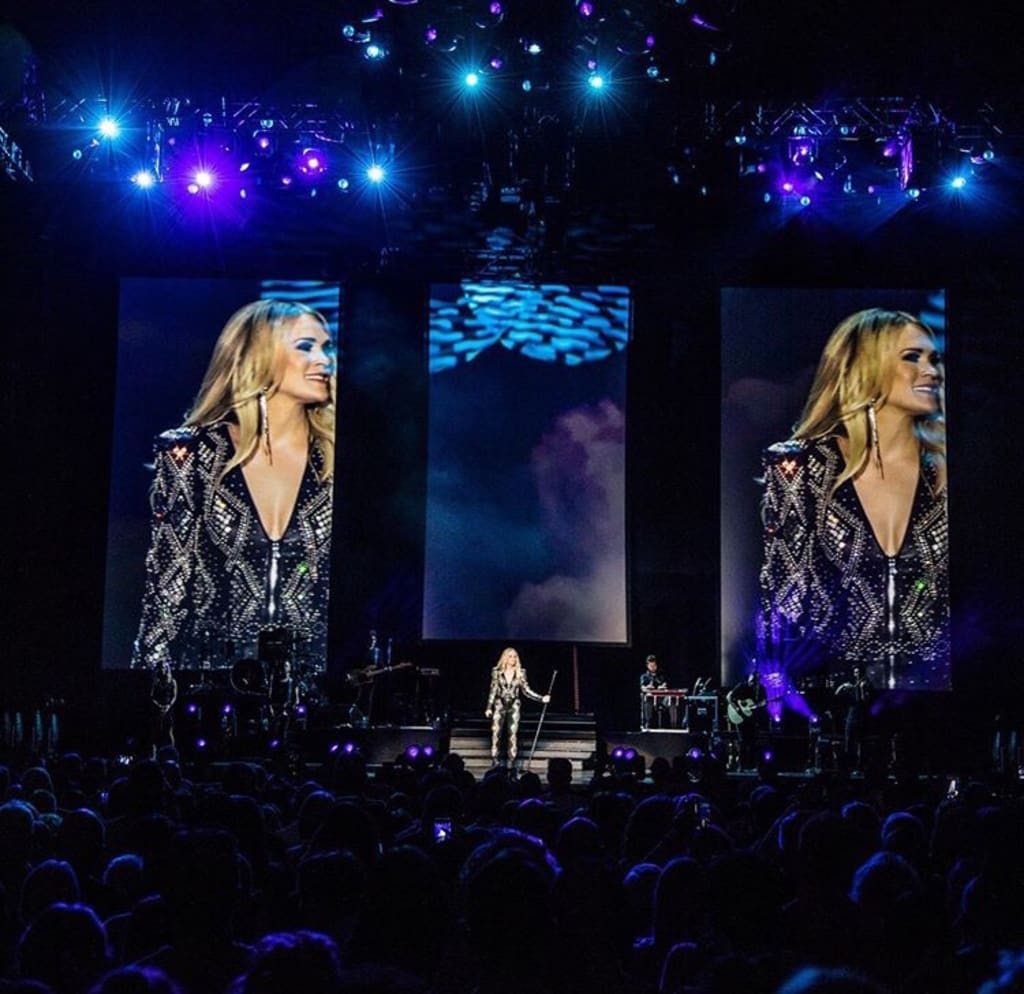 Photo Credit - Amanda Young 
As an English person who loves America, there is no better way to spend Independence Day than attending a Country concert. The modern day Queen of Country Music, Carrie Underwood, finished off her UK tour this week with a show at Wembley arena, an honour for many artists. The tour took has taken her all across the country, including a set on the main stage, at one of the world's most famous festivals, Glastonbury. UK Country act The Shires opened for Carrie; many were disappointed that she didn't bring over her US opening acts, girl bands Maddie & Tae, and Runaway June, but The Shires have a large following in the UK and had a good turnout despite this.
As "Paradise City" played, the arena darkened and the band entered the stage—Underwood covered the song at CMA Fest 2013, and it has been known to be a favourite of hers to play. Entering the stage in a head to toe sequined out catsuit, which she admitted she has been waiting to wear after it being too hot to put on at Glastonbury, the first notes of "Southbound"are played, and she kicks off in style. Making the stage her own within seconds, she engages with the audience and continues straight into crowd pleasing "Cowboy Casanova", followed by "Good Girl"and then "Last Name." Even though these aren't her most vocally challenging songs, her sass and energy never miss a beat, and you can tell the strength of her voice from just a few words. Interacting with the crowd, Carrie expresses how amazing the UK tour has been so far, and how excited she has been to play London. Grabbing a guitar, she heads to the top of the stairs propped at the back of the stage, and starts to perform hit "Church Bells". An abundance of diamonds dripping fill the screens behind the stage, and as these change to dark roads, the intro to "Two Black Cadillacs" is played. As Underwood passes of the guitar and heads down the stage, the dark and thrilling tune is belted out. Carrying on with hits from her Blown Away album, she plays the title track, and shivers are sent down my spine as she hits the high notes. There is no denying her vocal talent, and she sounds exactly like she does on her records live.
As she grabs a trilby hat and rests it slyly on her head, Underwood goes into "Drinking Alone," a saxophone led sultry tune from her new Cry Pretty album, again showing off her pipes. After the song, she explains that how that was one of the songs she knew would go onto the record, and how an abundance of them were instant favourites of hers. Another of these, "End Up With You" was played next, a complete contrast to many of her previous songs, the upbeat track had the whole arena up and dancing. Contrasting once again, she then asked if the audience wanted to 'get a lil Country in here' and played "Flat on the Floor," one of her oldest but most loved tracks. Keeping in theme, she then played "Wasted" from her debut 2005 album, Some Hearts.
Carrie then spoke to the audience about her 14 year journey, from winning American Idol to now, speaking about living your dreams, and taking chances - something that has changed her life completely. To celebrate her 14 year success, short snippets of some of her most love songs were played, including Temporary Home, See You Again (in which the entire arena was lit up with lights), I Know You Won't, and Just A Dream, one of her most emotional songs which was mashed up with Aerosmith smash Dream On. When it comes to vocals, now we're talking. The stamina she possessed during I Know You Won't, and the high notes she hit during Dream On (Steven Tyler style), were like nothing I have ever heard.
After the short mix of songs, Underwood then played possibly her most reputable song, Jesus Take The Wheel. Emotions run high, and a few tears are shed as clouds cover the backing screens. Carrie expressed how she feels like the 'luckiest girl in the world' that she gets to sing that song every night, and admits she doesn't think they have ever played a show without it. Keeping on an emotional track, as Underwood admits that this next one is a 'hard one to sing, but so important' she again grabs a guitar and sings The Bullet. The screens flash with images of heartbreak and loss, including a single candle lit behind during the chorus. Something in the Water is up next, the Grammy winning song is again an emotional one. It was released in celebration of Underwood's Greatest Hits album, celebrating her first decade in the industry, and does not disappoint live.
Underwood then sings "Low," another track from her newest album, again another vocal showcase, before picking things up to sing another one of her most famous hits, "Undo It." During the song, she introduces her band, many of whom have been with her for many years, and during the introductions, they veer off to play a snippet of George Michael's "Freedom." I was lucky enough to see Carrie 7 years ago at one of her first UK gigs, and during this time she covered Coldplay hit, "Fix You"—so this time kept up her tradition of covering British artists at her UK shows. Nearing the end of the show, she performs one of her newest and most poignant hits, "The Champion," which features rap sensation Ludacris. Underwood explains how they received so many messages about the strength of people who listened to this song, and has welcomed fans to sing Ludacris' part with her during the tour, especially as we 'wouldn't want to hear her rap.' Fan Lois was introduced, and sang the roof of the place, what an honour that must of been for her.
The next song was the song I think we had all been waiting for. "Before He Cheats" is without a doubt Underwood's most famous song, and the whole arena sang along with her. The final chorus she left up to us, whilst she stood back to smile and appreciate everyone that had showed up. After exiting the stage, the crowd got increasingly louder and louder, waiting for the encore. As she re-entered, the guitar strummed the iconic introduction of Cry Pretty. The effervescent song encrypted the whole arena to sing along with her, and the build up to the final chorus was just incredible.
One final song of the night was then played. "Love Wins"is an important message that we all need to hear. Released as the second single from 'Cry Pretty' it is a song that Underwood debuted live at the 2018 CMA Awards. The emotional lyrics, combined with the natural and embracing melody, fitted with Carrie's unquestionable voice makes it a powerhouse hit that ended the show in the best way.
Reflecting on the night, you have to be thankful for the setlist of dreams, and how many of her hits she fitted in to just one night. Underwood has always been one to put on a show, and whilst we didn't get the full 'Cry Pretty 360' experience that has sold out arenas all across America, we still got the best of her, and her 14 year sellout career. Her voice does not fault, and considering she had a baby only 5 months ago, to do what she does every night is incredible. Carrie Underwood is indeed the modern Queen of Country, and I believe she has one of the greatest voices in the world. To not miss a beat, and sing the way she sings, makes her one of the greatest of all time - and I personally will keep seeing her shows every chance I get.
Like what you read? Follow me on Instagram @behindthesounds_ for daily Country content and to be the first to hear about my latest blogs!