BLEXCELLENCE IN MUSIC
An ode to Black women in music across the Black Diaspora-- our icons -- we stan!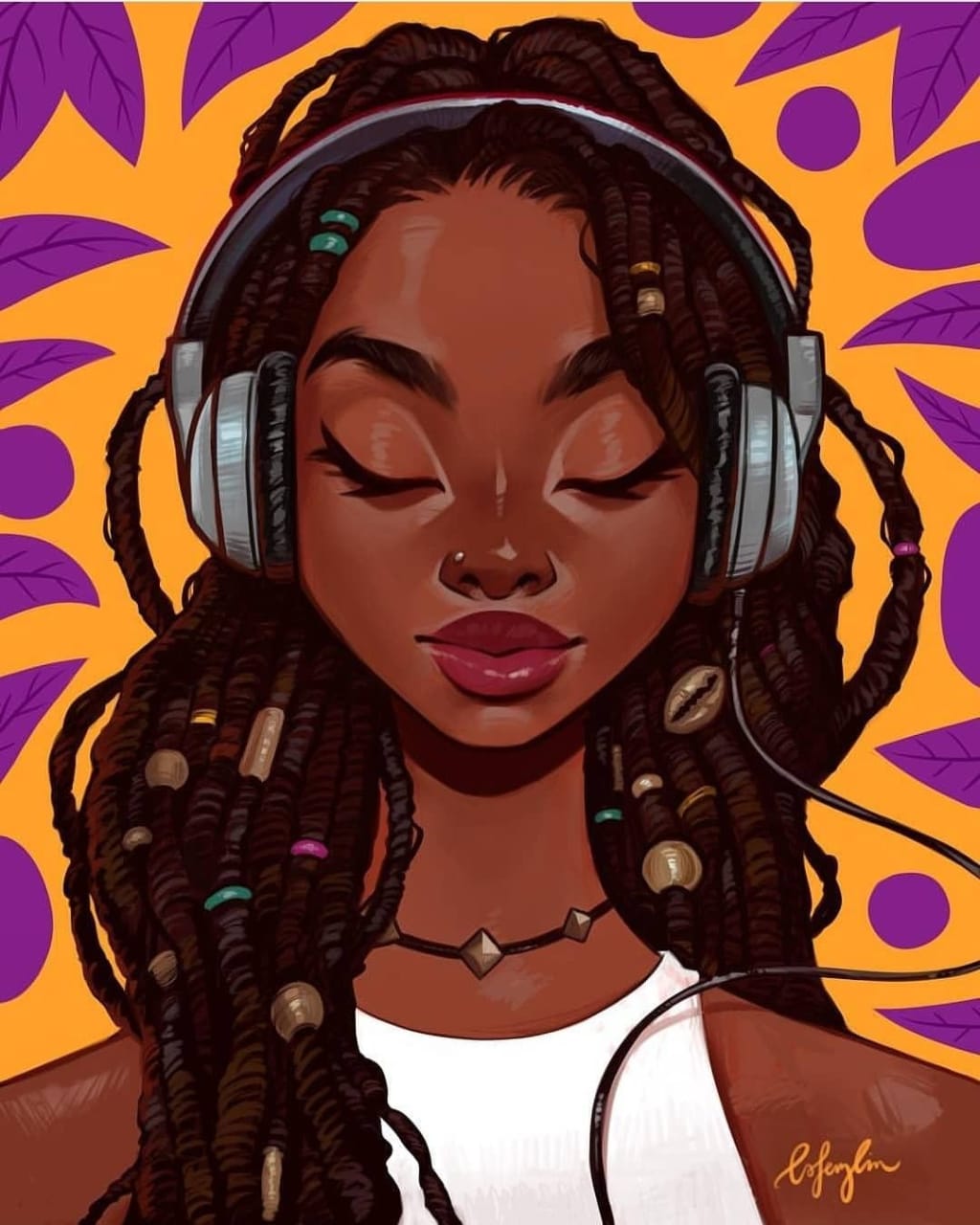 "Girl Listening to Music." Pinterest. Retrieved from: https://www.pinterest.com/pin/747667975618460897/.
Black women in music have created entire cultural
movements, trends, and fashion statements that have transformed society time and time again. Our impact and outreach extends beyond the hypnotic rhythms and beautiful melodies we share with the world. The music we as Black women put into the world is imbued with a cosmic, divine, spiritual essence that radiates into the ether, transforming and inspiring our listeners, and often giving those who may otherwise been oblivious, a peek into our mind, world, and perspective.
It is a precarious thing to be a Black woman. An experience that to many people is elusive and peculiar, blanketed in the allure of mystique, finesse, and drip, Black womanhood is a multifaceted, cosmic-kaleidoscope of divine power and grace, enchantment, allure, serenity, and wisdom. It is a dynamite duo to be both Black and female; there is something about the double-merger of the feminine birthright and melanated majesty that seeds and blossoms an energetic royalty that commands attention, an energetic royalty that is imbued with a charge to perpetually procreate, creation itself, in various mediums and capacities such as -- art, culture, cuisine, hair, fashion, I can go on.
This piece is an ode to our Black sister-queens in the music industry, both in the United States and abroad in the Caribbean and Africa.
People are often mistaken to believe that Black and African American are synonymous, and often identify every racially Black person, as "Black," even when our ethnicities play a critical role in our identities as well as being a contributing factor to our cultural experiences and expressions as well [and I would like to note that in the United States it is historically accurate and fair to think of 'African Americans' first and foremost when you say 'Black people' because it wasn't until after our Civil Rights movement in the 1960s that other ethnic 'black' groups began to migrate to the United States in significant quantities [e.g. African & Caribbean]; but that is another topic for another day ;)].
All of that being said, this piece seeks to highlight and illustrate our greatness across the African diaspora.
Thus I present to you, our American Legends, African Stars, and Caribbean Queens in the music industry.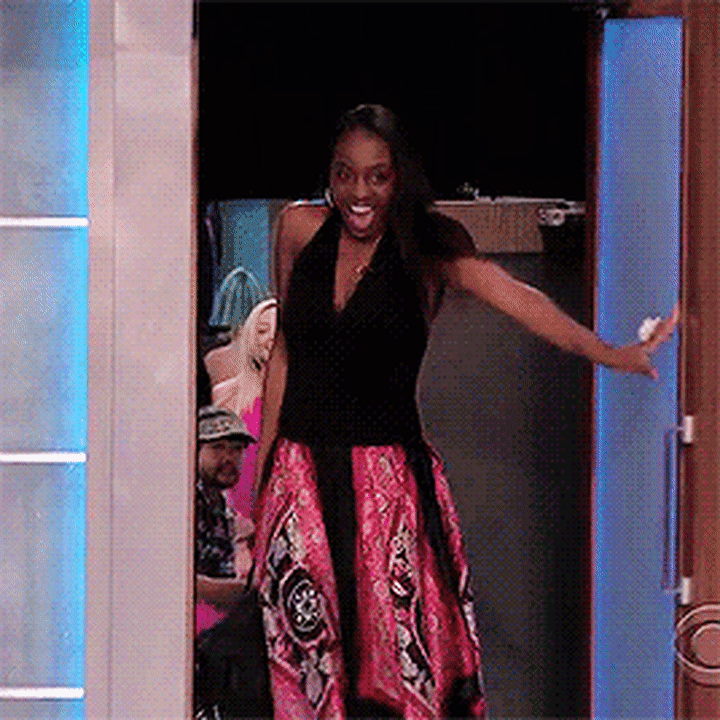 JEWELS OF JAZZ
Jazz is a classical African American musical genre that defines our Harlem Renaissance period, especially between the years 1918 to 1930. During this period, the African American community boomed and blossomed with intellect, creative expression, and soul that captured the essence of newfound freedom and self-expression that was repressed in the prior century of slavery.
Fun fact: jazz music and blues were born out of the Negro spirituals that were created during slavery. It has been said that:
"While people want to participate in the 'culture', they never want the responsibility and suffering that comes with being black. To put it simply, they want our rhythm but not our blues."
Our trauma has had a remarkable effect on our passion and our push for triumph over our trials. Although jazz is a soulful, rhythmic, passionate genre at its core is the central theme of the fragility of humanity, our susceptibility to bittersweet realities, and heartbreaking truths.
In this section, I highlight the American jazz queens that we stan and have had a tremendous impact on sharing with the world what it means to be Black, the intimacies and dynamics of what it means to live, love, rise, and feel while Black.
All of the women mentioned below, Eartha Kitt, Billie Holiday, and Nina Simone used their musical platforms and positions in society to inform the world on the politics of living while Black and advocate for social justice.
What inspires me most about this set of women is that they were unapologetically Black and woman and they did not put either part of their identity above the other. They were activists, but they also allowed themselves the space, and grace to be soft, feminine, women.
BILLIE HOLIDAY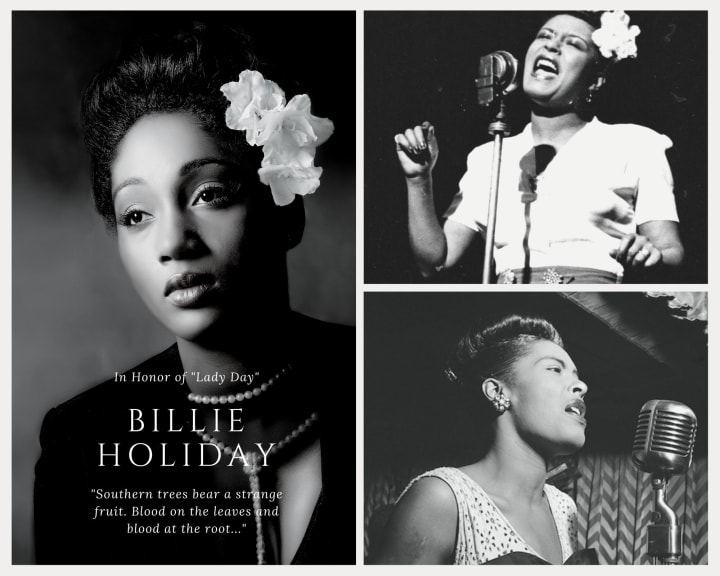 The iconic, the one and only, and phenomenal Billie Holiday, also known as "Lady Day" is best known for her poetic social song "Strange Fruit" that addressed the southern crime against humanity, of lynching. Billie Holiday is considered one of the best jazz vocalists of all time. Miss. Holiday even featured and performed at the Cotton Club, an exclusive whites-only establishment where only the best African American performers at the time, such as Cab Calloway and Louis Armstrong provided elite tier performances and experiences.
My favorite lines from her are:
"𝔽𝕠𝕠𝕝𝕚𝕟 𝕄𝕪𝕤𝕖𝕝𝕗"
"I try to keep you out of my heart / But somehow I find / Trying to keep you out of my heart / I'm out of my mind / I tell myself "I'm through with you /And I'll having nothing more to do with you" / I stay away, but every day / I'm just foolin myself"
"𝕎𝕙𝕖𝕟 𝕐𝕠𝕦𝕣 𝕊𝕞𝕚𝕝𝕚𝕟𝕘"
"But when you're crying / You bring on the rain / So stop your sighing / Be happy again / Keep on smiling / 'Cause when you're smiling / The whole world smiles with you"
"𝕊𝕥𝕣𝕒𝕟𝕘𝕖 𝔽𝕣𝕦𝕚𝕥"
"Southern trees bear a strange fruit / Blood on the leaves and blood at the root / Black bodies swingin' in the Southern breeze / Strange fruit hangin' from the poplar trees" (Strange Fruit).
EARTHA KITT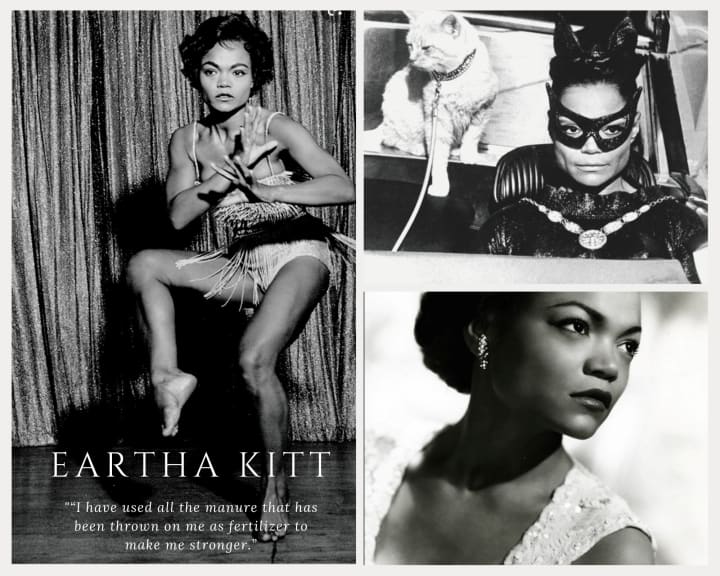 Eartha Kitt is such an inspiring, beautiful, and unapologetic woman; she was empowered and self assured well before her time period where women were encouraged to compromise by being demure and self-sacrificing.
During an iconic interview with Eartha, she was asked her thoughts on love and relationships, and in particular she was asked this question: "Isn't love, a union between two people, or does Eartha fall in love with herself?
"Yes, I fall in love with myself. I want someone to share it with me. I want someone to share me, with me."
Eartha did not have an easy childhood or smooth upbringing, but despite those obstacles, she rose to stardom and created a space for herself to thrive and excel in her truth, radiating her passion and power before the world. She is quoted as saying:
I have used all the manure that has been thrown on me as fertilizer to make me stronger.
It is clear that Eartha was so ahead of her time as a trailblazer and waymaker. She was the first Black catwoman and she is the voice behind the best cover of Santa Baby ever [which now has a swanky, pretty music video that released two months ago].
NINA SIMONE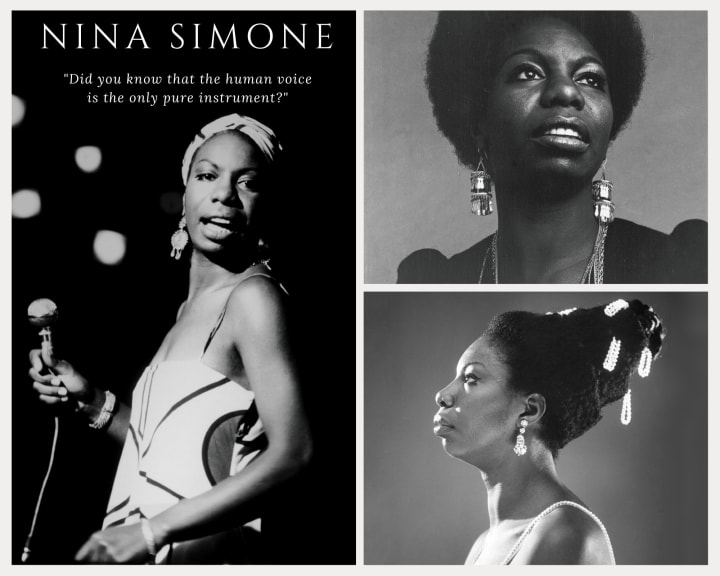 To be Young! Gifted! and Black!
How could anyone not think of those paramount words that illustrate the grand overarching theme of Simone's message and platform. Nina Simone, a gorgeous, embodied, refreshing glass of truth.
Nina Simone is known as the "High Priestess of Soul" who not only was a songwriter and talented pianist, but also a Civil Rights activist. Nina Simone has left an indelible mark on African American history an heritage as a woman who encouraged us to embrace our authentic selves and live our truths.
MOMMA'S CLASSICS
If there were ever a set of women who taught me in the most classical, beautiful, and poetic ways what it means to be a woman and experience unrequited love, broken promises, and the strength and courage to get back up from a shattered heart, it is these women.
When I was younger, I would see my mother soothe herself with these songs on repeat. I did not understand the depth and meaning behind the lyrics, or my mother's attachment to them, because I lacked the experience and maturity to comprehend them.
These women taught me what it means to be a woman. These women helped me unpack and understand the nuance of my feelings and thoughts, after experiencing a series of devastating betrayals, usury, heartbreak, and soul-ache. Not only did they inspire me, but I would even say that these songs supported my transition from a naïve girl into a wise woman. These women took my individual microcosmic experience and magnified it into a melody that became the soundtrack to the movie of my life.
I am so grateful my mother played these songs on repeat in a way that I could inherit these gems from her, as they became enmeshed in the emotional fabric of my psyche. The messages and stories embedded in these songs infused with a cultural resonance that is familiar and aligns with my own experience of loving as a Black, African American woman. As I got older, listening to these songs felt like a rite of passage, it felt as if I had an older, experienced, big sister to take my hand and guide me on this, wild, precarious, journey of womanhood.
THE SUPREMES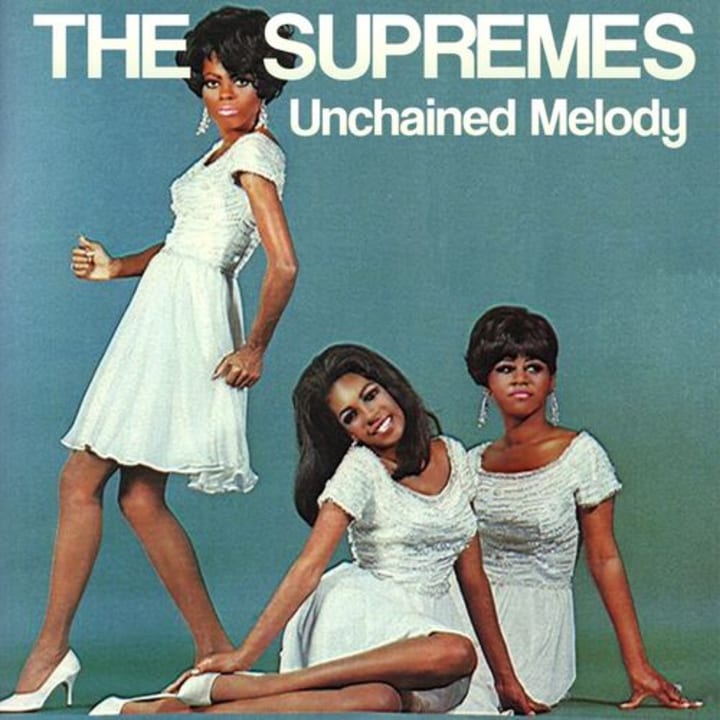 Before we had Destiny's Child, we had The Supremes. With our favorite lead, Diana Ross, and our lovely ladies Florence Ballard and Mary Wilson, The Supremes delivered many hits and classics that are still played to this day. The Supremes were on of the premiere women's bands of Motown records and they were nominated for Best Rhythm and Blues Recording for their songs "Baby Love" (1965) and they were also nominated for the Best Contemporary Rock & Roll Group Vocal Performance for "Stop! In the Name of Love" (1966). They released five songs that charted number one in the United States, with "Where Did Our Love Go" being the first.
My favorite lines from them are:
"𝔹𝕒𝕓𝕪 𝕃𝕠𝕧𝕖"
Ooh baby love, my baby love / I need you, oh how I need you / But all you do is treat me bad / Break my heart and leave me sad / Tell me, what did I do wrong / To make you stay away so long
"𝕊𝕥𝕠𝕡! 𝕀𝕟 𝕥𝕙𝕖 ℕ𝕒𝕞𝕖 𝕠𝕗 𝕃𝕠𝕧𝕖"
Baby, baby, I'm aware of where you go / Each time you leave my door / I watch you walk down the street / Knowing your other love you'll meet / But this time before you run to her / Leaving me alone and hurt (Think it over) / After I've been good to you? (Think it over) /After I've been sweet to you?
PATTI LABELLE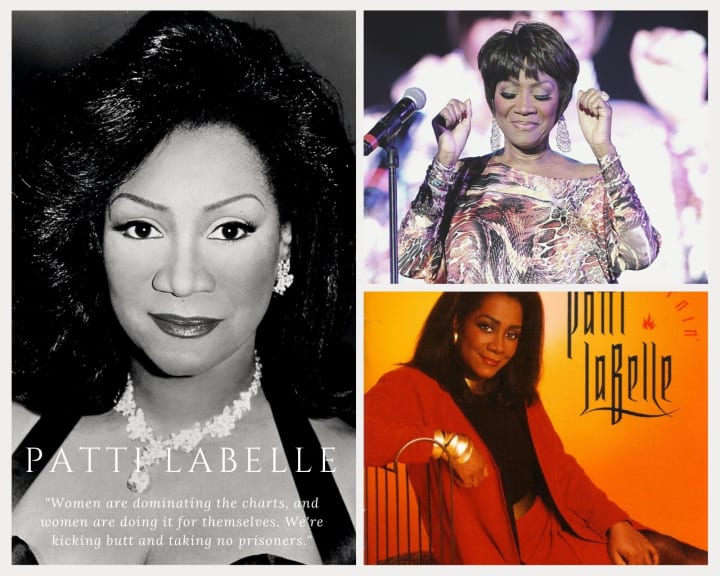 Ladies and gentlemen, may I please introduce you to our illustrious Queen Mother, Patti LaBelle.
When I tell you this woman is an amazingly talented and dynamic artists, I am underselling the sheer power and skill Patti LaBelle has demonstrated throughout her career. Miss LaBelle is a national treasure! She has received numerous awards in various categories, some of which include the Lifetime Achievement Awards and the Best Soul/R&B Artist & Gospel Artist Awards. Miss LaBelle has won two Grammy's and she has been inducted into the Grammy Hall of Fame, Legends Walk of Fame, and BET Walk of Fame.
Patti Labelle is also known as "The Godmother of Soul" for her rich, vibrant, and melodic voice. The vocal range of Patti is elite tier level and I think anyone who has listened to her growing up can agree that she is definitely a momma's classic artist.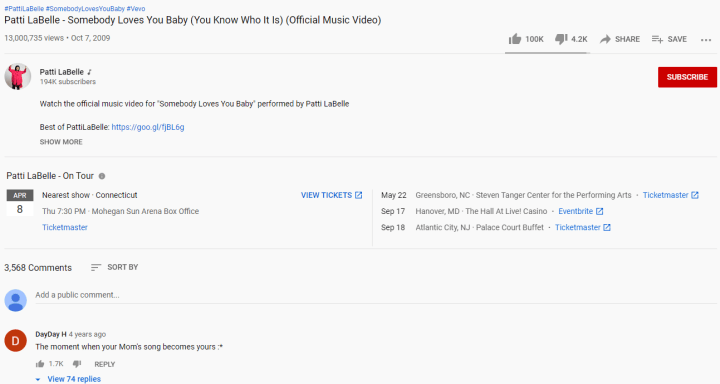 My favorite lines from her:
"𝟚 𝕊𝕥𝕖𝕡𝕤 𝔸𝕨𝕒𝕪"
It's hard to see the fear inside / As I walk away from you / And distance overcomes the miles / As slowly I pull through / And I cannot reach the world today / 'Cause I'm suffering from you / And the more I think, the more I cry / As I walk away from you

I'm two steps away / From loneliness / I'm awake / From the mess we made / I'm alive / And I'm feeling incomplete
"𝕊𝕠𝕞𝕖𝕥𝕙𝕚𝕟𝕘 𝕄𝕠𝕣𝕖"
We talk / It's always good so much / It's already understood / We spend time / I like being with you / You're mine / I wouldn't deny it's true (Even though I think about you dream about you want you so much) / There's something you gotta know

I want something more / More than a dream / More than a wish / More than a vision / I'm looking for more / More than just words / More than a promise / More that a feeling / I want something more / It's got to be more
"𝕊𝕠𝕞𝕖𝕥𝕚𝕞𝕖𝕤 𝕃𝕠𝕧𝕖"
When you love someone like you do / There's no in between, not for you / You give him everything that you got / You love him all the way or not / When you love someone it just hurts / When you've done everything to make it work / So when everything's not enough / Maybe he's just not the one

Sometimes love walks away / Sometimes love has to change / Sometimes the heart has to break / But you're not the only one / That's been hurt by love / Sometimes love's not the way / That you thought it would be / Sometimes you just got to leave / But you're not the only one / That's been hurt by love / When you love someone it's natural / To have second thoughts, should you go / It's not easy girl, being strong / You keep wondering if you were wrong / But don't you fall for that it's a game / The trying to make you feel you're to blame / To protect your heart there's no shame / You know better girl walk away
MARY J. BLIGE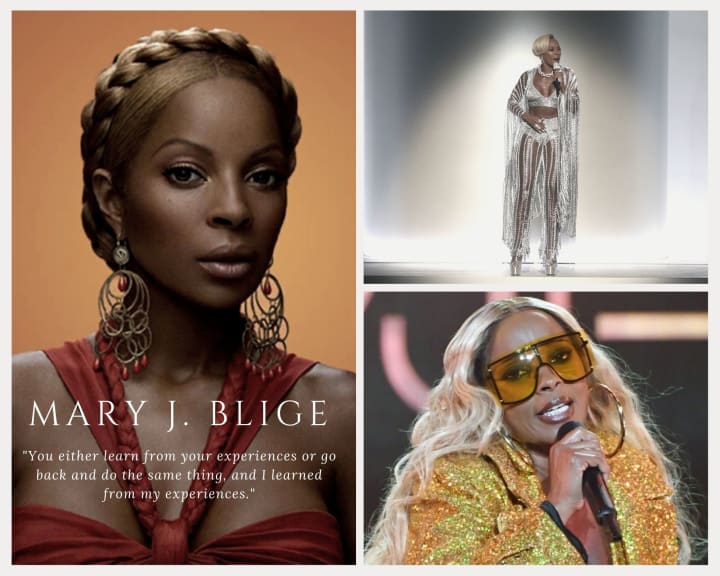 Before we even introduce Miss Mary J. can we just open with this:
"Let's get it crunk, we gon' have fun ! Up on up in this dancerie ! We got ya open, now ya floatin' ! So you gots to dance for me ! Don't need no hateration, holleration ! In this dancerie ! Let's get it percolatin', while you're waiting ! So just dance for me!"
Y'all...
This right here! Is a classic momma's bop and beyond.
Not only that, Mary. J Blige is known for rocking her infamous thigh high boots while performing, with her eclectic, full body movements of joy and passion Mary dances in a league of her own, quite often alone too, without any back up dancers.
Although imitated, Mary J. can never be duplicated
Oh my goodness, not only is Mary J. a pinch of sunshine, she is also a nine time Grammy-awarding winning artist, who received three Golden Globe nominations, including one for best supporting role in the 2017 film 'Mudbound'.
Mary J. Blige has released 13 studio albums, eight of which have achieved multi-platinum worldwide sales. A true legend and queen we stan!
My favorite lines from her are:
"ℕ𝕠𝕥 𝔾𝕠𝕟 ℂ𝕣𝕪"
I was your lover and your secretary / Working every day of the week / Was at the job when no one else was there / Helping you get on your feet / 11 years of sacrifice / And you can leave me at the drop of a dime / Swallowed my fears, stood by your side / I should've left your ass a thousand times

Well, I'm not gon' cry / I'm not gon' cry / I'm not gon' shed no tears / No I'm not gon' cry / It's not the time / 'Cause you're not worth my tears / Remember what I said / I said all
"ℝ𝕖𝕒𝕝 𝕃𝕠𝕧𝕖"
See, I'm searching for a real love and I don't know where to go / (Real love, I'm searching for a real love) / Been around the world and high and low and still I never know / (Someone to set my heart free / Real love, I'm searching for a real love) / How it feels to have a real love cause it seems it's not around /Gotta end it in this way 'cause it seems he can't be found
"𝕋𝕒𝕜𝕖 𝕄𝕖 𝔸𝕤 𝕀 𝔸𝕞"
Now she's older now / Yes, she's wiser now / Can't disguise her now / She don't need / No one tellin' her / What to do and say / No one tellin' her / Who to be / She's on solid ground / She's been lost and found / Now she answers to G-O-D / And she's confident / This is not the end / Ask me how I know / 'Cause she is me
VOCAL PHENOMS
When I tell you these women can BLOW, hunnt'y! These women are our vocal phenoms because they can deliver a note like they are the instrument themselves. Their voices are clear like spring water and as dazzling as crystal. Every single one of these women is beyond imitation and never duplicated.
From Whitney Houston's stellar, undefeated National Anthem performance, to Aretha Franklin creating the anthem for the Civil Rights Movement, to Oscar Award-winning artist, Jennifer Hudson, delivering one of the most mind-blowing musical performances in theatres, in my lifetime. These women have voices that send shivers up your spine and get you out of your seat for a standing ovation.
WHITNEY HOUSTON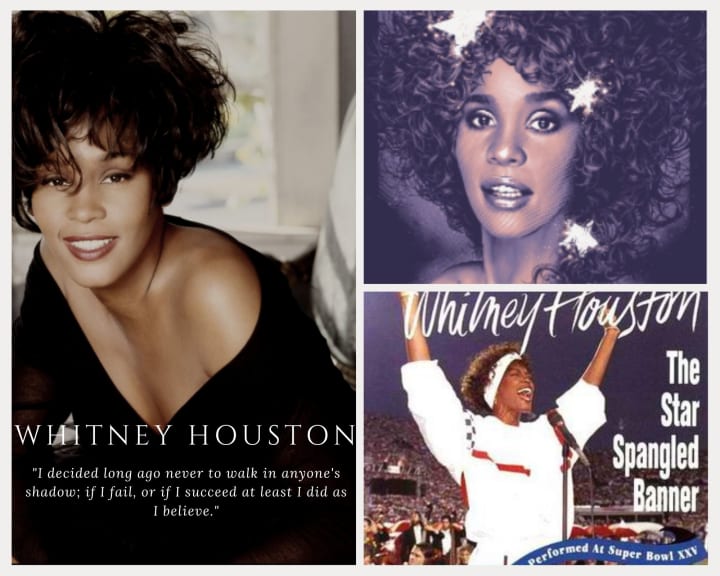 This woman right here is known as the Queen of R&B.
When I tell you Whitney Houston can sang, I mean she can saaaaang. Okay!
Whitney's legacy literally speaks for itself --
Whitney Houston holds the Guinness World Record as the most awarded female artist of all time, with more than 400 career awards. Whitney won 6 Grammy Awards and 22 American Music Awards. Not only that, as of October 2020, Whitney Houston's "I Will Always Love You" surpassed one billion views on YouTube, making her the first solo 20th-century artist to join YouTube's Billion Views Club. Can you imagine the level of drip, finesse, and divinity it takes to break records in the grave. Golly! I am telling you, these women are in some regards even beyond legendary.
Get this! She isn't finished breaking records. In October of 2020 she was also deemed by Sony Music, to officially be the first Black recording artist to put up three RIAA Diamond-certified albums, now that her second studio effort, 1987's Whitney, has been certified 10x Platinum.
In November of 2020, Whitney Houston was also inducted into the Rock and Roll Hall of Fame during the 35th annual induction ceremony.
Whitney Houston is a national treasure and American legacy that brings me great pride and joy in my heritage, because she is a cosmic embodiment of the natural talent and strength of the African American woman.
ARETHA FRANKLIN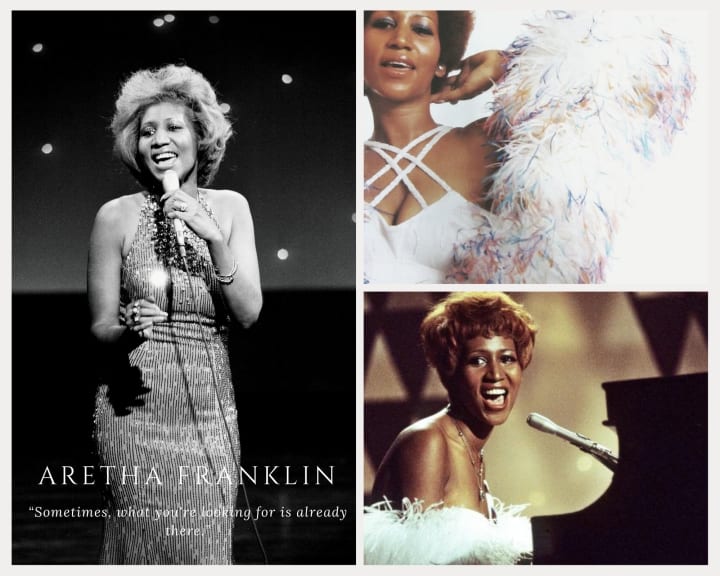 R-E-S-P-E-C-T, FIND OUT WHAT IT MEANS TO ME.
These bars are still solid nearly sixty years later. Aretha Franklin, also known as the Queen of Soul is a legend that has been inducted into nearly every music hall of fame there is, and is also among one of the most top selling African American artists in history, she has sold over 75 million records worldwide, and won 18 Grammy's. Talk about Black Girl Magic, honey Aretha Franklin is Black Girl Divinity.
Y'all better put some respeck on ha name!
Not only did Aretha Franklin use her celebrity status and position to make amazing music, but she also used her platform to advance the efforts of the Civil Rights Movement.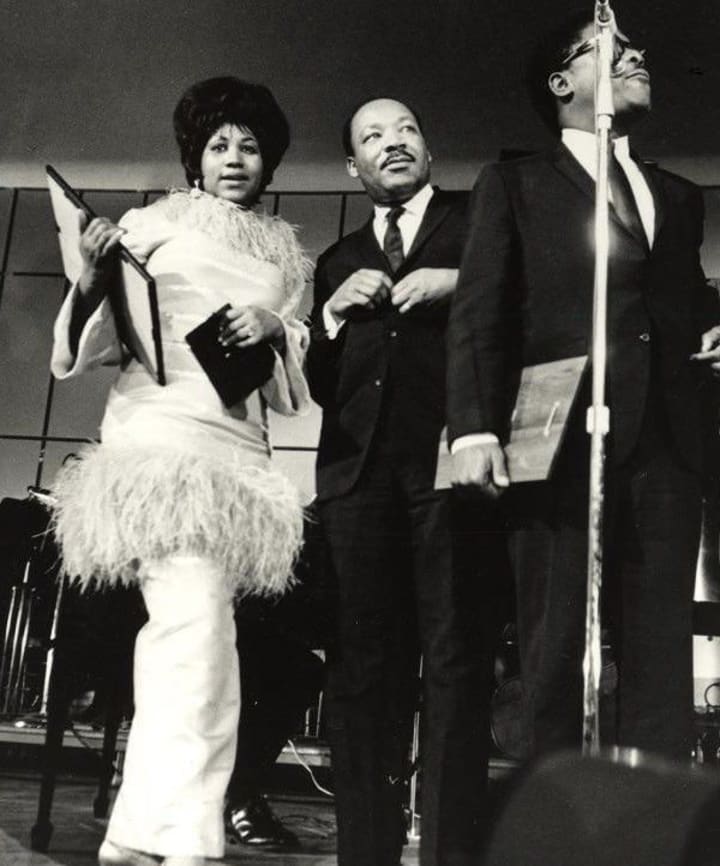 Aretha is touted as having defined the golden age of soul music during the 1960s.
Fun fact: On June 28, 1968, Aretha Franklin became the second black American woman to appear on the cover of Time magazine and in January 1987, she became the first woman inducted into the Rock and Roll Hall of Fame.
Talk about a legendary woman.
JENNIFER HUDSON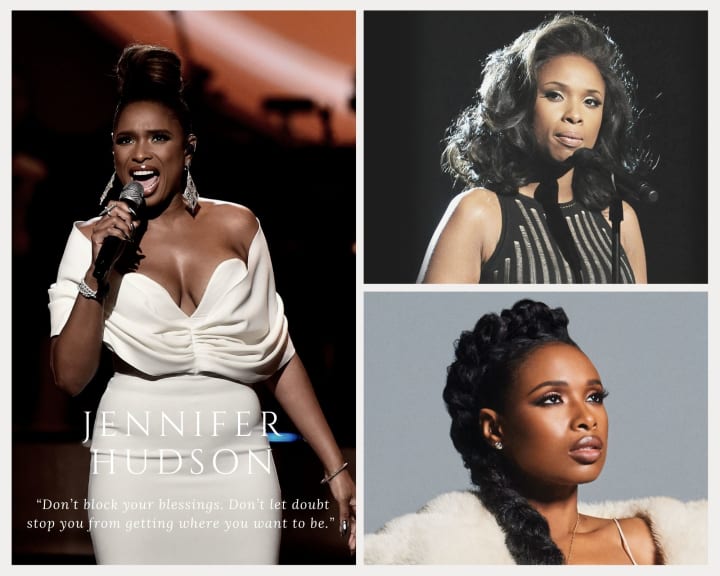 Let me let you in on a little secret. Jennifer Hudson is the only American Idol singer to ever go on and win an Oscar, in history. Jennifer Hudson is the embodiment of vocal phenom.
After her breakthrough performance in the movie Dream Girls, Hudson went on to collect an Academy Award, Golden Globe, BAFTA Award, and Screen Actors Guild Award for her role as Effie White in the film. This woman is star-studded-awesome, decorated in various accolades of achievement, Jennifer Hudson came into the music industry like lightning, take the world by storm.
Of course my favorite song and performance of hers is --
GAME CHANGERS
These women in this section are not only game-changers, but they are trailblazers that charted and directed the course and trajectory of the music industry. This section is dedicated to women who are literal grenades, every step they took in the course of their careers set off a shower of fireworks, illuminating and inspiring the minds of many artists to come after them. Their careers, contributions to the culture, and impact on the world and music industry speaks for itself.
LIL KIM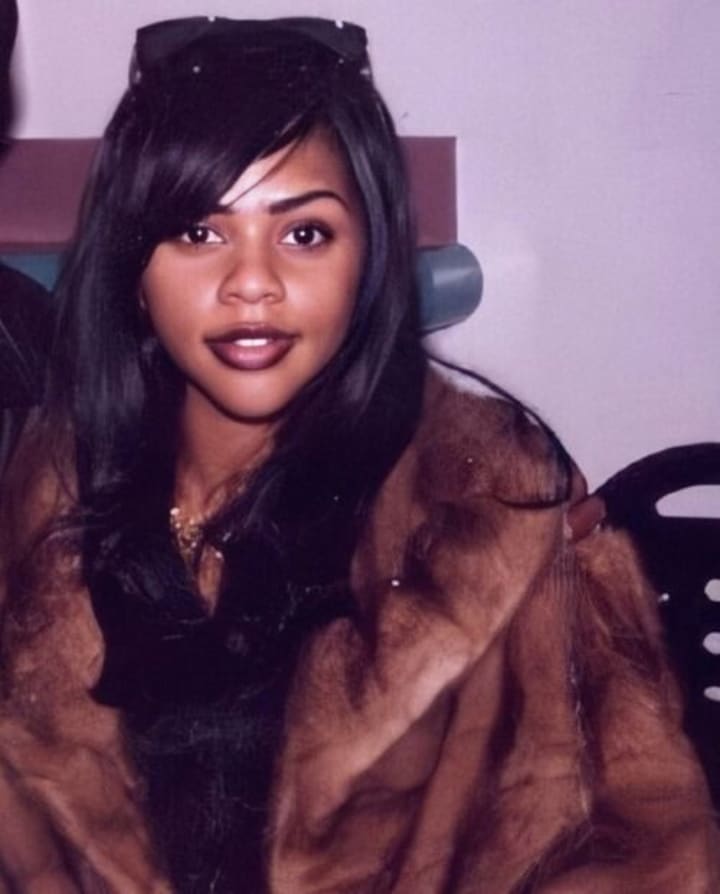 Let me tell y'all something -- before there were hot girls, barbies, and e-thots, we had Lil Kim.
Lil Kim paved the way and created the fashion statement foundation that inspired women in Hip-Hop's fashion to this day.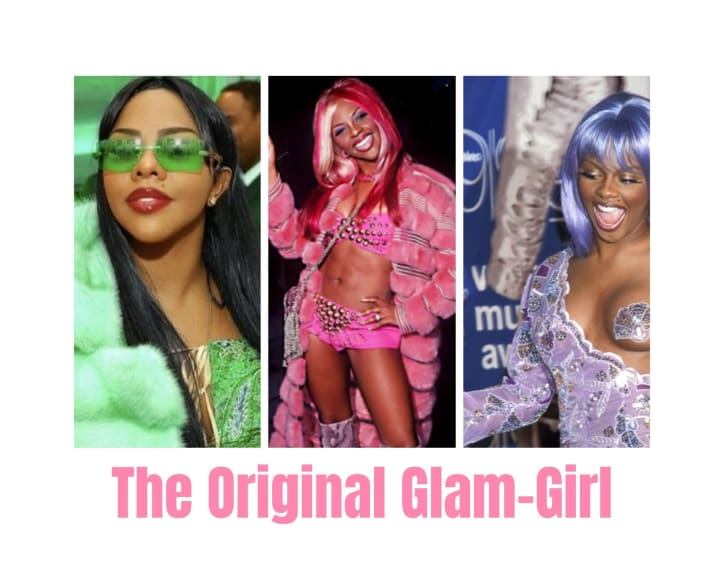 Lil Kim challenged sex stereotypes in the male dominated industry of Hip-Hop by provocatively taking charge of her sexuality in a way that at the time was taboo. Not only did she embrace her sexuality, but she also demonstrated it in a feminine, and creative way.
Not only that she ruled for quite some time as the Queen of Hip Hop, along with the King Notorious B.I.G.
Hot take: Lil Kim is the blueprint for Nicki Minaj's entire career. And I have to say it, because its facts, but that's another topic for another day. However, I love them both for different reasons.
Unfortunately, Lil Kim's stellar career came to a screeching halt when in 2005 she made a mistake that would cost her, her career. Going to jail to protect her friends. District Judge Gerard Lynch said of the matter at the time: "Going to jail to protect violent men with guns is not heroic."
Within two years of Kim's one year, 05 sentencing, Nicki Minaj, 25 at the time, would be released in 2007, on the music scene, as a fresher, newer, Hip-Hop video vixen than 33 year old, Lil Kim.
[And that's the tragic part of being a woman in the Hip Hop industry, because their careers appear to come with an expiration date that is attached top the viability of their beauty -- let us also not forget, that when Cardi released, they told Nicki to move over, and that she was also "washed up" hip-hop phenom who needed to let it go.]
AALIYAH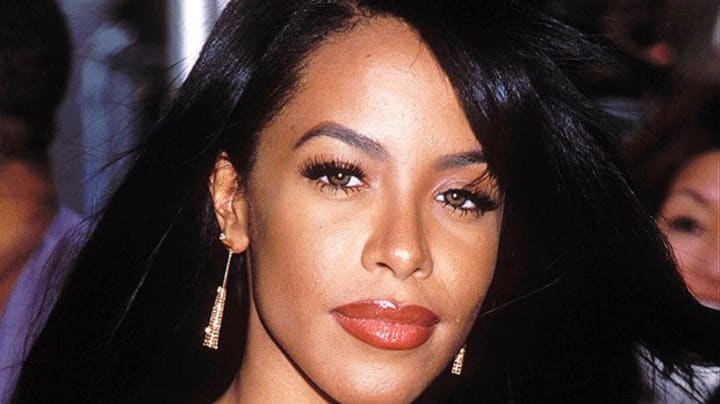 The Princess of RnB and the Queens of Urban Pop, Aaliyah.
Although her legacy was abruptly ended, in the short time that she graced us with presence, she changed the game and created waves we still feel today. Aaliyah was a ray of sunlight and vibrant young woman with a refreshing message delivered in a futuristic way truly ahead of its time.
Aaliyah was not only an amazing dancer and angelic singer, but she also tried her hand in acting and featured in the movie Queen of the Damned. Also in my humble opinion, Aaliyah is thee pioneer of the dreamy, airy, fairy voice that has began to dominate the RnB sound of women in the industry today.
My all time favorite song from Aaliyah is Rock the Boat!
DESTINY'S CHILD
From 1997 to 2006, Destiny's Child took the world by storm. Oh my gosh. Just look at their catalog of BANGERS. Complete heat:
"𝔹𝕠𝕠𝕥𝕪𝕝𝕚𝕔𝕚𝕠𝕦𝕤"

"ℂ𝕒𝕥𝕖𝕣 𝟚 𝕌"

"𝕊𝕒𝕪 𝕄𝕪 ℕ𝕒𝕞𝕖"

"𝔹𝕚𝕝𝕝𝕤, 𝔹𝕚𝕝𝕝𝕤, 𝔹𝕚𝕝𝕝𝕤"

"𝕊𝕦𝕣𝕧𝕚𝕧𝕠𝕣"

"ℕ𝕒𝕤𝕥𝕪 𝔾𝕚𝕣𝕝"

"𝕁𝕦𝕞𝕡𝕚𝕟, 𝕁𝕦𝕞𝕡𝕚𝕟"

"𝕃𝕠𝕤𝕖 𝕄𝕪 𝔹𝕣𝕖𝕒𝕥𝕙"

"𝕊𝕠𝕝𝕚𝕕𝕖𝕣"
Is there anything more to say? There can't quite possibly in my lifetime be an American girl group as amazing as Destiny's Child. They are three-time Grammy award winning group that in total have sold 75 million worldwide including albums, video albums and singles.
T.L.C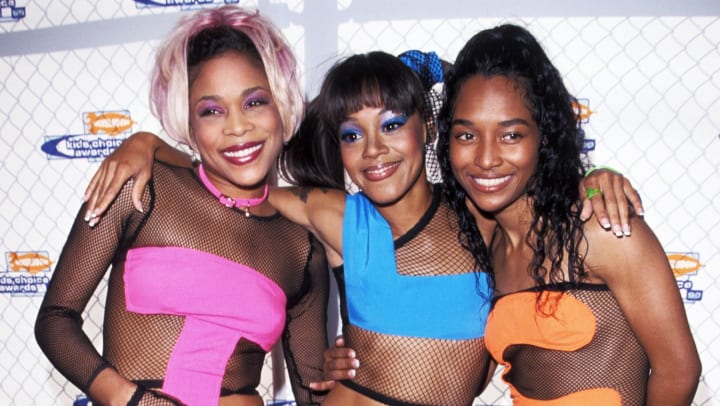 Another iconic girl group is TLC. We love these ladies dearly. They came out with national hits such as "No Scrubs" and "Don't Go Chasing Waterfalls." These girls were glamorous, classy, and cool and their music videos were well ahead of its time.
MISSY ELLIOT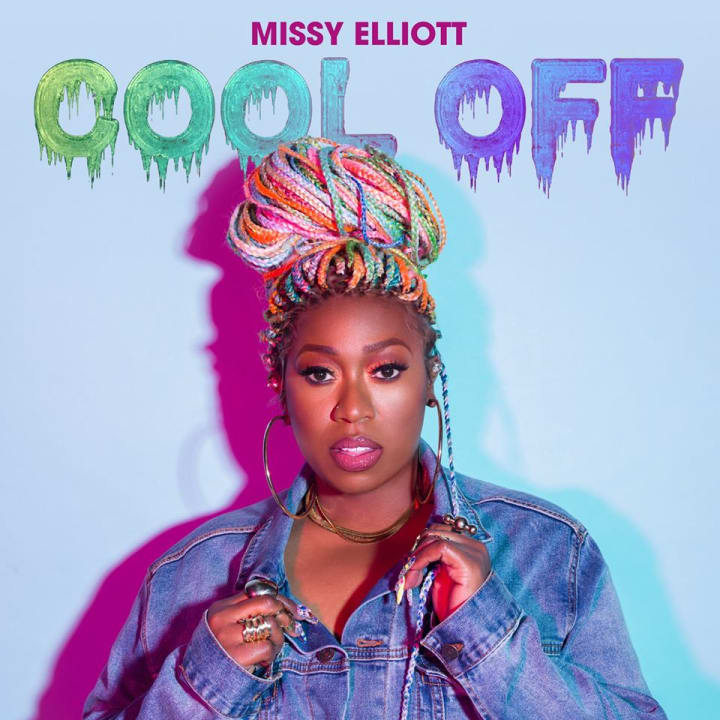 MISSY ELLIOT.
MISSY ELLIOT.
MISSY ELLIOT.
MISSY ELLIOT.
AGAIN, MISSY --
ELLIOT.
Missy Elliot is more than a music artist. She is a visual experience and a creative genius. Her larger than life music and style has earned her the position as the only female rapper who's had six certified-platinum albums. Missy Elliot also has six Grammy awards under her belt.
My favorite Missy Elliot songs?
"𝕊𝕙𝕖'𝕤 𝕒 𝔹****"

"𝔾𝕖𝕥 𝕌𝕣 𝔽𝕣𝕖𝕒𝕜 𝕆𝕟"

"𝕎𝕠𝕣𝕜 𝕀𝕥"
MEGAN THEE STALLION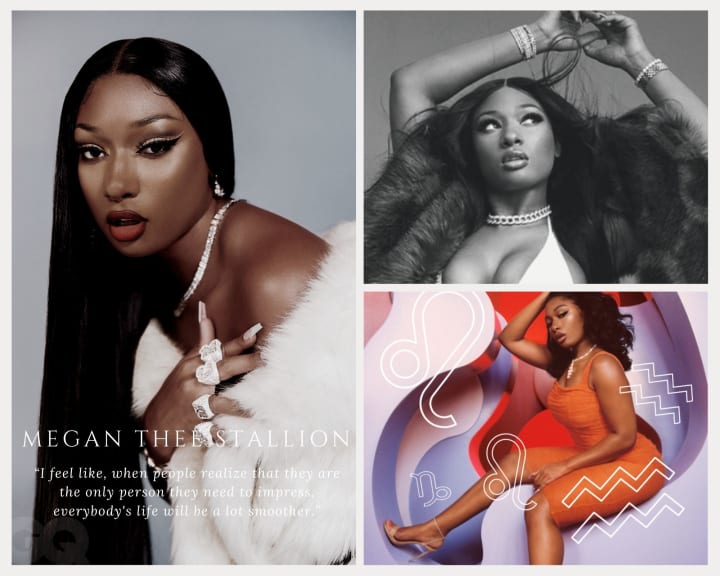 Our Texas-honey, Megan Thee Stallion, is a budding icon with major star power. To date, she has collaborated on songs with major women in the industry such as Beyoncé, Nicki Minaj, and Cardi B (talk about wow!).
From what I remember, Megan thee Stallion took off and went major viral after her major breakthrough single 'Big Ole Freak' which was certified Platinum by the RIAA for selling over 1 million units.
Not only that Megan is literally so beautiful, dynamic, down to earth, and sweet. Her rap flow and delivery is packed with bravado, sex-positivity, and finesse. She also coined the new "Hot Girl" movement -- which she defines as "being unapologetically YOU, having fun, being confident, living YOUR truth, being the life of the party, etc."
My favorite Meg songs?
"ℂ𝕒𝕡𝕥𝕒𝕚𝕟 ℍ𝕠𝕠𝕜"

"ℂ𝕒𝕤𝕙 𝕊***"

"𝕎.𝔸.𝔹"
SOUL SISTAHS
A soul sistah is someone you may not be blood family to, but is connected to you on a deeper, more spiritual level (hence -- the soul aspect). A soul sistah is someone you wouldn't mind going down the middle of the road with. She's the friend with the secret sauce, the magic potion, the liquid gold wisdom, and an eccentric charm that is intoxicating and inspiring.
What would the human experience be without getting in touch with our souls? This section is dedicated to our top soul-sistahs who helped women across the world get in touch with their soul-side. Their music takes you to the next level of your feelings and into something more cosmic and etheral than the sometimes superficial and common content promoted in mainstream media.
These women not only make you feel, they make you think, wander, and transcend. They shift you gaze from the perceptual prison of the mainstream, and set your focus beyond your immediate world and society to challenge social norms and conventions in order to live in one's authentic truth.
INDIA.ARIE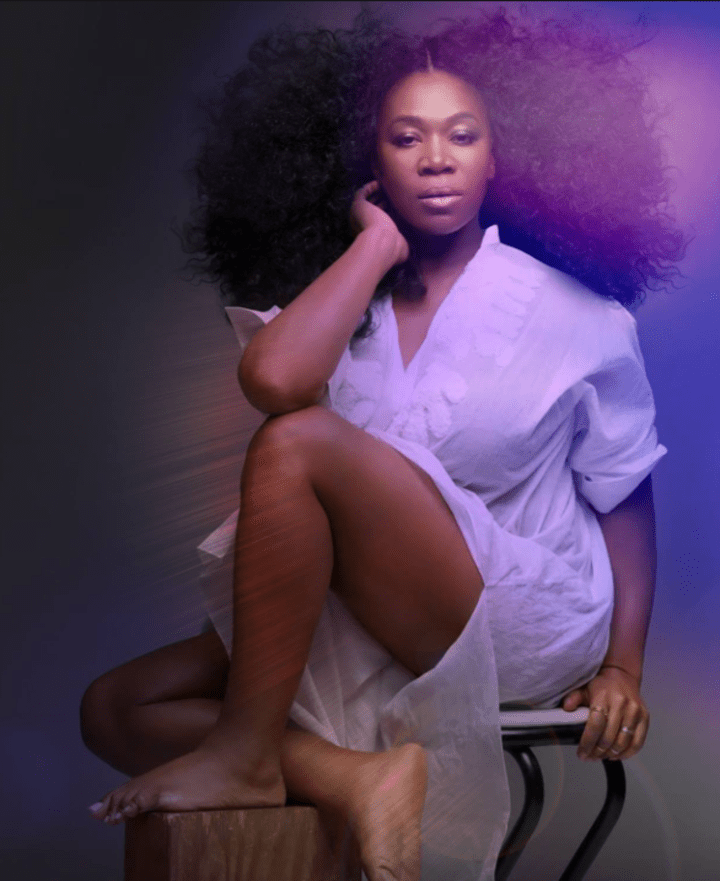 Black ladies in America and abroad, do we remember when India Arie gave us the freedom to embrace the idea that we are not our hair? Wow! What a powerful message from an inspiring queen. India Arie is a four time Grammy award winning artist.
India Arie taught us young girls and women to love and embrace ourselves, our natural essence and beauty. India encouraged us to be in heathy relationships that were more than skin deep and superficial.
My favorite lines from her are:
"𝕍𝕚𝕕𝕖𝕠"
Sometimes I shave my legs and sometimes I don't / Sometimes I comb my hair and sometimes I won't / Depend on how the wind blows, I might even paint my toes / It really just depends on whatever feels good in my soul (Ooh, ooh, ooh)
I'm not the average girl from your video (Oh) / And I ain't built like a supermodel (Oh) / But I learned to love myself unconditionally / Because I am a queen / I not the average girl from your video / My worth is not determined by the price of my clothes / No matter what I'm wearing I will always be / India.Arie
ERYKAH BADU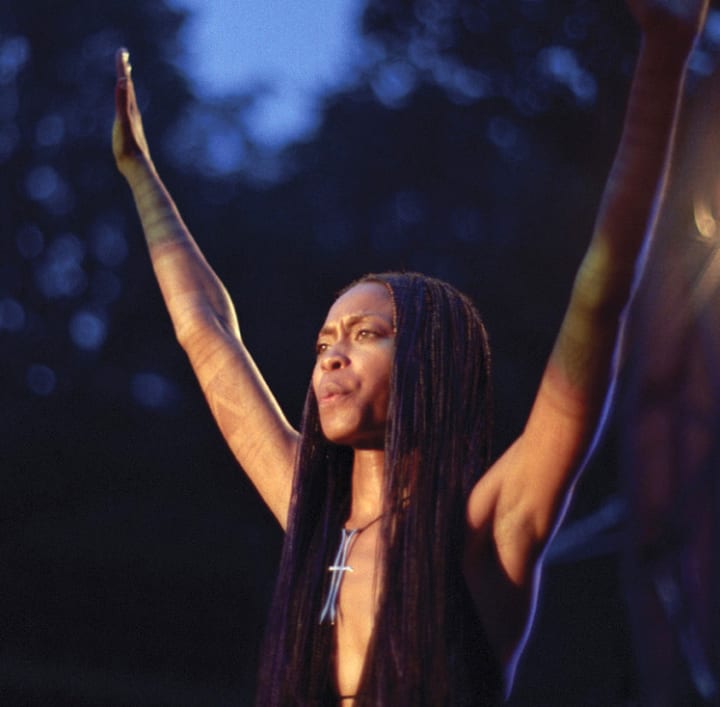 Enter: The Queen of Neo-Soul.
Miss Erykah Badu everybody. The mystic queen mother icon, dipped in cosmic energy, and emitting an ethereal frequency only unique to her own universe, Erykah Badu is a household name and icon. Erykah Badu is the bigger, wiser, sister we all can gain jewels of wisdom from. She is a creative and eclectic spirit that has left her mark on the music industry and the world at large.
My favorite mixtape of hers [and I mean from first song to the last] is 'But You Caint Use My Phone'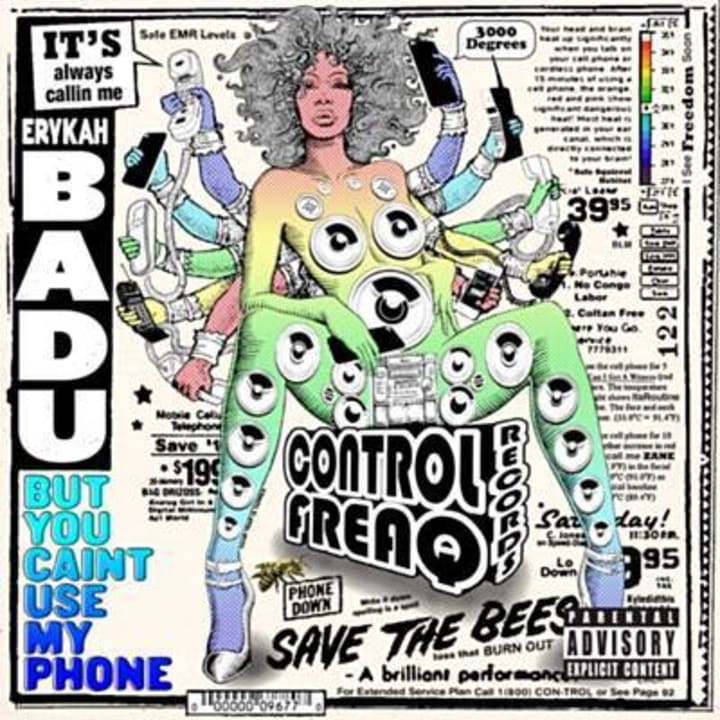 LAURYN HILL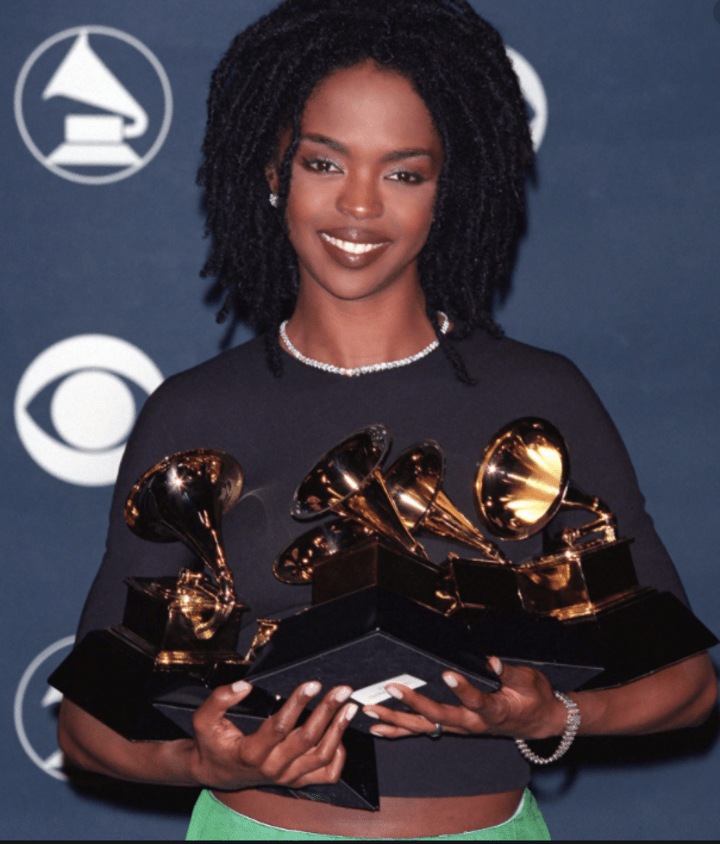 In 1998, Lauryn Hill became the first woman artist to take home more than one Grammy in a single night and her album 'The Miseducation of Lauryn Hill' is also credited as the first Hip-Hop album to earn Album of the Year.
At the time Lauryn came out she was a breathe of fresh air in an industry that encouraged women to be provocative, lewd, and shameless.
What is amazing about Lauryn Hill is that she capped her legacy at her first album, which did tremendously well, and she was only 23 years old! Lauryn remained true to herself and left the industry early to live a private life and eventually become a mother. Lauryn left the music industry, despite her massive success, because she did not feel supported by her label.
Lauryn Hill embodies soul-sistahhood through her lifestyle of leadership. Not only does she talk the talk, but she walks the walk, and when things no longer serve Lauryn or her truth, she bounces. I think that's something we can all learn from.
SOLANGE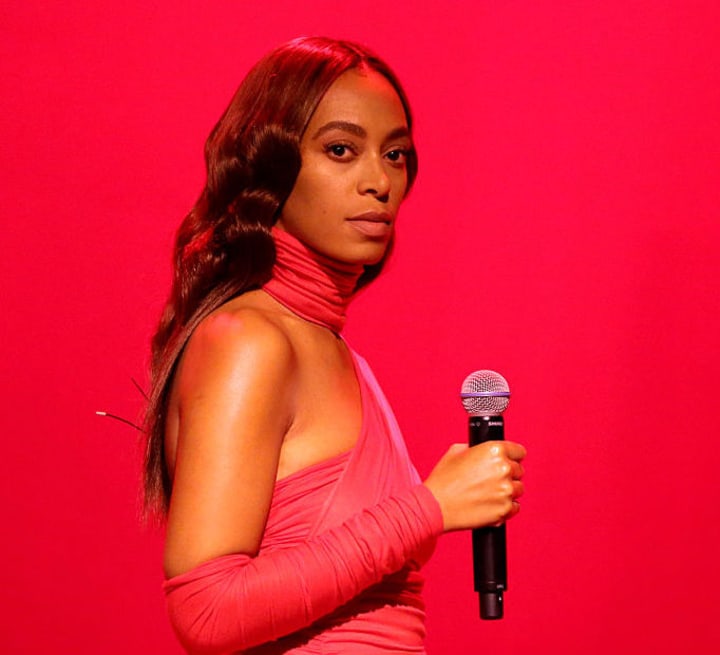 Solange is a lovely woman in a lane and league of her own. Although she is often seen as Beyoncé's "little sister" Solange has dropped some big gems. During the earlier years of the 2000s while Destiny's Child boomed with a mainstream message of money, love, and fashion -- Solange began her blossoming eclectic career of soft, prosy, indie music that alights one's soul. Solange's career demonstrates that she cares more about aesthetic, meaning, and art, than clout.
Her breakthrough album that 'put her on the map' is A Seat at The Table, featuring the hit-song "Don't Touch My Hair" and "Cranes in the Sky." Fans and new listeners alike swooned over the visuals, vibes, and meaning Solange brought to our understanding of Black hair and Black womanhood.

Our African sisters from the motherland have major talent and major stars among us in the music industry. Among them both classic and contemporary artists who have given us versatility, inspiration, and vibes that groove us to move!
CLASSIC
SADE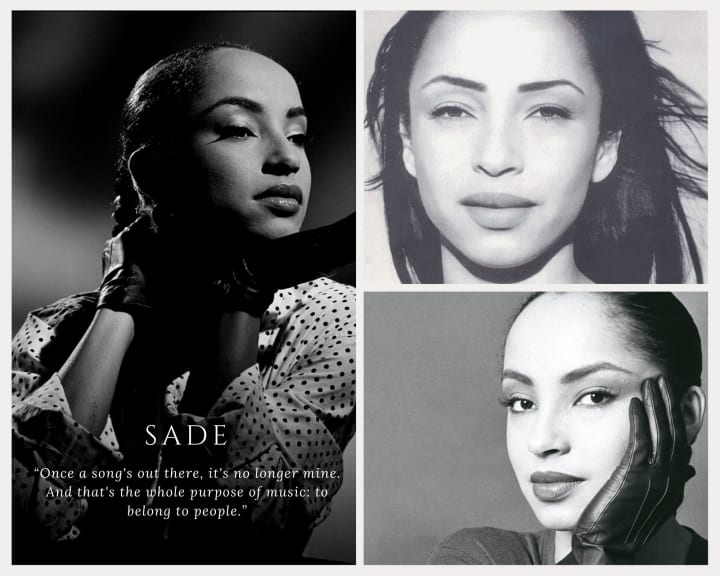 Hailing from Ibadan Nigeria, Sade is an icon musician of African descent. Sade is known for her smooth, jazzy, soulful voice that carries smoothly like running water.
Her songs The Sweetest Taboo and Smooth Operator peaked at #5 on the Top Billboard, respectively in 1985 and 1986. Like Lauryn, Sade is a very private and reserved woman who slipped away from the music scene after her career peaked, and went on to lead a very private life outside of the eye of the public.
CONTEMPORARY
DOJA CAT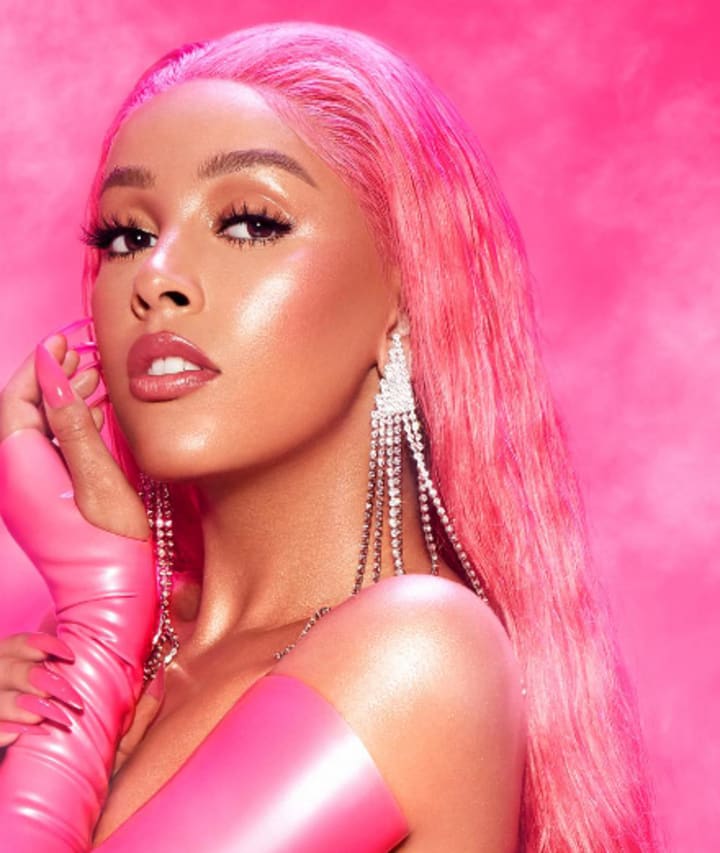 Doja Cat!! A lot of people don't know this but Doja Cat is White American and South African.
Doja Cat is absolutely stunning and she makes living look like art. I have to say that I do believe her informal take-off of going viral and getting mass recognition came after the release of her adorable "cow" video which I am sure we are all familiar with...
However, since these days, Doja has dedicated herself to serving looks and giving us an entirely different side of her that is captivating and dramatic.
In 2020 Doja partnered with Nicki Minaj to create and release her #1 Billboard hit "Say So." And might I say, the visuals in the video are gorgeous.
We hope to see Doja's career continue to skyrocket.

Bap! Bap! Bap!
We gotta put it up one time for the Caribbean! Shout out to our west indian queens dem from all across the Caribbean! These women hail from various small islands but have made enormous waves in the industry, I'm talking tsunami, typhoon, hurricane -- taking over for the 99 -- type of waves. The level of impact and legacy these women have created for themselves and their nations are unmatched. These women are stand alone icons that shatter ceilings, challenge social norms, break records, and top the charts. Talk about walking dynamite, because these ladies are literally the bomb, periodt.
BARBADOS
RIHANNA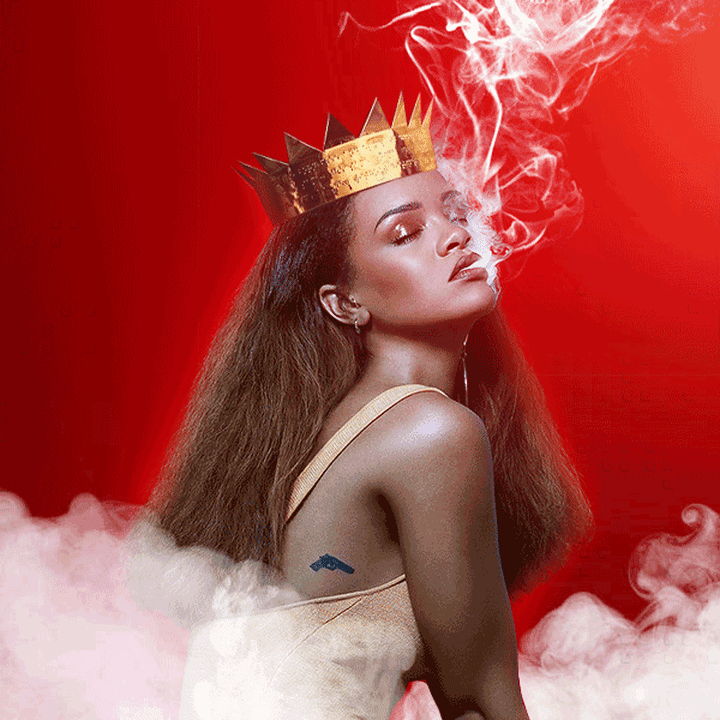 Rihanna captured the hearts of millions and took the world by storm when she came out in the early 2000s with Pon de Replay, to Umbrella with Jay-Z, and Oh NaNa with Drake. Rihanna has had some major features and hits, with my favorite song ever being: work. Come on ladies, we all know that song was hot! Especially with the Caribbean and hip-hop techno fusion, the song has a classic vibe that just doesn't get played out.
Rihanna does so much more than her music, that her music in some regards feels like a bonus gift pack, to the massive contributions she already brings to our society by using her celebrity platform.
In 2017, Rihanna launched Fenty beauty, a make up brand that revolutionized the way women of color experience the beauty industry. This feat brought visibility to dark skin women like myself and other women of color who do not have adequate shade representation in our make-up selection at the department store.
In 2012, Rihanna also launched the Clara Lionel Foundation, which "supports and funds groundbreaking education and emergency response programs around the world."
Rihanna also currently has nine Grammy awards under her belt and 33 nominations.
Can we just say: bad gyal RiRi has shown out this last decade. I mean sis is not only a music master, but she is also a business mogal and philanthropist.
TRINIDAD & TOBAGO
NICKI MINAJ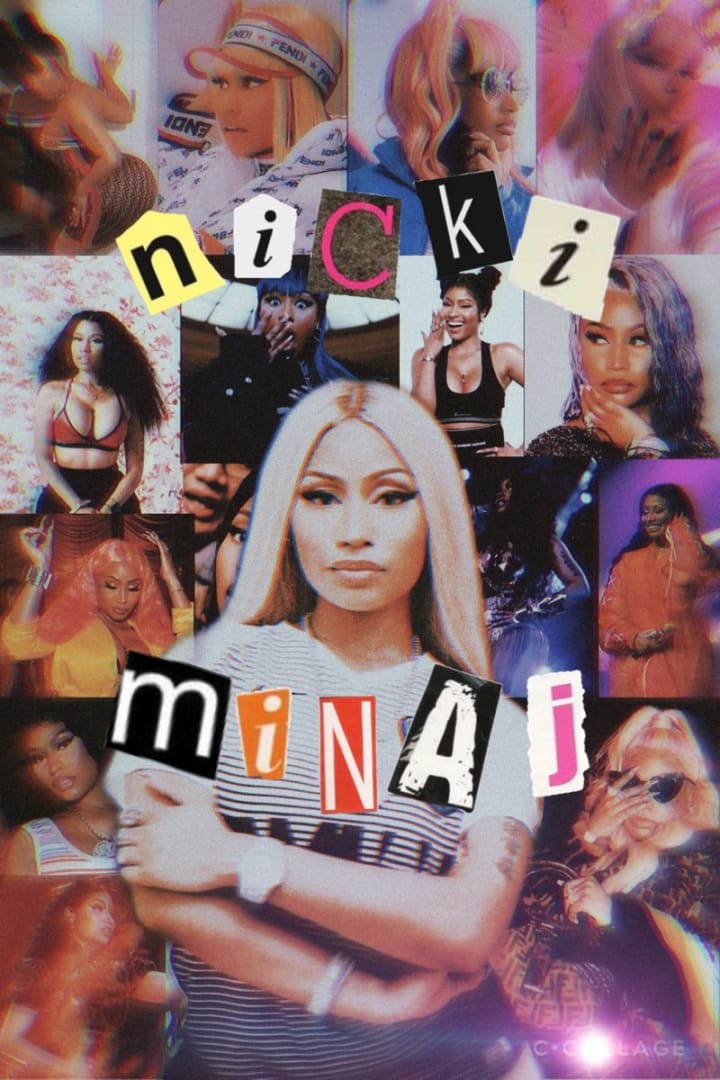 Oh my gosh! Our Trini likkle good body barbie Nicki Minaj, we stan! Nicki is a rap legend, from her days back with Young Money Cash Money, Nicki has been an iconic feature of the hip hop industry, as a woman who dominated the charts and various song features for an entire deade. Nicki has pulled a feat that many women in the industry were not able to pull off.
Let us not forget she is the female Weezy, she makes this thang look easy!-- come on now, y'all know this. We are her SONS. Nicki sonned us for an entire decade and we still stan, because she is "the generous queen! Ask Ms. Ellen" (please tell me you are picking up what I am entirely laying down.)
Nicki has gotten the music industry all the way together and has dropped bars that drove us to collect our edges and snatched our souls. Do we remember her verse from Motorsport:
Uh, yo, watch your man, then you should watch your mouth / B****** is pressed, administer mouth to mouth / You see them stats, you know what I am about / I am the champ, I'm Iron Mike in a bout / Attention, I'ma need you to face front / You don't want smoke with me, this is a laced blunt / Rap's Jackie Chan, we ain't pullin' them fake stunts / My crown won't fit on your bum-ass lace fronts (Uh) / You bitches catchin' a fade, shout out my nigga Lil Boosie / All of your friends'll be dead, you can get hit with that Uzi / I call him Ricky, he say he love me like Lucy / Get you a straw nigga, you know this pussy is juicy / This Givenchy is custom made, now you can't get it at Saks though / I don't work in no office, but they copyin' and that's facts though / I ain't tryna be violent, but if Nicki on it, it slaps, ho / Get you lined for that paper like a loose leaf when that strap blow.
Like do you see how many double entendres and bangers are in that one verse. Jeez! Do we remember her earlier careers verses? It is enough to say, she has come along way from (Roger That):
I'm in the collard green 6, cornbread in the guts / Got the Halloween kicks, trick-or-treating the clutch / C'mon n****, is you tricking or what? / Flow, flow tighter than a d*** in the butt
Now I must admit when I first heard this verse in the sixth grade I found it absolutely comical and still a banger. Like yas to collard greens and cornbread, but also, wait Nick what did you just say? Lol! Nicki's vulgarity, punchy flow, and unabashed speech is what makes her, her. Not to mention her various personalities -- Roman and Martha.
Not to mention Nicki Minaj is the only female rapper to win best Female Hip-Hop Artist award for seven years straight, she has collected 12 out of 33 nominations. Talk about Queen status.
JAMAICA
SPICE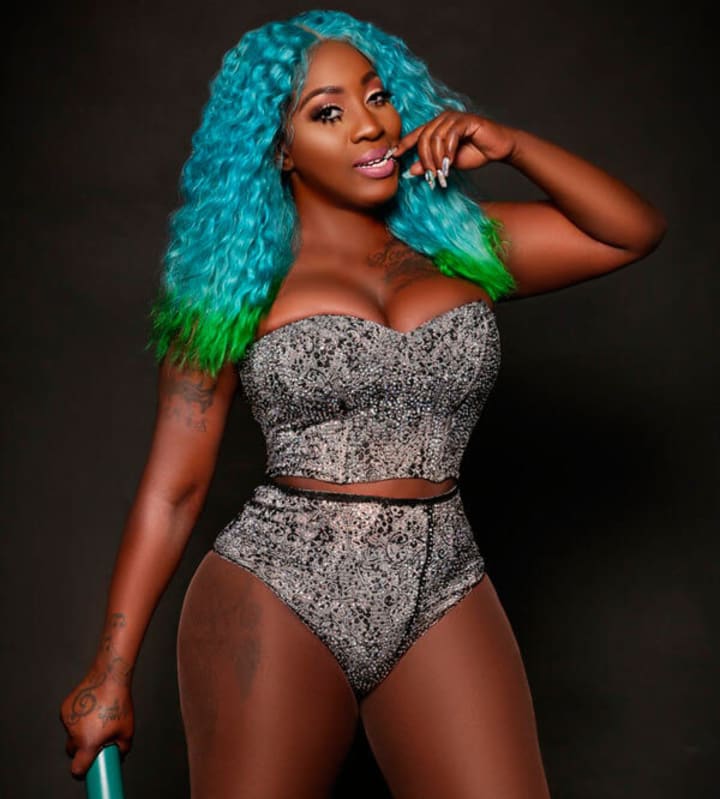 Oooooouuuu!! My girl Spice, isn't she just gorgeous! What a baddie! Spice is literally thee Queen of Dancehall. Hailing from the beautiful island of Jamaica, Spice began to feature on the American reality TV Show Love and Hip Hop in 2018. Spice is a vibrant woman, with a firecracker personality, killer dance skills, and an empowering message for darker skin women who ofte feel alienated by our Eurocentric society.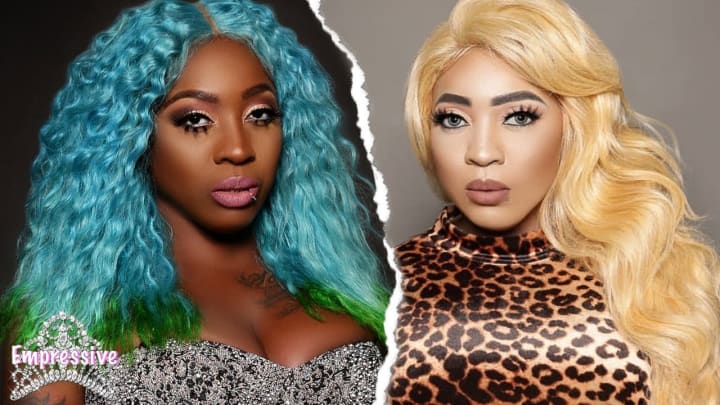 I immediately became a Spice fan in 2018 when I heard about her stunt wherein she pranked the public by pretending to bleach herself in order to inspire controversy. In her home island of Jamaica, bleaching in a major problem among the Blacks because they want fairer and brighter skin. In her song "Black Hypocrisy" she challenged the notion of not being good enough in one's own skin, by pretending to have done a full body bleach in order to propel her career forward. She was met with immediate backlash and outrage because the change was so dramatic, sudden, and overwhelming.
However, the twist of the situation is that she used the reaction of the public as a mirror to highlight how they are hypocrites and can only see major changes in the bigger picture, but cannot take into the minor ways in which they replicate those same self hating behaviors by perpetuating colorism and bleaching themselves in their private lives.
Spice's public demonstration of colorism in action and complementary song "Black Hypocrisy" was major and took a stand on behalf of the protection of dark skin women and our integrity. There is a documented trend that the longer nonwhite persons stay in the Hollywood industry, often the lighter they become. I am glad Spice took a stance on and made a statement about colorism, because it brings visibility to darker women of color whose nuanced experiences of racism and colorism, work to defeat our self esteem.
KOFFEE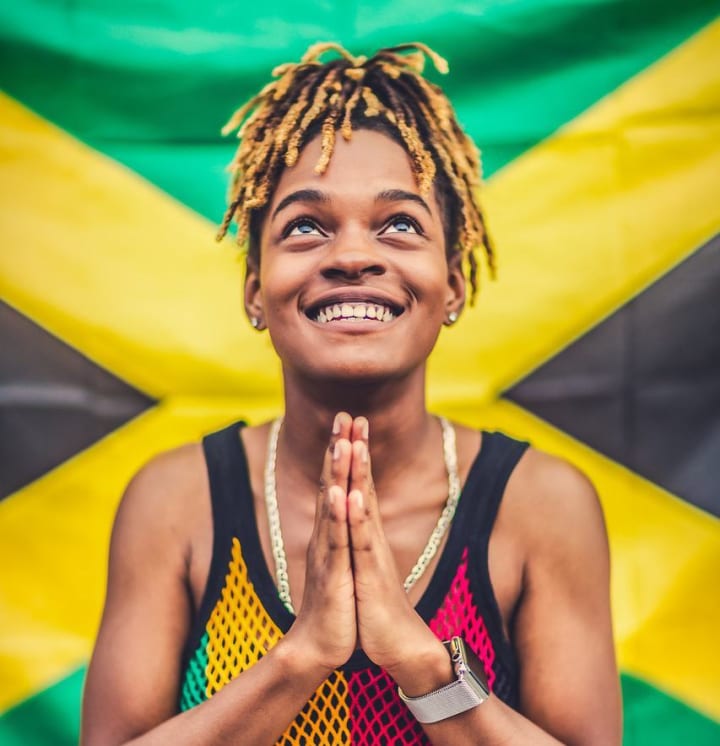 Let me tell you something, this girl is amazing. At only 19 years old Koffee collected the 2020 Grammy Award for Best Reggae album, making her the youngest reggae recipient in history and the first woman to take home the award since 1985. Talk about impact, coming in totally on ten, packing HEAT! With her charting top song being: Toast! -- A gorgeous, inspiring melody, filled with positive messages, good cheer, love, and peace. The lyrics are literally so beautiful and wholesome:
Toast, yeah (mmh yeah) / Say we a come in wid a force, yeah / Blessings we a reap pon we course inna hand full / We nuh rise and boast / Yeah we give thanks like we need it the most / We haffi give thanks like we really supposed to, be thankful!

Blessings all pon mi life and / Me thank God for di journey, di earnings a jus fi di plus (yeah) / Gratitude is a must, yeah / Me see blessings fall by mi right hand / Buss a toast fi di friends weh tek off heavy load / One time did sit down inna class and we bored / Den Oli say do road and mi gwan wid di road
I can easily say Toast is one of my favorite songs in life. It is so unique and refreshing. I can't wait to see Koffee thrive and excel wherever her career takes her next!
SISTER NANCY
Last, but certainly never least, our queen trailblazer and dancehall waymaker Sister Nancy, the first female dancehall DJ and singer in history! Sister Nancy is best known for her classic hit song "Bam Bam" but she dominated the Caribbean, dancehall music scene for over two decades! Sister Nancy opened the door and made a way for women to come into a male dominated industry and sprinkle our seasoning into the musical sauce of life.