Black Music History Month
Punk, Metal and Hardcore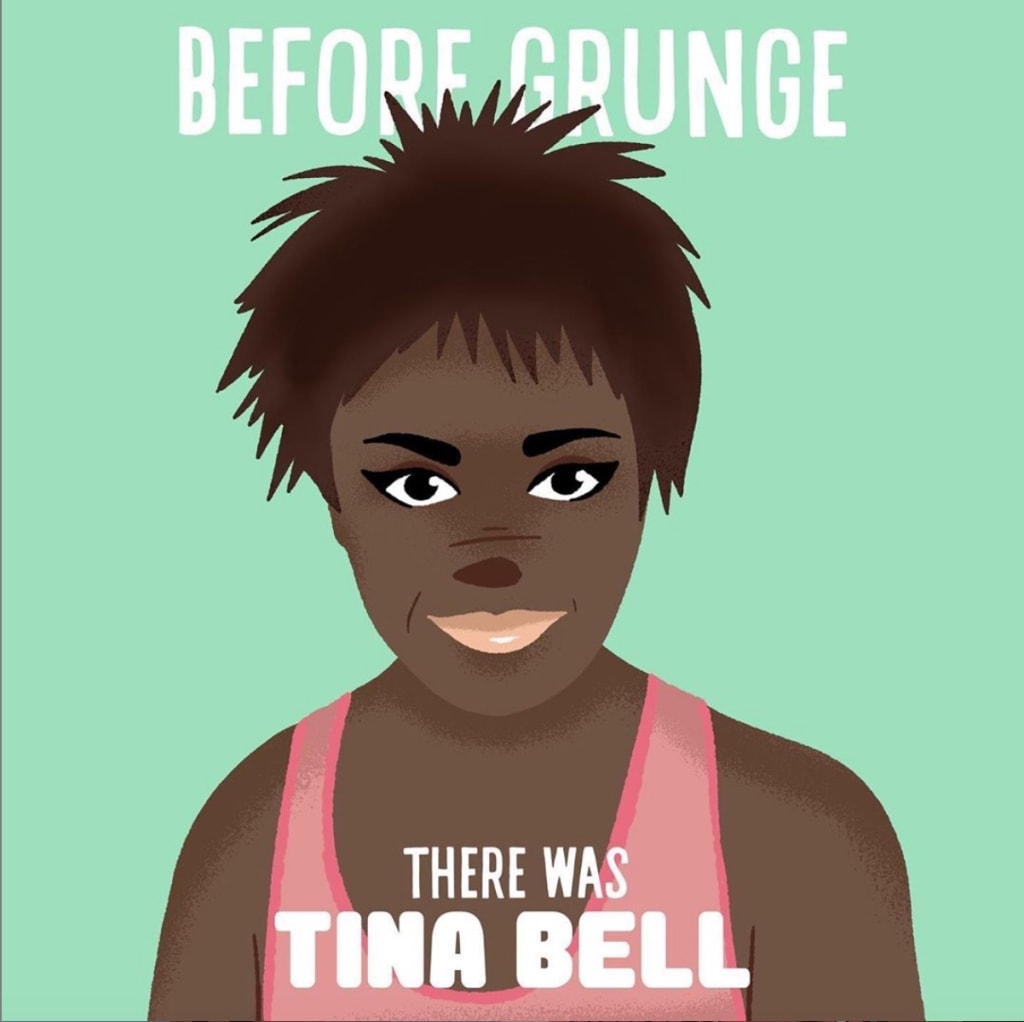 Grunge Goddess Tina Ball of Bam Bam. Art by Howell Edwards Creative.
Black History Month takes place each June, as initiated by President Jimmy Carter in 1979 and commemorated by President Barack Obama in 2009. In 2016, Obama noted that Black artists and musicians help the country "to dance, to express our faith through song, to march against injustice, and to defend our country's enduring promise of freedom and opportunity for all." This statement rings true, especially as we find ourselves in this moment of history in the making.
As we look to Black artists who contributed to unexpected music genres – genres that have historically swept their names aside when the history books are written – we think of punk, metal, and hardcore, for these genres would be completely different without these pioneers and their talents.
...
Before there was Grunge, there was Tina Bell from Seattle Grunge pioneers, Bam Bam. Founded in June '83 by guitarist/producer Tommy Martin, Bam Bam's original line up included Pearl Jam & Soundgarden drummer Matt Cameron, Called InSic singer/guitarist Scotty Buttocks, and the stunning rock goddess Tina Bell on vocals. Tina was one of the first African American women to front a punk, grunge, hard rock band.
Bam Bam were musical pioneers in Seattle; experimenting with sludged rhythms, chopped timings, odd scales, tunings, and styles. Bam Bam was the first Seattle band to work with Reciprocal Recording Studios and producer Chris Hanzsek. (Many of the bands he produced in the mid-1980s are regarded as the foundation of Seattle's "Grunge" scene.)
The band filled venues and listening rooms in Seattle through the early 90's as Grunge continued to evolve. The Bam Bams shared bills with Alice In Chains, Soundgarden, Faith No More, Guns N Roses, Candlebox, Temple of the Dog, Room 9 and more. In later years, they would perform with White Zombie, Yngwie Malmsteen, Joe Satriani, and more.
This was the only band Tina Bell was ever in, which is shocking given her voice, poise, beauty, and confidence on stage. Bandmates describe her musical influences to include The Doors, early Metallica, Janis Joplin, and Chrissy Hynde of The Pretenders.
Tina Bell would eventually call it quits. Her band mates described her as being denied her rightful throne, despite everyone in Seattle knowing and adoring her. Facing adversity and fighting racial injustice in her scene for years left Tina feeling confused and unaccepted – and she wasn't going to put up with it anymore.
Bell is not the only black trail blazer whose name has been strangely missing from common rock music history. Before there was punk, there was Death (formed in Detroit in 1971). Before there was hardcore, there was Bad Brains (out of my home area, Washington, DC).
Before there was ska punk, there was Pauline Black (of the Selector). The Selecter, along with the Specials and Madness, are credited with starting the ska revival movement.
Before the underground feminist punk movement of Riot Grrrl, there was Poly Styrene of the punk rock band X-Ray Spex. In the late 70's. Yeah, over a decade before the 90's bands often credited with creating the genre.
And before there was alternative Radio, there was Don Letts. The list goes on and on and on. Take time to research these groups and the history of Black Music. You'd be shocked by what's missing in the majority of common rock history books and publications. Delve into the history of your favorite genre, and check out their music – not just this month, but throughout the entire year.
All artwork by Howell Edwards Creative, a creative design studio based in Burnham-on-Crouch, Essex, England, run by team Phil and Charlotte Howell. Check them out on IG @hecreative and hecreative.com.