Bizzy Bone War of Roses is a masterpiece! Bizzy Bone tops the charts again !
Bizzy Bone takes over the rap game again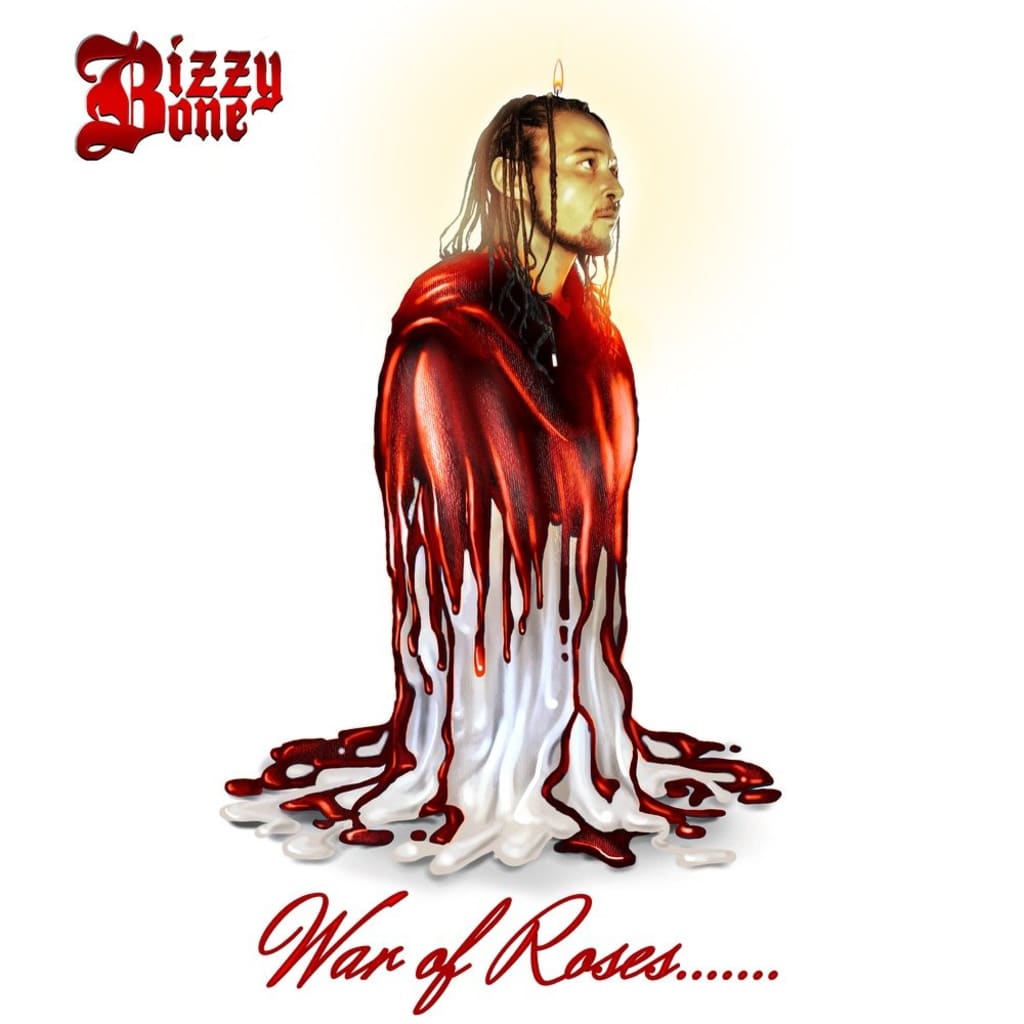 Bizzy Bone War of Roses CD Cover
Bizzy Bone War of roses is the album fans have waited for many years. This is Lil Rispta at his best. We did however get some tastes of what was to come on his last two albums Carbon Monoxide and The Mantra. Those were some great albums where we heard what was coming. Also you can now get the album War of Roses on amazon here ! https://amzn.to/3nsLx1Q . You can also get the War of Roses on https://iambizzybone.com/ to get official hard copies of the album was as well as awesome T shirts. Now let's go on with this review!
One thing that stood out to me about this album is how dark and it is! Right off the bat Bizzy mentions the Ouija board, demons, and guns in the first song. Bizzy really brought sinister Ripsta out on this album. He did not hold back with the raw flows lyrics and darkness. This album is like going back in time to East 1999 Eternal and Heaven's Movie. You will feel the vibes and nostalgia of the classic Bone sound. Yet Bizzy puts a modern twist on the old sound with amazing beats and new harmonies.
The song Bone Bone is just amazing Bizzy Bone really spits fast and hard and the chorus is classic Bizzy Bone. Bizzy really spits some hard lyrics on this song, he def has the Heaven's movie energy and flow on this track. His flow is fast and smooth. He also brings the hardcore lyrics on this.
One thing I love about War of Roses is how the album keeps the same dark theme throughout the album also who he sets up song, to bend into the next song reminds me a lot of East 1999. But we will get into that later.
The next song roses is so dark and deep. With the chorus singing "Just give me my flowers when I'm dead" Bizzy Bone brings that classic Heaven's movie harmony on the chorus. And the beat sounds like a dark vampire style beat. You can imagine Bizzy in a castle playing piano in a suit, as he spits flows with candles lit. This song really takes you back to the old bone days! Bizzy raps so fast and full of energy. The lyrics are hard and dark, this song is like a dark version of ayHeaven's Movie song. Something that could have been on the fictional "Hell's Movie". Bizzy impressed me with this song.
Why Do we Die is a very great song! Such a smooth and sad song. To me this is Tha Crossroads of the album. Bizzy Bone shows off his singing skills on the chorus once again. The lyrics are so deep and sad. He really spits some really deep and real lyrics with lines like "how many must die over an overdose ? " Bizzy gets deep on this song with many deep lyrics. This song will touch your heart and soul. And it give you the old Bone Thugs N Harmony nostalgia.
OK now Scary Movie is one of my favorite tracks on the whole album! Bizzy for sure takes it back to the darkness on this one. The beat is very sinister and dark. Bizzy spits some really dark lyrics. The chorus is awesome "Hacking away at the distant demons" Bizzy Bone for sure spits some deep lyrics that will take you a dark but real place. It's amazing how Bizzy Bone was able to make a dark song, yet put real messages into this song. This song now only brings the darkness, but it shows off Bizzy Bone's lyrical genius. His flow is amazing on this song. This song is east 1999 Eternal style without a doubt.
Now the next song Mr. Ripsta is probably one of my favorite tracks on the album! This is true classic Bizzy Bone. This is East 1999 Eternal and Heaven's Movie style. With a twist of something new. This song is sinister lil ripsta! The dark hard hitting bass and beat are perfect. Bizzy rips it on the Sinister chorus. You will feel like this was Bizzy in the East 99 days. Bizzy Bone flows fast and perfect on this song. This harmony is dark and perfect on this song. Bump this one loud with the bass turned up! This song proves why Bizzy and Bone Thugs N Harmony are the best of all time! This is an amazing track and is Bizzy Bone at this best!
Now let's talk about the next song The Bag. Wow this beat is just beautiful. Bizzy Bone really spits some hard lyrics and super fasts! He raps along side his sons. They all rip it with fast and lyrical flows. One of the best songs if not the best song on the album I can't really choose one favorite yet. They are all just wonderful. Bizzy Bone's singing and harmony on this song is amazing.
With that I will say this album is everything I dreamed and more! Bizzy Bone really brought the dark raw thug style we all wanted! He does listen to what the fans wants and be brings it on this album which is a master piece.
One of my favorite songs is Arrogant Kinds. Wow this piano melody and deep hard hitting bass. And he way Bizzy Bone comes in with that classic harmony is just amazing! The lyrics are so deep and real. But I just love how he through some Ouija board in the lyrics. I love me some Ouija board! Sorry please don't judge me. This song is a master piece!
There are many more great songs on the album but there is just not enough time to talk about them all. But one I loved was Trolls he called out the online haters and really destroyed them. Bizzy Bone always raps about real life topics and Trolls is one of those songs.
Overall I give this album 5 out of 5 mics. A dark musical master piece. Bizzy Bone summons Mr. Ripsta to bring the darkness and real thug style on this album! Bizzy is truly the Mozart of rap it's as if he channels the music another dimension. He truly transcends time and space with War of Roses album!
Reader insights
Be the first to share your insights about this piece.
Add your insights