Bizzy Bone and Nick Carter of BackStreet Boys will collab? Bone Thugs N Harmony and BackStreet
What if Bone Thugs N Harmony and BackStreet Boys collab ?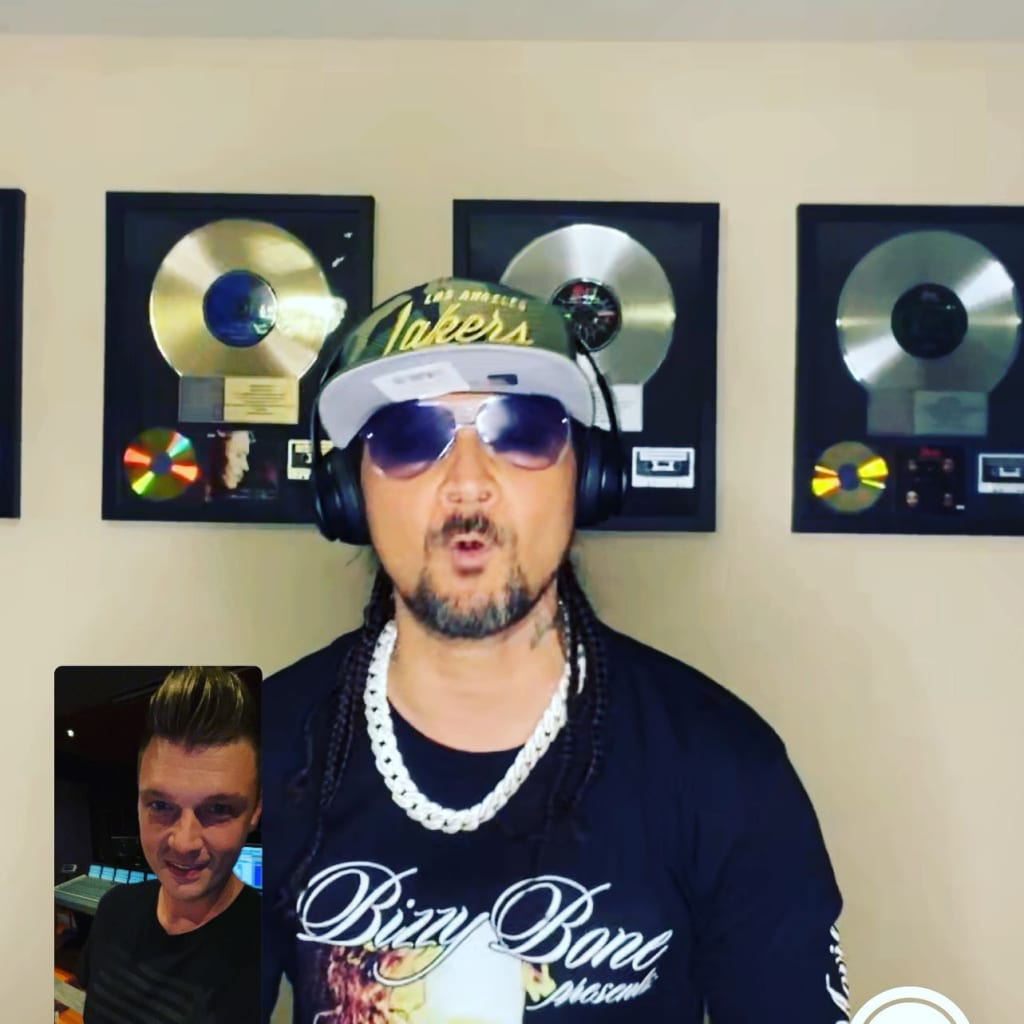 Bizzy Bone and Nick Carter
Bizzy Bone and Nick Carter will soon doing a new collab song according to a post made by Nick Carter of the Backstreet boys. He recently said is honored to be working with the legendary Bizzy Bone of Bone Thugs N Harmony. Wow so this means two of the biggest groups from the 90s will collab Backstreet Boys and Bone Thugs N Harmony?
I am not sure how to feel about this. 16 year old me would be pissed off if these 2 groups were to collab. I mean back then I was just a pure hardcore Bone Thugs N Harmony fans. And I used to hate on groups like Backstreet Boys and N sync. Because I could relate to songs about dying, Ouija boards, shotguns and weed a lot more. Than let's say about fake love songs. But hey things have changed now and I'm older so I looking at this from a more mature and professional standpoint.
Even though I was never a huge fan of Backstreet Boys there is no denying their talent and huge impact they made in the 90s. And Bone Thugs N Harmony and Backstreet boys doing a collab song will make worldwide headlines which I think could lead up to a new Bone Thugs N Harmony album?
Right now Bizzy Bone has the epic album War of Roses out. Did Nick Carter hear the album? How did talks of this collab song even begin? It makes me wonder but yet it excites me. Now that I am older this collab is kind of exciting. I still don't really relate to Backstreet boys lyrics, but hey their lyrics are for happy in love people. Not for us dark souls. Speaking of dark Bizzy Bone brought the darkness for sure on War of Roses with songs like Scary Movie and Mr. Ripsta.
Despite me not relating to Backstreet Boys lyrically. I think Nick and Bizzy will sound awesome on a track together. If they mix harmony with singing, along with Bizzy Bone's fast flow it could be a huge worldwide hit. I am feeling excited for that. And they I might actually like the lyrics on this one. I am excited to see what these 2 artists will do on this song. But I think it is going to be a great musical gem. Kind of like when Bizzy Bone collaborated with Immature on the hit song Give up The Ghost which is still played in clubs till this day.
Will Bone Thugs N Harmony and Backstreet Boys take over the music world? Will they show that raw talent and vocals with no auto tune is the true talent that rules still? I hope these two guys Bizzy Bone and Nick Carter can bring 90s music back to the top again. No matter what happens this collab will be historical for music fans all over the world.
I mean would it not be awesome to hear Bizzy Bone on the radio again. I know everything is all YouTube, blogs, and podcasts now. But it would worth tuning into the radio just to hear this collab song live. I have not even tuned into the radio for years. But this song would give me a reason to.
Only the Ouija or God can truly know the future these days. But I believe a collab between Bizzy Bone and Nick Carter can be epic and historical. It may even be the rise of good music in this world. Stay tune as well will be reporting live here on vocal media about what happens in the future with the collab and we will post and review the song when it comes out.
Reader insights
Be the first to share your insights about this piece.
Add your insights