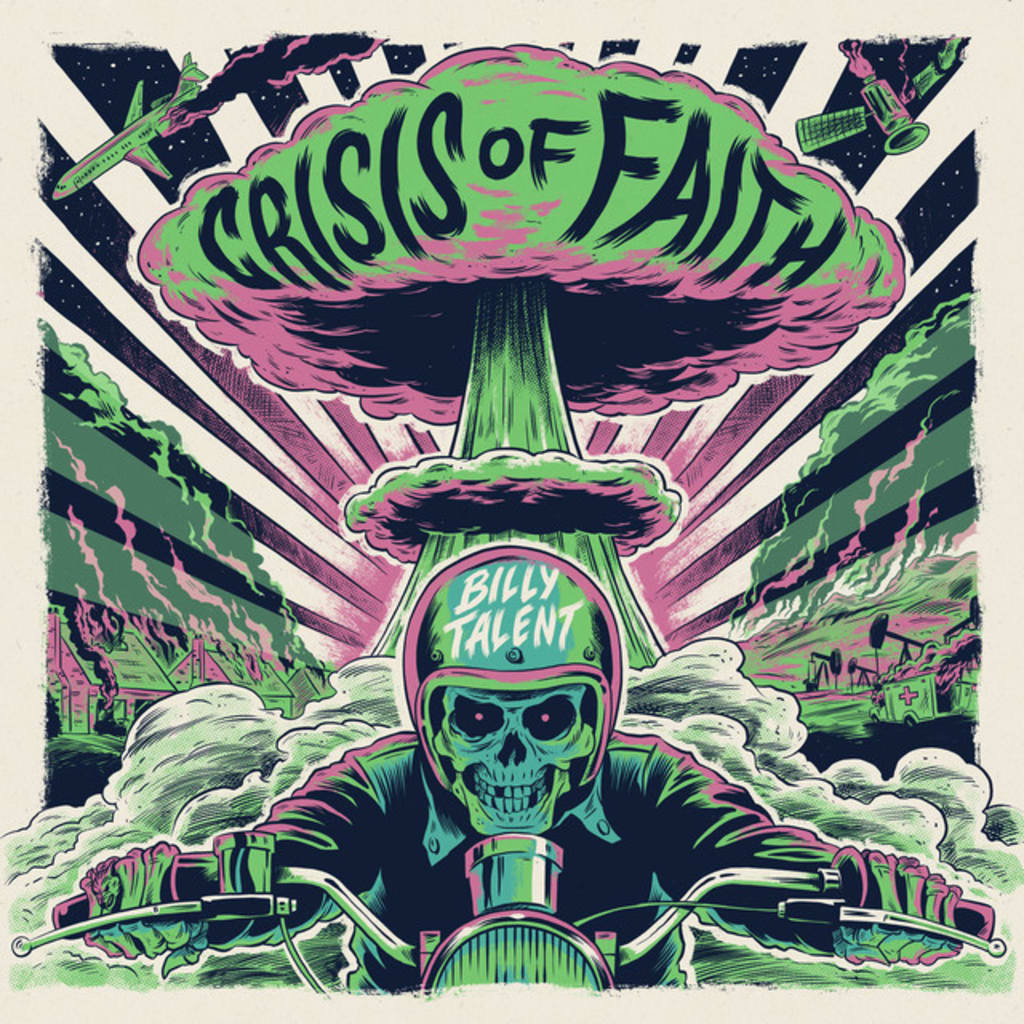 If you're a Billy Talent fan than this is an album you've been anxiously awaiting. They released a few songs during the pandemic, and it was definitely something to hold us over until the rest of the album was produced. And of course, like all albums that came before them, they sure did not disappoint.
I especially loved the theme they had on this album, and the album's title itself; Crisis of Faith. As the band had said in a post on Instagram, these past few years have been hard on us all. It's been dividing, it's been depressing, and it's be tough. There's been a real crisis of faith. I think that's why this album is especially important. And why I would like to highlight a few songs that I definitely feel have helped me through these past few years.
1. Forgiveness I + II
2. Reckless Paradise
3. I Beg to Digger (This Will Get Better)
4. The Wolf
5. Reactor
6. Judged
7. Hanging out with the Wrong People
8. End of Me
9. One less Problem
10. For You
I Beg to Differ (This Will Get Better)
This is the top song on this album in my eyes, and that's not up for debate. This song has really helped get me through some tough times since it's release. It was the reminder I would sometimes need that things will get better; that I didn't have to go through this alone.
Don't suffer through the dark days, burn up all the barricades, turn and face the pain and let it go
When this pandemic first started, I found my depression getting increasingly worse, as I'm sure I'm not the only one. I worked retail, and was faced with staying opening during the most trying times. People were scared, and unsure what was going to come next. But because of that, it caused people to be rude, to take out their frustrations on the workers that were providing them with the essentials they needed.
You struggle every day but no one sees, and trouble eats away your self esteem
This song would come on occasion and I would need to hear it. Of course, it also helped get me excited to hear the rest of this album. It was something to look forward to.
Reckless Paradise
This was another good song that was true to the pandemic. It felt like we were trapped, in sort of a dream. Things went from one day living and going places thinking nothing of it, to not being able to go anywhere, wondering what our next move was.
Your thoughts and prayers can't fix the pain
Obviously it has deeper meaning in my opinion than just the pandemic, but it seemed to jive well with the theme. Another song released pre-album, but it definitely got me excited for the rest of the album.
Some other noteworthy songs from the album (without picking every song, of course), is Hanging out With All the Wrong People.
Sometimes intentions are just downright evil
Sometimes, people are not what they seem and we can find ourselves hanging around people who aren't good for us; this song tells of a few situations of that. Sometimes, you need to watch your back; things aren't always as they seem.
One less problem is another great song I'd like to mention. I think it speaks to the world today. Everyone has their opinions on various issues, but a lot of the time there are just angry voices, and continuous arguing.
So much opinion, so many choices, but all I hear is angry voices
Usually, Billy Talent was pretty good at releasing an album once every three years. Billy Talent (2003), Billy Talent II (2006) Billy Talent III (2009), Dead Silence (2012), Afraid of Heights (2016) and the longest wait, Crisis of Faith (2022). So, waiting for the next album after Afraid of Heights was hard- I'm not going to lie.
But, like all of their albums, it did not disappoint. All of their albums are true to their sound, and true to what they believe in. It's one of the reasons to love Billy Talent. They don't just release an album for the sake of it- they take time to perfect it.
I bought the album and I'll I buy the vinyl, to add to the collection. They're one of the few bands I will actually buy the physical CDs.
I would suggest the same. To support an amazing Canadian band, who needs to make their way to Atlantic Canada sooner rather than later! I've seen them twice in concert, and would love to be able to see them again.
Reader insights
Be the first to share your insights about this piece.
Add your insights