Behemoth Is the Musical Equivalent of 17th Century Baroque Art, but for Satan
Poland's modern extreme metal leaders are as incendiary as the place they worship.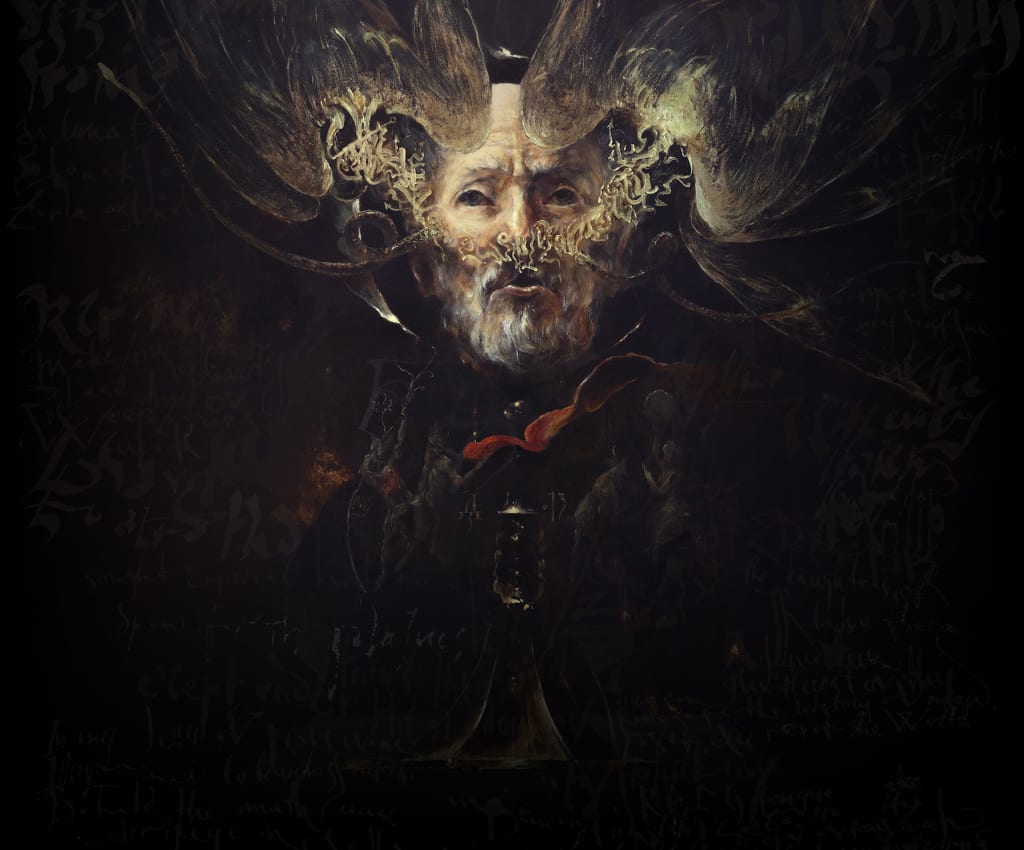 May Apophis grind their bones
May 10, 2018. Sports Arena, San Diego CA. The first day of Slayer's Final World Tour. Hell had arrived to San Diego, and we were all welcoming it with our black hearts. After a fantastic set by OG Thrash metal heroes Testament, the prophets of hell itself Behemoth unleashed the swarms of satanic glory onto Southern California in a blistering, spectacular, incredibly dark six track set, starting with hell's national anthem "Ov Fire And The Void" and finishing with the deeply personal and incredibly blasphemous, "O Father, O Satan, O Sun". Behemoth's legacy has been well established at this point in their career, but this tour will bring them to a wide range audience that have never heard, nor seen the band before. And with a universally loved magnum opus under their belt, and an incredibly anticipated 11th album coming out this year (one of the songs they played at the show is called "Wolves of Siberia," which is the first single from the, as of this writing, untitled album), it seems that Behemoth's baroque portrayal of Lucifer in music form will continue to create more Heathen Legions around the World.
"I son of Perdition, From sheer nothingness transgressed, Unto the highest self, to utmost Freedom, To explore the starry nature of my rage." This is a verse from "Ov Fire and the Void", and while stricken with metaphors, the face value of the song is quite simple. Through struggle and the pain of nothingness, Satan is free. What separates Behemoth from other prominent Extreme Metal acts, other than their demonic, otherworldly song arrangements, is their poetic, disturbing, intense, loving, and Milton-esque portrayal of Satan, Lucifer, Chthonic gods, and Babylonian deities. For Behemoth, Satan isn't shock value. Satan is true, glorious freedom. To the members of Behemoth, God is the cause of man's slavery. Religion, Christianity in particular, keeps people from achieving true freedom in life. The believers in Christianity use religion as a way to be safe. In Behemoths lyrics, Hell is the only way to grasp your infinite potential.
Satan is portrayed as a creator, destroyer, lover, warrior, man, beast, ancient yet young, deceiving yet caring, the tiniest spark of rebellion in the hearts of men, and simultaneously the cosmic being that swallows the universe in chaotic, hedonistic pleasure. Satan is the all encompassing spirit of all, the true power in the cosmos. "Speak of me not as one, speak of me not as none, speak of me not at all, For I am continual" ("Sculpting from the Throne of Seth").
Baroque is the art movement that followed the 15th and 16th century Renaissance, and preceded the Neoclassical 18th century Europe. Baroque art was highly ornate and extravagant, using contrast, movement, exuberant detail, grandeur and surprise to achieve a sense of awe in 17th century Catholic countries like Italy and France. The Catholic Church contributed vast sums of money to Baroque artists and architects to combat the newly formed Protestant sect in Northern European countries. Behemoth is the musical equivalent of 17th Century Baroque Art... but for Satan. Nergal, Orion, Seth, and Inferno are prophets of the dark lord eternal and praise his being in ornate, intricate, complex musicianship, glorifying the Morning Star with the musical equivalent to Caravaggio's Tenebrism, the extreme contrasts of shadow and light in most Catholic Baroque art pieces.
No song in Behemoth's discography demonstrates this Baroque portrayal of Lucifer as well as their magnum opus, "O Father, O Satan, O Sun". To me, music needs passion. Music cant move you unless it has some kind of passion involved. "O Father, O Satan, O Sun" has more passion than most songs this decade, in any genre. It is the truest testament to the beautiful, Shakespearean approach Behemoth takes to worshiping the devil. "Akephalos, shine through me, Come forth in war, Come forth in peace". "Bring down the rains, Drain waters of Styx, Faustian luminary, Redeem, Blaspheme." The lead singer of Behemoth, Nergal, was diagnosed with leukemia in August 2010. The bands 10th studio album The Satanist released in 2014 proved to be Nergal's ode to Satanism and freedom.