Bad Bunny, set adrift on controversy and social consciousness
Bad Bunny's music is now dealing with social concerns while breaking records at once.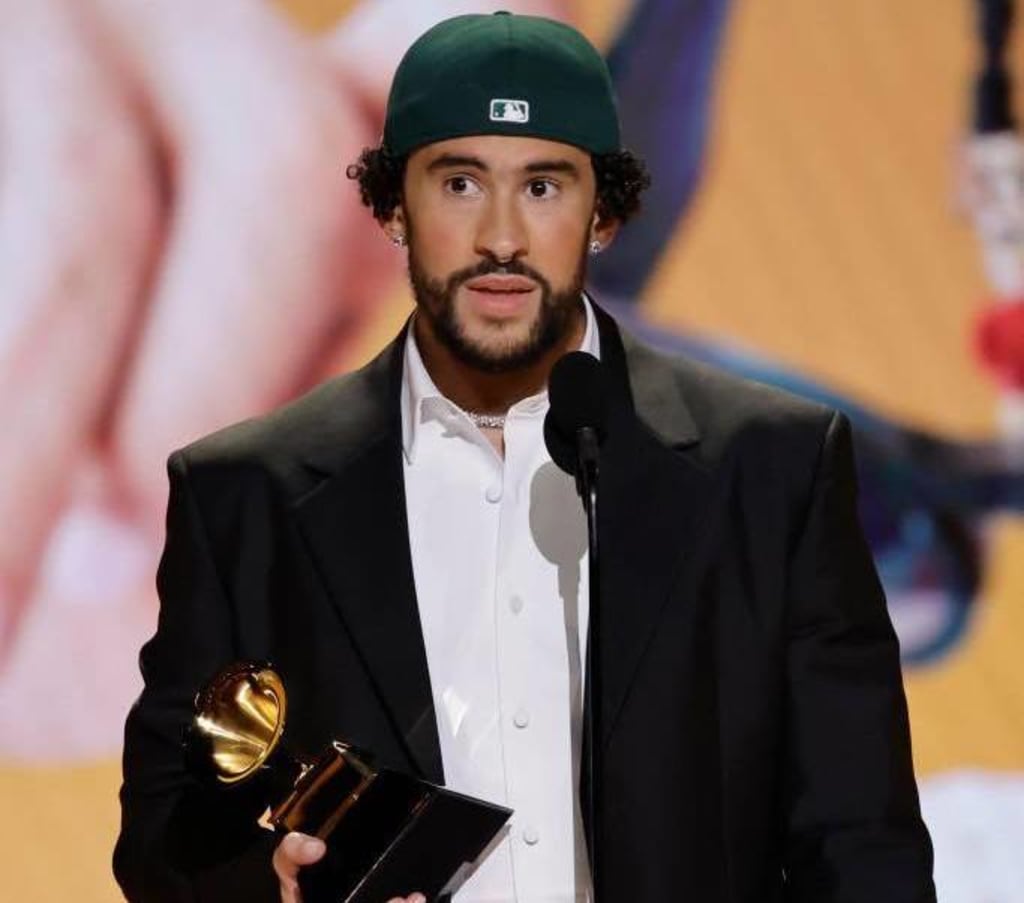 Bad Bunny winning his Grammy for "Best Urban Music Album" (2023).
Music is a scenario reflecting real life in so many ways. Urban artists can tell a lot about it and that's how music distances itself from plain romantic, generic love songs to get into swampy grounds. A place where eager musicians craft songs with raw lyrics and tell the world how they feel about society, relationships, or just sex.
That's the problem though, with reggaeton, the most controversial musical genre from this century so far: audiences have paid attention to its tackiest aspects, not granting any additional artistic value to the whole thing.
Benito Antonio Martínez Ocasio, now worldwide known as Bad Bunny, was one of those kids growing up when this music took the world by surprise. Puerto Rico -the cradle of reggaeton- is an essential part of the urban movement. So how did Bad Bunny become such an influential and controversial public persona simultaneously? Is his music really that damaging? The answers may guide the audience through an interesting journey.
Reggaeton and censorship: when your government tells you how to behave
Daddy Yankee was the one who coined the term reggaeton in his 1994 Playero 36 mixtape. Later, the genre evolved from danceable and upbeat to explicit and hyper-sexualized. From the underground to the mainstream, causing an uproar among conservative groups and parents alike. They still claim that this genre damages children's mindsets, even saying most of those songs encourage violence against women.
Those frowners may be partially correct. So many reggaeton lyrics are quite explicit and not for the fainthearted. They aren't meant for children, but even when most of those albums carry a warning sticker, parents insist on blaming urban artists for every other problem in today's society. This issue isn't new though: does anyone remember the PMRC?
Still, reggaeton artists have faced controversy for reasons different than sleazy lyrics. Cuba's government even tried to forbid some urban songs challenging their dictatorial policies. In some other countries, like Mexico, media and audiences alike have talked about passing laws to ban this genre from any existing platform. As ridiculous as it sounds, censorship is still the tool to delete things they don't like, just because they say so. Not so fast though.
Bad Bunny and the wild success beyond language barriers
A 20-something kid then entered the urban scene releasing dozens of collaborations from 2016 to 2018 when he released the first of his four studio albums to date. It was the 2018 Yo Hago lo que me da la Gana ("I do Whatever I Feel Like Doing" stylized as YHLQMDLG) set, the first one to reach the top five on the Billboard Top 200 albums chart.
Bad Bunny then released one of the most successful albums in Spanish ever in May 2002: the number one Un Verano Sin Ti ("A Summer Without You"). It was named the top-selling album of the year and the top-ranking Billboard album ever by a Latino singer.
Records and chart achievements aside, the conversation around his music, public character, fashion choices and lyrics hasn't stopped since then. He's not a stranger to any controversy, from people saying he cannot sing one single note to those claiming he's the most misogynistic singer ever to storm into the urban scene.
Surprisingly, Bad Bunny has dealt with lots of topics in his music. His debut single, Diles ("Tell Them"), is an X-rated anthem outrageous enough to upset most audiences. Some other controversial songs in his repertoire include the seedy Bichiyal, the dembow flamboyant track Safaera and another collaboration titled Party.
Playing with irony, he shot an anti-suicide video for his Y si Veo a tu Mamá ("If I Ever See Your Mom") single. He even had the nerve to send a pro-feminist message in drag in the Yo Perreo Sola ("I Twerk by Myself") video. This move was labeled by some as queerbaiting, proving that even when trying to be an LGBT ally, many will think it's all just a cheap publicity stunt.
Social consciousness and modern urban music: an uncanny mix somehow possible
A lot of people pay attention to Bad Bunny's most controversial side. Just a few though, are talking about the deepest side of his artistic offer. The most prominent example is a short documentary titled El Apagón ("The Blackout"). The 23-minute film is a protest against the way the Puerto Rico government deserted people after the María hurricane (2017) and the subsequent economic, housing and energy crisis.
The rap song Compositor del Año ("Songwriter of the Year") takes his craft to another level of lyrical fuss. Bunny didn't hold back anything and sent a raw message to his detractors. The lyrics are frankly savage and deal with the Catholic Church and his crimes against children, and with the ludicrous failure of the gun control system, racism and government corruption. Heavily sampling Little Richard's Tutti Frutti, this is easily one of his most exciting tracks to date.
"Andrea" or how Bad Bunny's music may evolve to a higher place
Benito Martínez experimented a lot while recording the Un Verano Sin Ti album. He mixed reggaeton with merengue, dembow, cumbia, bachata and pop. Notwithstanding, the best track from this album is a mix of electronica with rap and a little bit of trip-hop. The song is called Andrea, and it means a lot not only in Bad Bunny's career but in today's music scene as a whole.
Andrea is the unquestionable proof that Bunny's music is evolving to places both he and his fans never dreamed of years ago. The lyrics are about a typical Puerto Rican girl dealing with fools every day. A woman with hopes, dreams and expectations about love, work and the future though treated as garbage by both men and society.
Tragically, this is genuinely the story of millions of women throughout America Latina, although the lies told to people by government agencies. The paradise retold by them over and over is unreal as women each day go through hell just for the sake of being them.
The story told in the 5-minute song is as emotional as heartbreaking. For a change, Bad Bunny and his collaboration with alternative duet Buscabulla is strong enough to make people think, something most audiences never considered as possible when listening to his music.
Raquel Berrios' voice (one of the two Buscabulla members, the other one is the equally talented Luis Alfredo del Valle) created an introspective atmosphere that in some way reminds us of Everything But The Girl and Massive Attack best times. Even the occasional profanity sung by Bunny himself doesn't feel as harsh as that from his first hits. As life itself, Andrea is raw, dreamy, resilient and relaxing, all in one.
Some people argue that this song is somehow based on Andrea Ruiz Costas' real-life tragedy, a Puerto Rican lady who got killed by her ex-partner turned into her stalker. Bad Bunny has denied this in a couple of interviews, even paying respect to Ruiz Costas' family, but art, even shaped as a popular song, cannot be held by just one interpretation.
That would be an unfair game, and maybe that particular rendition is a deserved tribute to every woman who has suffered violence in today's society. Far away from misogyny allegations, if following this path, his music will enter the museum where most pop legends imprint their everlasting legacy.
The future of reggaeton beyond controversy
It's still too soon to say that Bad Bunny will become a prominent activist or a songwriter great enough to be compared to, let's say, Bob Dylan, Marvin Gaye or Tracy Chapman. Maybe his future songs will deal with deeper topics, and he'll become a brilliant artist powerful enough to combine social consciousness with pure fun.
He's still young, and the table is set for him to pick whatever he wants, but as his level of power and influence gets bigger by the minute, his audience needs more eye-opening songs to light their hearts and minds. Shock value may work for a while, but even the most controversial musicians took the time to deliver poignant material that lasts forever. Let's wait for that change then.
The rabbit is already going down the hole to find treasures that will grow into stunning songs sometime later.
About the Creator
I'm a runaway writer who loves music and movies. Music can make you happy out of the blue.
I love to tell stories about several topics. I do hope my content will entertain you and (who knows?) make you think once in a while.
Reader insights
Be the first to share your insights about this piece.
Add your insights