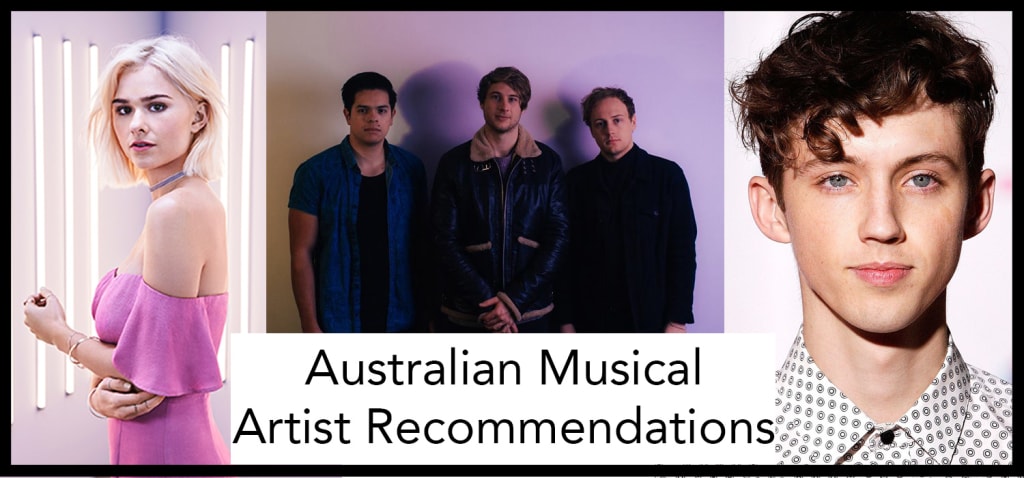 I love to discover new talent in the music field. It's so exciting to find an artist or band that you fall in love with instantly and want to support with all your social media stalking capabilities. As an Australian teen who loves supporting Australian acts, I'm going to introduce you to some Aussie artists and bands who I think deserve to be heard. Note, this is purely my opinion and I do suggest looking up more artists and bands from Australia as I couldn't fit everyone on here. I have listed three musical artists, ranging from the lesser known to the more popular, so I hope you enjoy!
The Encounters
The Encounters are a Perth three-piece alternative pop band, stating that they enjoy the genre-bending aspect of their music. The band, comprising of Callum, Christian and Lewin, are set to release their debut self-titled EP towards the end of the year. After removing the songs that were already featured on their Spotify and iTunes accounts, the boys are starting fresh because they felt as if their musical style had changed over the years. Their sound is so easy to listen to, and so easy to find yourself singing along to.
As a fan of the band before the changes, I am so proud to be supporting a hardworking, talented group of men. I can't wait for their EP to be released, and I can guarantee that you'll see me at the front of their shows, screaming my lungs out. 'Heart Talks' is their new single and can be found on Spotify and iTunes, and their twitter account is @theencounters_.
Nicole Millar
This young and skilled female artist from Sydney is definitely one to look out for. Nicole Millar, who has already toured around Australia at popular festivals, has amazing vocals that will soothe your soul. You might recognise her as the female vocalist on Peking Duk's 'High' which won an ARIA Music Award and achieved double platinum certification. After working with other incredible artists, it is now Nicole's time to shine and make a mark in the years to come.
I first found Nicole's music after she was the support act for Troye Sivan, who I will talk about later. She is so down to earth and grateful of the success she has obtained already, but I would love to see her make it big overseas. She has recently released a new song called 'Blindfolded' and the electronic sound is so memorable and captivating and should be played everywhere! You can find her songs on Spotify and iTunes, and her twitter account is @nicolemillar.
Troye Sivan
Lastly, Troye Sivan is South-African born, Perth local who has made it big overseas. Starting on YouTube, Troye posted advice, skits and musical pieces, helping to gain a large audience. After releasing his first EP, and then his full length album, Troye has toured all over the world and has performed on The Ellen Show, The Tonight Show Starring Jimmy Fallon and The Late Late Show with James Corden. After coming out as gay in 2013, Troye has advocated and become an influential voice in the LGBTQI+ community, using his music to further support.
As someone who watched Troye's YouTube channel and who has been there for most of his journey, I am so proud of everything that he has achieved. I have been lucky enough to meet him and see him in concert, and it is easy to see that he loves what he does. I would love for more people to know his name so that he can have the recognition he deserves. You can find his songs on Spotify and iTunes, and his twitter account is @troyesivan.
Thank you for reading, and I hope I have given you some bands and artists to look out for!
Reader insights
Be the first to share your insights about this piece.
Add your insights