An Introduction to the World of Dark Juan
Why It's Worth Reading Me....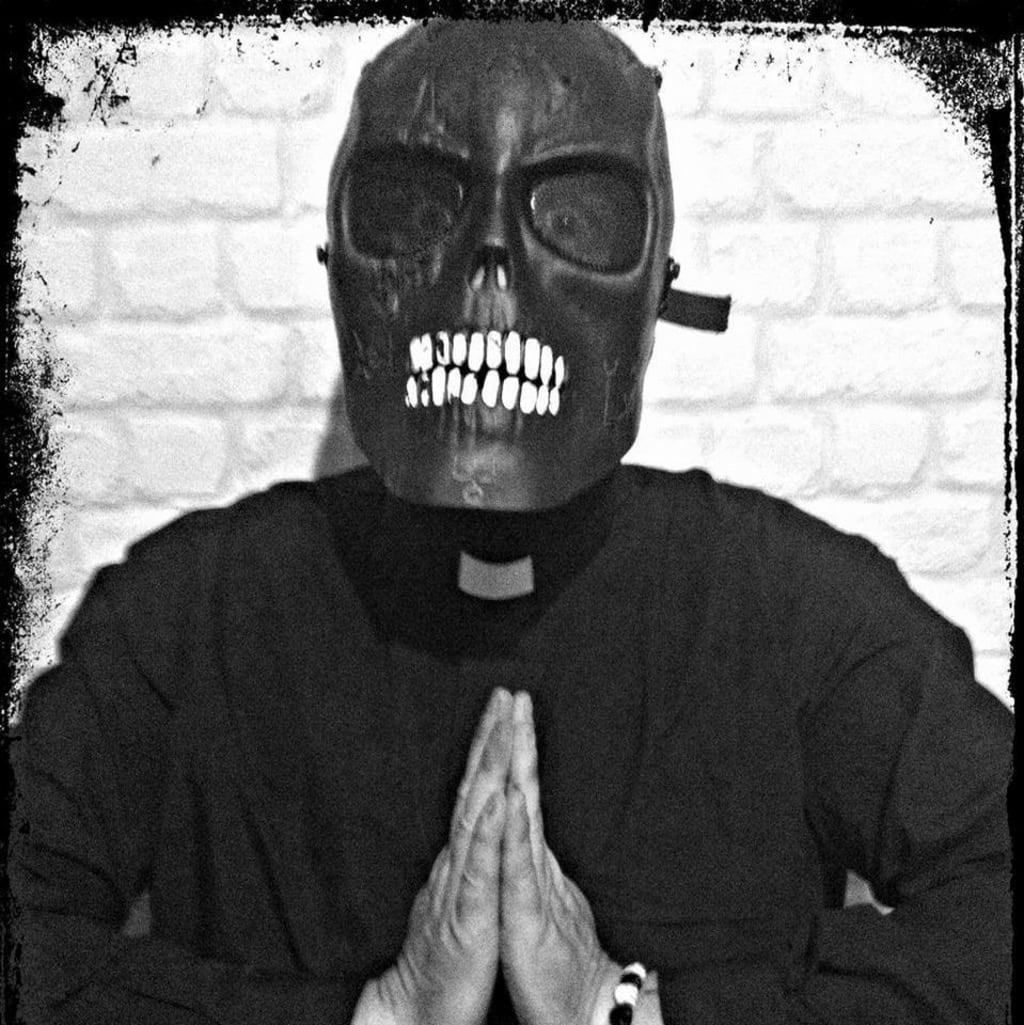 I am Dark Juan. I have been many things and there is much I still need to discover. I write. A lot. I write books and record reviews, mainly. I have been a recording artist, a guitarist, a father and a libertine.
This is going to be my space on the internet for record reviews, mainly. Although I may post short stories and just talk nonsense about whatever takes my fancy, like now. Let me tell you about Dark Juan....
Dark Juan was a character developed by the band members and myself when I played guitar in Doomcrow. This was a scuzzy little rock and roll band based in Newcastle Emlyn, in the absolute arsehole beyond of Carmarthenshire, Wales. After a practice session, we were discussing visual appeal of the band and what we could do to stand out from the many fine bands Wales has to offer in the metal scene and we kind of decided that masks and characters were the way forward. This led to Black Rose Park (as we were then) to change to Doomcrow overnight. Our original bass player MJ wasn't keen on the idea of the masks, and then we had a massive falling out and he quit, so we ended up a five piece with Heinrich Skull on drums, Dark Juan and Infestus Maximus on guitar, The Crow King singing, and Kunty The Krazy Klown on bass. And this is what we looked like...
Doomcrow (2015)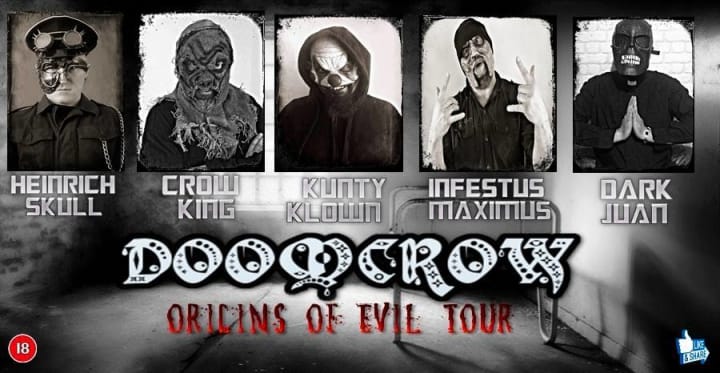 We all had characters—Heinrich Skull was supposed to be a steampunk Panzer commander, The Crow King an evil mutant scarecrow with a thirst for murder, Kunty a homicidal clown. Infestus was supposed to be the embodiment of disease and to be slightly deranged, and I was a hellpriest. I have this deep aversion and dislike of organised religion and Dark Juan was my take on it. Hence the priest's dog collar and shirt and the mask. The mask was painted with demonic sigils (which I had changed slightly just in case of accidental invocation!) and we developed a whole back story for him. We were going to do it for all the guys but we never got round to it. Dark Juan was supposed to have been found wandering the rain forest in Brazil, raving, ranting, and proselytising to the creatures of the jungle, as well as to trees or rocks, because he had gone quite, quite mad. He was apprehended and brought back to civilisation because he had been cornered whilst having sex with a woman in a church against a crucifix, his pleasure at the desecration of the church amplified by the fact that the woman's clitoris was grinding against Christ's beard with every thrust. Dark Juan was a libertine and a compatriot of Papa Emeritus in the (supposed) worship of Satan. Where Papa was the Anti-Pope, though, Dark Juan was the local anti-priest, whose task it was to corrupt his parishioners. A more hands on kind of corruption, if you will. However, he was not to last beyond a year in Doomcrow as the music changed, I moved away to Aberystwyth, the guys decided to retire the masks, and we all just fell out of touch. Still, we recorded an actual three track EP professionally in a studio, and there aren't many people in the world that can say that! I consigned Dark Juan to a box and forgot about him until I moved to France, where he is now on the wall in my play room. Watching, waiting, luring me to put on the mask and become him again....
And that would have been it for Dark Juan until an opportunity came up to write reviews for a heavy metal website. After a test, which apparently I did well at, I brought back Dark Juan as a nom de plume, as I don't want people who may offer me work to be aware that the enfant terrible writing the stream of consciousness gobbledegook I pass off as a record review is actually the polite and well mannered gentleman asking for a job. Especially now since I live in France. So now, Dark Juan is a different character, one who is extremely enthusiastic about metal in all its forms and prone to extreme and torturous metaphors and similies to describe the feelings the music gives him. He's a lighter, friendlier Dark Juan, this one. He's goofy and approachable. He'll still carve you like a Halloween pumpkin but nowadays you have to really piss him off before you lose fingers....
Anyway, that's Dark Juan and that's the journey we are going to take together..... I hope you enjoy the ride.