An Idiot's Guide to Emo
(With a Typically Emo Subtitle That's Particularly Long for Some Reason)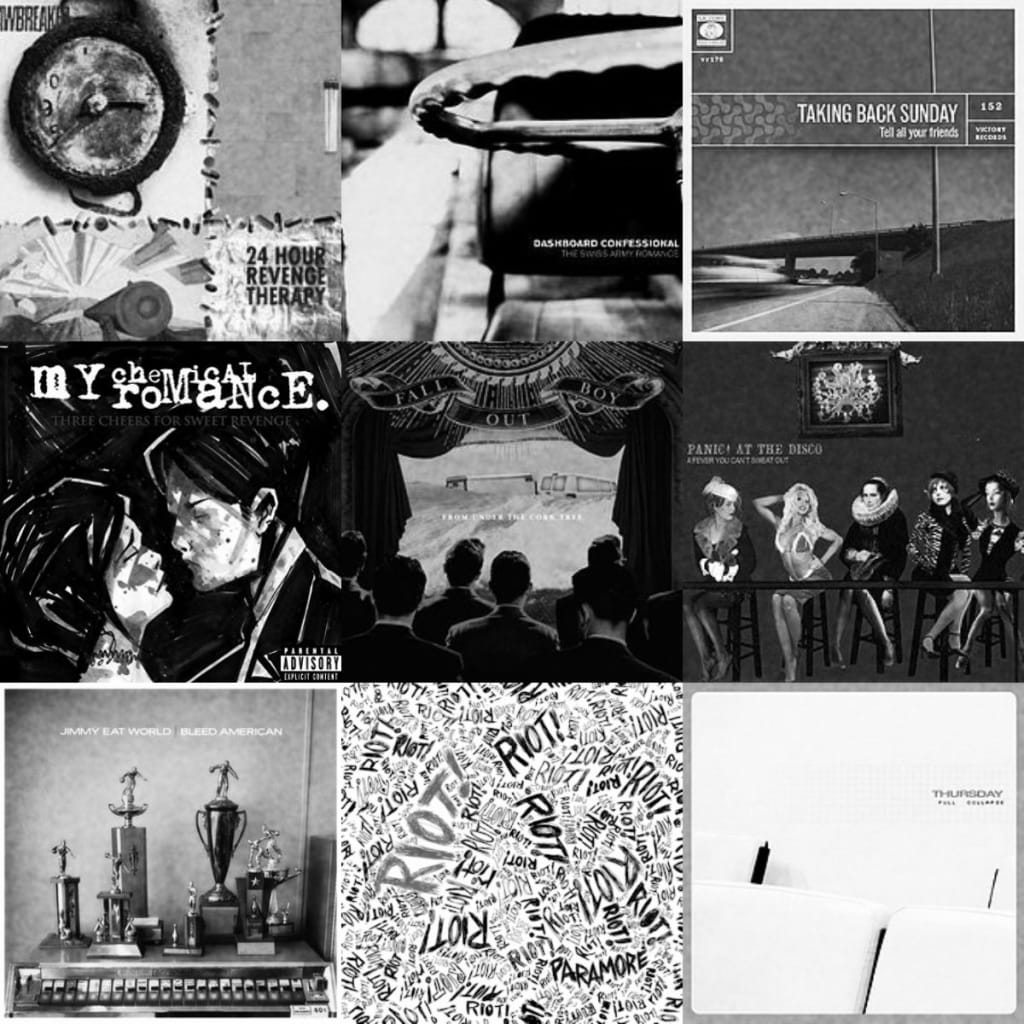 The messages society is giving us are changing. We're told to open up and talk about our feelings now, as opposed to the stiff upper lip mentality of before. We're told to break out of the man box, that it's okay for boys to cry now. In a time where everyone will probably know someone affected by mental illness (one in four of us will, to be precise), this change in tune is vital. But when you think about it, the mainstream is only just catching up with what alternative culture has known for decades.
Emo is a celebration of everything we feel: love, hate, pain, angst, and just not being okay, backed by the power of the riffs and drum fills that seem to feel exactly what its vocalist feels. In the time in your life when the grown-ups tell you your feelings don't matter because you're young and you don't really know things, emo has allowed many an adolescent to feel like someone understands. It gives us a safe place to let all our feelings out. With all it has done for alternative culture, it's no wonder it has spurned a culture - a lifestyle, even - all of its own, as no subgenre has ever done before. It's even been said that emo is a gang, and this is how you can join.
How Did It Start?
Although most people associate emo with the early to mid 2000s, what you may not know is that emo began to surface much earlier than that. It was actually the short-lived 1980s rock group Rites of Spring who are cited as the first 'emo' band, when most of the most recognisable legends of emo were still in elementary school. It is believed that the word 'emo' first came into usage in 1985, as a shortened version of "emotional hardcore" or "emocore." Ironically, it was used as a term of insult—not too far removed from its pejorative use even nowadays—that was later reclaimed.
Emo later began to spread from the Washington punk scene across the rest of the USA, and by the time it touched the San Francisco punk scene the first major emo pioneers blew up: Jawbreaker. Before Brendon Urie, Pete Wentz and Gerard Way, there was Blake Schwarzenbach, whose obscure, metaphorical and typically emotional lyrics cemented his position as the first emo idol. Though his band didn't stick around for long, their legacy certainly did, and paved the way for the next generation of emo upstarts.
The Days of Drive Thru and Vagrant
These two record labels did for emo what Fat Wreck Chords did for pop punk and Epitaph did for punk rock. Drive-Thru Records brought us the likes of The Starting Line andThe Movielife at the turn of the century, and their partnership with MCA Records sent the genre into the stratosphere. Vagrant Records was another label way ahead of its time, rivaling Warped Tour by sending all the bands on its roster on a nationwide tour of the US in the summer of 2001 - how's the sound of Alkaline Trio, Saves The Day and Dashboard Confessional amongst many others, all on one stage? And though it may seem totally normal to us in the digital age, Vagrant kept itself ahead of the rest by using the Internet as a promotional tool. Thanks to these labels, emo was on its way to becoming huge.

Emo Goes Mainstream
Come 2002, and emo was everywhere. We had The Get Up Kids, Taking Back Sunday and Thursday blow up, bands signed to major labels, and the signature emo look began to evolve. Think big glasses without prescription lenses, dyed black hair, long fringes and second hand clothes, and you were all the rage. Arguably, however, its real golden era was in the days of the affectionately known Emo Trinity: you know, the days when you could still hear the guitar in Fall Out Boy songs, when Panic! At The Disco still had four members, and when My Chemical Romance still made music (no, you're crying.) Band t-shirts were in, alongside rubber wristbands and the tightest black skinnies you could find. Still, there's one other remarkable band that you can't talk about emo without mentioning, and that band is Paramore, who brought a splash of colour to a mostly black-clad scene and proved that emo wasn't just a boys' game.
Decline and Underground Revival
By the late 2000s and early 2010s, emo went in some odd directions. It has since branched off into whole other genres: firstly, the "screamo" movement that blended into the surge of post-hardcore around this time, and more recently the "emo rap" (or Soundcloud rap) movement. Other bands stepped away from the genre just as the stereotypical yet untrue associations of suicide and self-harm began to surface, alongside the barrage of claims that belonging to rock and metal subcultures made you dangerous and unstable. Fall Out Boy went on hiatus in 2008 and returned five years later with a shiny new alt-pop sound, Paramore declared themselves 'genre neutral' and then there was 22nd March 2013. Let's not speak of that date. Despite this emo lives on: not just in the form of the underground revival headed up by Pianos Become The Teeth, Touche Amore and Modern Baseball, but as the gateway to the modern rock scene. There will always be kids who will find Sugar We're Going Down or I Write Sins Not Tragedies one day, and with that a community who will welcome them with open arms.
The Essential Albums
Rites of Spring - Rites of Spring (1985)
24 Hour Revenge Therapy - Jawbreaker (1994)
The Swiss Army Romance - Dashboard Confessional (2000)
Bleed American - Jimmy Eat World (2001)
Full Collapse - Thursday (2001)
Tell All Your Friends - Taking Back Sunday (2002)
Three Cheers For Sweet Revenge - My Chemical Romance (2004)
From Under The Cork Tree - Fall Out Boy (2005)
A Fever You Can't Sweat Out - Panic! At The Disco (2005)
Riot! - Paramore (2007)
You're Gonna Miss It All - Modern Baseball (2014)
Did you enjoy this article? Like my Facebook page (@E.W. Hemmings) for the latest updates on what I'm writing and when, and leave a tip for extra awesome points. :)
To read the "prequel," An Idiot's Guide To Pop Punk, click here: