Alliance of Alien Artists Presents International Talent Singing Broadway Show Tunes Together On-Stage for One Night Only
'Broadway Around the World' is a trip around the world in 80 minutes—not days!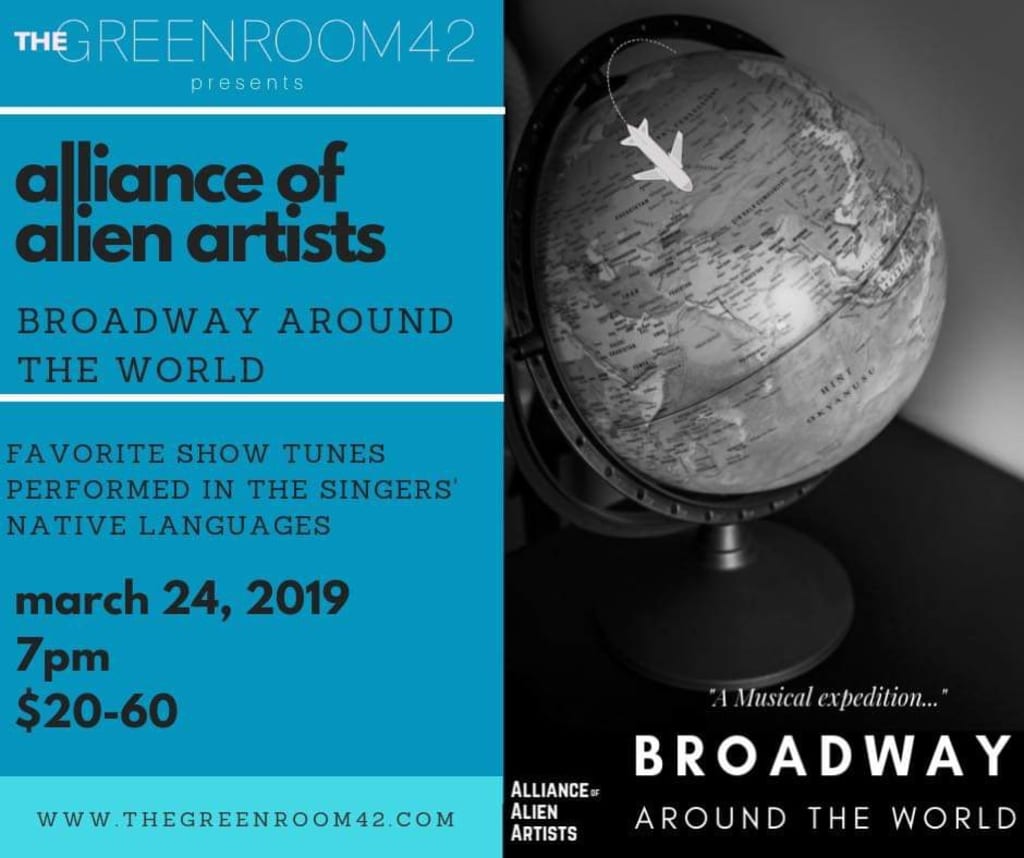 Official poster for Alliance of Alien Artists Broadway Around the World at Green Room 42
The Alliance of Alien Artists is hosting a benefit and fundraiser to support their newly-established foundation. The show is a celebration of Broadway and musical theatre globally taking place at the Green Room 42 on March 24 at 7 PM entitled, Broadway Around the World. The performance will take audiences around the world in one night with show tunes sung in the singers' native languages. It's a celebration of culture and diversity and a trip around the world in 80 minutes—not days.
A Conversation with the Founder, Maya Avisar
The foundation was established by Israeli American Musical and Dramatic Academy (AMDA) graduate, Maya Avisar. The organization was founded to empower and support international performers in the pursuit of their careers in the arts in the United States. She is also an active member of The Lambs, the oldest theatrical club in Manhattan.
I asked Maya about her new organization and the performance. Here are her answers.
Suzanne Rothberg: What encouraged you to start the Alliance of Alien Artists?
Maya Avisar: First, I actually thought about the idea for the concert that's coming up, and then by speaking to my fellow alien artists I realized that there are so many needs that our community needs and there's no one that is giving it. I noticed that when I was about to come here I didn't have any information and a lot of my friends didn't have any information either—and I thought alien artists that want to move to the United States should have someplace where they can get information, some people that they can come to and ask for help and guidance—that the entire process can be a lot easier if we just stick together.
Suzanne Rothberg: Did the Trump immigration issue bother you?
Maya Avisar: We're avoiding political statements—we encourage our members to work with the law; not against it.
Suzanne Rothberg: You founded the Alliance alone or with a partnership?
Maya Avisar: I received a lot of help in founding the organization from Malcolm Merch, an Argentinean performer, director, and producer (founder of the Cuchame Theatre Company).
Suzanne Rothberg: Why did the foundation pick the "Broadway" theme?
Maya Avisar: Currently, most of our members are musical theatre performers, and as the founding members are within that field as well, it was easiest to start with our closest people.
Suzanne Rothberg: Is this your first show?
Maya Avisar: This is our first show and we are so excited for it to start our year-round work.
Suzanne Rothberg: You graduated from AMDA last year. How was your experience there and as a member of The Lambs?
Maya Avisar: I'm so grateful for AMDA to educate me as a performer in New York City, and for the connections, I've made and still making every day—thanks being an AMDA alumna. There's a very high percentage of AMDA alumni working in the industry, and it makes me proud to be one! I'm grateful for The Lambs as well, their scholarship introduced me to some of the greatest people I've met in my time here, and I'm creating great connections through the club as well. I try to come to 'Low Jinks' very often and use the club almost every week.
Suzanne Rothberg: The shows are funded from donations?
Maya Avisar: The shows are indeed funded from donations; we are receiving tax-deductible donations through our fiscal sponsorship with Fractured Atlas, and we are currently running a seasonal campaign to raise funds for 'Broadway Around The World,' where you can receive free tickets to a concert in return for your donation.
Suzanne Rothberg: The show is called, Broadway Around the World and you're one of the performers. Are the songs from famous Broadway shows or off-Broadway?
Maya Avisar: All the songs are from very well-known Broadway shows! Because we are translating a lot of the material to the singers' first language, we chose known material that will be easy to follow and not be overwhelming after the translation.
Here's a list of the performers:
Joomin Hwang (The Prom on Broadway)
Q Lim (The King and I, Broadway and the National Tour)
Catie Shelley (Canada)
Felipe Joglar (Chile)
Gara Roda (Spain)
Jessica Rookeward (Australia)
Maya Avisar (Israel)
Pedro Coppeti (Brazil)
Sidhant Smith (India)
Musical direction and orchestrations by Assaf Gleizner, Israel composer of off-Broadway musicals The Office and Friends musical parody and more.
Tickets can be purchased by visiting this link.
To donate to the Alliance of Alien Artists, please visit this link.