All That Remains - 'Victim of the New Disease'
Something for Old and New Fans Alike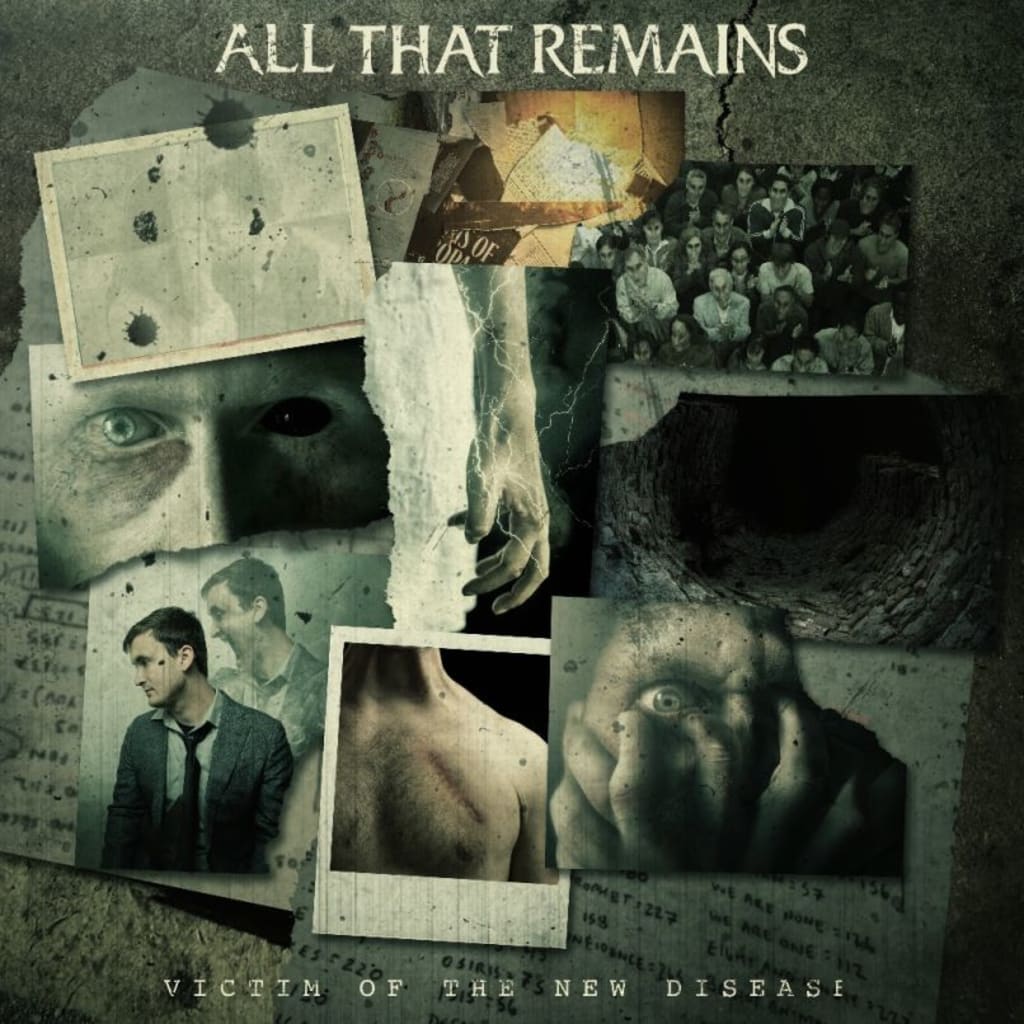 Formed in 1998 in the booming east coast metalcore scene All That Remains is a five-piece metal-core band from Springfield, Massachusetts. Started as a more melodic death metal style side project of then Shadows Fall vocalist Phil Labonte and Guitarist Oli Herbert. The band has since evolved from its melodic death metal roots to one of the forerunners of the 2000's wave of metal-core. With the release of their second album This Darkened Heart and the addition of now longtime guitarist (and Oli Herbert student) Mike Martin, this group really started to help form what we now know as metal-core!
Like a ton of people, I heard them and really got into what they were doing through their third album The Fall Of Ideals in 2006. This was a standout album in the metal scene overall, with its masterful blend of aggressive and melodic moments both vocally and musically (note back in the day, yes I was a bit of a fanboy if you could not tell). This album and their heavy amount of touring truly boosted these guys to one of the top acts in the late 2000s. Somehow with their follow up in 2008, Overcome blasted this already popular act to the stratosphere with stand out tracks such as "Two Weeks" and "Forever in Your Hands" that received heavy rotation on metal sites and stations. Rolling on the momentum of that success they released a follow-up album called For We Are Many. I thought it was a good album, but it seemed almost like an Overcome part two which lead my young ears to think I knew what I was going to get from this band going forward. Then out of left field comes A War You Cannot Win and The Order of Things both had a large stylistic change into more of a rock-oriented sound opposed to their former traditional metal-core song structures. The album Madness was again a change for them, but there were some of the old roots coming back to mix with their new sound. Leading a lot of people like myself to think that this follow up would be more like that and from the initial songs released from it, it seems that is the case.
I often give a bit of a bio of the band as an intro to the readers, this one though was a bit lengthy for a context of how they have changed over time. This new album seems to fall into the, for lack of a better word, ideals of their older work mixed with their new styles. Which raises the question can a band whose last few albums got massive radio play with power ballads and covers of country songs really find their brutal roots once more in this, now their ninth studio album? Let's delve in and listen to the Victims of the New Disease and see what they have to say.
To start talking about this album I would be remiss to not mention that when this album was was in the mixing and mastering stages when the band's founding member and longtime guitarist Oli Herbert passed away. Even though this happened after everything was written said and done, I could not help but feel it in the absolute rage in the first song "Fuck Love" which is the most brutal thing to come out of the band in quite some time. I would even say it harkens back to their melodic death metal roots of the first album! Just like that reminds me of the old in the second track "Everything's Wrong" feels like the last few releases, yet track three feels like a good mix of both. So it seems they are pulling from everything that makes them a band on this album! As the album goes on, you get a lot of that mix from one era to the other mixed a bit to varying success. Never going just a fifty to fifty split, songs like "Wasteland," is mostly rock era mixed with the metal-core era. Yet "Alone in the Darkness" is a ballad type that mixes the end of their metal-core era with the start of the rock era.
Then you have songs like "Misery in Me" which sounds like it could be a song from "Overcome" or "For We Are Many" era songs released in their new era, leading this album to be diverse and well rounded overall! "Just Tell Me Something" is another rock ballad type of track, the Danny Warsnop feature is a nice addition to the track, this for sure makes it stand out more than "Everything's Wrong" and I could definitely hear this as a radio single. There are a few songs on here that could also make some blips on non-metal charts but the harder edged songs could definitely bring back some old fans who like the older harder stuff too. Overall, this album has enough in it to add a ton to their live set, no matter if they are going heavy or well, less heavy.
The downsides on this album have to do with some songs that are very almost, eh. This album is packed with some really decent jams, decent in it really seems to lack that defining stand out track or tracks. While a strength of this album is its diversity, it is also its Achilles heel! As the album overall feels a bit, disjointed at times. It feels like they were trying to make their whole back catalog come together in one album, much like Trivium's 2017 release The Sin and the Sentence that did so well, this album just kind of missed the mark on it. It might be a case of this band has evolved and changed up SO much over the years a task like that might be a bit much. On multiple listens it just felt a bit laborious to go through it all again, this album has a bit for everyone. This might be one of those albums that is better taking a few songs that you like and adding it to your playlist instead of the whole album.
Rating:
I think I will give this one a solid B-, not their best album but far from an overall bad album. I feel like I may have been a bit overhyped for this album based on the first tracks I heard from the album
Check em out/support them here:
Favorite Track(s):
"Blood spill," "Broken" and "Just tell me something," were standouts for sure. Two of them did a good mix of old and new and "Just tell me Something" might be the "it" track for the album, if I had to pick one.
Rating:
I think I will give this one a solid B-, not their best album but far from an overall bad album. I feel like I may have been a bit overhyped for this album based on the first tracks I heard from the album
Check em out/support them here:
album reviews
Lead singer of the band Vesuvian, lover of the metals, horror movies and grower of beards!