Alicia Keys
SuperWoman behind the Music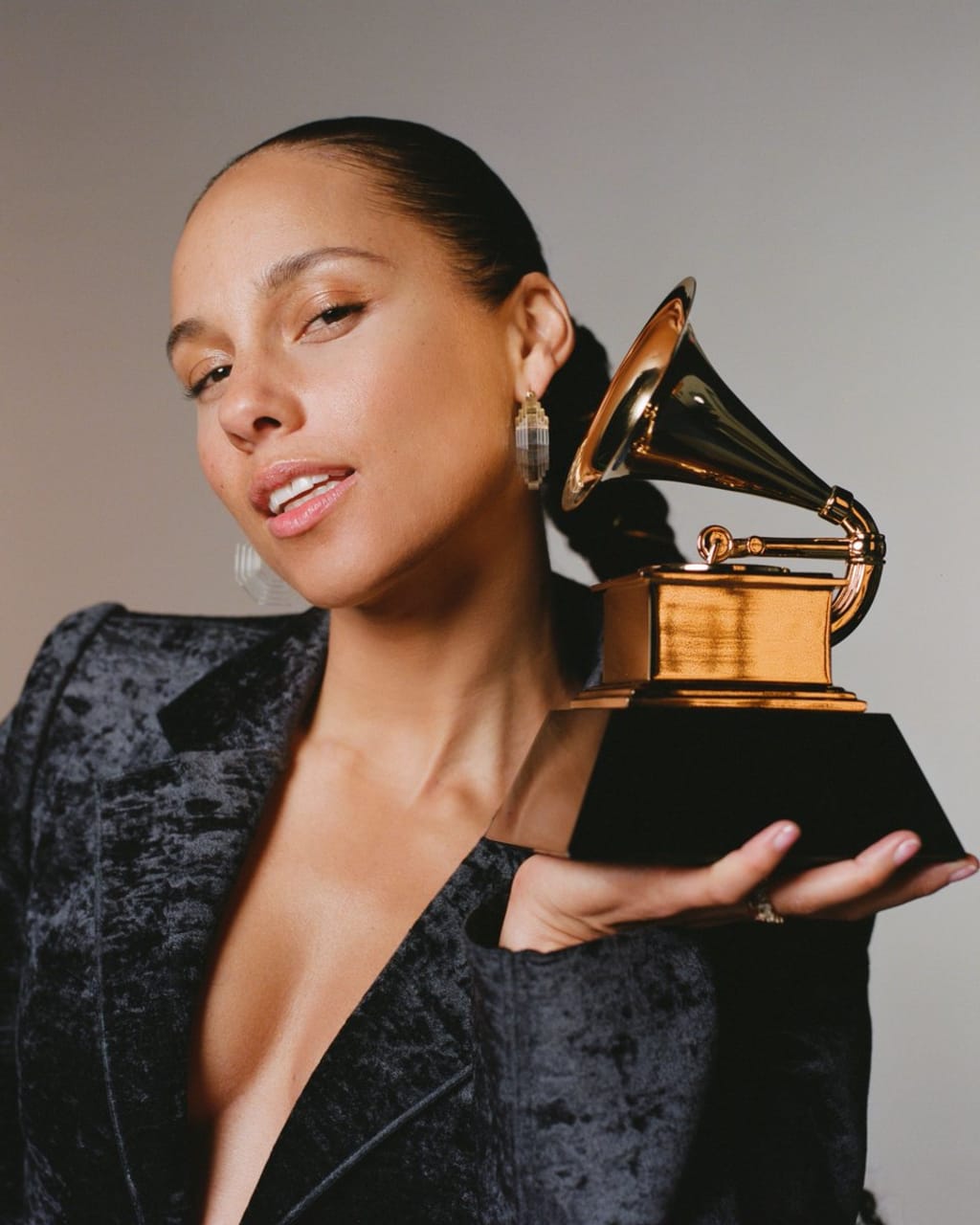 Alicia Keys is a multiple Grammy Award-winning singer-songwriter whose debut album, 'Songs in A Minor,' went platinum five times over. I have chosen Alicia Keys, a multiple Grammy Award-winning singer-songwriter whose song Fallin' "made her a powerhouse writer, producer, songwriter, entrepreneur, philanthropist, wife, and mother. She inspired me to be a stronger woman through her music. I learned to become a woman who wanted to talk about truth, empowerment, and strength when listening to her music.
I become so empowered each one of her songs I can resonate. She likes an open book, and that is a beautiful thing. Alicia is a role model for all women because she is true to herself. Alicia Keys is an inspiring figure for all to look up to and motivates people to follow her footsteps. Alicia Keys dedicates her heart and soul to empower people by being a role model, a leader, and her drive to make a difference. When she did Girl on Fire, I felt so empowered, which now my favorite. I learned to Believe in myself and listen to what I have to say and other smart people. Her learning to love herself despite growing up with an absent father figure. Through her music, I felt inspired to be authentic.
I know I am not always going to be happy and smiling, but you can be positive. Alicia Keys has also been called one of the 100 Greatest Artists of all time. In addition to her singing career, Alicia Keys is also a humanitarian and philanthropist are known for her activism, and the co-founder and global ambassador of the non-profit HIV/AIDS organization Keep a Child Alive. Co-founded in 2003 by Alicia Keys, KCA is committed to empowering children and young people with the necessary resources, confidence, and opportunities to reach their full potential and live healthier, happier lives.
Alicia Keys inspired me to be involved in my community with homeless veterans, which I overcame. I think it is so beautiful to give back and serve others. Alicia's music is so mesmerizing and alluring you want to daydream about her lyrics. Each one of her songs can take you to a place to make you think you there too. Alicia Keys has motivated people around the world through her music and activism. She focuses on setting a good role model for young adults and leads them in the right direction. She inspired women every day through her success and shows them how to stand up for their beliefs. Alicia Keys reminds us, we are all connected, so it is important to love everyone. She is one of New York's most famous ambassadors, but she is also a strong and powerful public voice for women everywhere. Alicia is for all women because she is true to herself. Alicia shows people to be themselves, but most importantly, treat people equally.
My Favorite Alicia Keys Playlist Fallin, Diary, You Don't Know My Name, A Woman Worth, Unbreakable, Empire State of Mind, If I Aint Got You, Superwoman, Your, Thinkable, No One, Like you Never See Me Again, Fire We Make, Try Sleeping with a Broken Heart, Put It in A Love Song, We Are Here, How Come You Don't Call Me, Butterflyz, Brand New Me and Girl on Fire . All the songs that inspired me to pick Alicia Keys as one of the most inspiring women today who works in the music industry. She put 100% in every song, project that she does. I loved who she becomes since she started every song tells a story and the journey as to how got there. No matter what Alicia Keys is a SUPERWOMAN.