Album Review: Vigalantee-Sitting on the Front Porch Talking to My Grandma
Illustrious indie hip-hop artist/community activist returns with his 20th full-length music project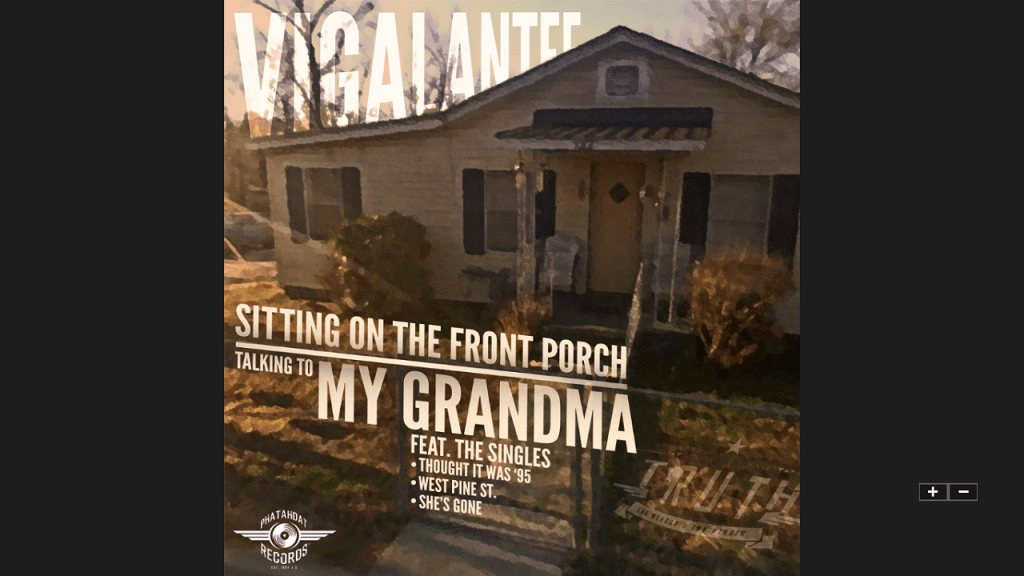 One of the most overlooked adages of wisdom states: "Experience is the best teacher."
When it comes to hearing the best experiences that teach you about life, there is no better source in one's family to learn from than a grandparent. Roger "Vigalantee" Suggs is a Chicago-born, Georgia-raised, and Kansas City-praised MC who has been in the hip-hop business for around a quarter-century. In late 2019, Vigalantee released his landmark 20th album titled Sitting on the Front Porch Talking to My Grandma (Phatahdat Records).
Vigalantee dedicated this album of his to his 91-year-old grandmother, Inez Walker. His late grandfather, Walter B. Walker I, is also praised on this album, which has been a Vigalantee musical project tradition. On a number of albums he has released since Mr. Walker passed away, Vigalantee heralds his grandfather as a true champion who helped mold him into who he is today. "Ode to Washington, Georgia" is the album's first track.
This song is a brief introductory piece in which Vigalantee offers an impromptu tribute to the city where he was raised. He lyrically plays the role of a tour guide as his flow takes the listener on a personal nostalgia trip down a special memory lane. Viga's true essence from his battle rap days is shining here on a barbershop fresh beat, which will make a true hip-hop purist ponder whether the great 9th Wonder himself made it.
The second track, "Dreamers," also provides a stimulating sound bed that audibly takes you right back to 9th's legendary production wonders of the hip-hop world. However, Vigalantee's dreamy feeling of poetic bliss is followed by a cautionary wake-up call on the song's final verse. His reference to unnamed rap rivals who pose as fans voices the rightfully felt frustration, which comes with having a black-owned business in an urban city.
Viga is the proud owner of a rap label that has stood the test of time for over two decades. Track number three picks up lyrically where the Vigilant One leaves off on his latest album's second song. The title of the track alone (Last Week for the Weak) is an expression of creative word gymnastics in itself. The authentic-sounding drums, gloomy melodies, and menacing baseline set the tone for a level of seriousness that fuels warriors.
Again, Viga shows the weak how a true master wields the sword and does not sound scared to use it. "It's your choice to find the source that will rock the mic with no remorse!" he raps cautiously. Though the Vigilant One's mild vocal delivery on this song does not project overly expressed emotion, it showcases his wisdom. The Musical Republic of Vigaland is no country for blissfully ignorant and young-minded punks.
Vigalantee makes this very clear once again on "969 Warm-Up," which features his very talented son, Rizz Illuminated. Without dueling, the father/son duo wields their lyrical swords in a way that makes it very clear that Phatahdat Records is a well-built musical entity that is here to stay. The way the two blend hip-hop's old and new schools together leaves you wondering if a collaborative album from the pair is in the works.
But what brings the familial theme of generational greatness back full circle is this album's lead single called "Legacy." The supersonic production over this lyrical opus, including a masterfully simplistic hook and a spoken word explosion of poetry, takes you down a sobering trip inside the mind. It's very important to leave your children and grandchildren with something substantial.
Vigalantee definitely has done this in his own life and its exemplified by the great job he has done grooming his son for lyricism and the rap CEO mentality. Also, the two tracks "15 West Pine Street" and "122 West Pine Street" unravel Vigalantee's pedigree in a way that reveals his affinity for the family matriarchs and patriarchs. He makes it clear that they are the ones who have put him in the honorable position he stands in today.
Overall, Sitting on the Front Porch Talking to My Grandma is a 19-track ride down memory lane, the present, and the future in a way that only a 20-plus year veteran of the rap game can. If you don't want to merely hear about the musical greatness that you're missing, buy Viglantee's runaway classic right here.