AFRiKA iNFINiTE's 'Diaspora Mix' Will Add Sonic Versatility
A versatile hip-hopper of today is taking remixing to the next level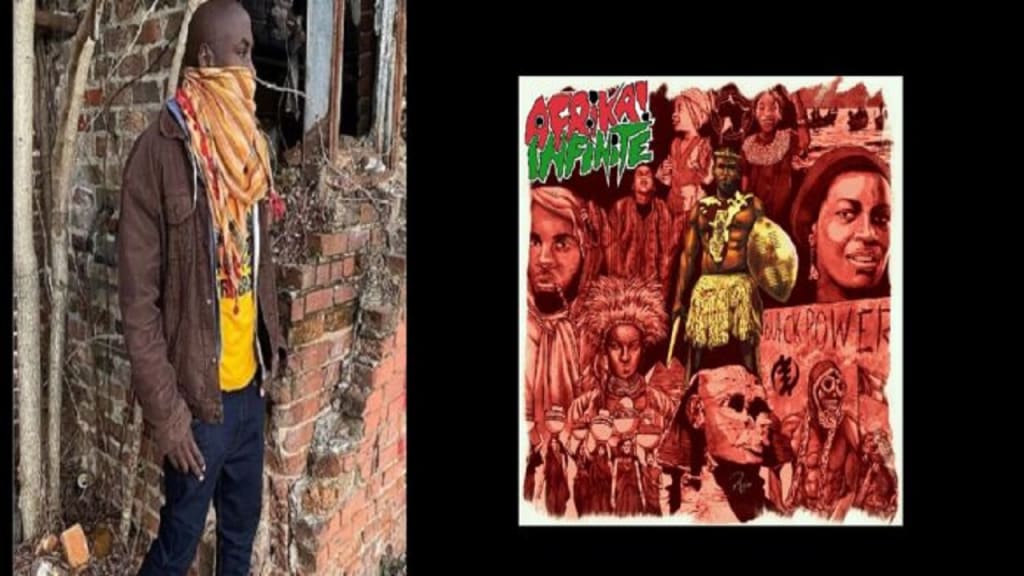 New Love Media/Fight For Us Music Group
Contemporary hip-hop music from the genre's golden era featured songs with artists who experimented with sounds, which were derived from other musical forms.
Jazz was an early sonic tributary, which hip-hop's greatest producers borrowed from when sampling some of the most audibly noticeable golden-era hits. A successful fusion of jazz and hip-hop came in the form of rapper Jeru the Damaja's early 1990s hit "Come Clean." Produced by the legendary DJ Premier, Jeru's rugged classic sampled jazz drummer Shelly Manne's 1973 song "Infinity" from the musical timekeeper's Mannekind LP.
Reggae (rapper Shyne late 90s hit "Bad Boy"), classical ("Hate Me Now" by Nas feat. Puff Daddy), heavy metal rock music (Public Enemy's "She Watch Channel Zero?"), and even disco (MC Lyte's "Cold Rock a Party") were some of the other musical tributaries for hip-hop, which gave the genre sonic versatility.
So-called "single re-mixes" in hip-hop were examples of popular songs morphing for the purpose of cross-genre sound experimentation. Creative popularity from dubstep and techno music hip-hop re-mixes were featured during America's golden rap era as well. However, a very versatile hip-hopper of today is taking it to the next level.
Melaphyre Etheoryall (pictured left) is the lyrical and production mastermind behind 2021's AFRiKA iNFiNiTE, a well-polished contemporary hip-hop LP chock full of timelessness. The New Orleans, Louisiana-based Melaphyre is currently taking the whole song remix concept to another height–by re-releasing his whole 2021 full-length offering as a "Diaspora Mix" album.
Read my complete exclusive interview of Melaphyre Etheoryall for Beat by Vocal Media below.
The original "AFRiKA iFiNiTE" LP was a solid-sounding project. What inspired you to double-up with a remix album?
I have typically made very conscientious efforts in getting my words heard and absorbed through wordplay and hip hop beats for the hip hop purist. I am of the cloth of the listener that came up on KRS-1, G Rap, Large Professor, and Pharoahe Monch to name a few. In this project, I focused on the movement and energy of liberation.
I did not even place my artist moniker on the project. I wanted the concept of liberation to come across most importantly. With that in mind, I am pursuing a global audience. I have several projects that reach the purist but no trust has reached the masses. I wanted a project that would do that without compromising my music and sound.
I reflected on the energy of Stevie Wonder and Bob Marley; two artists that had mass appeal with consciousness in their music. I also tapped into the energy of "The Score" album "The Carnival" by Wyclef and "Distant Relatives" by Nas and Damian Marley.
These were global albums that were relevant to the people but were very danceable projects the people embraced. AFRiKA iNFiNiTE (the Diaspora Mix) is exactly that. The same content as the original but the energy of celebration, danceable tracks, and energetic hooks as the foundation to the conscious and liberating verses.
Elaborate on some experiences working with other artists and producers in the music industry during your career.
I have a very limited and select list of artists I've worked with. Tahir M-1 and Stic of Dead Prez, Skyzoo, GZA, Pharoahe Monch, Erykah Badu, Digital Underground, and KRS-1. These artists and groups have influenced me in one way or another and I have primarily worked with them in ways of business ie shows or interviews. Only a few have I worked with artistically (Dead Prez) and one as a direct mentor (KRS-1). The others have inspired me throughout my career in hip-hop in other ways.
As a producer, give a tentative top-five beat maker list. After naming your guy at each spot, briefly explain why you chose him.
DJ Premier, Jay Dee (Dilla), Pete Rock, Dr. Dre, and Alchemist.
Premier- He created a sound that molded hip-hop with chops in the 92-97 era that was undeniable. ie "Come Clean" by Jeru to "A Million and One Questions." And of course the entire Gangstarr catalog.
Jay Dee- The Slum Sound alone is enough but the ghost-produced work with the Tribe to Soulquarians.. to work with Madlib and countless other offerings and his influence on the lo-fo era of hip-hop up until now.
Pete Rock- from the Nas "The World is Yours" to "Shut Em Down" remix and the CL Smooth Pete Rock albums for starters…but even his continued presence on artists like Griselda's projects and Roc Marciano he has the trademark feel to his beats.
Dr. Dre- He's the only producer I've seen that can transform an artist from an underground M.C. to the best version of themselves (ie The D.O.C., Snoop, Eminem, NWA's contributions, and countless others). From Above the Law to The Chronic, his layering of songs makes them more than just beats but more like cinematic masterpieces.
Alchemist- The current version of a maestro…he has what I call the biggest raw influence on this resurgence of producers in underground hip hop today. "Keep It Thorough" is enough to have you placed in the record books IMO. But then you look at the artists that have had street anthems from his sound (ie "We Gone Make It" Jadakiss to the newer Griselda artist today), it's undeniable.
Great choices! For some of these younger artists who don't understand music publishing, give some of its benefits for an artist like yourself who is a songwriter and producer.
The ownership of your words creates a stream of income and possible generational wealth. With the new NFT movements and other ways to getting your music out, independence and ownership are the only options, IMO. Control of your content means everything as to who can use your works and how much you demand.
Do you plan to collaborate with any other producers on the new remix album?
I am collaborating with Morgan Garcia (the recording engineer for the original project) Khalid Salaam of Produx, and Blu (underground South Afrikan producer) No Etheoryall Beats will be on this project.
What are the benefits, from your standpoint, of experimenting with different music sounds on a project?
I feel the reach is endless when you tap into different soundscapes and hit different nerves and energy globally. Reaching out creatively and pushing boundaries in a dope way is always a winning combination. I was raised in a few different cultures and in all the common bond they had was the soul of music and musical culture that made everyone move. I want to provide that feel with the Diaspora Mix of AFRiKA iNFiNiTE.
Buy Melaphyre Etheoryall's original AFRiKA iNFiNiTE album here.
About the Creator
Mr. Trammell is a digital media producer, freelance journalist, and author. He is currently a Chief Contributor at the Black Then History Network (BlackThen.com). Formerly, he wrote national radio content for the Michael Baisden Show.
Reader insights
Be the first to share your insights about this piece.
Add your insights