According to the Guardian, Here Are the 5 Worst Afrobeats Remixes of Recent Times
Do you agree?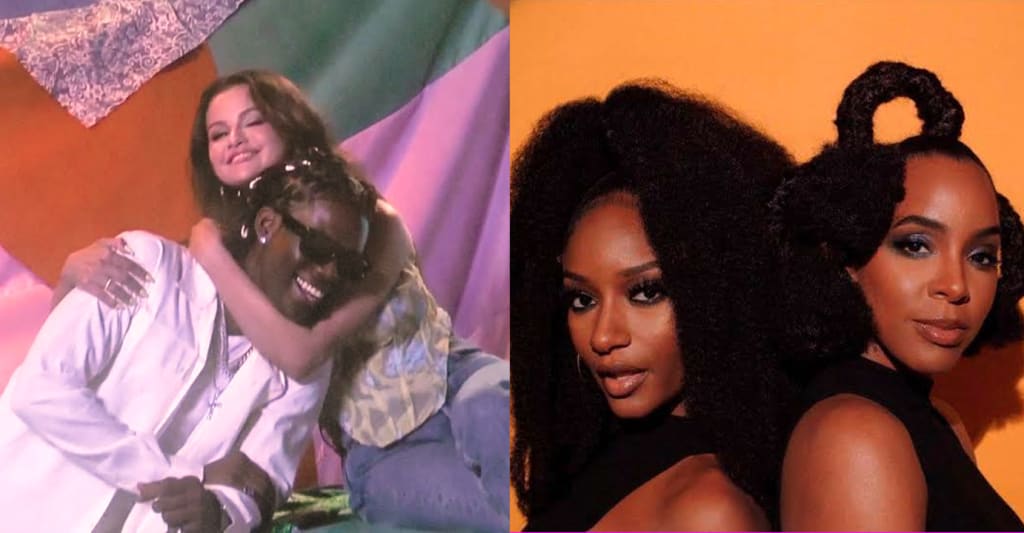 We all know that remixes can either make or break a song. Sometimes, when an artiste remixes their song, it goes from being obscure or having minimal plays to being an overnight success as is most evident in recent times with the song, "Love Don't Cost a Dime" whose remix with Ayra Starr shot the song into international success. Then there are sometimes when a song gets a remix, and all everybody can ask is: why?
Well, earlier today, renowned newspaper and online magazine, The Guardian, decided to compile a list of what they believe are the "Five Worst Remixed Songs in Recent Times", and well, here are their picks and what they said about each one. Do you agree? Let's find out!
**Before reading on, please make sure to like and follow my Facebook page (Jide Okonjo) so you don't miss out on any new and interesting lists, articles, and stories that I post every single day. I have a really fun page. If you like my page, you will have fun too. So what's stopping you? Like my page and let's have fun together!
1. Ku Lo Sa — Oxlade ft Camila Cabello
According to the people over at Guardian:
THE GUARDIAN: Ku lo sa was the best at the time it was released by Oxlade. It hit a number of YouTube plays, and downloads as well; such was how the star made us feel with the song. Then boom, there was preparation for the remix featuring Camilla Cabello. We all expected to see something better, but sadly it was below par, so on a scale of 0-5 this will surely get a 3 from me. It should not have been remixed.
Do you agree with "Ku Lo Sa Remix" with Camila Cabello being on this list?
2. Calm Down — Rema ft Selena Gomez
According to The Guardian:
THE GUARDIAN: 'Calm down', hit the waves and everyone was here and there goose bumping in the melody. It was even nominated recently in the UK chart, to tell you how successful the hit was. However the remix didn't meet the standard already set. Although it exposed it to a newer audience, it also proved how hard both super stars were trying too hard to sync together. Therefore REMA, this shouldn't have been remixed
Do you agree with "Calm Down Remix" with Selena Gomez being on this list?
3. Peru — Fireboy ft 21 Savage and Blxst
According to The Guardian:
THE GUARDIAN: Here Peru had no business being remixed, we all wanted it while it was being cooked, we all had a taste of it after it was dished, but we actually didn't want a taste of its rebranding, that's what Fireboy did with peru. He gave us hot hot, and served us after in the day while it was cold in the name of remix with Ed-Sheeran. The song basically like someone said, should have just been left in the hub where it was remix or just shared on Instagram as an unofficial collaboration.
Do you agree with "Peru Remix" with 21 Savage and Blxst being on this list?
4. Bloody Samaritan — Ayra Starr ft Kelly Rowland
According to The Guardian:
THE GUARDIAN: We were so fixated with the bloody Samaritan that we began a full-ass pattern around it. Nigerians clung to their seats as they saw Kelly Rowland and Ayra Starr in a photo shoot a year later, anticipating a viral collaboration. However, months later, nobody seems to remember that this remix ever took place. It was a case of; it shouldn't have happened in the first place, considering how much global attention it received. Common, Ayra Starr, you can do better.
Do you agree with "Bloody Samaritan Remix" with Kelly Rowland being on this list?
5. 5 Star — Adekunle Gold ft Rick Ross
According to The Guardian:
THE GUARDIAN: On 5 Star, AG Baby shared details about his life, including his struggles and difficulties with his health. A story of people with the same similarities. This actually arrested listeners and viewers attention into the depth of their thought. And to be honest, by the end of 2022, he had us eating from his palm. People talked about how their lives were "5 stars" in every end-of-year reel, but Rick Ross jumping on the song probably lowered it by two stars.
Do you agree with "5 Star Remix" with Rick Ross being on this list?
Also, what do you think of the list overall, and what do you personally think is the worst Afrobeats remix? Let me know your thoughts by leaving a comment either below or on my Jide Okonjo Facebook post.
That's All.
I hope you've had fun. Don't forget to follow my page (Jide Okonjo) if you don't already for more stories like this, the fun never end
To catch up on other content you might have missed, click here.
Until next time, have a wonderful rest of your day
Reader insights
Be the first to share your insights about this piece.
Add your insights