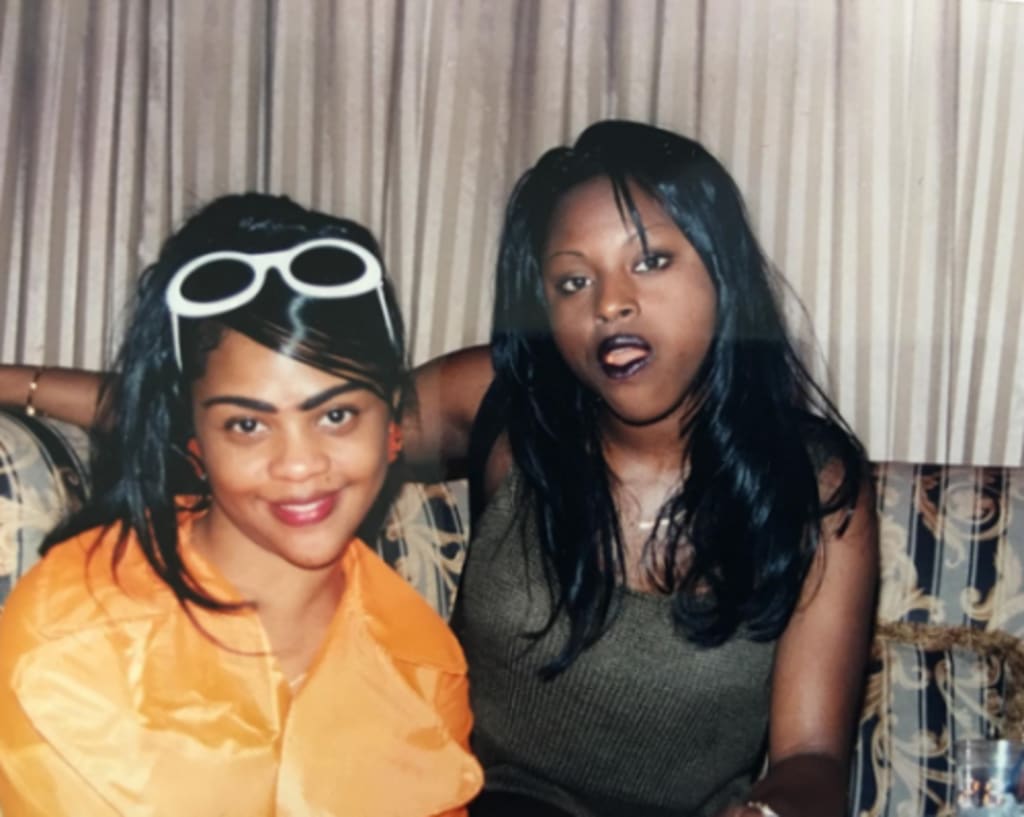 Kim and Foxy Circa 1996
By Brian Salkowski
Kimberly "Lil' Kim" Jones and Inga "Foxy Brown" Marchand had to step into and face a very prejudiced and male dominated arena. They did so as soon as they arrived on the scene as teens, during the most hedonistic era in hip-hop history: the mid 90's. Which makes it all the more impressive that not only were they able to navigate that terrain, they made history of their own, and changed the game in the process.
Recent history has not been especially kind, to either Kim or Foxy. Kim's recent, uh, transformations have made her the subject of unforgiving social-media/meme ridicule. Foxy's loss of her hearing during the mid-2000's robbed her of the ability to hear beats or the instrument that made her great in the first place: her own voice. Neither have released a proper album during this period.
Both feuded with each other to the point of public exhaustion, despite rumors that they had been friends growing up in the same Brooklyn neighborhood, 3-4 years apart. Both Foxy and Kim have spent a year in prison during the past fifteen years, though neither went to jail for a crime of major consequence. That is, unless you count Kim backing up her friends' faulty alibi or Foxy hurling her BlackBerry at a hair stylist, then mooning her next-door neighbor, as legitimate forms of public menace.
Both have made a plethora of poor decisions, particularly when viewed from an outside perspective. However, when it comes to being a woman in this rap shit, on top of this living in America while female and black shit, it's important to remember that nowadays everybody is a critic but we simply talk about it, while they live it.
Foxy Brown had one of the greatest freshman and sophomore seasons of any rapper ever. She hadn't even turned 18 before doing so. Lil' Kim was the only individual male or female in her crew to possess the star power to stand next to the larger-than-life Biggie Smalls in Bad Boy's heyday. Mind you, she was 4'11" and weighed less than 100 pounds, while occupying that spot.
I come here not to bury these talented, mercurial female emcees, but instead to praise them. Election Night in November 2016 didn't turn out to be the glass ceiling shattering milestone many had hoped for. The same can be said regarding the last fifteen years of Foxy and Kim's careers. It's still important to remember and appreciate what got them and all of us here though. Because two decades earlier in November 1996, we bore witness to an admittedly less lofty, but still notable achievement.
Two young women from Brooklyn became the first female artists to release platinum albums in the same year. Obviously not a seismic shift in our nation's history, it still represented a sea change in hip-hop. It is a musical milestone that has yet to be repeated. The closest to do so since? These same two women with their follow-up albums Chyna Doll and The Notorious K.I.M., released one calendar year apart, in 1999 and 2000.
Hip-hop, like America, has yet to elect a female president. But hip-hop has given us some queens. It has produced a few female crew leaders, true divas and real rap superstars. And you'd have to be blind, deaf (no shots, Fox) or just plain dumb, to not see that Fox Boogie and the Queen Bee are among the highest order of 'em.
What other 16-year-old girl do you know, who could not just survive but thrive on a grimy posse cut like "I Shot Ya" with rap legends LL Cool J, Prodigy from Mobb Deep, Keith Murray and Fat Joe, as Foxy did in 1995?
What more needs to be said about Lil Kim's show stopping verses on "Player's Anthem," "Get Money," "It's All About The Benjamins," or "Quiet Storm (Remix)," besides the fact that if you're a rap fan of a certain age, you know every word verbatim as soon as you hear her verses?
Winter 1996 through Summer 1997, roughly the duration of Hard Core and Ill Na Na's initial album/single run, was a formative era for women in music in many formats. Sarah McLachlan launched Lilith Fair, a traveling music festival of solely female act headliners, to massive critical and commercial success across North America. Of course, like the early woman's suffrage movement, black women weren't initially invited to the party. Tracy Chapman on the main stage and Cassandra Wilson on the secondary stage were the only black females among the 42 acts. But McLachlan proved to be less stubborn about keeping her party localized then say, Susan B. Anthony, who once famously declared she'd "sooner cut my right arm off before I will ever work for the ballot of the Negro." By the second installment of Lilith Fair, McLachlan was bringing some of the talented women who had blown up in '97, like Erykah Badu, Missy Elliott and Lauryn Hill, into the tent.
When you add all of the other artists who were completely unrelated to any of these movements, the results were a watershed musical moment in female popularity. You had a country artist like Shania Twain selling 20 million records in the same year, a pop act like the Spice Girls moving over 10 million of their own, all while the public was still gobbling up albums by Alanis Morissette, Mariah Carey, Mary J Blige, TLC, Céline Dion and many more. It's safe to say, that due to the dissolution of the record business, this era will now forever be known as the most profitable and prolific time for women in music that we'll likely ever see.
The two biggest female rappers of the era still weren't exactly playing in the same sandbox as the estrogen age of enlightenment. Sure, Kim and Foxy dabbled, as both would flirt with the R&B and pop trends of the era in cameo appearances like Case's "Touch Me, Tease Me" or the ensemble cover of Labelle's "Lady Marmalade" featuring Christina Aguilera, Mýa, and P!nk. But it was only a flirtation, much like Missy or Lauryn or TLC co-mingled with rap while singing and mixing in other genres, just enough to extricate themselves from hip-hop. Hip-hop, even in the "Shiny Suit Era," remained very much a man's world and man's game. Like much of the hard-rock of the late '80s, the genre's built-in framework was soaked in a heady cocktail of testosterone laced with misogyny. Few women would ever aspire to penetrate it, until somehow these Brooklyn girls managed to do so.
Like any other figures who become symbols or conduits for progression, these two did not scale these heights alone. The very possibility of Foxy & Kim's ascent would not be possible without standing on the shoulders of those who came before. One year after the Sugarhill Gang's "Rapper's Delight" became the first hit rap record, Sha Rock's performance on "That's the Joint," made her the standout star of The Funky 4 + 1, a group that became the first rap act to perform on Saturday Night Live in 1981. Six years later in 1987, Salt-N-Pepa would "Push It" forward. By 1990, they would go on to generate the first female platinum album, Black's Magic. Two years before Ill Na Na and Hard Core dropped, Da Brat became the first female solo rap act to be rewarded with a platinum rap plaque.
Foxy Brown and Lil Kim also needed an assist, in the form of a male co-conspirator, with a co-sign that held weight. This certainly applied in the case of Kim with her rhyme partner in Junior M.A.F.I.A. and sometime paramour, Christopher "B.I.G." Wallace. It's also tough to imagine what Fox Boogie's early career might look like without a former weight-turned-rhyme slinger, Sean "Jay-Z" Carter. Or even his eventual rival Nasir "Nas" Jones, who along with Foxy, was also a key member of the short-lived rap supergroup The Firm. These associations are almost impossible to shrug off or overstate. But peel the onion back further. You may soon feel your eyes well up when thinking of other emcees endorsed by these same three (Lil' Cease, Memphis Bleek, Jungle to name a few) who never fully bloomed. It takes two to tango, or in this case more fittingly, to diddy-bop or fox-trot.
The specter of Biggie Smalls casts a long shadow on Hard Core, even though BIG was still very much alive at the time. It's something you notice even more now, as we've since heard some of his guide vocals, for bars that Kim raps on this album. Biggie appears on four tracks here, while credited as a co-writer on all of the songs but one: the Jermaine Dupri-helmed ode to female satisfaction, "Not Tonight." Even some of the inflections and cadences on Hard Core feel so tied to Biggie that you can hear him flowing thru her. Like trees to branches, cliffs to avalanches. Is that a bad thing though? Is it a sin for Kim to be apprenticing under one of the greatest rappers to ever bless the mic? And don't you wanna hear more Biggie anyway? We got two official albums from him in his lifetime, both that you've probably heard a thousand times. If you're looking for a next closest thing, start with Hard Core long before you get to any album Puffy, Ma$e or Junior M.A.F.I.A. ever made.
The male Svengali charge has been used to browbeat many a female act in the past, particularly if the two were romantically intertwined for a time. It was said about Joan Baez with Bob Dylan, Teena Marie and Rick James, Sheila E. to Prince, and Courtney Love or Kurt Cobain. The list goes on forever, much like gender double-standards do. You still gotta have chops to keep rising to the top. Kimberly Jones, pen assists be damned, still put a hundred percent in every line she dropped. Nowhere is this clearer than on her debut album, even if it took further success after the death of her mentor to get more of the credit she deserved.
For symmetry's sake, many rap fans have tried to paint Foxy Brown with the same (pun intended) broad brush. Except rather than make it about Biggie, credit quickly gets assigned to Jay-Z. This is a far tougher case to make. Undoubtedly, Jay-Z had a hand in Foxy's career. What is also fair to say, is that Foxy Brown had a significant hand in the early success of Jay-Z. Foxy had already bodied "I Shot Ya" and "Touch Me, Tease Me," giving her two hit singles by 17 to his none by the time Jay and Fox Boogie first linked up for "Ain't No N***a." It was the success of that single, featured 1996's The Nutty Professor soundtrack, that fueled the multi-million-dollar bidding war Def Jam won to sign the 17-year-old Brown. It also helped a 27-year-old Jay-Z secure Roc-A-Fella Records a distribution deal with Def Jam shortly thereafter. You see Inga Marchand's name in the songwriting credits on that hit, like the two before it, as you will most of the rest of Ill Na Na's track list.
For my money, Fox Boogie has one of the best pure rap voices ever, male or female. Her distinct baritone enabled her to project street and sexy, often at the same time. Her Trinidadian roots helped her to freak Caribbean soundscapes and flows as naturally as early BDP, if and when she felt like it. When you add a natural, young prodigy-like gift for rap, perhaps no female rapper could ever hope to match her ability. Fox mispronounced the names of fashion lines flyer than the actual designer on the marquee could say them correctly. She made her fuzzy math sound harder than anything you saw done in A Beautiful Mind.
All of this being said, however, Hard Core is ultimately a deeper, more satisfying listen than Ill Na Na. We can parse through many possible reasons for this: Kim being older, working with a camp she knew, Big's contributions, Puffy overseeing it, Ill Na Na attempting to go the Illmatic route in making a classic album clock in at only 40 minutes despite a prolonged intro, Def Jam rushing the release of Ill Na Na to capitalize on how hot Foxy was at the time as she lit up feature verses while contributing to The Firm album around the same time. We can only be left to speculate. None of this is to say that Foxy's debut didn't approach greatness. It's just not the tour de force that Kim's was, despite Foxy's skillset being superior.
The songcraft on Hard Core is apparent from the door, opening with the blazing Stretch Armstrong-produced opener "Big Momma Thang," featuring Jay-Z, the only emcee to appear on both albums. It's further cemented by its three great singles, all of which became Top 20 Billboard pop chart hits: "No Time" with Puff Daddy, "Crush on You" with Biggie and the aforementioned "Not Tonight."
The only single on Ill Na Na able to scale such heights is "I'll Be" with, once again, Jay-Z. In fairness "I'll Be," with its tasteful sample of Rene & Angela's 1985 hit of the same name, is the strongest overall single on either album. It still sounded fresh as the closing credit song to an episode of Entourage, ten years after it was a Top 10 Billboard hit. It will undoubtedly have a similar effect whenever it next gets resurrected.
The album tracks on both make for an interesting dichotomy. Hard Core tries to live up to its pinup album cover and adult-entertainment inspired title. Some of the rhymes Lil Kim spits here are raunchy enough to make a male rapper blush. Kim is at her most effective using humor to turn the misogynistic milieu she travels through, on its fragile, male ego-led head. To the four-stroke creep looking to score a 2nd Round KO on "Not Tonight"? "I'll pass, n***a, the dick was trash / if sex was record sales, you would be double glass" before concluding with "the moral of the story is this: you ain't lickin' this, you ain't stickin' this." Duly noted and quoted.
Foxy Brown is no shrinking violet herself. Look no further than the title of her album for proof of that. Yet even then, there's still a coy playfulness to it. It's as if Foxy uses sex references as window dressing to bring you into the store. Once inside, she's more interested in telling you how well she can rap. She's selling classic rap braggadocio on the Uncle L inspired "Foxy's Bells," making mini-Mafioso movies on "Letter to the Firm (Holy Matrimony)" and "The Chase." We even get a welcome helping of genuine emotion and sadness about soured relationships, both platonic and otherwise, on "If I." This is terrain she would traverse more in depth and effectively on her third, highly underrated album, Broken Silence (2001). Her reward for all the raw honesty provide there? Critical kudos, her first non-platinum record (it did go Gold) and we've never seen another official Foxy Brown album since.
Lil' Kim kept moving along for a few more years from there. She even scored the first (and still only) female rap album to receive a five-mic review in The Source for her 2005 album The Naked Truth. Sadly, this came after the publication had already lost its moral authority to be "the hip-hop bible." The album sold well initially but became the shortest-lived Lil' Kim album on the charts, falling out of the Top 200 after just eight weeks. For comparison, Hard Core hung around for 47 weeks.
The paradigm had shifted, both in the record industry at large, and in the court of public rap opinion where Kim & Foxy had led the female charge. You wouldn't see another female rap star until the following decade with Nicki Minaj. By then, Nicki had seen the pink print on how this female rap thing went. She made sure to spread her wings into other areas. She sung a little bit, acted here and there, dropped a fragrance, got a gig as judge on American Idol, feuded with Mariah and almost out of obligation, with Lil' Kim and Foxy Brown. All of these things have helped her to, at least so far, stick around. It takes more than just being a great rapper for a girl to make it in this male-dominated town these days.
Why would anybody be surprised? Women have made up 51% of the population in the U.S., with the right to vote, for just north of 100 years. The end result? Just a further cavalcade of power-starved white dudes, most of them old, both before and after Barack Obama. The rap world, like the real world, proves itself time and time again to hate women. Sometimes even women themselves seem to channel the hate inward as well. Throw in being Black on top of that? Buckle up, girl, you got a rough ride ahead of you.
Two-and-a-half decades have passed since Lil' Kim and Foxy Brown's platinum debuts emerged, and we're thankful that the records' legacies remain their trump card.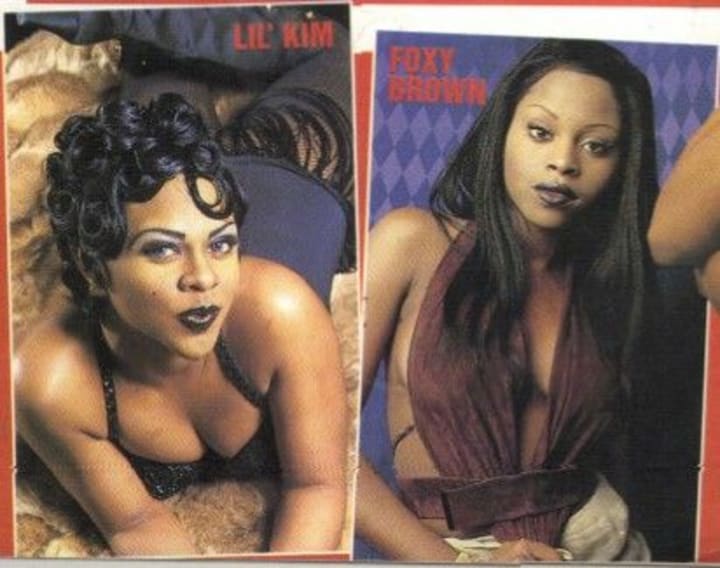 About the Creator
I am a writer. I love fiction but also I'm a watcher of the world. I like to put things in perspective not only for myself but for other people. It's the best outlet to express myself. I am a advocate for Hip Hop & Free Speech! #Philly
Reader insights
Be the first to share your insights about this piece.
Add your insights