A Teaser from MCR!
A My Chemical Romance update!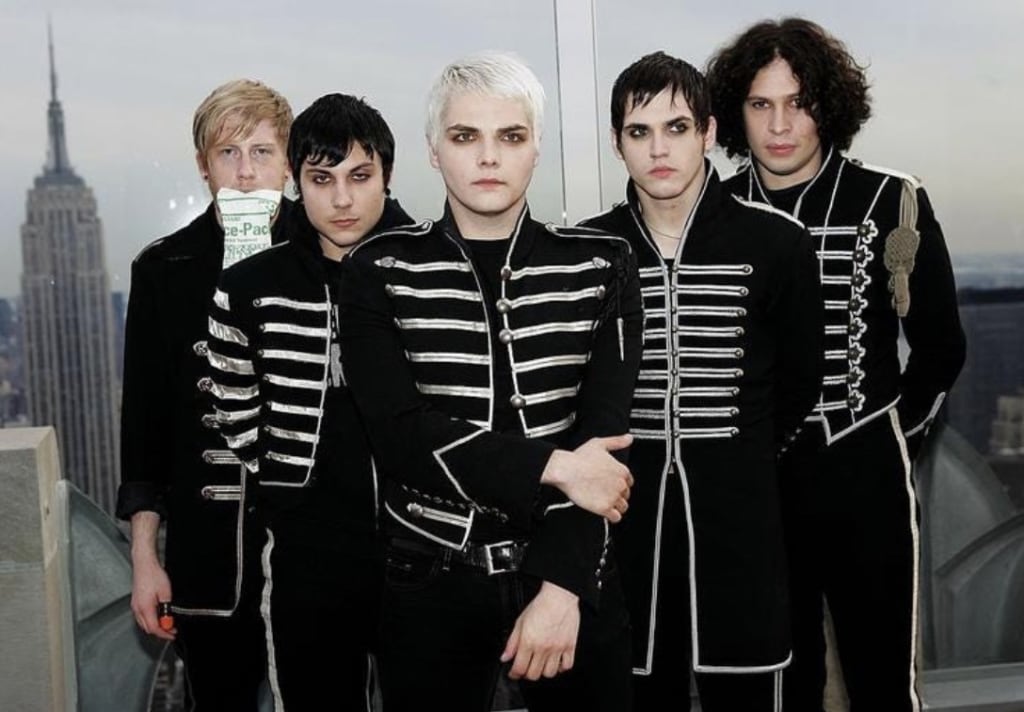 Pull out your band t-shirts and get ready to smear your liner back on! My Chemical Romance has put out their next teaser!
While there are no confirmed UK dates yet, the band took to their official Twitter to post this: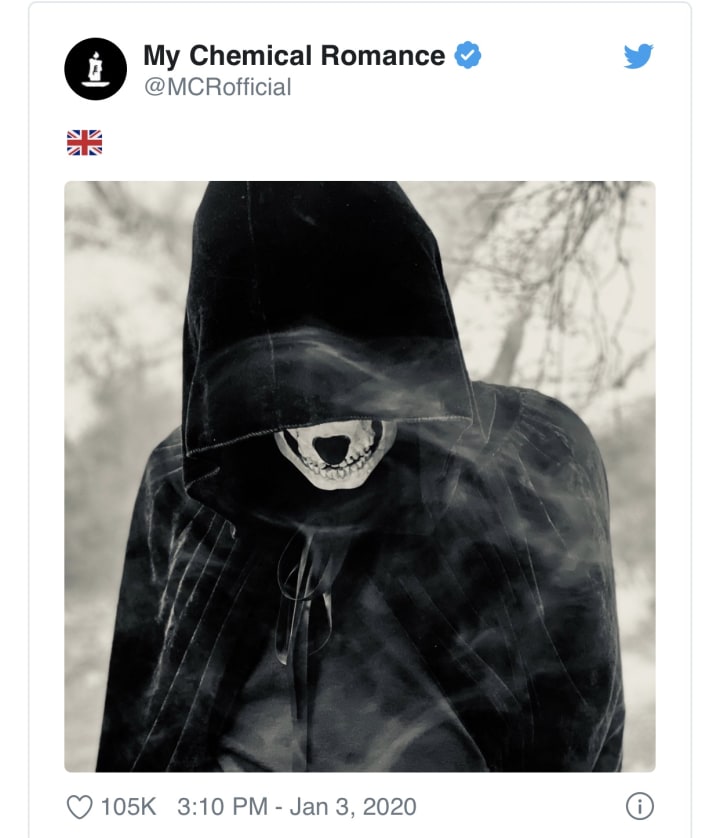 A hooded skeleton figure with nothing ,but the Union Jack for the caption. If you read between the blacked out lines, that could only mean one thing- a UK tour.. or at least a show!
The teaser isn't the only shows they have lined up for 2020. In March, they are setting up to perform in Japan,and headline in Osaka. As well as some massive shows in ,Australia and New Zealand. Could this mean they are gearing up for more? I sure hope so!
And just to get our hopes up, Gerard Way also took to Instagram and posted a pic of a field: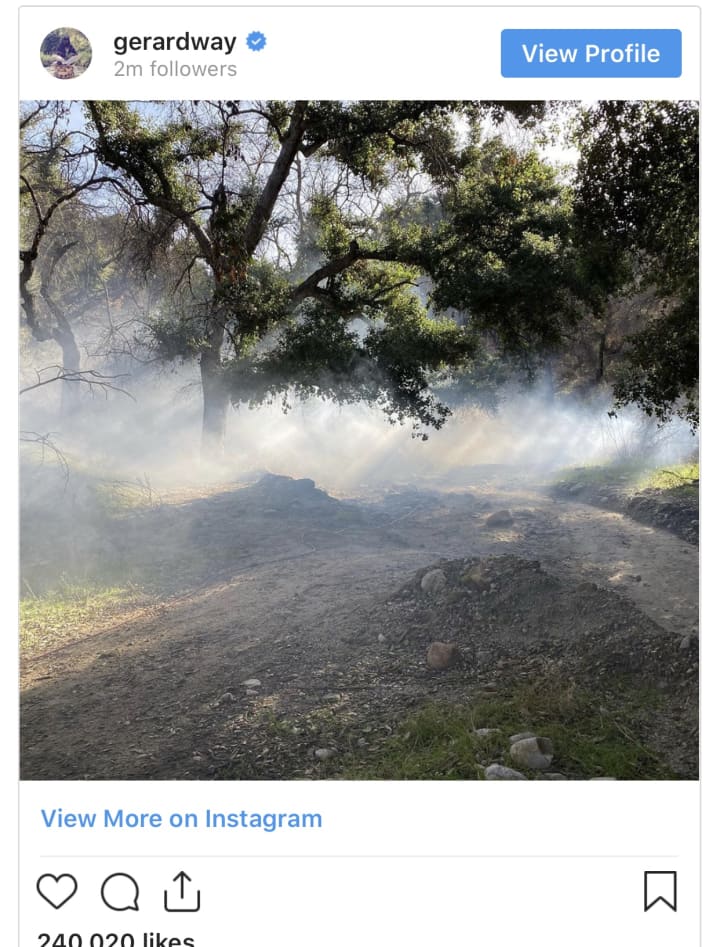 Could it be the same field that the masked figure is standing in? Or is it just a pretty field? We'll definitely have to see!
There have also been rumors that they might also be in the line-up for Coachella. Could it be? The Valley Music and Arts Festival 2020 will kick off on Friday 10 April and conclude on Sunday 19 April. According to "industry sources" if MCR do play at the celebrity fave music festival, which will be held at the Empire Polo Club in Indio, California, it'll be their first time doing so. And although the band haven't confirmed anything, the full line-up should be announced this month just before the tickets are released, meaning we're not in for a long wait to find out!
Having made their much-awaited return last month with a huge reunion show in LA, the band have obviously realized they are on to a winner. "It's been a long time, Los Angeles," gushed a grateful, still baby-faced Gerard Way. "We didn't know if this was ever gonna happen again, so we really appreciate you showing up." Not only did MCR fans show up — they'd been camped out at the venue for days. They announced the comeback show back in October 2019 and tickets sold out in minutes when they went on sale in November.The band having been on a hiatus since early 2013 ,should be more than warmed up to perform a couple more shows!
And it kind of comes just in time, because people are petitioning for the return of emo, in homage to the 'Rawring 20's'.
If you're in your 20's now, the likelihood is that when you were growing up, some of your friends (or you-yourself) were emo to the core - those are the ones who will most likely be getting all excited about MCR's return.
Twitter users have recently come out in force to demand a return to the emo fashions of the 2000s. Someone has even decided to create a petition entitled: "Bring back 2005 emo culture in the 2020's ",so we can call that decade the rawring 20s."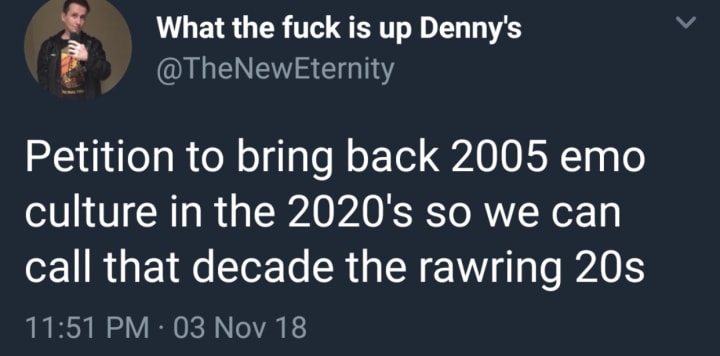 If you're not familiar with the emo movement - yeah, I'm calling it a movement - it basically involved EXTREMELY skinny jeans, side swept rainbow colored fringe, and some great bands-including yours truly. Oh, and who could forget the pre-emoji smileys made with punctuation. :3.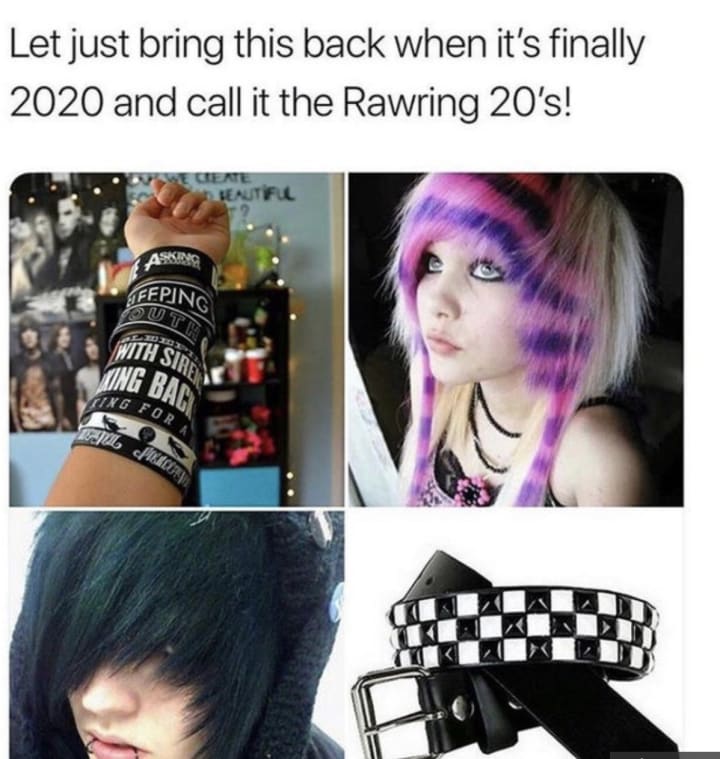 What a way to kick off the 'Rawring' 20's."
Everyone in the UK better be getting ready to join the Black Parade once more, while us here in the United States stay on the lookout for any more teasers about any shows near us!
To get you pumped up, Click below to watch their LA reunion show!
Please go and check out my other stories!